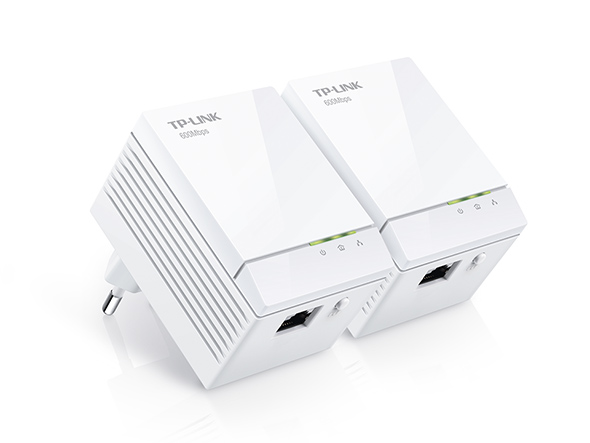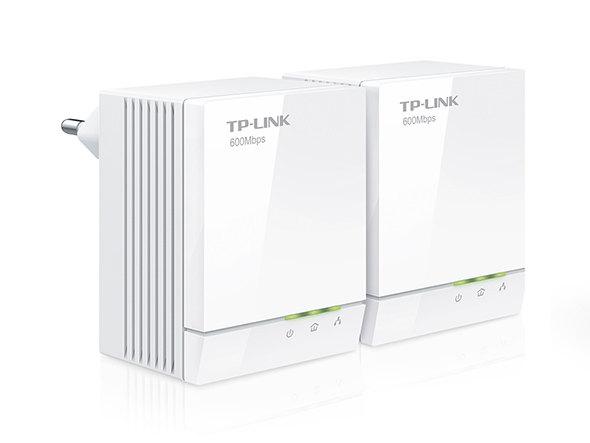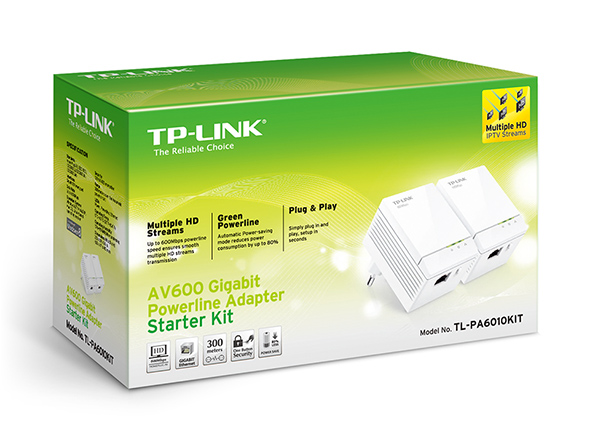 Adaptador Powerline Gigabit AV600 Kit de Inicio TL-PA6010KIT
En cumplimiento con la norma de HomePlug AV, transferencia de datos de alta velocidad de hasta 600Mbps
No requiere cables nuevos, No requiere configuración
El diseño de paquete doble ayuda a establecer una red powerline básica
Modo de ahorro de energía patentado que reduce de manera automática el consumo de energía hasta en un 80%
* Los datos actuales pueden variar debido a las condiciones de la red y a factores ambientales.
Hasta 600Mbps de Velocidad Powerline
Viene con el último estándar HomePlug AV, TL-PA6010 proporciona a los usuarios con los adaptadores Powerline más rápidos disponibles en el mercado a 600 Mbps.
Ideal para Aplicaciones de Uso Intensivo de Banda Ancha
Con velocidades de hasta 600 Mbps, TL-PA6010 puede transmitir múltiples flujos HD y películas, incluso en 3D para todas las habitaciones, por lo que es una gran opción para un fácil de construir la red de entretenimiento multimedia.
Ultra-compacto
Con su diseño de la carcasa ultra compacta, de TP-LINK TL-PA6010 es uno de los adaptadores Powerline más pequeños del mundo.
Plug and Play
Puedes configurar una red Powerline sin problemas en cuestión de minutos con adaptadores Powerline TP-LINK, sólo tiene que enchufar y jugar. Además, los botones "Pair" los adaptadores 'pueden utilizarse para fijar o fácilmente la gestión de múltiples adaptadores Powerline en su red Powerline casa.
* Nota: los adaptadores Powerline deben desplegarse en grupos de dos o más.
Ethernet LED
Powerline LED
Power LED
Pair
Enchufe adaptador conectado un solo Internet en una toma de corriente cercana.
Conecte adaptadores adicionales a PCs / portátiles TV / Internet u otros dispositivos conectados en red a través de un cable Ethernet - y ya está

Recomendable:

Pulse los botones de pares para la seguridad de red y protección de datos.
The theoretical maximum channel data transfer rate is derived from HomePlug AV specifications. Actual data transfer rate will vary from network environment including: distance, network traffic, noise on electrical wires, building material and construction, quality of electrical installation and other adverse conditions.
Actual data will vary because of the network conditions and environment factors.
CARACTERÍSTICAS DE HARDWARE
Tipo de Enchufe
EU, UK,US
Estándares y Protocolos
HomePlug AV, IEEE802.3, IEEE802.3u, IEEE802.3ab
Interface
1 Puerto Ethernet Gigabit
Botón
Botón Pair
Consumo de Energía
Máximo: 6.84W (220V/50Hz)
Típico: 6.68W (220V/50Hz)
En Espera: 1.50W (220V/50Hz)
Indicador LED
PWR, PLC, ETH
Dimensiones (W X D X H)
2.5x 1.9 x 1.6 pulg. (63×47×40mm)
Rango
300 Metros sobr el circuito eléctrico
OTHERS
Certification
CE, FCC, RoHS
Package Contents
Adaptador Powerline Ethernet
6.5 pies. (2 m) cable Ethernet (RJ45)
CD de Instalación
Guía de Instalación Rápida
System Requirements
Windows 2000/XP/2003/Vista, Windows 7/8, Mac, Linux
Environment
Temperatura de Funcionamiento: 0℃~40℃ (32℉~104℉)
Temperatura de Almacenamiento: -40℃~70℃ (-40℉~158℉)
Humedad de Funcionamiento: 10%~90% sin condensación
Humedad de Almacenamiento: 5%~90% sin condensación