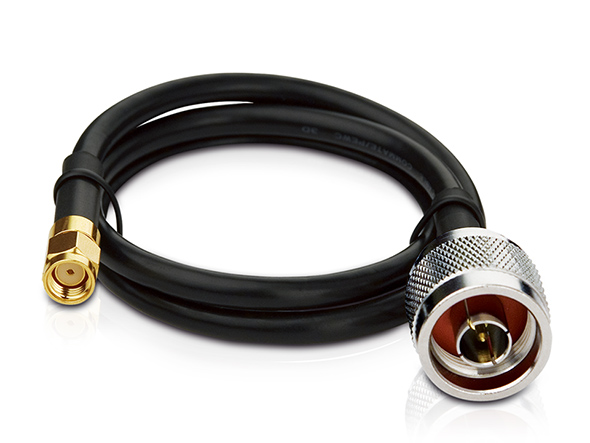 Cable Pigtail LMR200 de 0.5M Macho Tipo N a Hembra RP-SMA TL-ANT200PT
En cumplimiento con 2.4GHz 802.11 n/g/b y 5GHz 802.11 n/a
Cable a prueba de la intemperie diseñado para la exposición en exterior
Se fabricó usando cable LMR-200 de 0.5m de Baja Pérdida que proporciona un mejor desempeño en las aplicaciones de 5GHz y 2.4GHz
Conector Macho Tipo N a Hembra RP-SMA, aplicable en la mayoría de las conexiones entre el Router/AP inalámbrico y la antena
Lo que hace este producto
El cable pigtail, el TL-ANT200PT es ideal para la conexión flexible entre el cable/antena exterior y el punto/router de acceso inalámbrico. Es muy sencillo de usar, no se requiere configuración o instalación de software.
1. LMR®-200 is made by Times Microwave. LMR® is a registered trademark of Times Microwave. Times Microwave is not affiliated with TP-LINK and does not endorse TP-LINK products.
ANTENA
Frequency
DC~6GHz
Impedance
50Ω Nominal
Insertion Loss
2GHz 0.7dB
2.5GHz 0.8dB
3GHz 1.0dB
5GHz 1.2dB
5.5GHz 1.3dB
6.0GHz 1.4dB
VSWR(MAX.)
0~3GHz: 1.5:1 Max
3~6GHz: 1.6:1 Max
Connector Type
Tipo N macho a RP-SMA hembra
Extended Cable/Length
LMR-200 Cable
0.5m(1.64 pies)
Operating Temp.
-10℃~+60℃
Storage Temp.
-40℃~+80℃
Length
0.5m(1.64ft)
SubscriptionTP-Link toma en serio su privacidad. Para obtener más detalles sobre las prácticas de privacidad de TP-Link, consulte la Política de privacidad de TP-Link.