What should I do if my Deco 4G/5G Product shows No Signal or No Service on Deco App?
Sometimes, when you configure Deco 4G/5G products on 3G/4G or 4G/5G Router mode, you might receive the error message "No Signal" or "No Service", thus the configuration will be failed, Or the Deco 4G/5G products were working fine before, suddenly they are offline and "No Signal" or "No Service" appears on the Deco App.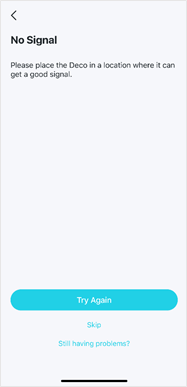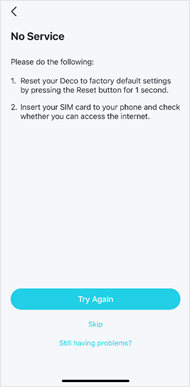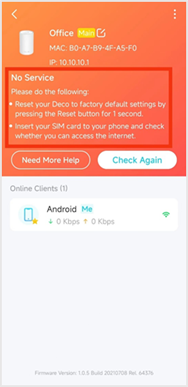 Troubleshooting Steps
If the error appears when you are configuring the Deco 4G/5G product for the first time and the same error still exists after tapping "Try Again", please tap "Skip" to finish the configuration first, then you will be able to do the following troubleshooting steps:
1) Place your Deco in an open area near a window and power outlet. Look for a location where it could receive a strong 4G or 5G signal. It is recommended to try windows on different sides of the house for the best signal.
2) Check Network Mode, Band, and Carrier on More → Internet Page of Deco App, make sure the Network Mode is on "4G Preferred" for 4G product, "5G Preferred" for 5G product, Band and Carrier are both on "Auto".
3) Try to reboot the main Deco and check the network status on Deco App again.
4) Try to change Carrier from "Auto" to "Manual" to search carrier manually on the More → Internet → Carrier page to see if your carrier is available or not.
5) Insert the same SIM card into another 4G/5G device to check if it receives a good 4G/5G signal and if the internet works fine.
If you test it with a smartphone, please refer to the instruction below to check which band your phone is using: https://www.tp-link.com/support/faq/3488/
6) Double-check the network type and bands supported by your SIM carrier in your area, then check if it is compatible with the Deco router. You could find the network type and bands supported by the Deco 4G/5G product on the specification page of our official website.
For example, Deco X20-4G(EU) V1 supports the following network type and bands: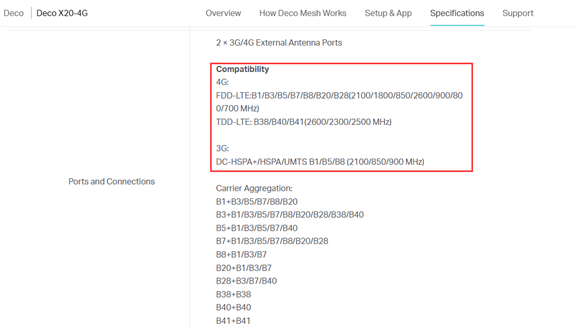 7) Check if external antennas are enabled on the More → External Antennas page, if it is enabled but no external antennas are installed, the Deco will not work properly.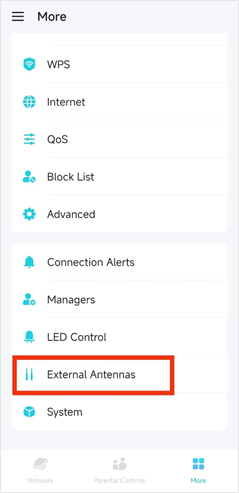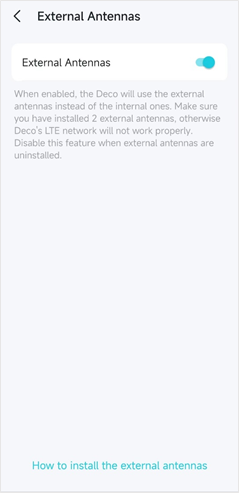 If it is confirmed that they are compatible and the SIM card works fine on another 4G/5G device, but the problem is still not resolved on the Deco product, please contact TP-Link Technical Support and provide the following information:
1) Model number, hardware, and firmware version of the Deco product
2) Your country, SIM card carrier
3) Screenshots of the Network status page, More → Internet page, and also your APN Profile Settings page
4) Troubleshooting you've done and what the results were for each step.
To get to know more details about each function and configuration please go to ​Download Center to download the manual of your product.
Is this faq useful?
Your feedback helps improve this site.

TP-Link Community
Still need help? Search for answers, ask questions, and get help from TP-Link experts and other users around the world.