How do I log into the web-based Management Page of TP-Link Wireless N 4G LTE Router (new logo)
The web-based management page is a built-in internal web server that does not require internet access. It does however require your device to be connected to the TP-Link router. This connection can be wired or wireless.
Note: Low version of your web browser may cause compatibility problem with the web-based interface (management page) of your device, such as unable to log into the interface, display incomplete features etc. It is strongly recommended to use a wired connection if you are going to change the router's wireless settings or upgrade the firmware version of the router.
Follow the steps below:
Here takes TL-MR6400 as demonstration.
1. Connect your computer to the router (wired or wireless).
Wired: Connect your computer to the router's LAN port via an Ethernet cable.
Wireless: Connect wirelessly by using the SSID (network name) and Wireless Password printed on the product label at the bottom of the router.
2. To access the configuration utility, open a web browser and type the default address http://tplinkmodem.net in the address field of the browser.

3. After a moment, a login window will appear. Enter admin for the Username and Password, both in lower case letters. Then click Log in or press the Enter key.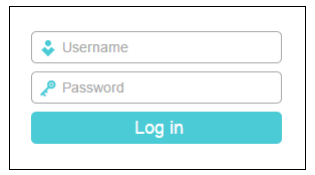 Note: If the above screen does not pop-up, it means that your web browser has been set to a proxy. Go to Tools > Internet Options > Connections > LAN Settings, in the screen that appears, cancel the Using Proxy checkbox, and click OK to finish it.
Get to know more details of each function and configuration please go to Download Center to download the manual of your product.
Is this faq useful?
Your feedback helps improve this site.