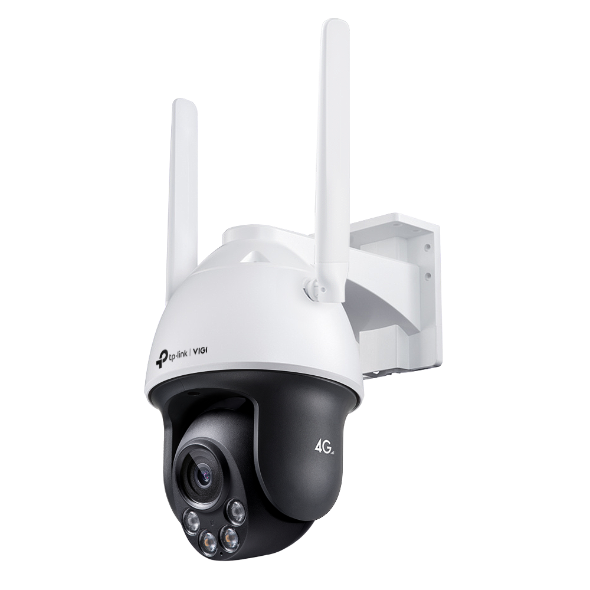 VIGI C580-4G
VIGI 8MP Outdoor Full-Color 4G Pan Tilt Network Camera
4K Ultra-High Definition: 4K captures enough pixels to identify hard-to-see details.
24h Full-Color: Obtain 24-hour color details, even in pitch-black conditions, via large-aperture lens, high-sensitivity sensor, and attached supplemental lights.

4G Mobile Network:

Flexibly install anywhere without the hassle of laying network cables.

Human & Vehicle Classification: Distinguishes humans and vehicles from other objects, so you receive more accurate event notifications.
Smart Detection: Receive notifications and check feeds when someone crosses a boundary, enters an area you've set, obstructs the camera, removes/abandons objects, or enters/exits certain region.
Powerful Pan Tilt: Customized patrol routes and auto tracking provide more intelligent options to monitor key areas and improve security within your property.
Active Defense: Warn potential intruders instantly with sound and light when abnormal events.
120dB WDR Technology: Enable crystal-clear images in high contrast scenes.
Two-Way Audio: With voice intercom support, carry two-way conversations while watching your feed from anywhere.
H.265+: Compresses the video size without sacrificing video quality, easing the network load and saving disk space.
IP66 Waterproof: Reliable IP66 for stable outdoor performance.
Flexible Management and Storage: Take full control over your security via four management methods: the web UI, NVR UI, VIGI app, and VIGI Security Manger. Local storage is available for each method, as well as onboard storage with SD card slot (up to 256GB).
Every Corner Covered, Every Area Focused.
VIGI 8MP Outdoor Full-Color 4G Pan Tilt Network Camera
VIGI C580-4G
Full-Color

High Definition

4G Mobile
Network

Human & Vehicle
Classification

Smart Detection

Powerful Pan Tilt

True WDR

Active Defense

ONVIF Ensures
Compatibility
†Picture for reference only.