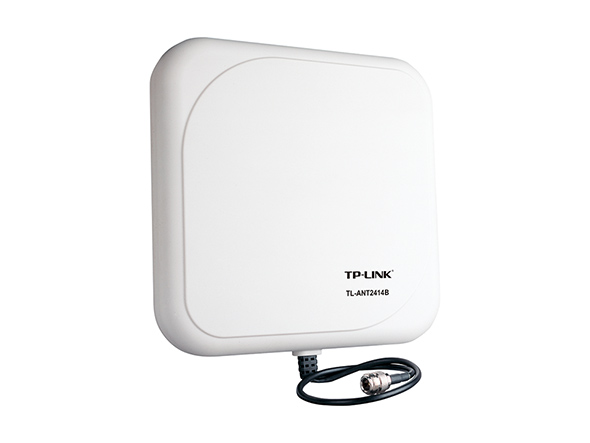 2.4GHz 14dBi Outdoor Directional Antenna
14dBi directional operation provides extended point to point connection or indoor and outdoor area coverage
Features 100cm(39.4 in) CFD-200 low loss cable for flexible deployment
N female connector, works with most of access points / wireless routers
Provides easy installation mounting kits
What This Product Does
Directional Antenna TL-ANT2414B operates in the 2.4GHz band and provides 14dBi directional operation, which largely extends the wireless range and delivers much better wireless performance. The antenna offers the N female connector guaranteeing wider compatibility with most of the wireless equipments. Also, the weather proof design ensures that it can work normally for various demanding outdoor solutions.

Enjoy the benefits of wireless connectivity at greater distances and throughput throughout your outdoor wireless zone. No configuration or installation software required .
Easy To Use
Installation of the TL-ANT2414B is simple and straight forward. It is compatible with most wireless devices (Access Points, Routers, Bridges and Network Adapters) on the market with removable external antennas.
Peru WISP

TP-Link Helps WISP to Provide Reliable Wireless Connectivity in Peru

Peru WISP

TP-Link Helps WISP to Provide Reliable Wireless Connectivity in Peru

"The performance of CPE was better than expected, working stable even with -85 dBm of received power." —David Grillo, Engineer, Kroton
ANTENNA
Frequency
2.4GHz
Gain
14dBi
VSWR(MAX.)
1.5:1
HPOL Beamwidth
30
VPOL Beamwidth
30
Polarization
Linear; Vertical
Type
Directional
Connector Type
N Female(Jack)
Extended Cable/Length
CFD-200 ; 100cm
Mounting
Pole Mount/Wall Mount
Application
Outdoor
Approximate Range at 1/11/54Mbps
5km/3km/440m
Optional Accessory
TL-ANT24EC6N TL-ANT24EC12N TL-ANT24SP TL-ANT24PT
Package Contents
14dBi Panel Directional outdoor Antenna
Installation mounting kits
User Guide