Omada business class access points offer organisations an affordable, unified and seamless wireless LAN solution. This range of indoor and outdoor Wi-Fi access points are packed with performance enhancing features including; band steering, MU-MIMO, seamless roaming, airtime fairness and beamforming to ensure high speed, secure and stable connectivity. PoE compatible, the Omada range effortlessly delivers dual-band wireless coverage across your whole business.
MU-MIMO
Beamforming
Band Steering
Airtime Fairness
Flexible and Versatile
Mix and match between our ceiling mounted, wall mounted and outdoor access points for a truly seamless wireless solution. Need LAN connections? No problem, the Omada range of ceiling and wall-mounted access points come with additional Gigabit Ethernet ports to extend your wired network too.
Centralised Wireless Network Management
The license-free OC200 Omada Cloud Controller centrally manages your entire indoor and outdoor Omada network to reduce the time and administration overheads associated with network management. The OC200 enables network managers to monitor statistics in real-time, view a graphical analysis of network traffic, create a captive portal, upgrade and reboot your system, and effortlessly scale your network to boost your business.
NO PC/Server
Needed
Superior Reliability
and Security
Cloud Access for
Greater
Convenience
FREE OC200 When You Buy 4 of the selected Omada EAP
To provide a total network solution, we're offering the Omada OC200 worth £64.99 RRP free of charge when you buy any combination of the four access points featured below.
Simply provide proof of purchase when you claim, and we will send you the OC200 totally free of charge. Terms and conditions for this promotion are detailed below.
AC1750
AC1350
Omada
Omada
Features
Wireless MU-MIMO Gigabit
Ceiling Mount Access Point
EAP245
Wireless MU-MIMO Gigabit
Ceiling Mount Access Point
EAP225
Wireless MU-MIMO Gigabit
Indoor/Outdoor Access Point
EAP225-Outdoor
Wireless MU-MIMO
Wall-Plate Access Point
EAP225-Wall *
Wi-Fi Performance
450 Mbps at 2.4GHz +
1300 Mbps at 5 GHz
450 Mbps at 2.4GHz +
867 Mbps at 5 GHz
300 Mbps at 2.4GHz +
867 Mbps at 5 GHz
300 Mbps at 2.4GHz +
867 Mbps at 5 GHz
Ethernet Ports
2× Gigabit Ethernet Port
1× Gigabit Ethernet Port
1× Gigabit Ethernet Port
3× 10/100Mbps Ethernet
Port (Downlink)
PoE
2× Gigabit Ethernet Port
802.3af PoE and Passive PoE
802.3af PoE and Passive PoE
802.3at/af PoE
Antennas
3× Internal Antennas
3× Internal Antennas
High transmission power
and high gain antennas
IP65 Weatherproof
✔
✔
Cloud Centralised Management
✔
✔
✔
✔
Seamless Roaming
✔
✔
✔
Secure guest network
✔
✔
✔
✔
Band Steering
✔
✔
✔
MU-MIMO
✔
✔
✔
Load Balancing
✔
✔
✔
✔
Management VLAN
✔
✔
✔
✔
Scheduling
✔
✔
✔
✔
Omada Mesh
✔
✔
Airtime Fairness
✔
✔
✔
Beamforming
✔
✔
✔
*Compatible with 86mm & EU & US Standard Junction Box
Your Free Cloud Controller OC200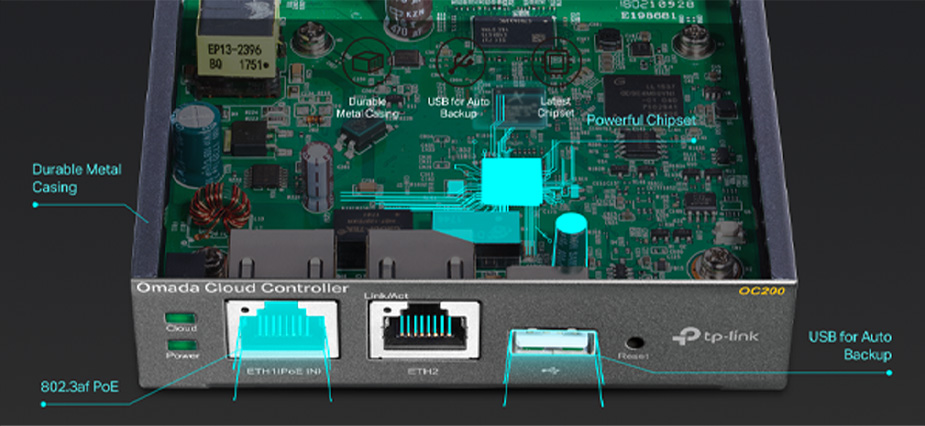 OC200
Omada Cloud Controller
Professional centralized management for Wi-Fi network
●
Cloud access to manage from anywhere, anytime
●
PoE (802.3af/802.3at) supported for easy installation
●
Industry-leading hardware design with the powerful chipset, durable metal casing, and USB port for auto backup
●
Omada App for a convenient management
●
Secure guest network with multiple login options (Facebook Wi-Fi, SMS login voucher)
Not sure what you need, take advantage of our free Network Site Survey. Book now and one of our experienced network engineers will conduct a no obligation network audit free of charge.
Book Free Site Survey
Terms and Conditions
Consumers must purchase four of the featured Omada access points in order to claim their free OC200. Proof of purchase and the serial number for each EAP purchased must be provided. All claims must be submitted at the website https://www.tp-link.com/uk/business-wifi/claim/. TP-Link will verify the claim and dispatch the free OC200 to the address provided by the consumer on the redemption page. Consumers are responsible for the accuracy of the delivery address. Only purchases made between 1st April and 31st January 2021 will be eligible for the free OC200. Purchases made from Amazon, are excluded from this promotion. There is a maximum of 30 claims per consumer. The free product will be dispatched within 28 days from a successful claim being submitted. This promotion cannot be claimed in conjunction with any other TP-Link offer or promotion, special bid or supported pricing.Valid claims will only be delivered to an address within the UK. The claimant is responsible for inputting the correct address. The item free product will only be sent once. Please note that TP-Link reserves the right to amend, alter or cancel this promotion without notice and to exclude any customer from this promotion at any time without notice.