Guests will always prize their security and user experience over almost everything else. VIGI surveillance solutions for the hospitality industry can help provide a safe and comfortable environment for guests, staff and property. Our system and solution allow you to monitor and manage issues in smart manner.
Surveillance Requirements
Clarity

Monitor each corner clearly on the monitor, even under complex lightening conditions

Security

Find and respond to problems quickly, protecting guests and their property
Flexible monitoring views cover all areas.

Efficiency

Easily install and deploy in your business with lower labor and time costs.
Easy to use with simple management via user-friendly platforms, such as GUI, software, and app.
Solution Overview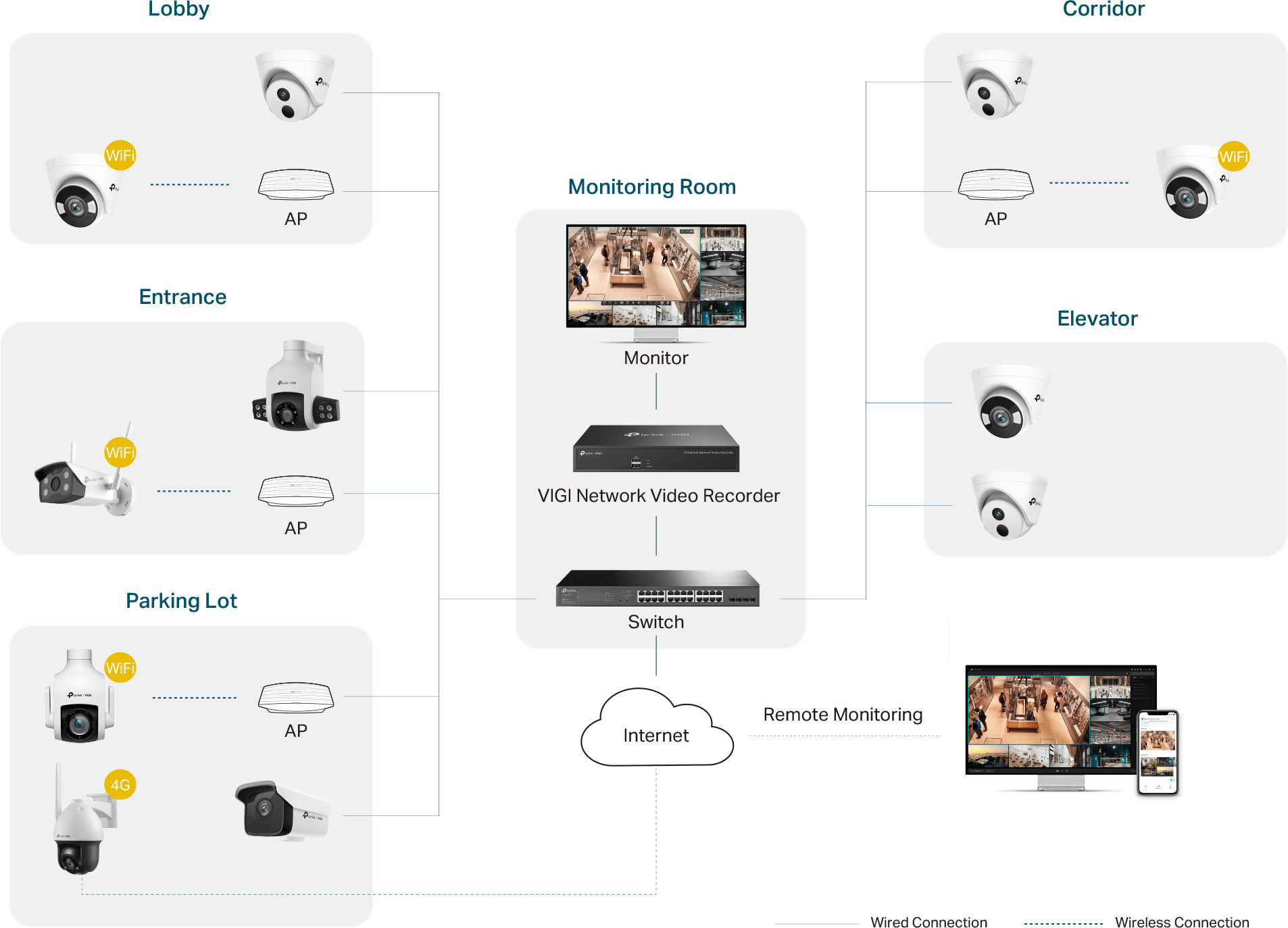 Clear Image
Super High Definition (3MP or above)
Smart Image Enhancements (WDR/3D DNR/Smart IR)
24/7 Full-Color Night Vision
High Security
Smart Human & Event Detection
Instant Alerts
Customized Patrol
Automatic Motion Tracking
Easy to Use
Flexible Installation & Deployment
Quick Lookup & Playback
User-Friendly Management Platform
Remote Monitoring
Detailed Application
Lobby
Corridor
Entrance
Parking Lot
Elevator
Monitoring Room
Product List
Surveillance Products
Type
Product**
Lobby
Corridor
Entrance
Parking Lot
Elevator
Monitoring Room
Bullet Camera
VIGI C300P
●
●
●
VIGI C340PWSM*
●
VIGI C340WSM-W*
●
●
●
Turret Camera
VIGI C400P
●
●
●
VIGI C440WSM-W*
●
Pan&Tilt Camera
VIGI C540PWSM*
●
●
●
VIGI C540WSM-W*
●
●
VIGI C540WSA-G*
●
Network Video Recorder
VIGI NVR1008
●
VIGI NVR1016H
●
Networking Products
---
İş Ortağı Programı ile Çözümleri ve Ürünleri Edinin
TP-Link'in bir ağ çözümleri sağlayıcısı olarak başarısı, ortaklarına olan ilişkisi ve rakipsiz bağlılığı üzerine kurulmuştur. TP-Link, daha iyi anlaşmalara ve özel desteğe erişim arayan Katma Değerli Satıcılar (VAR'lar) ve Sistem Entegratörleri (SI'ler) için, işlerin büyümesine yardımcı olmak için TP-Link Partner Programını tasarladı.
From United States?
Bölgeniz için ürünler, etkinlikler ve hizmetler alın.