Port forwarding: hur man öppnar tcp/udp portar på sin trådlösa router. (SE)
För att komma åt vissa tjänster (ex NAS server, IP kamera, online gaming) på sitt privata nätverk från internet så kan man behöva öppna upp specifika tcp/udp portar i sin router.
OBS! har routern blivit tilldelad en CGNat adress (startar 100.x.x.x eller 10.x.x.x) så kommer det inte att hjälpa att sätta upp port forwarding regel på din router.
Man behöver då kontakt sin bredbandsleverantör och be att få en publik IPv4 adress.
Ta reda på vilka portar som du behöver öppna innan du gör konfigurationen på din router.
OBS! En del portar tillåter inte bredbandsleverantörerna att man gör port forwarding på, ex port 25, 135-139 och 44 blockeras av flera av våra bredbandsleverantörer.
Exempelvis så på min dator (ip adress 192.168.0.100) så har jag en hemsida som skall vara tillgänglig från internet. Min router har blivit tilldelad ip adress 218.18.232.154 av min bredbandsleverantör.

Hur går jag tillväga?
1. Logga in i routerns webbgränssnitt (http://tplinkwifi.net)
2. Gör en adressreservation för datorn så att den alltid blir tilldelad samma ip adress av din router.
3. Ändra till Advanced fliken, klicka NAT Forwarding och sedan Virtual Servers.
4. Klicka + Add för att öppna konfigurationsfönstret.
Klicka på View Existing Services och välj HTTP
External Port, Internal Port and Protocol kommer automatiskt fyllas i. Fyll i ip adressen 192.168.0.100 på raden Internal IP.
5. Klicka på OK för att spara.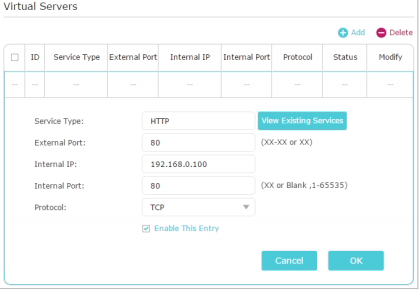 Om porten inte finns med i dom fördefinerade tjänsterna så sätter du ett namn för din regel och fyller i övriga rader manuellt.
Man kan ha flera regler för samma enhet men du bör inte ange external port i flera olika regler.
För att komma åt hemsidan så anger man internet ip adressen som router blivit tilldelad (http:// 218.18.232.154:80)
Observera att din router kan bli tilldelad olika internet ip adresser av din bredbandsleverantör. Man kan då använda sig av dynamisk dns tjänster (ex TP-Link DDNS, dyndns.org eller noip.com) som då uppdaterar ditt domännamn med rätt ip adress.
Is this faq useful?
Your feedback helps improve this site.
SubscriptionTP-Link takes your privacy seriously. For further details on TP-Link's privacy practices, see TP-Link's Privacy Policy.
From United States?
Check products and services for your region.