Apr.2022

20
TP-Link presenterar sitt allra första Tri-Band WiFi 6E Whole Mesh-system - Deco XE75
TP-Link®, en ledande global leverantör av konsument- och företagsnätverksprodukter, tillkännagav idag det första WiFi 6E-mesh-systemet för hela hemmet, Deco XE75, utöka Mesh-nätverket till en ny era.
WiFi spelar för närvarande en av de viktigaste rollerna i vårt dagliga liv. Vi arbetar hemifrån, spelar videospel, strömmar filmer och förlitar oss på en smidig dataanslutning för allt vi gör. Den senaste WiFi-tekniken tar din nätverksprestanda till nästa nivå. Deco XE75 är ditt bästa val som en 6E-produkt på grundnivå.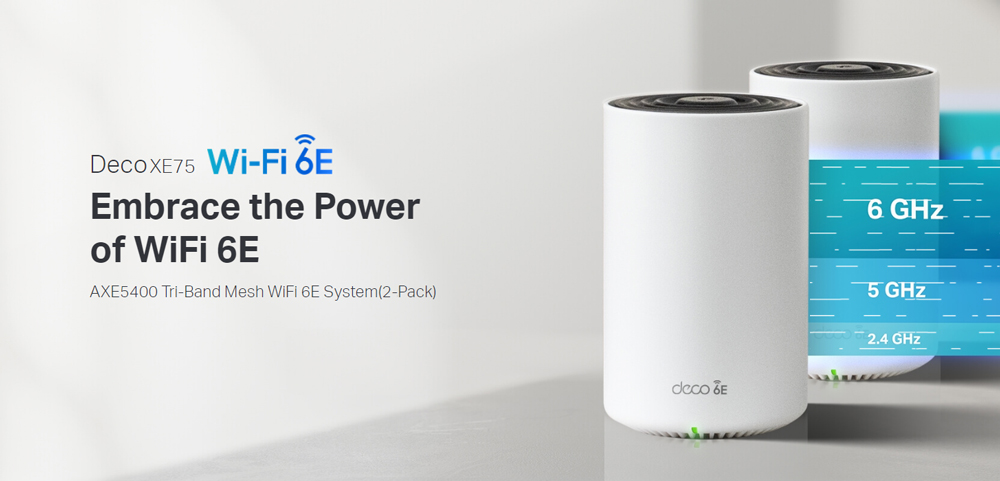 Mesh WiFi utvecklats med det senaste 6 GHz-bandet
Släpp lös ut det mesta av den senaste WiFi-tekniken och njut av trängselfria nätverk. WiFi 6 ger uppgraderad prestanda i nätverkseffektivitet och kapacitet. Att öppna 6 GHz-bandet ändrar spelet för WiFi 6, så att WiFi 6 kan uppfylla sin potential. 6 GHz-bandet är också rent och trängselfritt, vilket är exklusivt för WiFi 6E-enheter för att eliminera störningar från äldre enheter.
Deco XE75-testning visar att dess 6 GHz-kanalanvändning är 20% -40% renare än 2.4 GHz- och 5 GHz-bandet, vilket ger mindre störningar i nätverket. Den har också 300% större genomströmning och 50% -90% lägre latens än 5 GHz-bandet. ‡
Blixtsnabb WiFi-hastighet upp till 5,4 Gbps
Tri-Band WiFi med 1024-QAM och 160 MHz kanalteknik ökar de totala hastigheterna upp till otroliga 5400 Mbps för upp till 7,200 FT2 täckning. Deco XE75 använder funktionerna i 6 GHz för att möjliggöra applikationer med hög bandbredd som kräver snabbare datagenomströmning. Njut av smidig 8K-streaming och VR/AR-upplevelser utan buffring. Anslutningen med lägre latens säkerställer att varje onlinespelupplevelse förblir sömlös och uppslukande.
Täck över varje hörn av ditt hem
Deco XE75 eliminerar svaga signalområden med tydligare, starkare WiFi för hela hemmet som genereras av BSS (Base Service Station) Färg- och strålformningsteknik som WiFi-dödzonsmördare. BSS Coloring upptäcker och markerar dataramar från angränsande nätverk. Det minskar avmattningar och störningar samtidigt som det möjliggör fler samtidiga dataöverföringar. Beamforming identifierar enheter och koncentrerar trådlös signalstyrka mot dem. Med BSS Coloring och Beamforming kommer det inte längre att söka efter en stabil anslutning.
Konstruerad för fler enheter
Oavsett hur många skärmar eller enheter som är på samtidigt, möjliggör den senaste generationen WiFi trängselfria signaler. Deco XE75 bygger ett effektivare nätverk med mer dataflöde på anslutna enheter i täta miljöer. Du kan ansluta upp till 200 enheter till din Deco XE75 för en trådlös upplevelse utan fördröjning. Det finns inga fler bekymmer med att dra ner prestanda när du spelar uppslukande onlinespel.
AI-driven mesh, WiFi skräddarsydd för ditt hem
Gå igenom ditt hem och njut av sömlös streaming med snabbast möjliga hastigheter. Deco Mesh-systemet bildar ett enhetligt nätverk med ett enda nätverksnamn. Inbyggd AI-roaming skapar också den perfekta Mesh WiFi-lösningen med sina sofistikerade algoritmer och självlärande.
Håll alla delar säkra — HomeShield§
Med den förbättrade WPA3-krypteringen och TP-Link HomeShield är Deco XE75 ett av de säkraste WiFi Mesh-systemen, vilket håller ditt hemnätverk säkert. TP-Link HomeShield hanterar onlinetid och blockerar olämpligt innehåll för att hålla familjer friska online med föräldrakontroll. Quality of Service (QoS) och Network Protection håller ditt hemnätverk smidigt och säkert. Med omfattande rapporter kan du kontrollera all statistik och insikter som hjälper dig att känna till ditt hemnätverk bättre.
Deco XE75 Viktiga funktioner
WiFi för hela hemmet 6E — Täck upp till 7 200 ft2 (3-pack) med nästa generations sömlösa WiFi, vilket gör döda zoner och buffring till ett minne blott
Helt nytt 6 GHz-band — Upplev den senaste frekvensen av WiFi, vilket eliminerar störningar från alla äldre enheter. 6 GHz-bandet levererar också en kraftfull dedikerad backhaul för att effektivisera WiFi-prestanda för icke-6E-enheter
Sann tri-bandhastighet — Alla tre WiFi-banden arbetar tillsammans för att släppa loss nätverkets totala hastigheter upp till 5 400 Mbps för 200 enheter
AI-drivet Mesh — Förena ditt hem under ett namn och lösenord samtidigt som du levererar de bästa anslutningarna när du flyttar rum till rum
TP-Link HomeShield — Håller ditt hemnätverk säkert med banbrytande funktioner för nätverk och IoT-skydd§§
Installationen enklare än någonsin — Deco-appen guidar dig genom installation och installation, steg för steg
Universell kompatibilitet — Bakåtkompatibel med alla WiFi-generationer och fungerar med alla internetleverantörer (ISP)
From United States?
Get products, events and services for your region.