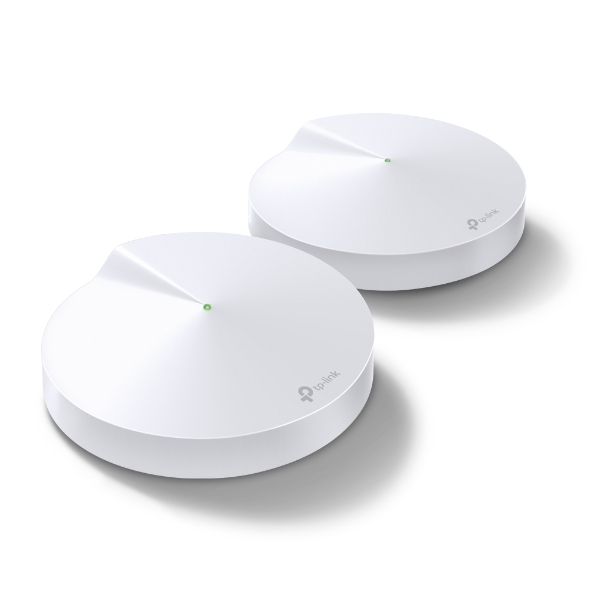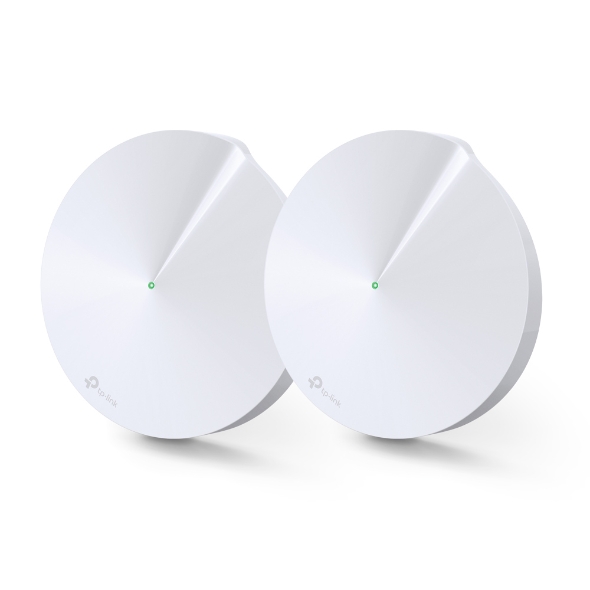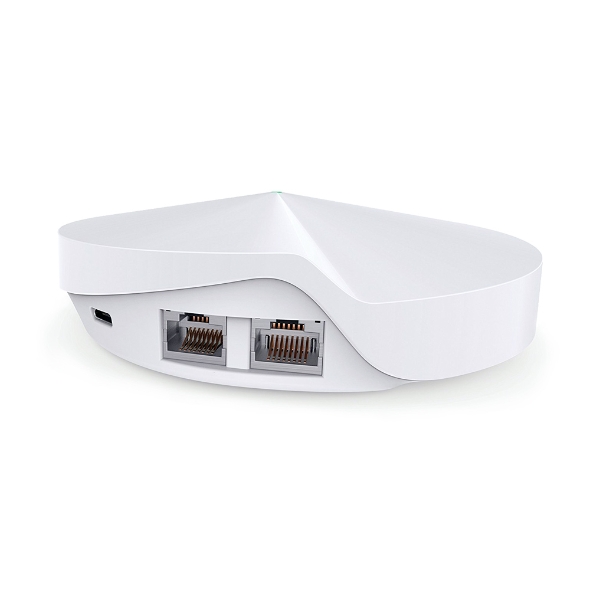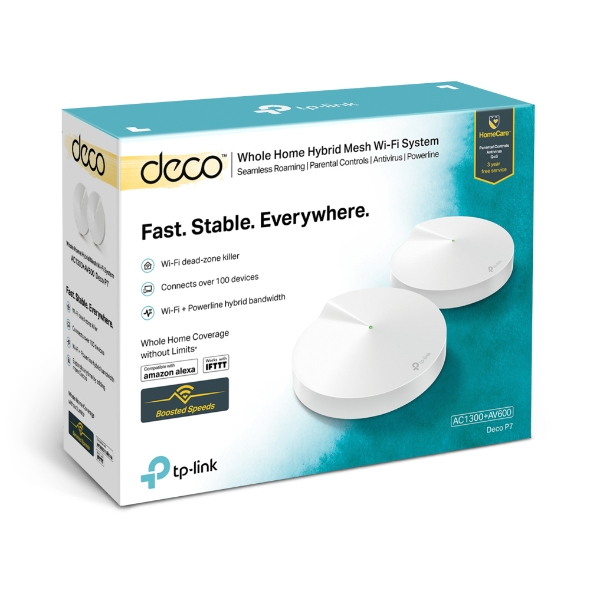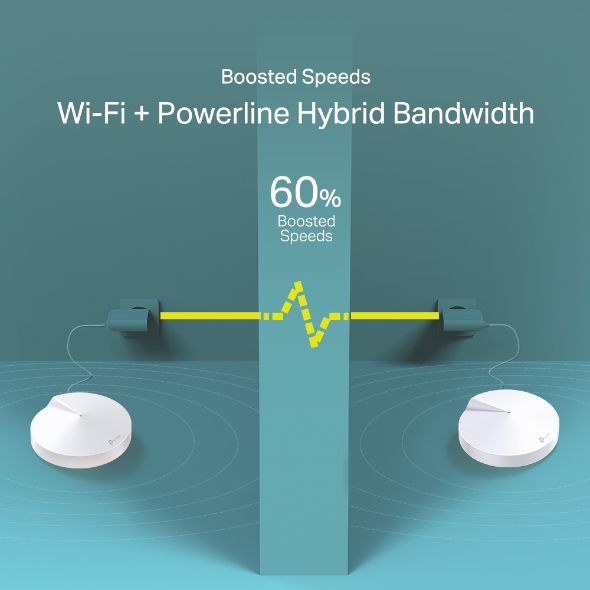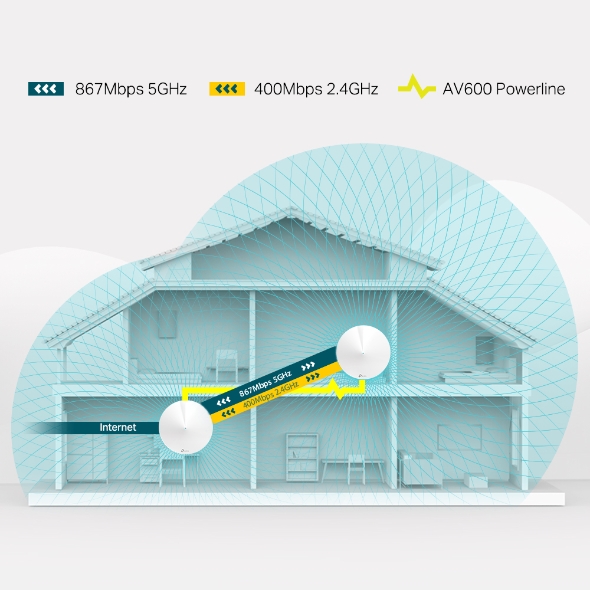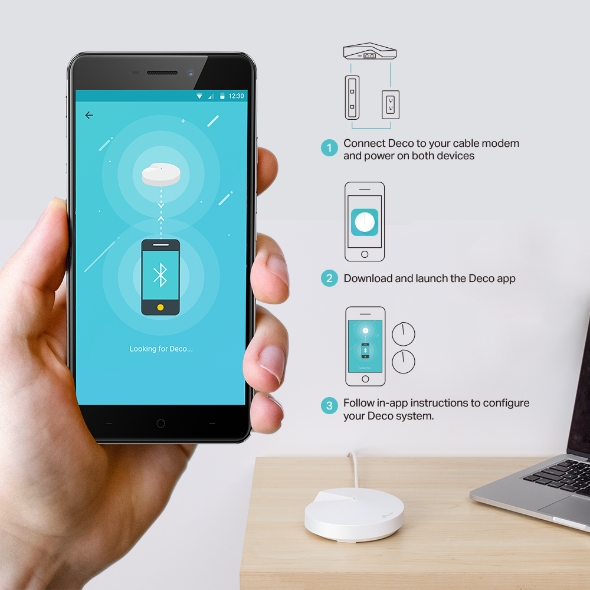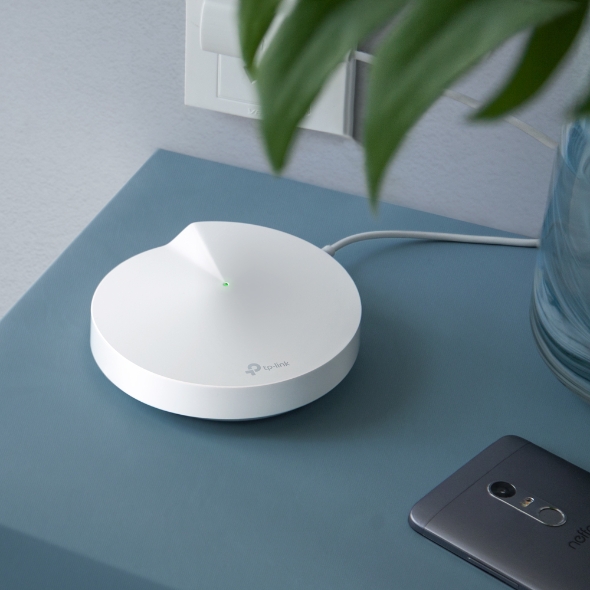 AC1300+AV600 Sistem Mesh Wi-Fi Hibrid pentru întreaga casă Deco P7(2-pack)
Clasa wireless: AC1300 + HomePlug AV600
Wi-Fi + PLC Hybrid Mesh: Rețeaua hibridă mărește lățimea de bandă în mod eficient. Cu powerline integrat, nu mai există limite de distanță. Bucură-te de Wi-Fi în toată casa!
Procesare puternică: procesor Quad-core Qualcomm
Simplu și inteligent: cu aplicația Deco este ușor să configurezi și să gestionezi rețeaua. Hardware-ul este compatibil să lucreze cu Amazon Alexa și IFTTT.
Acoperire extinsă: acoperire Wi-Fi de până la 185 metri patrati pentru fiecare unitate
Mai multe dispozitive de conectat: Suportă peste 100 dispozitive conectate
TP-Link HomeCareTM : Combină Controlul parental, QoS și software-ul antivirus încorporat
Rapid. Stabil. Oriunde.
Sistem Mesh Wi-Fi Hibrid pentru întreaga casă
AC1300 Dual-Band Wi-Fi + AV600 Powerline
Deco P7
Wi-Fi Mesh cu Powerline încorporat
Deco P7 este un sistem Wi-Fi mesh ce dispune de tehnologia powerline. Conexiunile Powerline și wireless funcționează împreună pentru a conecta unitățile Deco, oferind viteze de rețea mai rapide și o acoperire mult mai mare.
Wi-Fi Mesh invalid

Wi-Fi Mesh

AV600 Powerline
Semnalele sunt interferate de către perete
Deco P7: Semnalul trece prin perete
Viteze accelerate
Wi-Fi + Powerline, lățime de bandă hibridă
Deco P7 combină conexiunile Wi-Fi Dual Band și conexiunile prin cablu pentru a transmite date între unitățile Deco.
Viteza rețelei este îmbunătățită cu până la 60% în comparație cu utilizarea doar a Wi-Fi-ului.
Elimină zonele fără Wi-Fi
Elimină zonele cu semnal slab cu sistemul Wi-Fi pentru întreaga casă. Nu mai căuta în jur pentru o conexiune stabilă.
Vrei o acoperire mai mare? Adaugă o altă unitate Deco.
867Mbps 5GHz

400Mbps 2.4GHz

AV600 Powerline
Fără așteptare
Obosit de încărcarea nesfârșită? Cu un număr tot mai mai mare de gadget-uri care acoperă lățimea de bandă din casele noastre, ai nevoie de o rețea care să poată face față provocării. Cu viteze de rețea de trei ori mai rapide decât cele din generația anterioară datorită tehnologiei wireless 802.11ac, Deco poate oferi conexiuni fără întârziere pentru peste 100 de dispozitive.
conectează peste
100
dispozitive
Roaming fără probleme
Deco lucrează împreună pentru a forma o rețea Wi-Fi unică. Telefonul sau tableta se vor conecta automat la unitatea Deco care oferă cele mai rapide viteze pe măsură ce te muți prin casă, creând o experiență online fără probleme.
Deco P7

Router's Wi-Fi

RE's Wi-Fi

Router + Range Extenders
Configurarea a devenit mai ușoară
Deschide Deco, instalează aplicația și apoi pur și simplu urmărește instrucțiunile de pe ecran. Deco va avea grijă de restul, asigurând funcționarea rețelei în câteva minute.
Conectează Deco la modemul de cablu și activează ambele dispozitive

Descarcă și lansează aplicația Deco

Urmărește instrucțiunile din aplicație pentru a configura sistemul tău Deco.
TP-Link HomeCare TM
TP-Link HomeCare TM asigură faptul că fiecare dispozitiv din rețea este protejat, iar o bază de date despre amenințări este actualizată direct de Trend MicroTM.
Controalele parentale puternice pot limita timpul online și pot bloca conținutul necorespunzător, în funcție de profilurile unice create pentru fiecare membru al familiei.
Află mai multe >>
Blochează conținutul necorespunzător și restricționează timpul petrecut online

Protejează toate dispozitivele conectate din casa de amenințările online

Prioritizează dispozitivele și aplicațiile pentru o performanță mai rapidă atunci când este necesar
Funcționează cu amazon alexa

Funcționează cu IFTTT

Rapoarte lunare
*1. Ratele maxime de transmisie wireless derivă din specificațiile standardului IEEE Standard 802.11. Acoperirea, numărul de dispozitive conectate și distanța dintre dispozitive se bazează pe rezultatele testului realizat în condiții normale de utilizare. Acoperirea wireless, numărul de dispozitive conectate și rata de transmisie a datelor nu sunt garantate și pot varia în funcție de: 1) factori de mediu, inclusiv materialele de construcție, obiectele fizice și obstacole; 2) condiții de rețea, inclusiv interferențe locale, volum, densitatea traficului și complexitatea rețelei și 3) limitările clientului, inclusiv performanța nominală, locația, conexiunea, calitatea și condițiile clientului.
*2. Distanta maximă efectivă a transmisiei de date prin intermediul powerline (HomePlug AV Standard) este de aproximativ 300 m/ 980 ft. Deco P7 nu ar trebui sa fie folosit dincolo de această limitare.
*3.Pachetul de bază TP-Link HomeCareTM, powered by Trend MicroTM, este inclus timp de 3 ani de la data activării, fără costuri suplimentare. Acesta include control parental, calitatea serviciului și antivirus. Oprirea funcției HomeCare ™ va dezactiva anumite funcții de control și protecție. Pentru o listă completă a funcțiilor HomeCareTM, vizitează www.tp-link.com/HomeCare/
True Seamless Roaming
Deco units work together to form one unified network. Your phone or tablet automatically connects to the fastest Deco as you move through your home, creating a truly seamless online experience. Support for IEEE 802.11r as well as 802.11k/v mean switching from one Deco to another is so smooth it's unnoticeable, even during streaming.
Adaptive Path Selection

TP-Link Mesh Technology dynamically
chooses the best route and band for
your data, guaranteeing a fast connection no
matter where you are in the home.
Self-Healing

If one Deco has an issue, the system will
automatically reroute data via the other
Decos to make sure you stay online.
Wi-Fi + Powerline
Powerline connections utilize your home's electrical circuit to link Decos, bypassing even the thickest of walls and ceilings.
The combination of powerline and wireless connections achieves up to 60% faster network speeds compared with only wireless connection.
Boosted speeds
60%
Standard Wi-Fi System
Hybird Wi-Fi System
Powerline

Note:Wi-Fi + Powerline is only for Deco P7
IoT Mesh
Unlike traditional smart hubs, TP-Link Mesh Technology provides whole-home IoT coverage with Wi-Fi, Bluetooth and Zigbee integrated into a single system. Enjoy the magic of your smart home in every room with TP-Link Mesh Technology. Say goodbye to countless hubs.
- - -

Wi-Fi

- - -

Zigbee

- - -

Bluetooth
Why is TP-Link Mesh Technology
an industry-leading solution?
Complete Comparison

Model Number
TP-Link Deco
Netgear Orbi
Google WiFi
Wireless Backhaul
Tri-Band (2.4G+5G_1+5G_2)¹
Single-Band (5G_1 Only)
Dual-Band (2.4G+5G)
Mesh Protocol Supported
IEEE 802.11k/v/r
IEEE 802.11k/v
IEEE 802.11s
True Seamless Roaming
√
×
×
APS(Adaptive Path Selection)
√
×
√
IoT Mesh
√²
×
×
Powerline Backhaul
√³
×
×
Wireless + Powerline Bandwidth
√⁴
×
×
Band Steering
√
√
√
AP Steering
√
√
√
Self-Healing
√
√
√

Notes: 1&2: For Deco M9 Plus Only

3&4: For Deco P7 Only

Spec sourced by Dec. 2017
Deco Network Management at Your Fingertips!
The Deco app provides the easiest way to set up, manage and monitor your Deco Whole Home Mesh Wi-Fi System through your iOS or Android devices.
Setup Just Got a Lot Easier
Unbox Deco, install the app and then simply follow the on-screen directions. Deco app will take care of the rest and get your network up and running in minutes.
Connect Deco to your cable modem and turn on both devices

Download and launch the Deco app

Follow the in-app instructions to configure your Deco system.
Simple Management
Deco makes it easy to manage your Wi-Fi from anywhere, whether you're on the couch, at work, or anywhere in between.
Simple Management Dashboard

View the working status of your network, check the connected devices and get all the features your router offers.

Multiple Decos, One App

The Deco app manages all your Deco networks and devices connected to your Deco Wi-Fi.

Check the Connected Devices

View a list of your connected devices with the ability to pause and resume internet access, test the internet speed and prioritize or block the devices.

Remote Management

Remotely take control of the network with a tap of your phone—no matter where you find yourself.
Powerful Parental Controls
Simple, intuitive parental controls make it easy to keep your children safe while they're online.
Easily create a profile for each family member and set custom time limits and online time allowances. Assign devices to profiles so rules extend to individual devices as well as family members.

Keep your family safe online with one-touch security settings that block content based on age-appropriateness.

Set limits on how much time each person in your family can spend online.

With Insights, you can check out which sites your children visit and how much time they spend on each. It's a great way to know your children are safe while they're having fun online.

Take a break from Wi-Fi for dinner and family game nights. Just tap a button to suspend internet access for everyone in your home.
An Intuitive App Full of Features
Monthly Usage Summary
See a comprehensive list of your network details every month, including usage,
blocked content, security threats and more.
Home Automation
Make your life easy with powerful automation and voice control tools.
*Currently only for Deco M9 Plus
Flexible Shortcut
Flexibly control all devices from your phone or tablet with just one click.
*Currently only for Deco M9 Plus
Protect Your Network
Built-in Antivirus helps you defend against malicious website and guard your online payment.
*Currently only for Deco M9 Plus, Deco P7 and Deco M5
Prioritize Your Devices
Choose which devices always have the fastest connections
or set priority for a specific time duration.
Set Application Priorities
Allocate more bandwidth for the activities most important to you with simple controls.
*Currently only for Deco M9 Plus, Deco P7 and Deco M5
Share Wi-Fi with Friends
Set up separate Wi-Fi profiles for guests and share the password to
make it easier for them to hop online.
Check Your Speed
Run a speed test to ensure you're getting the internet speeds you're paying for.
View every device on your network and see how much bandwidth they're using.
Our Support Always Has Your Back
Have questions about Deco? Help is always just a click away. Find the answers in Deco app and don't hesitate to contact us with just a simple click.
Support
Notes: App interfaces and functions may vary slightly based on the app version and Deco models.
ALIMENTARE
Intrare adaptor AC
100-240V ~ 50/60Hz 0.4A
Ieșire adaptor AC
12V ⎓ 1.2A
CARACTERISTICI HARDWARE
Ports
2 * LAN/WAN Gigabit Ethernet Ports1 * USB Type-C Port
Butoane
1 Reset button on the underside
Alimentare Externă
12 V/1.2 A
LED
1 LED
Dimensions
Φ4.7 in. x 1.3 in. (Φ120 mm x 38 mm)
Tip antenă
4 internal antennas per Deco unit
Caracteristici Wireless
Standarde Wireless
IEEE 802.11 ac/n/a 5 GHz, IEEE 802.11 b/g/n 2.4 GHz
Frecvență
2.4 GHz and 5 GHz
Wireless Onboarding
Bluetooth 4.2
Rată de Semnal
867 Mbps at 5 GHz400 Mbps at 2.4 GHz
Putere de Transmisie
FCC: <30 dBmCE: <20 dBm (2.4 GHz) <23 dBm (5 GHz)
Securitate Wireless
WPA-PSK/WPA2-PSK
Funcții Avansate
● Router/ Access Point Mode● Optional Ethernet Backhaul● TP-Link Mesh Technology: MU-MIMO Auto Path Selection AP Steering Band Steering Beamforming
Caracteristici Software
Calitatea Serviciului
WMM
Tip WAN
Dynamic IP/Static IP/PPPoE
Management
Local Management, Remote Management
DHCP
Server, Client
Securitate Firewall
SPI Firewall
Protocoale
Supports IPv4 and IPv6
Caracteristici Avansate
Parental Controls3-Year Built-In AntivirusQoS (Quality of Service)ReportingAssisted Setup
Guest Network
2.4 GHz guest network * 15 GHz guest network * 1
Powerline
Powerline Rate
600Mbps
Standard
HomePlug AV
Range
300 meters / 1000 feet over electrical circuit
Altele
Conținut Pachet
●Deco P7 (3-pack):3 Deco units1 RJ45 Ethernet Cable3 Power Adapters with Powerline●Deco P7 (2-pack):2 Deco units1 RJ45 Ethernet Cable2 Power Adapters with Powerline
Smartphone/Tablet Requirements
iOS 8.0 or laterAndroid 4.3 or laterBluetooth 4.0 or later
Mediu
Operating Temperature: 0℃~40℃ (32℉~104℉)Storage Temperature: -40℃~70℃ (-40℉~158℉)Operating Humidity: 10%~90% non-condensingStorage Humidity: 5%~90% non-condensing