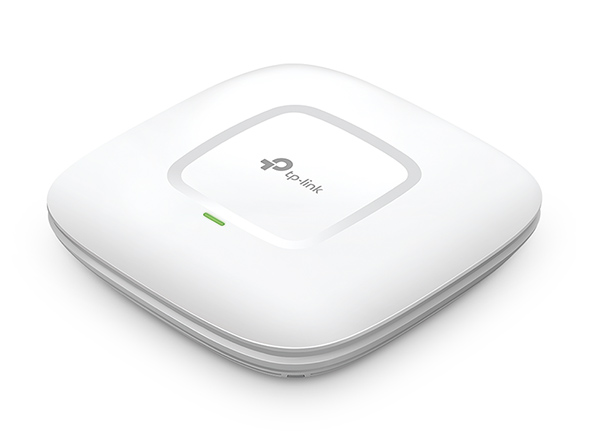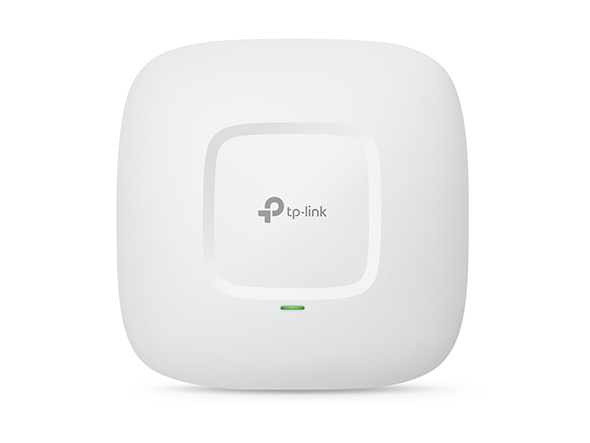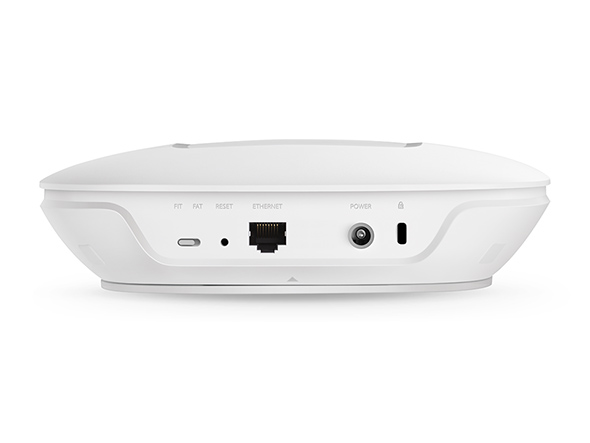 300Mbps Wireless N Ceiling Mount Access Point CAP300
Controladora Wireless permite aos administradores uma gestão fácil de centenas de CAP's
Suporta Power over Ethernet (802.3af) para uma instalação simples e económica
Arquitetura simples permite aplicação fácil em paredes ou tetos
Captive Portal permite um método conveniente de autenticação na rede Wi-Fi para guests
Segurança Wi-Fi de categoria empresarial ajuda a reduzir ameaças à segurança da rede
Multi-SSID divide várias redes wireless para diferentes tipos de users
Modo FAT/FIT configurável permite uma grande possibilidade de configurações de rede
Introduzindo a Nova Gama de CAP's Auranet como Solução Wi-Fi
Segurança e estabilidade de Rede Definitiva
Atualmente as empresas exigem mais flexibilidade e segurança das suas redes wireless, de modo a manterem-se a par num mundo em constante mudança. A nova gama de CAP's Auranet da TP-Link permite isto e muito mais. Os pontos de acesso CAP funcionam conjuntamente com os Controladores Wilress Auranet para providenciar soluções adaptáveis de performance Wi-Fi excecional e de fácil implementação.
Gestão
Centralizada
Flexível
e Adaptável
Redundância
e Backup
Implementação
Instantânea
Gestão Centralizada e Descoberta Automática
Faça a gestão de centenas de pontos de acesso em simultâneo usando as Controladoras Wireless Auranet. Adicionar novos pontos de acesso não poderia ser mais simples com a Descoberta Automática. As Controladoras detetam pontos de acesso, aplicam as suas configurações e começam a, centralmente, geri-los desde o momento em que entram na rede, permitindo que se concentre naquilo que realmente importa.
Controladora Wireless
Novo dispositivo
Dispositivos existentes
Gira ate 500 AP's sem Custos de Licença
Total Adaptabilidade sem Custos de Licença
Expanda a sua rede quando lhe for mais conveniente, sem complicações. Sem custos de licenciamento em qualquer altura, escolha entre uma grande variedade de controladores wireless à medida das suas ambições.
Controladora por Hardware
de Grande Capacidade
As Controladoras Wireless Auranete contêm um processador Dual-Core 1GHz que garante a estabilidade da rede. Em conjunto com outras peças de hardware altamente sofisticadas, este equipamento providência uma fiabilidade superior na gestão da rede wireless.
Sistema Redundante Fiável
Implemente uma rede completamente estável ao instalar controladoras wireless numa configuração dual-link. Se uma controladora falhar, outra assume o controlo, garantindo uma rede livre de quebras.
Equipmanento de Backup
Desenho Discreto
de Fácil Instalação
CAP's com chassi fácil de montar,
permitem uma instalação na parede
ou no teto simples e rápida, enquanto a
incorporação da tecnologia Power over Ethernet (PoE)
torna a implementação fácil e flexível. Uma aparência
inteligente e refinada garante que os pontos de acesso
CAP Auranet se integram perfeitamente em
qualquer estilo de design de interiores.
Design
Compacto
Implementação
Flexível
Power over
Ethernet
Autenticação Guest
Personalizável
O Portal de Autenticação é uma ótima forma de personalizar a utilização Wi-Fi dos utilizadores guest, ainda que outros métodos de autenticação também sejam suportados. Crie a sua própria página de autenticação para promover o seu negócio junto dos utilizadores guest e tenha total controlo da sua rede Wi-Fi com uma enorme variedade de definições.
Gama de CAP's Auranet para Soluções WLAN Empresariais
PoE Switch
PoE Switch
Switch
Router
Internet
Controladora Wireless
POE
Cabo Ethernet
| | | |
| --- | --- | --- |
| Model | AC500 | AC50 |
| Product Description | AC500 Wireless Controller | AC50 Wireless Controller |
| Management Scale | Up to 500 APs | Up to 50 APs |
| Installation | Rack-mount | Desktop |
| Interface | Gigabit Ethernet Port*5 | 10/100Mbps Ethernet Port*5 |
| Dimensions(W*D*H) | 17.3*8.9*1.7in.(440*227*44mm) | 8.2*5.0*1.0i.(209*126.26mm) |
| AP Unified Configuration | √ | √ |
| AP Automatic Discovery | √ | √ |
| Band Steering | √ | √ |
| Captive Portal Authenticaton | √ | √ |
| Load Balance | √ | √ |
Model
CAP1750
CAP1200
CAP300
CAP300-Outdoor
Product Description
AC1750 Wireless Dual Band
Gigabit Access Point
AC1200 Wireless Dual Band
Gigabit Access Point
300Mbps Wireless N
Access Point
300Mbps Wireless N
Outdoor Access Point
Wireless Frequency
2.4GHz and 5GHz
2.4GHz and 5GHz
2.4GHz
2.4GHz
Maximum Data Rate
Up to 450Mbps(2.4GHz)
+1300 Mbps(5GHz)
Up to 300Mbps(2.4GHz)
+ 867 Mbps(5GHz)
Up to 300 Mbps
Up to 300 Mbps
Antennas
2.4GHz: 3*4dBi
5GHz: 3*4dBi
2.4GHz: 2*4dBi
5GHz: 2*5dBi
2*3dBi
2*5dBi (External)
Power over Ethernet(PoE)
IEEE 802.3at
IEEE 802.3af
IEEE 802.3af
IEEE 802.3af
Power Supply
PoE or external 12VDC/
1.5A power supply
PoE or external 12VDC/
1.5A power supply
PoE or external 9VDC/
0.6A power supply
PoE
Multiple SSIDs
16 ( 8 on each radio )
16 ( 8 on each radio )
8
8
Guest Network
√
√
√
√
Captive Portal Authentication
√
√
√
√
WMM
√
√
√
√
Hardware wireless controller enable administrators to easily manage hundreds of CAPs
Support Power over Ethernet (802.af) for convenient and affordable installation
Simple mounting design for easy attachment to a wall or ceiling
Captive portal provides on convenient method of authentication for Wi-Fi guests
Enterprise class Wi-Fi security help to decrease network security threats
Multi-SSID divides multiple wireless networks for different user types
FAT/FIT mode switchable providing a range of network possibilities
300Mbps wireless data rate for uninterrupted wireless connection
Rate limit per SSID to restrict the bandwidth of each client
Reboot Schedule enables all APs to automatically reboot within a specified time
WPA/WPA2-enterprise, 802.1X with RADIUS secure authentication and rogue access point detection ensure the security of WLAN network
Multi-SSID divides multiple wireless network for different user types
Load balance ensures large business networks with smooth a network experience
Compatible with 802.11 b/g/n products
Durable housing prevents dust from dropping onto the PCB through bypass louver to provide long-term, unhindered operation
Note: For advanced features, hardware wireless controller should be worked together.
CARACTERÍSTICAS DE HARDWARE
Interface
Fast Ethernet (RJ-45) Port *1(Support IEEE802.3af PoE)
Botão
Reset, FIT/FAT
Fonte de alimentação
PoE or external 9VDC/0.6A power supply
Consumo de energia
5W
Wireless Standards
IEEE 802.11n, IEEE 802.11g, IEEE 802.11b
Dimensões (L x P x A)
7.1 x 7.1 x 1.9 in. (180*180*47.5mm)
Tipo de Antena
Internal 2* 3dBi Omni
Mounting
Ceiling /Wall Mounting (Kits included)
Physical Security Lock
Kensington Lock Slot
Watch Dog
Yes
FUNCIONALIDADES WI-FI
Normas Wireless
IEEE 802.11n, IEEE 802.11g, IEEE 802.11b
Frequências
2.4-2.4835GHz
Signal Rate
11n: Up to 300Mbps(dynamic)11g: Up to 54Mbps(dynamic)11b: Up to 11Mbps(dynamic)
Reception Sensitivity
300M: -71dBm@10% PER150M: -75dBm@10% PER54M: -78dBm@10% PER11M: -93dBm@8% PER6M: -92dBm@10% PER1M: -96dBm@8% PER
Transmission Power
CE: ≤20dBmFCC: ≤26dBm
SOFTWARE FEATURE IN FAT MODE
Wireless Functions
Multiple SSIDs (Up to 8 SSIDs)Enable/Disable Wireless RadioAutomatic Channel AssignmentTransmit Power Control (Adjust Transmit Power on dBm)QoS(WMM)Reboot ScheduleWireless Statistics based on SSID/AP/Client
Wireless Security
SOFTWARE FEATURES IN FIT MODE
Wireless Functions
Multiple SSIDs (Up to 8 SSIDs)Enable/Disable Wireless RadioAutomatic Channel AssignmentTransmit Power Control (Adjust Transmit Power on dBm)WMMReboot ScheduleWireless ScheduleWireless Statistics based on SSID/AP/ClientLoad Balance
Wireless Security
Captive Portal AuthenticationMac Address AuthenticationWireless Isolation Between ClientsSSID to VLAN MappingWPA / WPA2-Enterprise,WPA-PSK / WPA2-PSK
OUTROS
Certificações
CE, FCC, RoHS
Conteúdo da embalagem
300Mbps Wireless N Ceiling Mount Access Point CAP300Power AdapterMounting Kits,Installation Guide
Requisitos de Sistema
Microsoft Windows 10/8/7/Vista/XP
Environment
Operating Temperature: 0℃~40℃ (32℉~104℉)Storage Temperature: -40℃~70℃ (-40℉~158℉)Operating Humidity: 10%~90% non-condensingStorage Humidity: 5%~90% non-condensing