Dec.2020

15
TP-Link posicionada como Nich Player no Quadrante Mágico do Gartner 2020 para Infraestruturas de Acesso LAN com e sem fios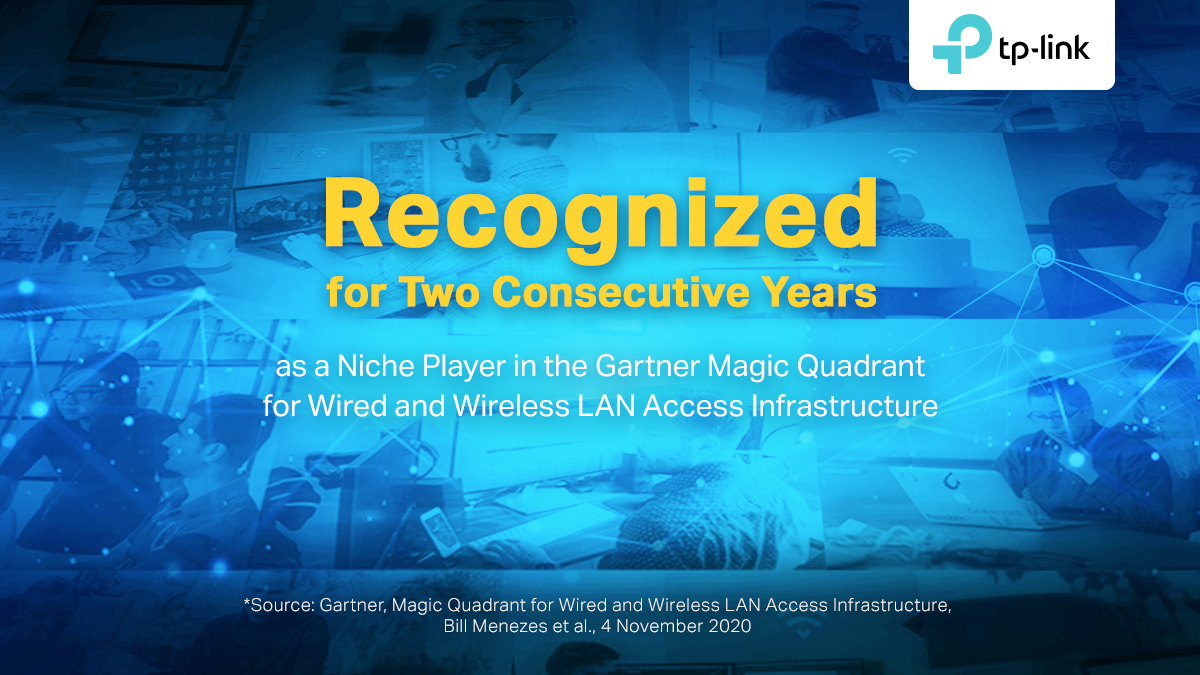 Lisboa, 15 de dezembro de 2020 – A TP-Link foi reconhecida no Quadrante Mágico do Gartner para Infraestruturas de Acesso LAN com e Sem Fios pelo segundo ano consecutivo*, de acordo com o último relatório publicado em novembro de 2020 pela empresa de investigação e consultoria Gartner. "A Gartner define o mercado de infraestruturas de acesso LAN com e sem fios como os fornecedores que disponibilizam às empresas hardware e software de rede que permitem a ligação de dispositivos à rede LAN com e Sem Fios da empresa".
Este anúncio marca o segundo ano consecutivo que que a TP-Link surge no Quadrante Mágico para Infraestrutura de Acesso LAN com e Sem Fios*, e nas Capacidades Críticas para a Infra-estrutura de Acesso LAN com e Sem Fios.** A TP-link alcançou um crescimento significativo de negócios em todo o mundo nos últimos anos e oferece uma carteira abrangente de produtos e soluções empresariais a empresas em qualquer escala e para vários cenários. Os produtos empresariais da TP-Link incluem Omada SDN, switches JetStream e LiteWave, routers SafeStream e Pharos Wireless Broadband-ideal para hotelaria, educação, retalho e muito mais.
"Não pudemos agradecer o suficiente à nossa equipa de I&D e à forma como os nossos parceiros e clientes acreditam em nós e adotam as nossas soluções de rede fiáveis e eficientes", disse Pingji Li, GM do Departamento de Negócios de Rede da TP-Link. "Continuamos a desenvolver produtos de acordo com a nossa missão - tirando partido da mais recente tecnologia disponível para todos e capacitando-os para criar um estilo de vida simples, inteligente e conectado".
Num outro relatório WLAN Tracker da empresa líder de investigação IDC, a TP-Link tem sido consistentemente classificada como o fornecedor nº 1 mundial de produtos Wi-Fi há mais de nove anos consecutivos, com base em vendas a nível mundial (versão Q2 2020).*** Com uma herança comprovada de estabilidade, desempenho e valor, a TP-Link reforça a sua liderança no mercado WLAN e esforça-se por satisfazer as necessidades de rede tanto para os mercados de consumo como para as empresas.
Quer saber mais sobre a TP-Link? Siga-nos em https://www.facebook.com/TPLINKPT/.
*Fonte: Gartner, "Magic Quadrant for Wired and Wireless LAN Access Infrastructure", Bill Menezes et al., 4 de novembro de 2020
**Fonte: Gartner, "Critical Capabilities for the Wired and Wireless LAN Access Infrastructure", Christian Canales et al., 10 de novembro de 2020
***Fonte: IDC Worldwide Quarterly WLAN Tracker Report, Q2 2020.
Aviso de isenção de responsabilidade Gartner
A Gartner não apoia qualquer vendedor, produto ou serviço descrito nas suas publicações de investigação, e não aconselha os utilizadores de tecnologia a selecionar apenas os vendedores com as mais altas classificações ou outra designação. As publicações de pesquisa do Gartner consistem nas opiniões da organização de pesquisa e aconselhamento do Gartner e não devem ser interpretadas como declarações de facto. O Gartner renuncia a todas as garantias, expressas ou implícitas, com respeito a esta pesquisa, incluindo quaisquer garantias de comerciabilidade ou adequação para um determinado fim.
###
Sobre a TP-Link
A TP-Link é uma marca inovadora e fornecedora global de produtos de rede para consumidores e PMEs e a fornecedora número 1 do mundo de dispositivos de banda larga WLAN e CPE **, com produtos disponíveis em mais de 120 países para centenas de milhões de clientes. Comprometida com pesquisa e desenvolvimento intensivos, produção eficiente e gestão rigorosa da qualidade, a TP-Link continua a oferecer produtos de rede premiados nas gamas de routers sem fios, gateways com cabo / DSL, adaptadores powerline, extensores de rede, câmaras na cloud, dispositivos domésticos inteligentes e acessórios para o utilizador final. Para clientes de pequenas e médias empresas, a TP-Link faculta soluções Wi-Fi estáveis para negócios, juntamente com switches e routers comerciais fiáveis.
* O número real de dispositivos conectados não é garantido e variará como resultado das condições da rede, limitações do cliente e fatores ambientais, incluindo materiais de construção, obstáculos, volume e densidade do tráfego e localização do cliente.
** Baseado no IDC Worldwide Quarterly WLAN Tracking Report, Q4 2019. Baseado em unidade vendidas.
Para mais informações à imprensa, por favor, contactar:
João Trigo | joao.trigo@edc.pt | 965 826 506
Frederico Rocha | frocha@edc.pt |936 101 392
SubscriptionA TP-Link Corporation Limited leva a sua privacidade a sério. Para mais detalhes sobre as Politicas de Privacidade da TP-Link, consulte Termos e Condições de Privacidade.
Sobre Nós
Comunicado de imprensa
Learning Center
From United States?
Check products and services for your region.