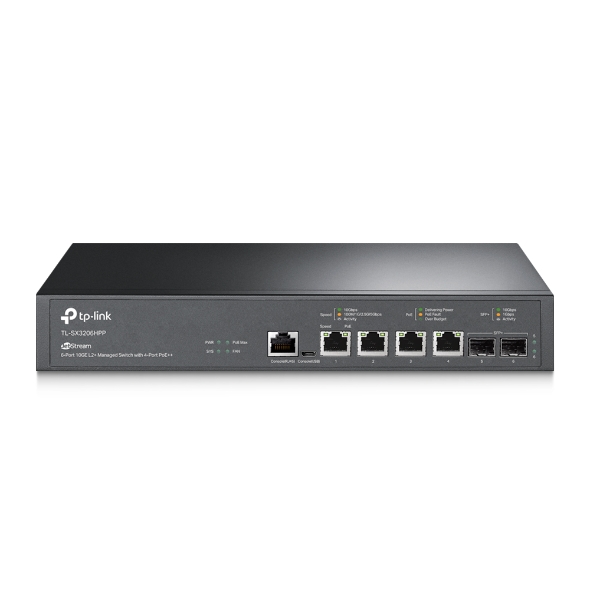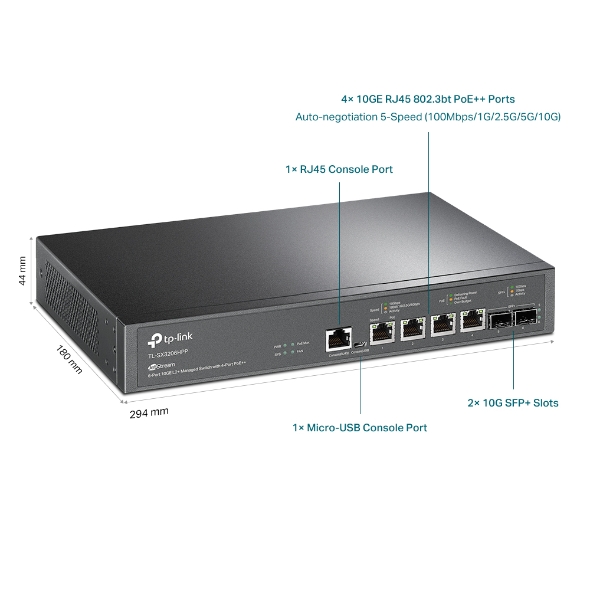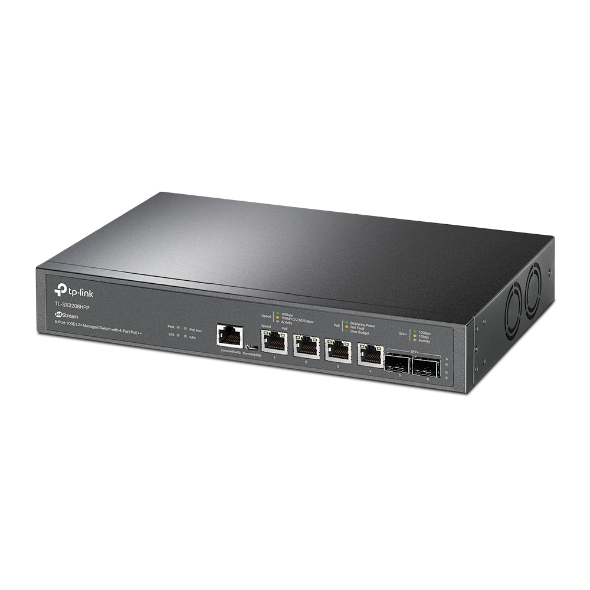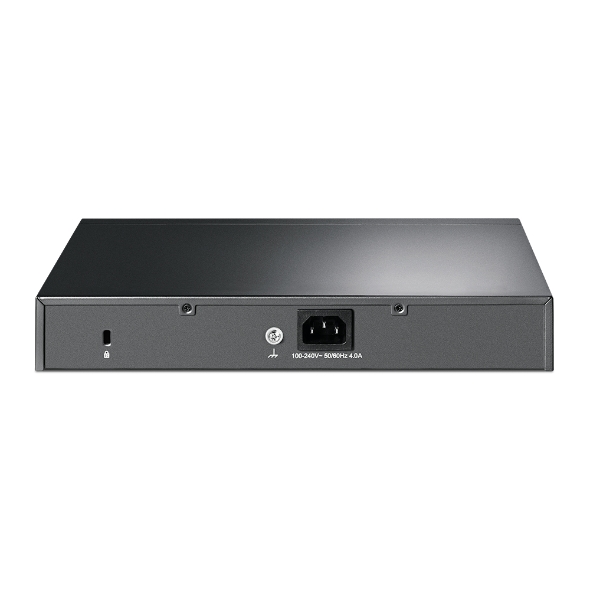 JetStream 6-Port 10GE L2+ Managed Switch with 4-Port PoE++
Conexão 10G: Oferece conectividade de alto desempenho com 4× Postas 10 Gbps RJ45 e 2× slots SFP+ de 10 Gbps.
PoE++ Power Budget de 200 W†: Quatro portas 802.3af/at/bt PoE++ 10G com saída até 60 W PoE em cada porta tornam-no ideal para a infraestruturas WiFi 6 e WiFi 6E.‡
Características Gestão Abundantes de L2 e L2+: Suporta funcionalidades de rede L2 e L2+, incluindo Encaminhamento Estático, QoS de nível empresarial e Snooping IGMP.
Especificações de Segurança Robustas: Suporta uma linha completa de funcionalidades L2 e L2+, incluindo Encaminhamento Estático, QoS de nível empresarial e Snooping IGMP.
Encaminhamento Estático: Ajuda a encaminhar o tráfego interno para uma utilização mais eficiente dos recursos de rede.
Gestão Centralizada Cloud: Integra-se na Omada SDN para acesso à nuvem e gestão remota.
Gestão Autónoma: Web, CLI (Porta de Consola, Telnet, SSH), SNMP, RMON e Dual Image trazem poderosas capacidades de gestão.
Saiba mais sobre a tecnologia TP-Link PoE >>
Saiba mais sobre o Omada Cloud SDN >>​
Switch 10G de Alto Desempenho PoE++
com 4× Portas 60W
JetStream 6-Port 10GE L2+ Managed Switch com 4 Portas PoE++
TL-SX3206HPP
Conexões Ultrarrápidas 10G

4× Portas 10GE RJ45 e 2× Portas Slot 10GE SFP+ capacidade total de 120 Gbps

802.3bt PoE++ Output

Com 4 Portas RJ45 10GE oferecem 802.3bt PoE++ para fornecer dados e energia com um total de 200 W PoE power budget e 60 W por portas RJ45†

Gestão Centralizada OMAD Cloud

ntegrado no ecossistema Omada SDN para acesso à nuvem e gestão remota

Abundantes Funcionalidades L2+ & L3

Static Routing, DHCP Server, DHCP Relay, IP Interfaces,
IGMP Snooping, e muito mais
Conexão Ultrarrápidas com Portas Full 10GE
Construa e expanda a sua infraestrutura de rede com TP-Link TL-SX3206HPP - um switch totalmente gerido com portas 10GE RJ45 e portas de fibra SFP+ e capacidade de switching de 120 Gbps. As quatro portas 10GE RJ45 com auto-negociação para ligações Multigigabit (100Mbps/1G/2.5G/5G/10G) proporcionam um desempenho excelente. Duas ranhuras SFP+ de 10GE fornecem desempenho de rede de alta velocidade e latência nula, para ligações estáveis e rápidas aos servidores e outros Switches.
120
Gbps
Capacidade de Switching
1× Porta Micro-USB Console
4× Portas 10GE RJ45 802.3bt PoE++
Capacitar a Estrutura de Rede WiFi com Prestações de Alto Débito
Quatro portas RJ45 de 10GE 802.3bt PoE++ disponibilizam dados e energia num total de 200 W PoE power budget e 60 W para cada porta. Desbloqueia todo o potencial de largura de banda dos pontos de acesso WiFi 6 e WiFi 6E e dispositivos PoE de alta potência.† PoE (802.3af), PoE+ (802.3at) e PoE++ (802.3bt) são suportados, pelo que não é necessário instalar novos circuitos elétricos para alimentar os seus equipamentos.‡
4× Portas 10GE RJ45 PoE++
Até 60 W por Porta
Total 200 W Power Budget
PTZ HD IP Câmaras
com aquecedores
Edifícios Inteligentes
Iluminação
Prestações de Alto Débito WiFi 6 & WiFi 6E

Switch com Portas 10G ou 2.5G PoE

Equipamentos com ligação PoE,
Hassle-Free

PoE Switch com 10G Uplink

Acessos Ultrarrápidas
na Rede Ethernet

Switch com Portas 10G
Perfeitamente Integrado no Omada Cloud SDN
A plataforma Omada Software Defined Networking (SDN) integra equipamentos de rede, incluindo pontos de acesso, switches e routers,
fornecendo gestão Cloud 100% centralizada. A Omada cria uma rede altamente escalável, tudo controlado a partir de uma única interface. São fornecidas
ligações com e sem fios, ideais para uso em hotelaria, educação, retalho, escritórios e muito mais.
Wi-Fi 6
Celling Mount
Wall Plate
Outdoor
Interface de Gestão Unificada
Cloud
Zero-Touch
Provisioning (ZTP)*

Intelligente
Monitorização
Recursos Avançados L3
Funcionalidades L2+ e L3 são suportadas para ajudar a construir uma rede altamente escalável e robusta, fornecendo uma solução fiável e eficiente para empresas, campus e ISPs.
Static Routing

IPv6 Support

DHCP Server

DHCP Relay

IP Interfaces
Rede Segura

As nossas funcionalidades de segurança de alta qualidade defendem-se contra uma série de ameaças à rede. Incluem a ligação IP-MAC-Port-VID, Segurança portuária, Controlo de Tempestades e Snooping DHCP. Está disponível uma lista integrada proteção contra ataques do DoS comuns, tornando mais fácil do que nunca impedi-los. As Listas de Controlo de Acesso (ACL, L2 a L4) restringem o acesso a recursos de rede sensíveis, negando pacotes baseados no endereço MAC de origem e destino, endereço IP, portas TCP/UDP ou VLAN ID. O acesso do utilizador à rede pode ser controlado através da autenticação 802.1X para conceder acesso de acordo com as credenciais válidas do utilizador.

Características de Nível Empresarial

AÉ suportado um alinhamento completo das funcionalidades L2+. 802.1Q VLAN, Port Mirroring, STP/RSTP/MSTP, Link A agregação Control Protocol e 802.3x Flow Control estão entre as funcionalidades inovadoras. A Advanced IGMP Snooping garante que o switch encaminha inteligentemente os fluxos multicast para os assinantes apropriados e reduz o tráfego desnecessário. O estrangulamento e filtragem do IGMP restringe os assinantes ao nível do porto para impedir o acesso não autorizado a multicasts. O Static Routing segmenta a rede para encaminhar o tráfego de forma eficiente.

Advanced Quality of Service (QoS)

Tráfego de voz e vídeo e ser prioritário com base no endereço IP, endereço MAC, número da porta TCP, número da porta UDP, e muito mais. Com o QoS, os serviços de voz e vídeo permanecem suaves, mesmo em situações de baixa largura de banda.

Características ISP**

Os Fornecedores de Serviços de Internet (ISPs) obtêm o suporte de que necessitam com funcionalidades como DDM, sFlow, QinQ, L2PT, Inserção de ID PPPoE e autenticação IGMP. 802.3ah OAM e Device Link Detection Protocol (DLDP) fornecem monitorização e resolução de problemas simples das ligações Ethernet em toda a rede.

Suporte IPv6

Uma enorme variedade de funções IPv6 garante que a sua rede estará pronta para a Rede de Próxima Geração (NGN) sem a necessidade de atualizar o seu hardware. Aproveite funcionalidades como Dual IPv4/IPv6 Stack, MLD Snooping, IPv6 ACL, DHCPv6 Snooping, IPv6 Interface, Path Maximum Transmission Unit (PMTU) Discovery e IPv6 Neighbor Discover para melhorar o seu ambiente de rede.
Switches for Business WiFi

For small and medium-sized businesses, a network switch is the fundamental component to build their business network. TP-Link offers an extensive portfolio of network switches with abundant functions and flexible options for every stage of your business growth.

High-Speed Wired LAN Network
Manage with Ease
Abundant Security Strategies
Lower Yours Costs
Comprehensive Products
CARACTERÍSTICAS DE HARDWARE
Interface
• 4× 100/1000/2500/5000/10000 Mbps RJ45 Ports• 2× 10G SFP+ Slots• 1× RJ45 Console Port• 1× Micro-USB Console Port
Quantidade de ventoinhas
2
Fonte de alimentação
100-240 V AC~50/60 Hz
PoE Ports (RJ45)
• Standard: 802.3bt/at/af compliant• PoE+ Ports: 4 Ports, up to 60 W per port• Power Budget: 200 W
Dimensões (L x P x A)
11.6 × 7.1 × 1.7 in (294× 180 × 44 mm)
Mounting
• Rack Mountable• Desktop
Max Power Consumption
• 27.29 W (110V/60Hz) (no PD connected)• 244.90 W (110V/60Hz) (with 200 W PD connected)
Max Heat Dissipation
• 93.12 BTU/h (110 V/60 Hz) (no PD connected)• 835.67 BTU/h (110 V/60 Hz) (with 200 W PD connected)
PERFORMANCE
Switching Capacity
120 Gbps
Packet Forwarding Rate
89.28 Mpps
MAC Address Table
32 K
Jumbo Frame
9 KB
FUNCIONALIDADES SOFTWARE
Quality of Service
• 8 priority queues• 802.1p CoS/DSCP priority• Queue scheduling - SP (Strict Priority) - WRR (Weighted Round Robin) - SP+WRR• Bandwidth Control - Port/Flow based Rating Limiting• Smoother Performance• Action for Flows - Mirror (to supported interface) - Redirect (to supported interface) - Rate Limit - QoS Remark
L2 and L2+ Features
• Link Aggregation - static link aggregation - 802.3ad LACP - Up to 8 aggregation groups, containing 8 ports per group• Spanning Tree Protocol - 802.1d STP - 802.1w RSTP - 802.1s MSTP - STP Security: TC Protect, BPDU Filter, Root Protect• Loopback Detection - Port based - VLAN based• Flow Control - 802.3x Flow Control - HOL Blocking Prevention• Mirroring - Port Mirroring - CPU Mirroring - One-to-One - Many-to-One - Tx/Rx/Both
L2 Multicast
• IGMP Snooping - IGMP v1/v2/v3 Snooping - Fast Leave - IGMP Snooping Querier - IGMP Authentication• IGMP Authentication• MLD Snooping - MLD v1/v2 Snooping - Fast Leave - MLD Snooping Querier - Static Group Config - Limited IP Multicast• MVR• Multicast Filtering: 256 profiles and 16 entries per profile
VLAN
• VLAN Group - Max 4K VLAN Groups• 802.1Q Tagged VLAN• MAC VLAN: 10 Entries• Protocol VLAN: Protocol Template 16, Protocol VLAN 16• Private VLAN• GVRP• VLAN VPN (QinQ) - Port-Based QinQ - Selective QinQ• Voice VLAN
Access Control List
• Time-based ACL• MAC ACL - Source MAC - Destination MAC - VLAN ID - User Priority - Ether Type• IP ACL -Source IP - Destination IP - Fragment - IP Protocol - TCP Flag - TCP/UDP Port - DSCP/IP TOS - User Priority• Combined ACL• Packet Content ACL• IPv6 ACL• Policy - Mirroring - Redirect - Rate Limit - QoS Remark• ACL apply to Port/VLAN
Security
• IP-MAC-Port Binding - 512 Entries - DHCP Snooping - ARP Inspection - IPv4 Source Guard: 100 Entries• IPv6-MAC-Port Binding - 512 Entries - DHCPv6 Snooping - ND Detection - IPv6 Source Guard: 100 Entries• DoS Defend• Static/Dynamic Port Security - Up to 64 MAC addresses per port• Broadcast/Multicast/Unicast Storm Control - kbps/ratio control mode• 802.1X - Port base authentication - Mac base authentication - VLAN Assignment - MAB - Guest VLAN - Support Radius authentication andaccountability• AAA (including TACACS+)• Port Isolation• Secure web management through HTTPS with SSLv3/TLS 1.2• Secure Command Line Interface (CLI) management with SSHv1/SSHv2• IP/Port/MAC based access control
IPv6
• IPv6 Dual IPv4/IPv6• Multicast Listener Discovery (MLD) Snooping• IPv6 ACL• IPv6 Interface• Static IPv6 Routing• IPv6 neighbor discovery (ND)• Path maximum transmission unit (MTU) discovery• Internet Control Message Protocol (ICMP) version 6• TCPv6/UDPv6• IPv6 applications - DHCPv6 Client - Ping6 - Tracert6 - Telnet (v6) - IPv6 SNMP - IPv6 SSH - IPv6 SSL - Http/Https - IPv6 TFTP
L3 Features
• 16 IPv4/IPv6 Interfaces• Static Routing - 48 static routes• Static ARP - 128 Static Entries• Proxy ARP• Gratuitous ARP• DHCP Server • DHCP Relay - DHCP Interface Relay - DHCP VLAN Relay• DHCP L2 Relay
Advanced Features
• Automatic Device Discovery• Batch Configuration• Batch Firmware Upgrading• Intelligent Network Monitoring• Abnormal Event Warnings• Unified Configuration• Reboot Schedule
MIBs
• MIB II (RFC1213)• Interface MIB (RFC2233)• Ethernet Interface MIB (RFC1643)• Bridge MIB (RFC1493)• P/Q-Bridge MIB (RFC2674)• RMON MIB (RFC2819)• RMON2 MIB (RFC2021)• Radius Accounting Client MIB (RFC2620)• Radius Authentication Client MIB (RFC2618)• Remote Ping, Traceroute MIB (RFC2925)• Support TP-Link private MIB
GESTÃO
Omada App
Yes. Requiring the use of OC300, OC200, Omada Cloud-Based Controller, or Omada Software Controller.
Centralized Management
• Omada Cloud-Based Controller• Omada Hardware Controller (OC300)• Omada Hardware Controller (OC200)• Omada Software Controller
Cloud Access
Yes. Requiring the use of OC300, OC200, Omada Cloud-Based Controller, or Omada Software Controller.
Zero-Touch Provisioning
Yes. Requiring the use of Omada Cloud-Based Controller.
Management Features
• Web-based GUI• Command Line Interface (CLI) through the console port, telnet• SNMP v1/v2c/v3 - Trap/Inform - RMON (1,2,3,9 groups)• SDM Template• DHCP/BOOTP Client• 802.1ab LLDP/LLDP-MED• DHCP AutoInstall• Dual Image, Dual Configuration• CPU Monitoring• Cable Diagnostics• EEE• Password Recovery• SNTP• System Log
OUTROS
Certificações
CE, FCC, RoHS
Conteúdo da embalagem
•TL-SX3206HPP Switch• Power Cord• Quick Installation Guide• Rackmount Kit• Rubber Feet
Requisitos de Sistema
Microsoft® Windows® 98SE, NT, 2000, XP, Vista™ or Windows 7/8/10/11, MAC® OS, NetWare®, UNIX® or Linux.
Temperatura e Humidade
• Operating Temperature: 0–50 ℃ (32–122 ℉);• Storage Temperature: -40–70 ℃ (-40–158 ℉)• Operating Humidity: 10–90% RH non-condensing• Storage Humidity: 5–90% RH non-condensing
††Os cálculos PoE budget baseiam-se em testes laboratoriais. O Budget PoE real não está garantido e variará devido às limitações do de rede cliente e aos fatores ambientais. A potência máxima de cada porta PoE++ é de 60 W.
‡TL-SX3206HPP é incompatível com PoE passivo e outros dispositivos PoE não standard. As normas referem-se ao IEEE 802.3af/at/bt
*O Provisioning Zero-Touch requer a utilização do Omada Cloud-Based Controller. Vá a www.tp-link.com/pt/omada-cloud-based-controller/product-list para confirmar quais os modelos compatíveis com o Controlador Baseado em Nuvem Omada.
**As funcionalidades ISP só podem ser configuradas em modo autónomo.
From United States?
Obtenha produtos, eventos e serviços para a sua região.