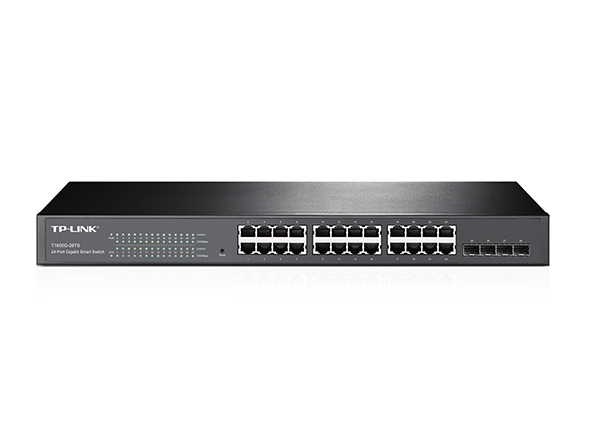 T1600G-28TS (TL-SG2424)
Switch Inteligente de 24 puertos Gigabit con 4 Ranuras SFP JetStream
Las Conexiones Gigabit Ethernet en todos los puertos proporcionan la máxima velocidad de transferencia de datos
Características L2 + - Enrutamiento estático, ayuda a enrutar el tráfico interno para un uso más eficiente de los recursos de la red
Estrategia de seguridad integrada incluyendo 802.1Q VLAN, seguridad de puertos y control de tormentas ayudan a proteger la inversión área LAN
L2 / L3 / L4 QoS y IGMP snooping optimizan aplicaciones de video y voz
Soporta IPv6 con pila dual IPv4 / IPv6, MLD, descubrimiento de vecinos de IPv6
Modos de Administración WEB / CLI , SNMP, RMON y de Imagen Dual brindan abundantes funciones de administración
Lo Que Hace Este Producto
El Switch Inteligente Gigabit JetStream de TP-LINK, T1600G-28TS es una solución de producto rentable para pequeñas y medianas empresas que proporciona un alto rendimiento, con características potentes L2 y L2 + como enrutamiento estático, QoS a nivel de empresa y estrategias de seguridad útiles. Equipado con 24 puertos RJ45 Gigabit y 4 ranuras SFP, el T1600G-28TS admite varias características útiles. El Enrutamiento estático ayuda a enrutar el tráfico interno para un uso más eficiente de los recursos de la red. La función de control de tormentas protege contra Broadcast, Multicast y Tormenta unicast desconocida. Calidad de Servicio (QoS, L2 a L4) proporciona una mayor capacidad de administración de tráfico para mover los datos más rápida y fluidamente. Por otra parte, las interfaces fáciles de usar de administración web, junto con SNMP, RMON e Imagen Dual, significan una configuración más rápida y con menos tiempo de inactividad. Para grupos de trabajo y departamentos que requieren n switch L2 / L2 + y capacidad gigabit a un costo rentable, El switch Inteligente Gigabit JetStream de TP-LINK T1600G-28TS proporciona la solución ideal de acceso de última generación.
Características Avanzadas QoS
Para integrar voz, datos y servicio de video en una red, el switch aplica ricas políticas de calidad de servicio. El administrador puede designar la prioridad de tráfico basado en una variedad de medios, incluyendo Prioridad de Puerto, Prioridad 802.1P y Prioridad DSCP , para asegurar que la voz y el video sean siempre claros, suaves y libres de Fluctuación. En conjunto con la VLAN de voz de los soportes del switch, las aplicaciones de voz operarán con un rendimiento mucho más suave.
Características Abundantes Layer 2
Para mayor aplicación de switches capa 2, el T1600G-28TS soporta una línea completa de características capa 2 , incluyendo etiqueta VLAN 802.1Q, Puerto de Aislamiento, Duplicación de Puerto, STP / RSTP / MSTP, Link Aggregation Group y la función de control de flujo 802.3x. Y más, los switches proporcionan características avanzadas de mantenimiento de red, tales como Loop Back Detection, Diagnóstico de Cable e Inspección IGMP. El IGMP snooping asegura que el switch transmita de forma inteligente el flujo de multidifusión sólo a los suscriptores adecuados, mientras que el límite de IGMP y filtrado de restricción por cada suscriptor en un nivel de puerto evita el acceso no autorizado de multidifusión. Por otra parte, el T1600G-28TS soporta la característica L2 +, enrutamiento estático, que es una forma sencilla para proporcionar la segmentación de la red con encaminamiento interno a través del switchr y ayuda al tráfico de red anun uso más eficiente.
Soporta IPv6
El T1600G-28TS soporta varias funciones de IPv6 como dual IPv4 / IPv6 de pila, MLD Snooping, Path Maximum Transmission Unit (PMTU) Descubrimiento & IPv6 dedescubrimiento de vecinos.
Características de Administración a Nivel Empresarial
El T1600G-28TS es fácil de usar y administrar. Es compatible con varias funciones de administración estándar fáciles de usar, tales como interfaz intuitiva basada en web, gráfica de usuario (GUI) o SNMP (v1 / 2/3) y el soporte RMON permite al switch a ser encuestados para valuar información de estado y enviar capturas de eventos anormales .
ISP Citynet

TP-Link Offered Citynet Reliable and High-Speed Data Transfer for Network Service

ISP Citynet

TP-Link Offered Citynet Reliable and High-Speed Data Transfer for Network Service

"I would like to emphasize that of the large number of devices deployed, not one of them has suffered any type of physical failure. There was a point at which the price of TP-Link's Jetstream series was something we no longer considered important since they're so reliable. We stopped looking at other manufacturers because we were so satisfied with the products we purchased." —Skynet

Soborka ISP

TP-Link Helps ISP Soborka Provide Better Service for Subscribers

Soborka ISP

TP-Link Helps ISP Soborka Provide Better Service for Subscribers

"TP-Link's products offer tremendous value, which allowed us to reduce the cost of updating our large network without compromising performance. Our customers are much more satisfied with the network since the upgrade. It has done a lot to improve our reputation." —Soborka's CEO
CARACTERÍSTICAS DE HARDWARE
Estándares y Protocolos
IEEE 802.3i, IEEE 802.3u, IEEE 802.3ab, IEEE802.3z,
IEEE 802.3ad, IEEE 802.3x, IEEE 802.1d, IEEE 802.1s,
IEEE 802.1w, IEEE 802.1q, IEEE 802.1p, IEEE 802.1x
Interface
24 Puertos RJ 45 10/100Mbps
(Auto Negociación/Auto MDI/MDIX)
4 Ranuras SFP

Medios de Red
10BASE-T: UTP categoría 3, 4, 5 cable (máximo 100m)
100BASE-TX/1000Base-T: UTP categoría 5, 5e o por encima del cable
(máximo 100m)
1000BASE-X: MMF, SMF
Cantidad de Ventiladores
Sin Ventilador
Cerradura de Seguridad Física
Yes
Fuente de Alimentación
100~240VAC, 50/60Hz
Consumo de Energía
Máximo: 23.2W (220V/50Hz)
Dimensiones (W X D X H)
17.3*7.1*1.7 PULG. (440*180*44 mm)
Montaje
Rack Mountable
Consumo Máximo de energía
20.4W (220V/50Hz)
Disipación Máxima de Calor
69.6 BTU/h
RENDIMIENTO
Ancho de Banda / Backplane
56Gbps
Tasa de Reenvío de Paquetes
41.7Mpps
Tabla de MAC Address
16k
Jumbo Frame
9216 Bytes
CARACTERÍSTICAS DE SOFTWARE
Calidad de servicio
Soporta prioridad 802.1p CoS/DSCP
Soporta 8 queues prioritarios
Programación de queque: SP, WRR, SP+WRR
Puerto/Flujo basado en Límite de Velocidad
Voz VLAN
Características de L2 y L2 +
Static RoutingDHCP RelayDHCP ServerIGMP Snooping V1/V2/V3802.3ad LACP (Up to 8 aggregation groups, containing 8 ports per group)Spanning Tree STP/RSTP/MSTPBPDU Filtering/GuardTC/Root ProtectLoopback detection802.3x Flow ControlLLDP, LLDP-MED
L2 Features
Enrutamiento Estático
IGMP Snooping V1/V2/V3
802.3ad LACP (hasta 14 grupos de agregación,
conteniendo 8 puertos por grupo)
Árbol de Extensión STP/RSTP/MSTP
LLDP, LLDP-MED
BPDU Filtrado/Guardia
Protección TC/Raíz
Detección Loop back
Control de Flujo 802.3x
VLAN
Soporta IEEE 802.1Q up con 4k VLANs simultáneamente (fuera de 4K VIDs)
Mac basada VLAN
Protocolo Basado en VLAN
Lista de control de acceso
filtrado de paquetes L2 ~ L4 basado en origen y el destino de dirección MAC, dirección IP, puertos TCP / UDP
Seguridad
SSH v1/v2
SSL v3/TLSv1
Seguridad de Puerto
Broadcast/Multicast/Unknown-unicast Control de Tormenta
802.1x y Autenticación Radius
IP-MAC-Port Binding
Inspección ARP
Defensa Dos
IPv6
Doble pila IPv4/IPv6
Multicast Listener Discovery (MLD) Snooping
IPv6 neighbor discovery (ND)
Path maximum transmission unit (MTU) discovery
Internet Control Message Protocol (ICMP) version 6
TCPv6/UDPv6
Aplicaciones IPv6
DHCPv6 Client
Ping6
Tracert6
Telnet(v6)
IPv6 SNMP
IPv6 SSH
IPv6 SSL
Http/Https
IPv6 TFTP
Administración
GUI basada en Web y Administración CLI
SNMP v1/v2c/v3, compatible con MIBs público y MIBs privada de TP-LINK
RMON (grupos 1, 2, 3, 9)
Monitoreo CPU
Duplicación de Puerto
Actualización de Firmware: TFTP & Web
Diagnóstico del Sistema: VCT
SYSLOG & Public MIBS
Imagen Dual
Otros
Certificacion
CE, FCC, RoHS
Contenidos del Paquete
T1600G-28TS
Cable Eléctrico
Guía de Instalación
CD de instalación
Kit para Montaje en Rack
Patas de Goma
Requisitos del Sistema
Microsoft® Windows® XP, Vista™ o Windows 7, Windows 8, MAC® OS, NetWare®, UNIX® o Linux.
Ambiente
Temperatura de Funcionamiento: 0℃~40℃ (32℉~104℉);
Temperatura de Almacenamiento: -40℃~70℃ (-40℉~158℉)
Humedad de Funcionamiento: 10%~90% sin condensación
Humedad de Almacenamiento: 5%~90% sin condensación
SuscripciónTP-Link toma en serio su privacidad. Para obtener más detalles sobre las prácticas de privacidad de TP-Link, consulte la Política de privacidad de TP-Link.
From United States?
Get products, events and services for your region.