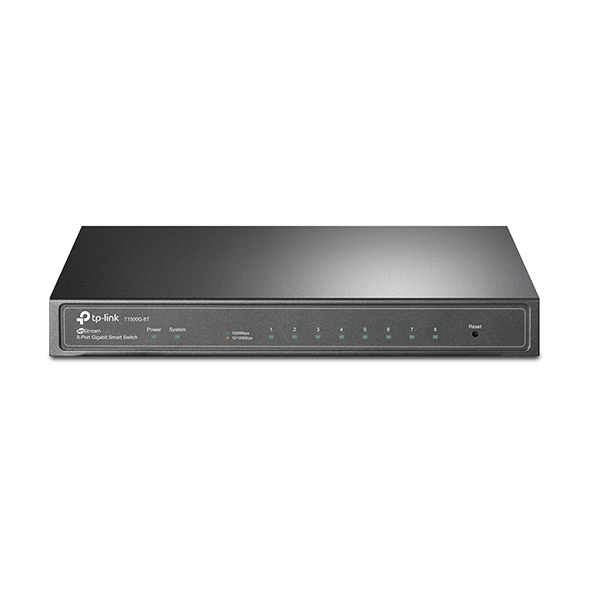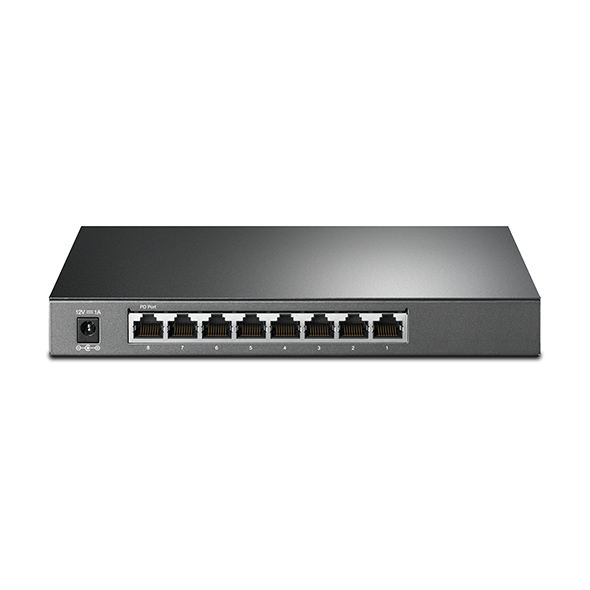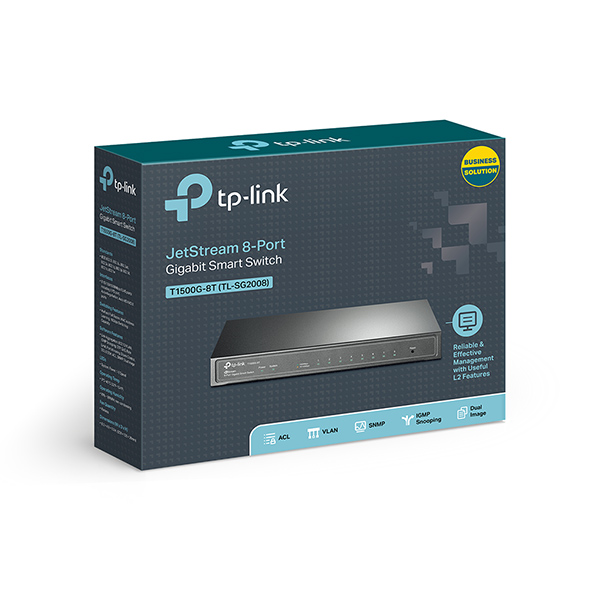 T1500G-8T
JetStream 8-Port Gigabit Smart Switch
Puerto 8 compatible con PoE 802.3af permitiendo suministro eléctrico desde una fuente PoE
Conexiones Ethernet Gigabit en todos los puertos proporcionando una velocidad altísima de transferencia de datos
Características de seguridad avanzadas incluyendo unión IP-MAC-Puerto, ACL, Seguridad de Puertos, Defensa DoS, Control de Tormentas, DHCP Snooping, 802.1X, y Autenticación Radius
QoS L2/L3/L4 y IGMP snooping optimizando así aplicaciones de voz y vídeo
Modos WEB/CLI, SNMP, RMON aportan abundantes características de gestión
Imagen Dual Firmware mejora la fiabilidad y el tiempo actividad de su empresa
¿Qué Hace Éste Producto?
El Switch Smart JetStream T1500G-8T está equipado con 8 puertos RJ45 gigabity el puerto 8 puede recibir suministro eléctrico desde una fuente PoE. El switch proporciona una alta performance, QoS de nivel empresarial, estrategias de seguridad útiles y características de gestión diversas..
El Switch Smart JetStream T1500G-8T está especialmente diseñado para las redes de empresas pequeñas y medianas que necesitan de una gestión eficiente de red. T1500G-8T tiene una serie de características como Grupo de Agregación de Enlaces, 802.1Q VLAN, Listas de Control de Acceso (ACL), Calidad de Servicio (QoS L2 a L4), Control de Tormentas e IGMP Snooping lo que proporciona a una empresa pequeña o mediana con una red preparada para el crecimiento mientras se asegura una alta performance y fiabilidad. Además, su interfaz de gestión web de uso fácil significa una configuración e instalación rápida con tiempos de caída mínimos, proporcionando la solución ideal para la red de su negocio.
Compatible con Energía sobre Ethernet IEEE 802.3at/af
T1500G-8T soporta el estándar IEEE 802.3af/at (PoE). Puede obtener la energía ya sea desde una fuente PoE o desde un adaptador de energía eléctrica. Permite asi una gran flexibilidad al instalar el switch en zonas en las que no hay enchufes eléctricos disponibles.
Caracterísitcas QoS Avanzadas
Para integrar en una red vosm datos y vídeo, el switch aplica potentes políticas QoS. El Administrador puede clasificar la prioridad del tráfico en base a criterios varios inluyendo Prioridad de Puerto, Prioridad 802.1P y DSCP, asegurando que la voz y el vídeo siempre sean claros, estables y sin cortes. En unión con el soporte de VLAN de Voz, la aplicación de voz operará con una performance muy fluida.
Abundantes Características Capa 2
El T1500G-8T soporta una una serie completa sw características de capa 2 incluyendo VLAN 802.1Q tag, Aislamiento de Puerto, Port Mirroring, STP/RSTP/MSTP, Grupo de Agregación de Enlace y Función de Control de Flujo 802.3x. Además el switch proporciona características avanzadas para el mantenimiento de la red como Detección Loop Back, Diagnóstico de Cable e IGMP Snooping. IGMP snooping asegura que el switch de manera inteligente envía los streams multicast solamente a los suscriptores apropiados mientras el IGMP throttling y filtering restringe a nivel de puerto a cada suscriptor de manera a prevenir el acceso multicast no autorizado.
Características de Gestión Nivel Empresarial
El T1500G-8T es fácil de usar y gestionar. Soporta vários estándares amigables de gestión, tal como el intuitivo Interfaz Gráfico en Base Web (GUI) o SNMP (v1/2/3) y soporte RMON habilita al switch ser consultado para obtener información valiosa y envíe capturas en eventos anormales.
Soborka ISP

TP-Link Helps ISP Soborka Provide Better Service for Subscribers

Soborka ISP

TP-Link Helps ISP Soborka Provide Better Service for Subscribers

"TP-Link's products offer tremendous value, which allowed us to reduce the cost of updating our large network without compromising performance. Our customers are much more satisfied with the network since the upgrade. It has done a lot to improve our reputation." —Soborka's CEO
CARACTERÍSTICAS DE HARDWARE
Estándares y Protocolos
IEEE 802.3i, IEEE 802.3u, IEEE 802.3ab, IEEE802.3z, IEEE 802.3ad, IEEE 802.3x, IEEE 802.3af, IEEE 802.1d, IEEE 802.1s, IEEE 802.1w, IEEE 802.1q, IEEE 802.1x, IEEE 802.1p
Interface
8 Puertos 10/100/1000Mbps
Puerto 8 obtiene energía desde una fuente PoE
(Auto-Negociación/Auto MDI/MDIX)
Medios de Red
10BASE-T: UTP categoría 3, 4, 5 cable (máximo 100m)
100BASE-TX/1000Base-T: UTP categoría 5, 5e o superior cable (máximo 100m)
Cantidad de Ventiladores
Sin ventilador
Cerradura de Seguridad Física
No
Fuente de Alimentación
100~240VAC, 50/60Hz
Adaptador Energía Externo(Output: 12VDC/1A)
Obtiene energía desde una fuente PoE
Consumo de Energía
Maximum: 5.75W (220V/50Hz)
PD Port (RJ45)
Puerto 8 IEEE802.3af/at
Dimensiones (W X D X H)
209 * 126 * 26mm
Consumo Máximo de energía
5.75W (220V/50Hz)
Disipación Máxima de Calor
19.62 BTU/h
RENDIMIENTO
Ancho de Banda / Backplane
16Gbps
Tasa de Reenvío de Paquetes
11.9Mpps
Tabla de MAC Address
8K
Jumbo Frame
9216 Bytes
CARACTERÍSTICAS DE SOFTWARE
Calidad de servicio
•Prioridad 802.1p CoS/ DSCP
• 8 colas
• Modo agendado de prioridad
- SP (Strict Priority)
- WRR (Weighted Round Robin)
• Config de Cola por peso
• Contro de Ancho de Banda
- Port/Flow
• Acciones de flujo
- Mirror
- Redirección
- Límite de velocidad
- QoS Remark
• Control de Tormentas
- Múltiples Modos de Control (kbps/ratio/pps)
- Broadcast/Multicast/Unknown-Unicast


L2 Features
• Agregación Enlace
- Agregación Enlace Estátcia
- Hasta 8 grupos agregados y hasta 8 puertos por grupo
- 802.3ad LACP
• Spanning Tree Protocol
- 802.1D STP
- 802.1w RSTP
- 802.1s MSTP
- Seguridad STP: detección Loop back, Protección TC, Filtro/Protección BPDU, Root Protect
• Detección Loopback
• Control de flujo
- Control de flujo 802.3x
• Mirroring
- Port Mirroring
- Uno a uno
- Muchos a uno
- En base a flujo
- Entrada/Salida/Ambos
- CPU Mirroring
• Protocolo Detección de Enlace de Dispositivo (DLDP)


L2 Multicast
• 512 IPv4,IPv6 grupos multicast compartidos
• IGMP Snooping
- IGMP v1/v2/v3 Snooping
- Fast Leave
- IGMP Snooping Querier
- IGMP Authentication
- Static Group Config
• MLD Snooping
- MLD v1/v2 Snooping
- Fast Leave
- MLD Snooping Querier
- Config Grupo Estático
• Registro Multicast VLAN
• Filtrado Multicast
Soporte IPv6
• IPv6 Dual IPv4/IPv6
• Multicast Listener Discovery(MLD) Snooping
• IPv6 neighbor discovery (ND)
• Path maximum transmission unit (MTU) discovery
• Internet Control Message Protocol (ICMP) version 6
• TCPv6/UDPv6
• IPv6 applications
- DHCPv6 Client
- Ping6
- Tracert6
- Telnet(v6)
- IPv6 SNMP
- IPv6 SSH
- IPv6 SSL
- Http/Https
- IPv6 TFTP
VLAN
• Grupos VLAN
- Max. 4K Grupos VLAN
• 802.1Q tag VLAN
• MAC VLAN
• Protocolo VLAN
• GVRP
• VLAN Voz
Lista de control de acceso
Soporte hasta 230 entradas
• Por tiempo
- Slot de Tiempo
- Semanal
- Absoluto
- Vacaciones
• ACL en base a tiempo
• MAC ACL
- MAC Origen
- MAC Destino
- VLAN ID
- Priroidad de Usuario
- Tipo Ether
• IP ACL
- IP Origen
- IP Destino
- Protocolo IP
- TCP Flag
- Puerto Origen TCP/UDP
- Puerto Destino TCP/UDP
- DSCP/IP TOS
• IPv6 ACL
• ACL Combinados
• Operación de Reglas
- Permitir/Denegar
• Acción de Política
- Mirror
- Limitador de velocidad
- Redirección
- QoS Remark
• Unión de Reglas ACL
- Unión por puerto
- Unión por VLAN

Seguridad
AAA
• 802.1X
- Autenticación vía Puerto
- Autenticación vía MAC(Host)
- Métodos de Autenticación PAP/EAP-MD5/EAP-TLS/EAP-TTLS/EAP-PEAP
- MAB
- VLAN Invitados
- Soporte Autenticación Radius y accountability
• Unión IP/IPv6-MAC
- 512 Entradass
- DHCP Snooping
- DHCPv6 Snooping
- Inspección ARP
- Detección ND
• IP Source Gurad
- 253 Entradas
- IP Origen + MAC Origen
• IPv6 Source Guard
- 183 Entradas
- Dirección IPv6 Origen+ MAC Origen
• Defensa DoS
• Seguridad puerto Estática/Dinámica/Permanente
- Hasta 64 direcciones MAC por puerto
• Control de Tormentas Broadcast/Multicast/Unicast
- Modo de control kbps/ratio/pps
• Aislamiento Puerto
• Gestión web segura vía HTTPS con SSLv3/TLS1.0
• Interfaz de Línea de Comandos segura (CLI) con SSHv1/SSHv2
• Control de acceso vía IP/Port/MAC
Administración
• Interfaz Web
• Interfaz de Línea de Comandos(CLI)vía puerto consola, telnet
• SNMPv1/v2c/v3
• SNMP Trap/Inform
• RMON (1,2,3,9 groups)
• SDM Template
• DHCP/BOOTP Client
• Imagen y Configuración Dual
• Monitorización CPU
• Diagóstico Cable
• EEE
• System Log
• 802.1ab LLDP/ LLDP-MED
MIBs
• MIB II (RFC1213)
• Interface MIB (RFC2233)
• Ethernet Interface MIB (RFC1643)
• Bridge MIB (RFC1493)
• P/Q-Bridge MIB (RFC2674)
• RMON MIB (RFC2819)
• RMON2 MIB (RFC2021)
• Radius Accounting Client MIB (RFC2620)
• Radius Authentication Client MIB (RFC2618)
• Remote Ping, Traceroute MIB (RFC2925)
• Support TP-Link private MIBs
Otros
Certificacion
CE, FCC, RoHS
Contenidos del Paquete
T1500G-8T
Adaptador de Energía
Guía de Instalación
CD Recursos
Pies de Goma
Requisitos del Sistema
Microsoft® Windows® 98SE, NT, 2000, XP, Vista™ o Windows 7/8, MAC® OS, NetWare®, UNIX® o Linux.
Ambiente
Temperatura de Funcionamiento: 0℃~40℃ (32℉~104℉);
Temperatura de Almacenamiento: -40℃~70℃ (-40℉~158℉)
Humedad de Funcionamiento: 10%~90% sin condensación
Humedad de Almacenamiento: 5%~90% sin condensación
SuscripciónTP-Link toma en serio su privacidad. Para obtener más detalles sobre las prácticas de privacidad de TP-Link, consulte la Política de privacidad de TP-Link.
From United States?
Get products, events and services for your region.