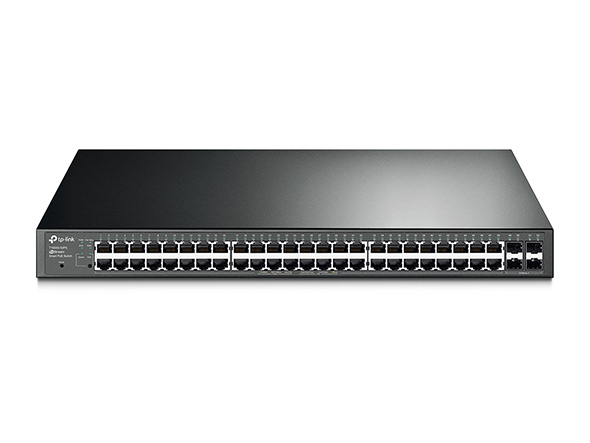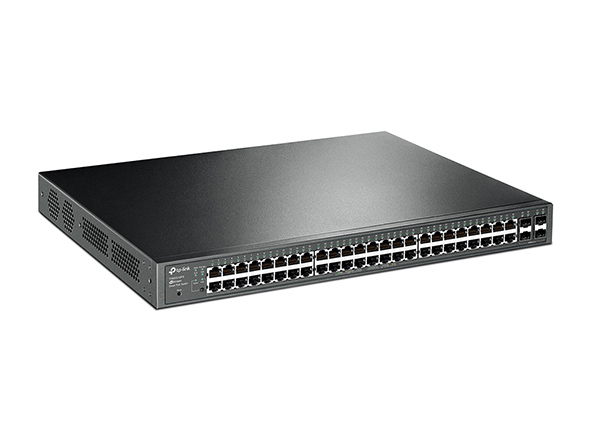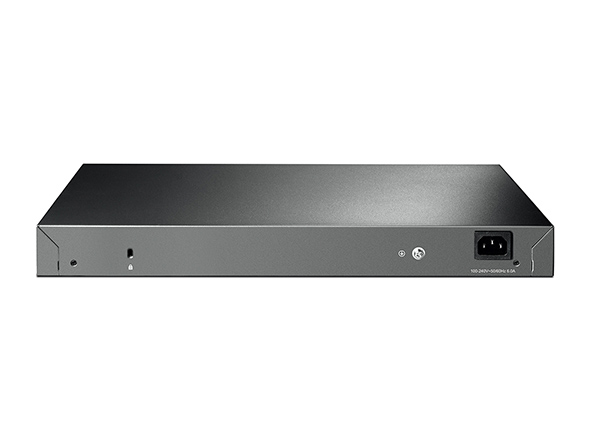 Switch Inteligente de 48 Puertos Gigabit PoE+ 4 Ranuras SFP JetStream
Soporta puertos PoE + 48 802.3at / af-compatible con una fuente de alimentación total de 384W
Características de L2+ ----- Enrutamiento Estático, ayuda a enrutar el tráfico interno para un uso más eficiente de los recursos de la red
Enlace del Puerto IP-MAC, ACL, Seguridad de Puertos, Defensa DoS, Control de tormentas, DHCP Snooping, Autenticación de 802.1X y Radius que proporcionan estrategias de seguridad robustas.
L2 / L3 / L4 QoS e IGMP snooping optimizan las aplicaciones de voz y video
Soporta IPv6 con doble apilamiento IPv4 / IPv6, MLD snooping, el descubrimiento de vecinos IPv6
La administración de modos WEB / CLI, SNMP, RMON e Imagen Dual ofrecen una gran variedad de características de administración
Para Qué Sirve Este Producto
El T1600G-52PS proporciona 48 Puertos RJ45 de 10/100/1000Mbps que soportan PoE en cumplimiento con 802.3at/af, con un suministro de energía eléctrica PoE total de hasta 384W, lo suficientemente potente y flexible para que los usuarios usen los puntos de acceso inalámbricos o cámaras de vigilancia en red con base en IP. El switch también viene equipado con 4 ranuras SFP Gigabit, que expanden su red de manera flexible. Además, ofrece un alto rendimiento, características superiores de L2 y L2+ como enrutamiento estático, QoS a nivel empresarial y estrategias de seguridad útiles.
El Enrutamiento Estático ayuda a enrutar el tráfico interno para obtener uso eficiente de recursos de la red. La característica de Control de Tormentas protege contra Tormentas de Difusión, Multidifusión y Unidifusión desconocidas. La Autenticación de 802.1X y Radius permite que los clientes de la red tengan que ser autenticados a través de Servidores Radius externos. La Calidad del Servicio (QoS, L2 a L4) proporciona capacidades de administración de tráfico mejoradas para mover su información más rápido y sin problemas. Por otra parte, las interfaces de administración a través de Internet de fácil uso, junto con SNMP, RMON y la Imagen Dual, configuración más rápida y con menos tiempo de inactividad. Con todas estas características avanzadas, el PoE + Switch Inteligente Gigabit JetStream T1600G-52PS es la opción ideal para las redes de proyectos o del negocio que necesitan la función de PoE.
Alimentación a través de Ethernet en cumplimiento con IEEE 802.3at/af
El T1600G-52PS proporciona 48 Puertos RJ45 de 10/100/1000Mbps que soportan PoE en cumplimiento con 802.3at/af, con un suministro de energía eléctrica PoE total de hasta 384W para suministrar energía a cualquier dispositivo en cumplimiento con 802.3at/af. Compacto y flexible, el T1600G-52PS es ideal para utilizar la tecnología PoE de manera flexible y contar con puntos de acceso inalámbricos o cámaras de vigilancia con base en IP para diversos proyectos o redes de pequeñas empresas.
Gran variedad de Características de L2 y L2+
El T1600G-52PS soporta una gran variedad de características de L2, incluyendo el VLAN de etiqueta 802.1Q, Aislamiento de Puertos, Duplicación de Puertos (Port Mirroring), STP/ RSTP/ MSTP, Grupo de Agregación de Enlaces y la función de Control de Flujo de 802.3x. Además, el switch ofrece características avanzadas para el mantenimiento de la red, como Detección de Conexión en Bucle, Diagnóstico de Cable e IGMP Snooping. IGMP snooping asegura que el switch reenvíe de manera inteligente, flujo multidifusión únicamente a los subscriptores adecuados mientras el filtrado y estrangulamiento IGMP restringe a cada subscriptor a nivel puerto para prevenir el acceso multidifusión no autorizado. Por otra parte, el T1600G-52PS soporta la característica L2+ - enrutamiento estático, la cual es una forma simple para proporcionar segmentación de la red con enrutamiento interno a través del switch y ayuda a que el tráfico de la red tenga un uso más eficiente.
Sistema de Redes Seguro
El T1600G-52PS soporta el Enlace de IP-MAC-Puerto, Seguridad de Puertos, Control de tormentas y Snooping DHCP que protegen contra tormentas de difusión, Ataques ARP, etc. Por otra parte, la característica de las Listas de Control de Acceso (ACL, L2 a L4) restringe el acceso a recursos de red sensibles negando paquetes basados en la dirección MAC de origen y destino, la dirección IP, los puertos TCP/UDP e incluso el ID de VLAN. Por otra parte, el switch soporta 802.1X, lo cual permite que los clientes de la red sean autenticados a través de servidores de Radius externos. Soporta la función VLAN invitado para permitir que los que no son clientes de 802.1X tengan acceso al recurso de red específico.
Características de QoS Avanzadas
Para integrar el servicio de voz, datos y video en una red, el switch aplica una gran variedad de políticas QoS.
El Administrador puede designar la prioridad del tráfico basándose en una gran variedad de medios incluyendo la Prioridad de Puertos, Prioridad de 802.1P y Prioridad de DSCP, para asegurar que la voz y video siempre sean claros, sin problemas y sin fluctuaciones de fase.
Características de Administración a Nivel Empresarial
El T1600G-52PS es fácil de usar y administrar. Soporta varias características de administración estándar de fácil manejo, como GUI (Graphical User Interface – Interfaz Gráfica para el Usuario) basada en la web intuitiva o CLI (Command Line Interface - Interfaz de Línea de Comando) de norma de la industria, SNMP (v1/2/3) y RMON soportan que el switch sea sondeado para obtener información valiosa del estatus y enviar traps (interrupciones) en eventos anormales. Y la administración completa de soporte de IPv6 asegura una migración sin problemas a la red basada en IPv6. Además, también soporta la Imagen Dual, la cual proporciona un tiempo de inactividad reducido para los switches, cuando la imagen está siendo mejorada / degradada.
Hospitality

TP-Link Omada allows hotels to build reliable WiFi networks. Hotel WiFi network solutions including network topology, design, features, installation, and products are introduced.

Full WiFi coverage and wired connections
Flexible guest control
Seamless roaming
Easy Management

Education

Due to its reliable, scalable, and secure network solution, TP-Link has been widely acknowledged by global customers in the Education market ranging from infant schools with a few APs up to colleges and universities with hundreds of APs.

Easy management
High-density WiFi
Full WiFi coverage and wired connections
VPN and security

Switches for Business WiFi

For small and medium-sized businesses, a network switch is the fundamental component to build their business network. TP-Link offers an extensive portfolio of network switches with abundant functions and flexible options for every stage of your business growth.

High-Speed Wired LAN Network
Manage with Ease
Abundant Security Strategies
Lower Yours Costs
Comprehensive Products
Soborka ISP

TP-Link Helps ISP Soborka Provide Better Service for Subscribers

Soborka ISP

TP-Link Helps ISP Soborka Provide Better Service for Subscribers

"TP-Link's products offer tremendous value, which allowed us to reduce the cost of updating our large network without compromising performance. Our customers are much more satisfied with the network since the upgrade. It has done a lot to improve our reputation." —Soborka's CEO
CARACTERÍSTICAS DE HARDWARE
Estándares y Protocolos
IEEE 802.3i, IEEE 802.3u, IEEE 802.3ab, IEEE802.3z, IEEE 802.3ad, IEEE 802.3x, IEEE 802.1d, IEEE 802.1s, IEEE 802.1w, IEEE 802.1q, IEEE 802.1p, IEEE 802.1x
Interface
48 Puertos RJ45 10/100/1000Mbps (Auto Negociación/Auto MDI/MDIX)
4 Ranuras SFP Gigabit
Medios de Red
10BASE-T: UTP categoría 3, 4, 5 cable (max 100m)
100BASE-TX/1000Base-T: UTP categoría 5, 5e or above cable (max 100m)
1000BASE-X: MMF, SMF
Cantidad de Ventiladores
3
Cerradura de Seguridad Física
Yes
Fuente de Alimentación
100~240VAC, 50/60Hz
Consumo de Energía
Max (PoE on): 470.4W (220V/50Hz)
Max (PoE off): 46.5W (220V/50Hz)
Puertos PoE+ (RJ45)
Estándar: compatible 802.3at/af
Puertos PoE+ : 48 Puertos
Fuente de alimentación: 384W
Dimensiones (W X D X H)
17.3 x 13 x 1.73 pulgadas. (440 x 330 x 44 mm)
Montaje
Rack Mountable
Consumo Máximo de energía
47.57W (110V/60Hz with no PD connected)485.7W (110V/60Hz with 384W PD connected)
Disipación Máxima de Calor
162.31 BTU/h (with no PD connected)1657.21 BTU/h (with 384W PD connected)
RENDIMIENTO
Ancho de Banda / Backplane
104Gbps
Tasa de Reenvío de Paquetes
77.4Mpps
Tabla de MAC Address
16K
Jumbo Frame
9KB
CARACTERÍSTICAS DE SOFTWARE
Calidad de servicio
Soporta 802.1p CoS/DSCP prioridad
Soporta 8 queues prioridad
Programación de queque: SP, WRR, SP+WRR
Puerto/Flujo basado en Límite de Velocidad
Voz VLAN
Características de L2 y L2 +
Enrutamiento Estático
IGMP Snooping V1/V2/V3
802.3ad LACP (hasta 14 grupos de agregación,
conteniendo 8 puertos por grupo)
Árbol de Extensión STP/RSTP/MSTP
LLDP, LLDP-MED
BPDU Filtrado/Guardia
Protección TC/Raíz
Detección Loop back
Control de Flujo 802.3x
Puerto de Isolación
VLAN
Soporta hasta 4K VLANs simultáneamente (fuera de 4K VLAN IDs)
Protocolo-basado en VLAN / MAC
Lista de control de acceso
filtrado de paquetes L2 ~ L4 basado en origen y el destino de dirección MAC, dirección IP, puertos TCP / UDP
Seguridad
Seguridad de Puerto
Broadcast/Multicast/Unknown-unicast Control de tormenta
Auntenticación 802.1x y Radius*
IP-MAC-Port Binding*
Inspección ARP*
Defensa DoS*

*Estas características estarán disponibles en el último firmware.
IPv6
Doble pila IPv4/IPv6
Multicast Listener Discovery (MLD) Snooping
IPv6 neighbor discovery (ND)
Descubrimiento de transmisión máxima del trayecto (MTU)
Internet Control Message Protocol (ICMP) versión 6
TCPv6/UDPv6
Aplicaciones IPv6
DHCPv6 Client
Ping6
Tracert6
Telnet(v6)
IPv6 SNMP
IPv6 SSH
IPv6 SSL
Http/Https
IPv6 TFTP
Administración
GUI basada en Web y Administración CLI
SNMP v1/v2c/v3, compatible con MIBs público y MIBs privada de TP-LINK
RMON (grupos 1, 2, 3, 9)
Monitoreo CPU
Duplicación de Puerto
Actualización de Firmware: Web & TFTP
Diagnóstico del Sistema: VCT
SYSLOG & Public MIBS
Imagen Dual
Otros
Certificacion
CE, FCC, RoHS
Contenidos del Paquete
T1600G-52PS
Cable de Alimentación
Guía de Instalación
CD de Instalación
Kit para Montaje en Rack
Pies de goma
Requisitos del Sistema
Microsoft® Windows® XP, Vista™ o Windows 7, Windows 8, MAC® OS, NetWare®, UNIX® o Linux.
Ambiente
Temperatura de Funcionamiento: 0℃~40℃ (32℉~104℉);
Temperatura de Almacenamiento: -40℃~70℃ (-40℉~158℉)
Humedad de Funcionamiento: 10%~90% sin condensación
Humedad de Almacenamiento: 5%~90% sin condensación
SuscripciónTP-Link toma en serio su privacidad. Para obtener más detalles sobre las prácticas de privacidad de TP-Link, consulte la Política de privacidad de TP-Link.
From United States?
Get products, events and services for your region.