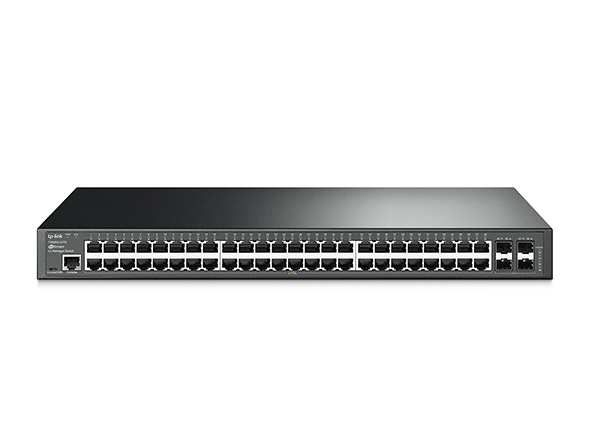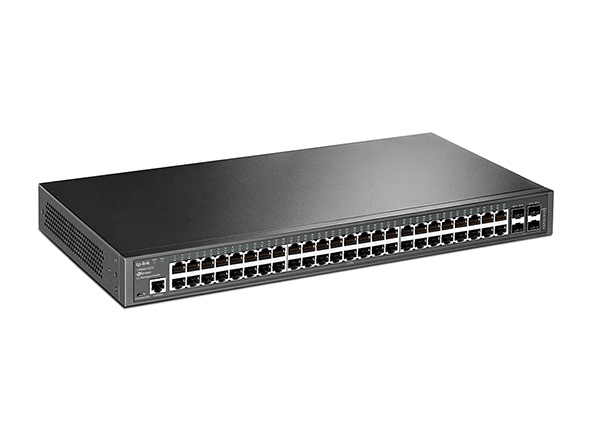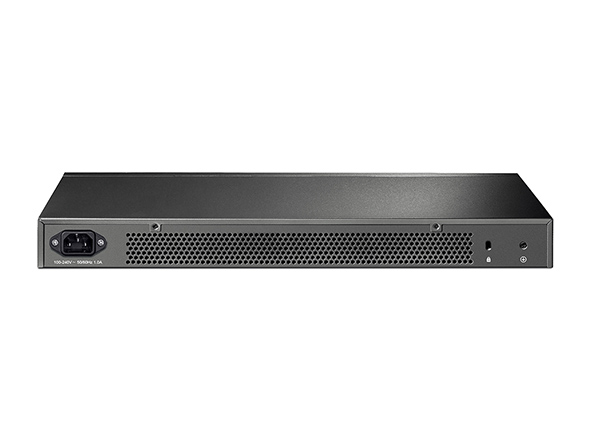 T2600G-52TS (TL-SG3452)
Switch JetStream Gestionable Gigabit L2 de 48 Puertos con 4 ranuras SFP
Conexiones Gigabit Ethernet en todos los puertos proporciona una velocidad total de transferencia de datos
Funcionalidades L2+, Enrutamiento Estático, ayuda a enrutar el tráfico interno para una mayor eficiencia de uso en los recursos de red
Vinculación Puerto-MAC-IP, ACL, Seguridad por Puerto, Defensa DoS, Control de Tormentas, DHCP Snooping, Autenticación 802.1X y Radius, proporcionan robustas estrategias de seguridad
QoS L2/L3/L4 y IGMP snooping, optimizan las aplicaciones de voz y vídeo
Soporta IPv6 con dual stack IPv4/IPv6, MLD snooping, IPv6 neighbor discovery
Web, CLI (Puerto de Consola, Telnet, SSH), SNMP, RMON e Imagen Dual aportan múltiples políticas de gestión
¿Para qué sirve este producto?
El TP-LINK T2600G-52TS es un switch gestionable L2 Gigabit JetStream que cuenta con 48 puertos 10/100/1000Mbps y 4 Ranuras SFP Gigabit. El switch proporciona un alto rendimiento, funcionalidades L2 y L2+ como enrutamiento estático, QoS de nivel empresarial y otras estrategias de seguridad avanzadas. Vinculación IP-MAC-Puerto y funciones de Listas de Control de Acceso (ACL) ofrecen protección frente a tormentas de broadcast, ARP y ataques de Denegación de Servicio (DoS), etc. Calidad de Servicio (QoS, L2 a L4) que ofrecen capacidades de gestión de tráfico mejoradas para mover sus datos más rápido y de forma más fluida. Además, los interfaces fáciles de utilizar mediante gestión web, junto con el CLI, SNMP, RMON e Imagen Dual hacen más rápida la disposición y configuración con menos tiempo de inactividad. Para grupos de trabajo y departamentos que requieren un Swich L2 económico y con capacidad gigabit, el TP-LINK T2600G-52TS gestionable L2 de 48 Puertos Gigabit le ofrece la solución de red ideal.
Networking Seguro
El TP-LINK T2600-52TS es un switch gestionable L2 JetStream que proporciona Vinculación IP-MAC-Puerto, Seguridad de Puerto y DHCP Snooping que protegen frente a tormentas de broadcast, ataques ARP, etc. Integra algunos ataques típicos de DoS para seleccionar. Puede protegerse de esos ataques de manera más sencilla que nunca. De manera adicional, la función de Listas de Control de Acceso (ACL, L2 a L4) restringe el acceso a los recursos de red sensibles mediante denegación de paquetes basada en dirección MAC origen y destino, Dirección IP, puertos TCP/UDP y también ID VLAN.. Además, el switch soporta autenticación 802.1X, que es utilizada conjuntamente con un servidor RADIUS para solicitar cierta información de autenticación antes de que el acceso a la red esté permitido. La función VLAN de Invitados permite habilitar que los clientes no-802.1X accedan recursos específicos de la red.
Funcionalidades QoS Avanzadas
Para integrar voz, datos y vídeo en un solo servicio de tráfico basado en una variedad de medios, incluyendo direcciones IP o MAC, número de puerto TCP o UDP, etc., para asegurar que la voz y el vídeo sean siempre nítidos, fluidos y sin retardos. Junto con el soporte de Voz VLAN, las aplicaciones de voz funcionarán con un rendimiento mucho más fluido.
Múltiples Funcionalidades L2 y L2+
El T2600G-52TS soporta una completa gama de funcionalidades L2, incluyendo etiquetado VLAN 802.1Q, Port Mirroring, STP/RSTP/MSTP, Protocolo de Control de Agregación de Enlace y función de Control de Flujo 802.3x. El switch ofrece funcionalidades avanzadas para el mantenimiento de red, como por ejemplo Diagnóstico de Cable e IGMP Snooping. El IGMP Snooping asegura que el switch reenvíe inteligentemente el tráfico multicast solo a los subscriptores apropiados mientras que el IGMP throttling & filtering restringen cada subscriptor a nivel de puerto para prevenir accesos multicast no autorizados. Además, el T2600G-28TS soporta funcionalidades L2+, enrutamiento estático, que es una sencilla forma de proporcionar segmentación en la red con enrutamiento interno a través del switch y ayudar al tráfico de red para un uso más eficiente.
Soporte IPv6
El T2600-52TS soporta varias funciones IPv6 como por ejemplo Stack Dual IPv4/IPv6, MLD Snooping, IPv6 ACL*, DCHPv6 Snooping*, Inferfaz IPv6*, Path Maximum Transmission Unit (PMTU) Discovery e IPv6 Neighbor Discovery, lo que garantiza que la red está preparada para la Siguiente Generación de Red (NGN) sin necesidad de renovar el equipamiento de red.
OAM*
El T2600G-52TS proporciona 802.3ah OAM y funciones de Device Link Detection Protocol (DLDP) mejorando la monitorización y la resolución de problemas de redes Ethernet, ayudando a facilitar la gestión de red.
*This feature will be available in the latest firmware.
Funcionalidades de Gestión de Nivel Empresarial
El T2600G-52TS es fácil de utilizar y gestionar. Soporta varias funcionalidades amigables de gestión estándar, como por ejemplo un intuitivo Interfaz Gráfico de Usuario (GUI) o Interfaz de Línea de Comandos (CLI) industrial-estándar, o administración de tráfico que puede ser protegido mediante encriptación SSL o SSH. SNMP (V1/2/3) y RMON que permiten al switch sondear la información de estado y enviar alarmas ante eventos extraños. También soporta Imagen Dual, lo que reduce el tiempo de inactividad de los switches.
ISP Citynet

TP-Link Offered Citynet Reliable and High-Speed Data Transfer for Network Service

ISP Citynet

TP-Link Offered Citynet Reliable and High-Speed Data Transfer for Network Service

"I would like to emphasize that of the large number of devices deployed, not one of them has suffered any type of physical failure. There was a point at which the price of TP-Link's Jetstream series was something we no longer considered important since they're so reliable. We stopped looking at other manufacturers because we were so satisfied with the products we purchased." —Skynet

East European Comic Con

TP-Link Provides Internet Access for East European Comic Con for the Fourth Year Running

East European Comic Con

TP-Link Provides Internet Access for East European Comic Con for the Fourth Year Running

"TP-Link Romania have provided a high-quality service and the right equipment to meet our requirements in each of the projects we have worked on together. EECC2017 was their toughest challenge so far and they passed with flying colors." —Marius Radu, EECC Gaming Director
CARACTERÍSTICAS DE HARDWARE
Estándares y Protocolos
IEEE 802.3i, IEEE 802.3u, IEEE 802.3ab, IEEE802.3z,
IEEE 802.3ad, IEEE 802.3x, IEEE 802.1d, IEEE 802.1s,
IEEE 802.1w, IEEE 802.1q, IEEE 802.1x, IEEE 802.1p

Interface
48 Puertos RJ45 10/100/1000Mbps
(Auto Negociación/Auto MDI/MDIX)
4 Ranuras SFP 1000Mbps
1 Puerto de Consola RJ45
1 Puerto de Consola Micro-USB

Medios de Red
10BASE-T: Cable UTP Categoría 3,4, 5 (máximo 100m)
100BASE-TX/1000Base-T: Cable UTP Categoría 5, 5e o superior
(máximo 100m)
1000BASE-X: MMF, SMF
Cantidad de Ventiladores
Sin ventiladores
Cerradura de Seguridad Física
Si
Fuente de Alimentación
100~240VAC, 50/60Hz
Consumo de Energía
Máximo: 33.52W (220V/50Hz)
Dimensiones (W X D X H)
440 * 220 * 44 mm (17.32 * 8.7 * 1.73 in.)
Montaje
Montaje en Rack
Consumo Máximo de energía
33.52W (220V/50Hz)
Disipación Máxima de Calor
114.37 BTU/h
RENDIMIENTO
Ancho de Banda / Backplane
104Gbps
Tasa de Reenvío de Paquetes
77.4Mpps
Tabla de MAC Address
16k
Jumbo Frame
9216 Bytes
CARACTERÍSTICAS DE SOFTWARE
Calidad de servicio
Soporta prioridad CoS/DSCP 802.1p
Soporta 8 colas de prioridad
Planificación de colas: SP, WRR, SP+WRR
Limitación de Tasa basada en Puerto/Flujo
Voz VLAN

Características de L2 y L2 +
Rutas Estáticas
DHCP Relay
IGMP Snooping V1/V2/V3
802.3ad LACP(Hasta 14 grupos de agregación,conteniendo 8 puertos por grupo)
Spanning Tree STP/RSTP/MSTP
BPDU Filtering/Guard
Protección TC/Root
Loopback detection
Control de Flujo 802.3x
L2PT
L2 Features
IGMP Snooping V1/V2/V3
802.3ad LACP (Hasta agregación de 14 grupos, conteniendo 8 puertos por grupo)
Spanning Tree STP/RSTP/MSTP
BPDU Filtering/Guard
TC/Root Protect
Detección Loopback
802.3x Control de Flujo
L2PT*
VLAN
Soporta hasta 4K VLANs simultáneamente (de hasta 4K de IDs de VLAN)
802.1Q / MAC / Protocolo / VLAN Privada / GARP/GVRP

Lista de control de acceso
Filtrado de paquetes L2~L4 basado en dirección MAC e IP origen y destino,
puertos TCP/UDP, 802.1p, DSCP, protocolo e ID de VLAN basado en Rango de Tiempo

Seguridad
Vinculación IP-MAC-Puerto-VID
AAA
Autenticación 802.1x y Radius
Defensa DoS
Inspección ARP Dinámica (DAI)
SSH v1/v2
SSL v3/TLSv1
Seguridad por Puerto
Control de Tormentas Broadcast/Multicast/Unicast-desconocido

IPv6
Dual Stack IPv4/IPv6
Multicast Listener Discovery (MLD) Snooping
IPv6 neighbor discovery (ND)
Path maximum transmission unit (MTU) discovery
Internet Control Message Protocol (ICMP) versión 6
TCPv6/UDPv6


Aplicaciones IPv6
Cliente DHCPv6
Ping6
Tracert6
Telnet(v6)
IPv6 SNMP
IPv6 SSH
IPv6 SSL
Http/Https
IPv6 TFTP
IPv6 ACL
Interfaz IPv6
Enrutamiento IPv6
DHCPv6 Snooping

Administración
Gestión CLI y GUI basada en Web
SNMP v1/v2c/v3,compabile con MIBs públicos y MIBs privados de TP-LINK
RMON (1, 2, 3, 9 grupos)
sFlow
PPPoE Circuit ID
DHCP Relay
Servidor DHCP
DHCP/BOOTP Client, DHCP Snooping, DHCP Option82
Imagen Dual
Monitorización de CPU
Port Mirroring
Configuración Horaria: SNTP
Actualización de Firmware: TFTP & Web
Diagnóstico de Sistema: VCT
SYSLOG & MIBS Públicas
Recuperación de Contraseñas
Otros
Certificacion
CE, FCC, RoHS
Contenidos del Paquete
Switch T2600G-48TS Gestionable L2 JetStream de 48 Puertos Gigabit con 4 Ranuras SFP
Cable de Alimentación
Guía de Instalación
CD de Recursos
Kit de Montaje en Rack
Pies de Goma

Requisitos del Sistema
Microsoft® Windows® 98SE, NT, 2000, XP, Vista™ o Windows 7/8, MAC® OS,
NetWare®, UNIX® o Linux.
Ambiente
Temperatura de Funcionamiento: 0℃~40℃ (32℉~104℉);
Temperatura de Almacenamiento: -40℃~70℃ (-40℉~158℉)
Humedad de Funcionamiento: 10%~90% sin condensación
Humedad de Almacenamiento: 5%~90% sin condensación

From United States?
Get products, events and services for your region.