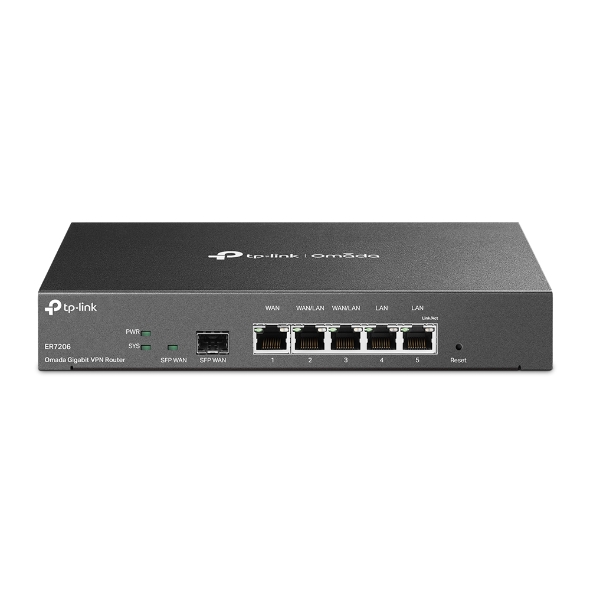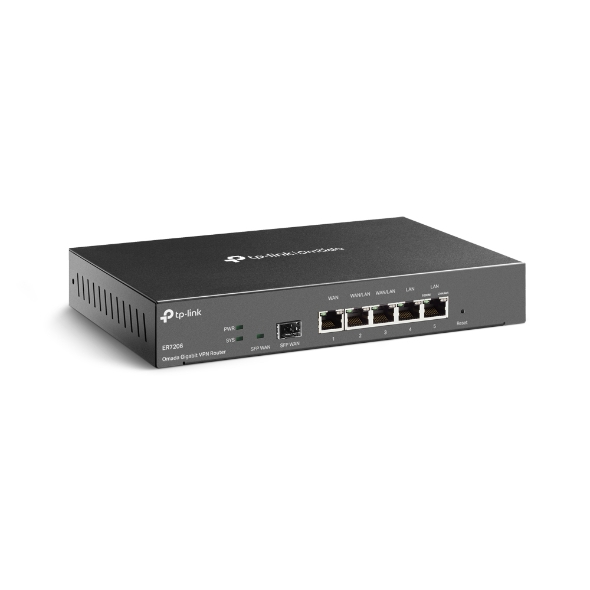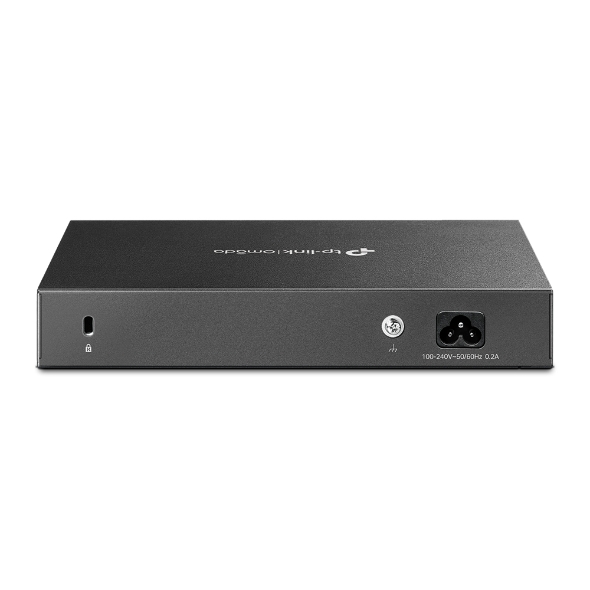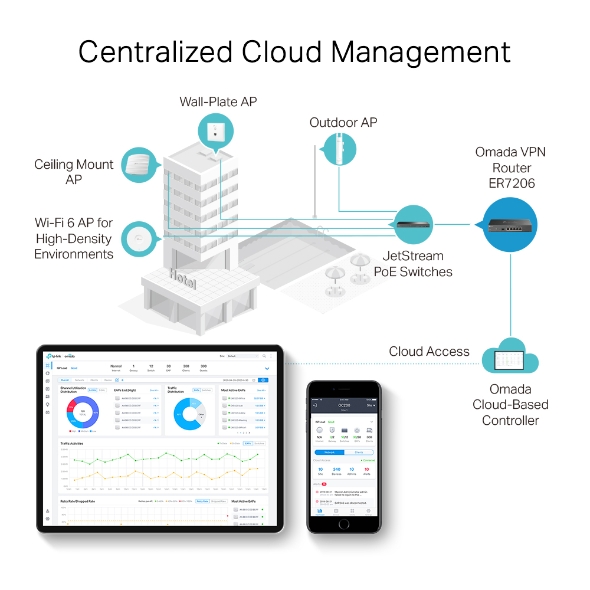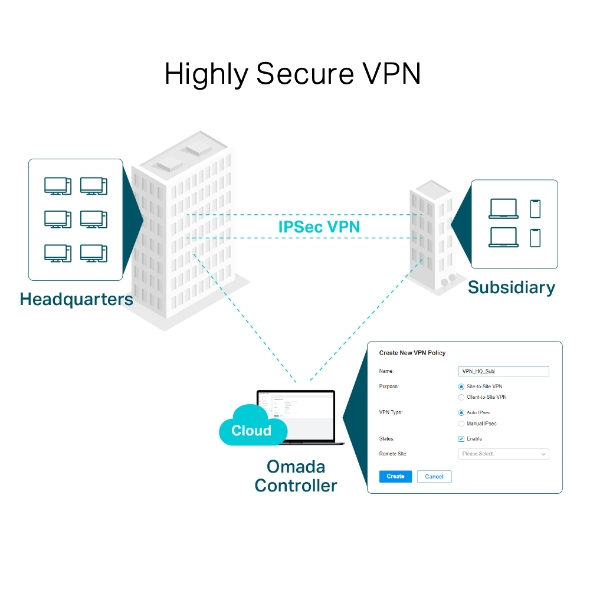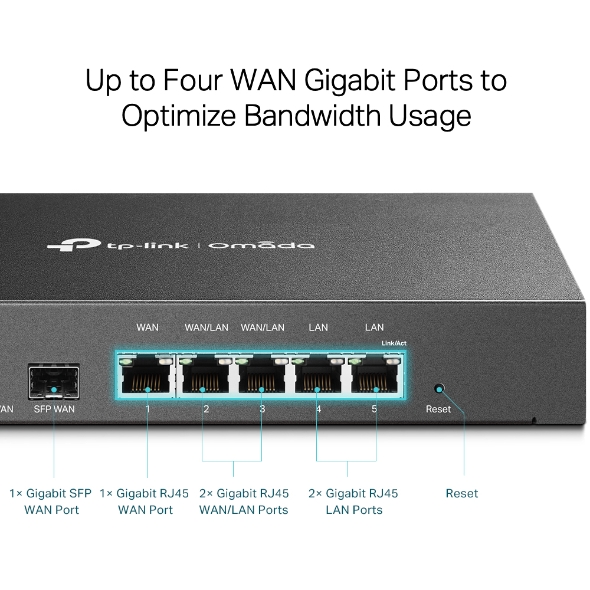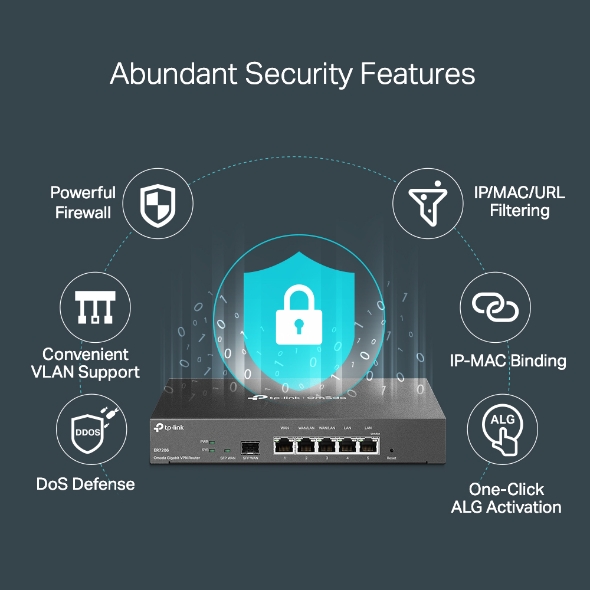 ER7206 (TL-ER7206)
Omada Gigabit VPN Router
Integrated into Omada SDN: Zero-Touch Provisioning (ZTP)**, Centralized Cloud Management, and Intelligent Monitoring.
Centralized Management: Cloud access and Omada app for ultra convenience and easy management.
Gigabit Ports: 1 gigabit SFP and 5 gigabit RJ45 ports provide high-speed wired connectivity.
Up to 4 WAN Ports: 1 gigabit SFP WAN port, 1 gigabit RJ45 WAN port, 2 gigabit WAN/LAN ports optimize bandwidth usage.
Highly Secure VPN: Supports up to 100× LAN-to-LAN IPsec, 50× OpenVPN*, 50× L2TP, and 50× PPTP VPN connections.
Abundant Security Features: Advanced firewall policies, DoS defense,IP/MAC/URL filtering, and more security functions protect your network and data.
Gecentraliseerd beheer
Een professionele, beveiligde en betrouwbare gateway met gecentraliseerd beheer
SafeStream Gigabit Multi-WAN VPN-router
ER7206
Gecentraliseerd beheer

Gigabit-poorten

Tot 4 WAN-poorten

Load Balance

IPSec/OpenVPN/ PPTP/L2TP

Multi-Net
DHCP

Krachtige firewall

Omada App
Omada SDN de slimmere cloud-oplossing voor zakelijke netwerken
De ER7206 is een gateway die naadloos kan worden geïntegreerd in het Omada SDN-platform (Software Defined Networking) zodat extern en gecentraliseerd beheer altijd en overal mogelijk is. Zelfstandig beheer via de online gebruikersinterface is ook mogelijk voor extra gebruiksgemak.
Access point met wifi 6 voor omgevingen met een hoge dichtheid
Wall Plate AP
Outdoor AP
Ceiling Mount AP
JetStream PoE-switches
Omada VPN Router ER7206
Cloudtoegang
Omada
Cloudcontroller
Probleemloos en centraal cloudbeheer:
100% gecentraliseerd cloudbeheer voor het hele netwerk, vanaf verschillende locaties kan altijd en overal volledig via een interface worden bediend.
Tot 4 WAN gigabit-poorten om het gebruik van de bandbreedte te optimaliseren
Een gigabit SFP WAN-poorten, een gigabit RJ45 WAN-poorten en twee uitwisselbare poorten kunnen worden ingesteld als WAN- of LAN-poort, waardoor de router tot vier WAN-poorten kan ondersteunen. Zo kun je gebruikmaken van verschillende opties voor internettoegang met behulp van één apparaat. Met de functie multi-WAN Load Balancing worden datastromen op basis van de bandbreedte van elke WAN-poort verdeeld om het verbruikspercentage van multi-line-breedband te verhogen.
1 x gigabit SFP WAN-poorten
1 x RJ45 WAN-poorten
2 x Gigabit RJ45 WAN/LAN-poorten
2 x RJ45 WAN/LAN-poorten
Reset
Sterk beveiligde VPN
De ER7206 ondersteunt IPSec/PPTP/L2TP VPN en IPSec/SSL-protocollen. De router heeft een stevige constructie en biedt ondersteuning en beheeropties voor maximaal 100× LAN-to-LAN IPsec-, 50× OpenVPN-*, 50× L2TP- en 50× PPTP VPN-verbindingen. De functie One-click auto IPSec VPN* maakt de VPN-configuratie aanzienlijk eenvoudiger en maakt netwerkbeheer en -implementatie mogelijk en zorgt tegelijkertijd voor beveiligde en versleutelde gegevensoverdracht via internet.
Hoofdkantoor
Omada-controller
IPSec VPN
Dochteronderneming
Voldoende beveiligingsfucties
Krachtige firewall
Geavanceerd firewall-beleid
beschermt je netwerk en gegevens.
Praktische VLAN-ondersteuning
Maak virtuele netwerksegmenten voor
een verbeterde beveiliging en vereenvoudigd
netwerkbeheer.
DoS Defense
Automatische detectie en blokkering van DoS-aanvallen
(Denial of Service) zoals TCP/UDP/ICMP Flooding, Ping
of Death en andere vergelijkbare bedreigingen.
Filters voor IP-/MAC-adres en URLs
Voorkomen virussen en
aanvallen van buitenaf.
IP-MAC Binding
Reserveert een statische toewijzing van IP-adressen
om clients te beschermen tegen ARP-aanvallen
en adresvervalsing (spoofing).
ALG-activering met een klik
ALG-activering met een klik voor
toepassingen zoals FTP, H323, SIP,
IPsec en PPTP.
Beheerstrategie voor internettoegang
Standaardiseer het online gedrag van gebruikers en geef eenvoudig de toegangsrechten voor internet en de strategieën voor werknemers op via Access Control List (ACL) en filters voor IP- en MAC-adressen en URL's. Met Captive Portal-authenticatie beheer je netwerkbronnen door de gebruikstoegang te registreren, authenticeren en classificeren. Ook kun je geschikte netwerkbronnen toewijzen aan verschillende gebruikers of gasten.
Beveiliging
Access Control
Source/Destination IP Based Access Control
Filtering
WEB Group Filtering§URL FilteringWeb Security§
ARP inspectie
• Sending GARP Packets§• ARP Scanning§• IP-MAC Binding§
Bescherming tegen aanvallen
• TCP/UDP/ICMP Flood Defense• Block TCP Scan (Stealth FIN/Xmas/Null)• Block Ping from WAN
Functionaliteit van de Hardware
Standaarden en protocollen
• IEEE 802.3, IEEE802.3u, IEEE802.3ab, IEEE 802.3z, IEEE 802.3x, IEEE 802.1q• TCP/IP, DHCP, ICMP, NAT, PPPoE, NTP, HTTP, HTTPS, DNS, IPSec, PPTP, L2TP, OpenVPN, SNMP
Interface
• 1 Fixed Gigabit SFP WAN Port• 1 Fixed Gigabit RJ45 WAN Port• 2 Fixed Gigabit RJ45 LAN Ports• 2 Changeable Gigabit RJ45 WAN/LAN Ports
Netwerkmedia
• 10BASE-T: UTP category 3, 4, 5 cable (Max 100m)EIA/TIA-568 100Ω STP (Max 100m)• 100BASE-TX: UTP category 5, 5e cable (Max 100m)EIA/TIA-568 100Ω STP (Max 100m)• 1000BASE-T: UTP category 5, 5e, 6 cable (Max 100m)
Ventilator Aantal
Fanless
Knop
Reset Button
Uitgangsvermogen
100–240 V~50/60 Hz
PoE Budget
-
Flash
SPI 4MB + NAND 128MB
Dram
512MB
LED
PWR, SYS, SFP WAN, WAN (Speed, Link/Act), LAN (Speed, Link/Act)
Afmetingen ( B x D x H )
8.9 × 5.2 × 1.4 in (226 × 131 × 35 mm)
Beveiliging
4 kV surge protection
Enclosure
Steel
Montage
Desktop
Max Power Consumption
8.95W
Prestatie
WireGuard VPN
177.2 Mbps
Concurrent Session
150,000
New Sessions /Second
5,500
NAT (Static IP)
940.3 Mbps / 940.2 Mbps
NAT(DHCP)
940.3 Mbps / 940.4 Mbps
NAT(PPPoE)
939.7 Mbps / 937.9 Mbps
NAT (L2TP)
918.0 Mbps / 917.9 Mbps
NAT (PPTP)
918.9 Mbps / 914.7 Mbps
64 Byte Packet Forwarding Rate
-
IPsec VPN Throughput (AES256)
291.6 Mbps
IPsec VPN Throughput
291.6 Mbps
OpenVPN
34.2 Mbps
L2TP VPN Throughput
Unencrypted: 1360.3 MbpsEncrypted: 202.3 Mbps
PPTP VPN Throughput
Unencrypted: 1379.3 MbpsEncrypted: 115.6 Mbps
SSL VPN Throughput
-
66 Byte Packet forwarding rate
486,918 pps / 488,372 pps
1,518 Byte Packet forwarding rate
81,274 pps / 81,274 pps
Basisfuncties
WAN verbindingstype
• Static/Dynamic IP• PPPoE• PPTP• L2TP
MAC Kloon
Modify WAN/LAN MAC Address†
DHCP
• DHCP Server• DHCP Address Reservation• Multi-IP Interfaces*• Multi-Net DHCP*
IPv6
Yes
VLAN
802.1Q VLAN
IPTV
IGMP v2/v3 Proxy
ADVANCED FUNCTIONS
ACL
IP/Port/Protocol/Domain Name Filtering
Advanced Routing
• Static Routing• Policy Routing
Bandbreedte Controle
• IP/Port-based Bandwidth Control• Guarantee & Limited Bandwidth
Load balancing
• Intelligent Load Balance• Application Optimized Routing• Link Backup (Timing§, Failover)• Online Detection
NAT
• One-to-One NAT§• Multi-Net NAT• Virtual Server• Port Triggering§• NAT-DMZ• FTP/H.323/SIP/IPSec/PPTP ALG, UPnP
Beveiliging
• SPI Firewall• VPN Passthrough• FTP/H.323/PPTP/SIP/IPsec ALG• DoS Defence, Ping of Death• Local Management
Session Limit
IP-based Session Limit
VPN
SSL VPN
-
IPsec VPN
• 100 IPSec VPN Tunnels• LAN-to-LAN, Client-to-LAN• Main, Aggressive Negotiation Mode• DES, 3DES, AES128, AES192, AES256 Encryption Algorithm• IKEv1/v2• MD5, SHA1 Authentication Algorithm• NAT Traversal (NAT-T)• Dead Peer Detection (DPD)• Perfect Forward Secrecy (PFS)
PPTP VPN
• PPTP VPN Server• 10 PPTP VPN Clients**• 50 Tunnels• PPTP with MPPE Encryption
L2TP VPN
• L2TP VPN Server• 10 L2TP VPN Clients**• 50 Tunnels• L2TP over IPSec
OpenVPN
• OpenVPN Server*• 10 OpenVPN Clients*△• 50 OpenVPN Tunnels*
AUTHENTICATION
Web Authentication
• No Authentication• Simple Password*• Hotspot(Local User / Voucher* / SMS* / Radius*)• External Radius Sever• External Portal Sever*• Facebook*
Beheer
Omada App
Yes. Requiring the use of OC300, OC200, Omada Cloud-Based Controller, or Omada Software Controller.
Centralized Management
• Omada Cloud-Based Controller• Omada Hardware Controller (OC300)• Omada Hardware Controller (OC200)• Omada Software Controller
Cloud Access
Yes. Requiring the use of OC300, OC200, Omada Cloud-Based Controller, or Omada Software Controller.
Services
Dynamic DNS (Dyndns, No-IP, Peanuthull, Comexe)
Onderhoud
• Web Management Interface• Remote Management• Export & Import Configuration• SNMP v1/v2c/v3*• Diagnostics (Ping & Traceroute)§• NTP Synchronize§• Syslog Support
Zero-Touch Provisioning
Yes. Requiring the use of Omada Cloud-Based Controller.
Management Features
• Automatic Device Discovery• Intelligent Network Monitoring• Abnormal Event Warnings• Unified Configuration• Reboot Schedule• Captive Portal Configuration
Overige
Certificatie
CE, FCC, RoHS
Pakketinhoud
• ER7206• Power Cord• Quick Installation Guide
Systeemvereisten
Microsoft Windows 98SE, NT, 2000, XP, Vista™ or Windows 7/8/8.1/10/11, MAC OS, NetWare, UNIX or Linux
Omgeving
• Operating Temperature: 0–40 ℃ (32–104 ℉);• Storage Temperature: -40–70 ℃ (-40–158 ℉)• Operating Humidity: 10–90% RH non-condensing• Storage Humidity: 5–90% RH non-condensing
*These functions require the use of Omada Hardware Controller, Software Controller, or Cloud-Based Controller
**Zero-Touch Provisioning requires the use of Omada Cloud-Based Controller. Please go to Omada Cloud-Based Controller Product List to find all the models supported by Omada Cloud-Based Controller.
† LAN MAC Address can be modified only in Standalone Mode.
§ These functions are supported only in Standalone Mode.
△ER7206 can work as a VPN client and can connect with up to 10 VPN servers.
From United States?
Get products, events and services for your region.