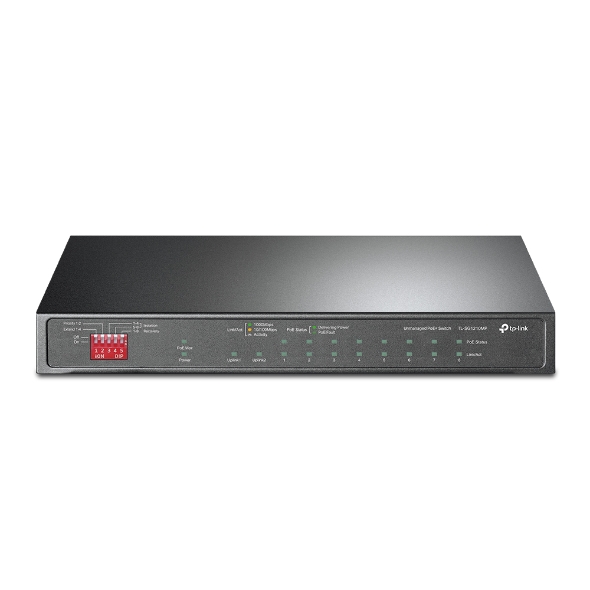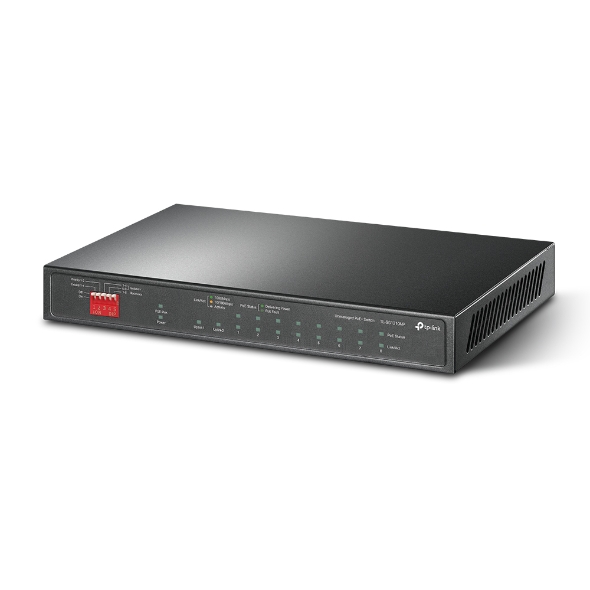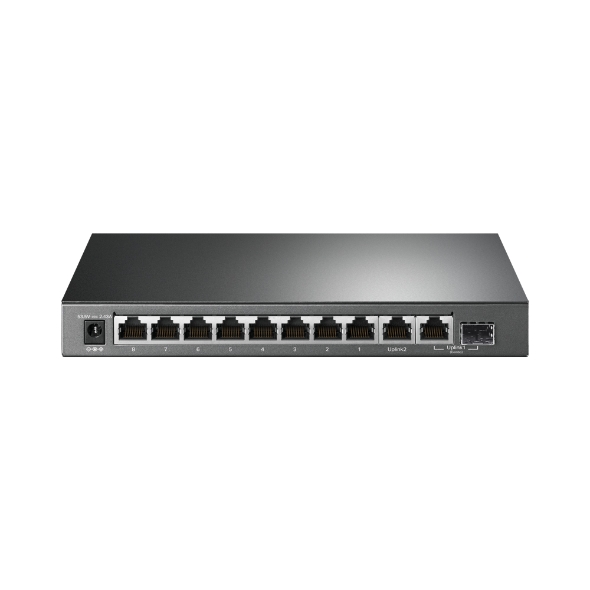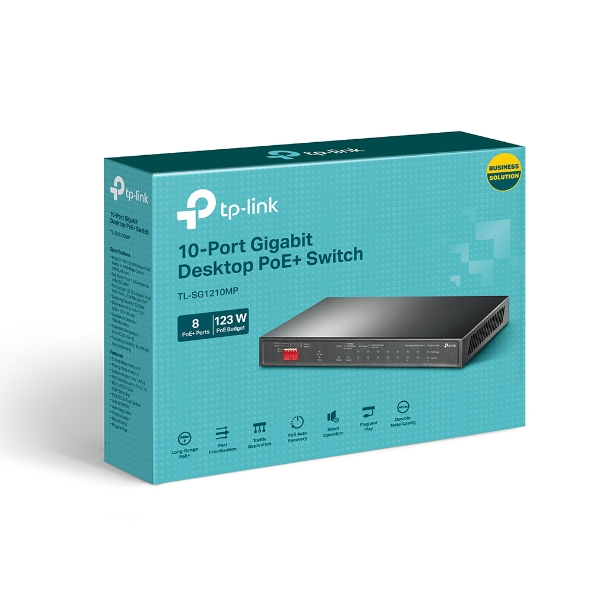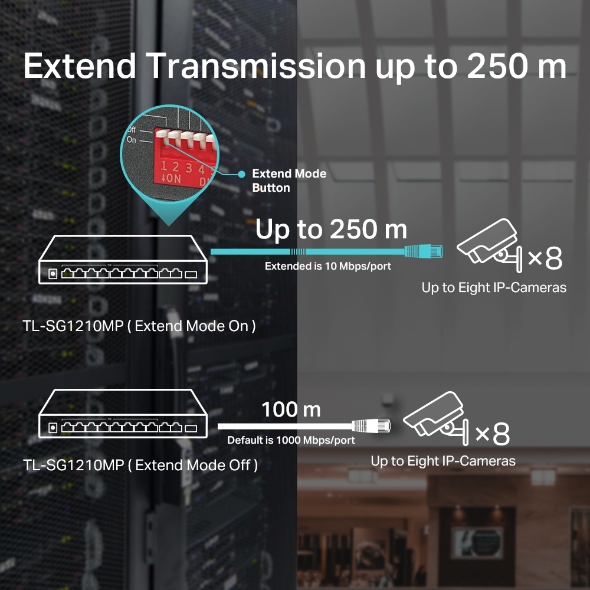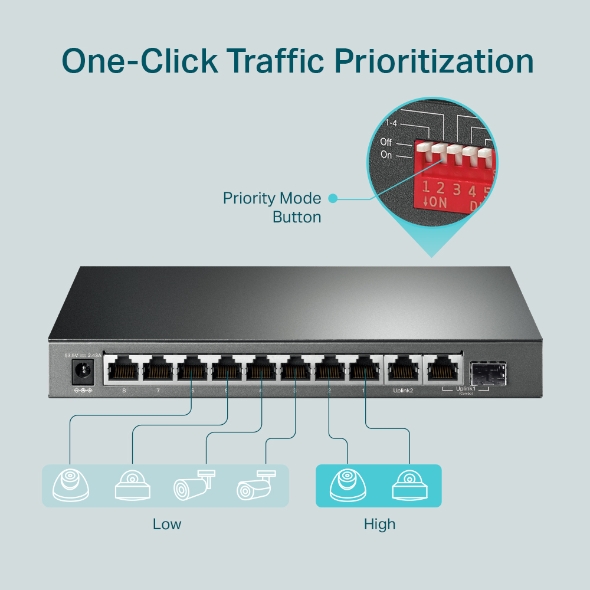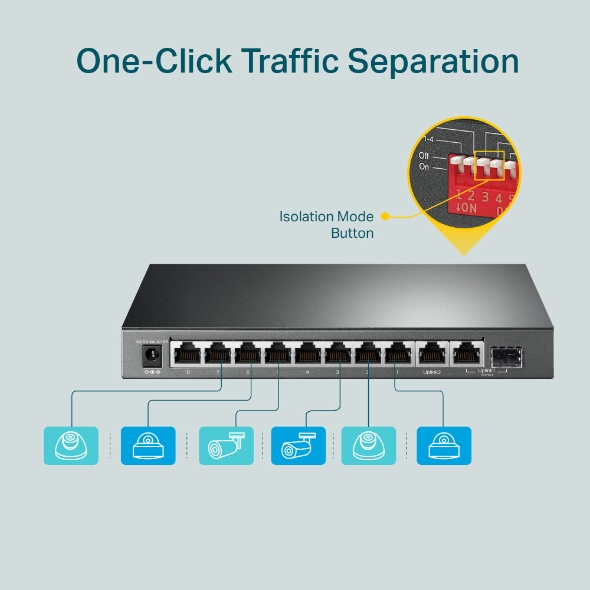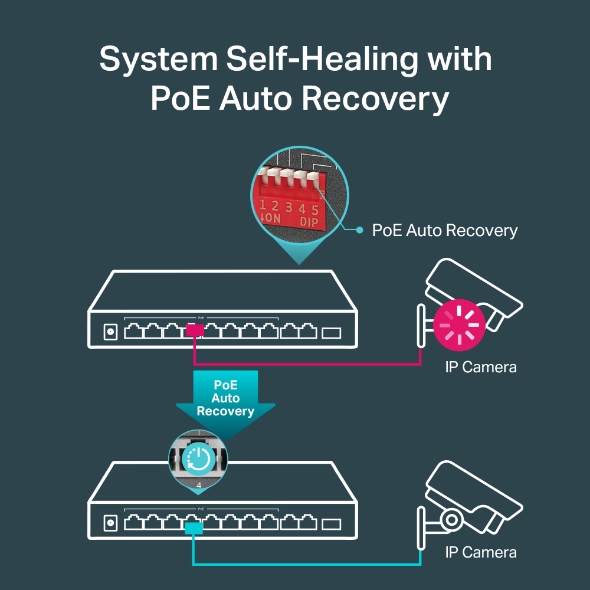 TL-SG1210MP
10-poorts Gigabit Desktopswitch met 8-poorts PoE+
9× gigabit RJ45-poorten en 1× gigabit combo SFP/RJ45-poort

8× PoE+-poorten met gegevensoverdracht en voeding via één kabel met een totale energietoewijzing van 123 W*

De switch is compatibel met IEEE 802.3af/at PoE+ en ondersteunt een PoE-energietoewijzing van 30 W voor elke PoE-poort

De uitbreidingsmodus biedt een bereik tot 250 m voor data en de voeding**

De prioriteitsmodus zorgt dat poorten 1–2 een hoge prioriteit krijgen om de kwaliteit van gevoelige toepassingen te garanderen

Met de isolatiemodus kan het clientverkeer met één klik worden gescheiden voor een verbetering van de beveiliging en prestaties

Met PoE Autoherstel worden PoE-gevoede apparaten die zijn weggevallen of niet reageren automatisch opnieuw opgestart.

Plug-and-play: geen configuratie nodig

Het ventilatorloze ontwerp vermindert het energieverbruik en zorgt voor een stille werking
Wat dit product doet
De TP-Link TL-SG1210MP is een unmanaged switch met 9 gigabit RJ45-poorten en 1 gigabit combo SFP/RJ45-poort waarvoor geen configuratie is vereist. Met 8 PoE-poorten (Power over Ethernet) kan de switch apparaten die IEEE 802.3af/at ondersteunen automatisch detecteren en van stroom voorzien. In dit geval wordt de elektrische stroom samen met de data via één kabel overgebracht. Dit stelt je in staat om je netwerk uit te breiden op plaatsen zonder voedingskabels of stopcontacten voor het aansluiten van bijvoorbeeld access points, IP-camera's, VoIp-telefoons enzovoort.
Professionele 10-poorts switch met 8-poorts PoE+ (123W-energietoewijzing) voor verschillende toepassingen
Compatibel met de 802.3af/at PoE+-standaard en biedt ondersteuning voor een energietoewijzing van 30 W op elke PoE-poort. Door de totale PoE-energietoewijzing* van 123 W voor 8 PoE-poorten zijn veel verschillende toepassingen mogelijk, zoals videobewaking voor kantoren, studentenhuizen en kleine bedrijven. De switch is volledig compatibel met IP-camera's, access points, VoIp-telefoons, computers, printers enzovoort.
Geavanceerde functies: voor een goed werkend en veilig netwerk
Als de uitbreidingsmodus is ingeschakeld, heeft de PoE-functie een bereik tot 250 m** – perfect als je IP-camera's wilt gebruiken om grote gebieden te bewaken.
Er wordt prioriteit gegeven aan poort 1-2 om de kwaliteit van gevoelige toepassingen, zoals video- en spraaktoepassingen, binnen belangrijke bedrijfsonderdelen te garanderen.
Met behulp van de isolatiemodus kun je het verkeer voor de poorten 1-4 of 5-8 scheiden om spionage en manipulatie te voorkomen. Ook worden uitzendstormen geïsoleerd voor een betere beveiliging.
Zelfherstellend systeem met automatisch herstel van PoE
De switch detecteert automatisch apparaten, zoals camera's en access points, en start ze opnieuw op wanneer ze offline gaan of niet reageren. Hierdoor wordt verzekerd dat verbonden PoE-apparaten stabiel blijven werken en handmatige bewaking en herstart niet noodzakelijk is.
Duurzame metalen behuizing
De onderdelen binnenin de TL-SG1210MP worden beschermd door een hoogwaardige metalen behuizing zodat ze lang mee gaan. Het ventilatorloos ontwerp zorgt voor een stille werking. De TL-SG1210MP is uitvoerig getest en levert prestaties waarop je kunt vertrouwen.
Intelligent energiebeheer
Wanneer het totale energieverbruik 123 W wordt overschreden, zorgt het intelligente energiebeheer ervoor dat de poort met lagere prioriteit wordt uitgeschakeld. Zo wordt verzekerd dat de poort met hoge prioriteit van stroom wordt voorzien. Ook wordt het apparaat op deze manier beschermd tegen overbelasting. Bovendien wordt de benodigde stroom van je PoE-apparaten automatisch gedetecteerd en ter beschikking gesteld en wordt je apparatuur (met of zonder PoE) beschermd tegen schade.
Switches for Surveillance

For general surveillance, TP-Link has designed a variety of PoE Switches to meet the requirements of most IPCs. Many robust features provide value well beyond basic networking needs, creating a versatile and reliable surveillance network to grow your business.

Long-Range PoE
Auto Camera Recovery
Enhanced Network Security

Switches for Business WiFi

For small and medium-sized businesses, a network switch is the fundamental component to build their business network. TP-Link offers an extensive portfolio of network switches with abundant functions and flexible options for every stage of your business growth.

High-Speed Wired LAN Network
Manage with Ease
Abundant Security Strategies
Lower Yours Costs
Comprehensive Products
Functionaliteit van de Hardware
Interface
• 9× 10/100/1000 Mbps RJ45-poorten
• 1× 1000 Mbps combo SFP/RJ45-poort
• AUTO Negotiation
• AUTO MDI/MDIX
Netwerkmedia
• 10BASE-T: UTP-kabel categorie 3, 4, 5 (maximum 100 m)
• EIA/TIA-568 100 Ω STP (maximum 100 m)
• 100BASE-TX: UTP-kabel categorie 5, 5e (maximum 100 m)
• EIA/TIA-568 100 Ω STP (maximum 100 m)
Ventilator Aantal
Ventilatorloos
Physical Security Lock
Ja
Externe Voeding
Externe netadapter (uitgangsvermogen: 53,5 V DC / 2,43 A)
Doorstuursnelheid pakket
14,88 Mpps
PoE Ports (RJ45)
• Standaard: compatibel met 802.3 af/at
• PoE-poorten: poort 1 – 8
• Energietoewijzing: 123 W
Adressentabel MAC
4 K
Jumbo Frame
16 KB
Doorschakelcapaciteit
20 Gbps
Afmetingen ( B x D x H )
209 × 126 × 26 mm
Max Power Consumption
• 7,93 W (220 V / 50Hz zonder verbonden apparaat)
• 141,40 W (220 V / 50 Hz met verbonden apparaat van 123 W)
Max Heat Dissipation
• 27,04 BTU/h (220 V / 50 Hz zonder verbonden apparaten)
• 482,17 BTU/h (220 V / 50 Hz met apparaten van 123 W)
Functionaliteit van de Software
Transmissie Methode
Opslaan en doorsturen
Geavanceerde Functies
• Compatibel met apparaten die geschikt zijn voor IEEE 802.3af/at
• Knop voor uitbreidingsmodus (poort 1–4, tot 250 m PoE-energietoewijzing en gegevensoverdracht)
• Knop voor prioriteitsmodus (poort 1–2)
• Knop voor isolatiemodus (poorten 1–4 / 5-8)
• PoE Autoherstel (poort 1-8)
• Mac-adres Auto-Learning en Auto-Aging
• IEEE802.3x datatransportbesturing voor Full-Duplexmodus en Backpressure voor Half-Duplexmodus

Overige
Certificatie
FCC, CE, RoHS
Pakketinhoud
• TL-SG1210MP
• Netadapter
• Installatiegids
Omgeving
Gebruikstemperatuur: 0°C~40℃
Bewaartemperatuur: -40°C~70℃
Rel. luchtvochtigheid gebruik: 10%~90%, niet-condenserend
Rel. luchtvochtigheid bewaren: 5%~90%, niet-condenserend
*Berekeningen van de PoE-energietoewijzing zijn gebaseerd op laboratoriumtests. De werkelijke PoE-energietoewijzing kan niet worden gegarandeerd en kan variëren op basis van beperkingen van de client en omgevingsfactoren.
**De snelheid van de poorten in de uitbreidingsmodus wordt verlaagd naar 10 Mbps. Het werkelijke bereik kan variëren op basis van het stroomverbruik van de PoE-apparaten of de kwaliteit van de kabel of het type kabel.
SubscriptionTP-Link hecht veel waarde aan privacy. Voor meer informatie over ons privacybeleid kan je onze Privacy Policy bekijken.
From United States?
Get products, events and services for your region.