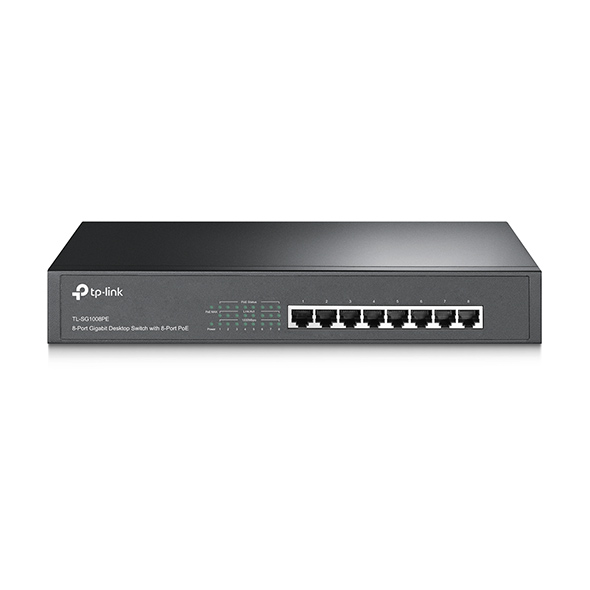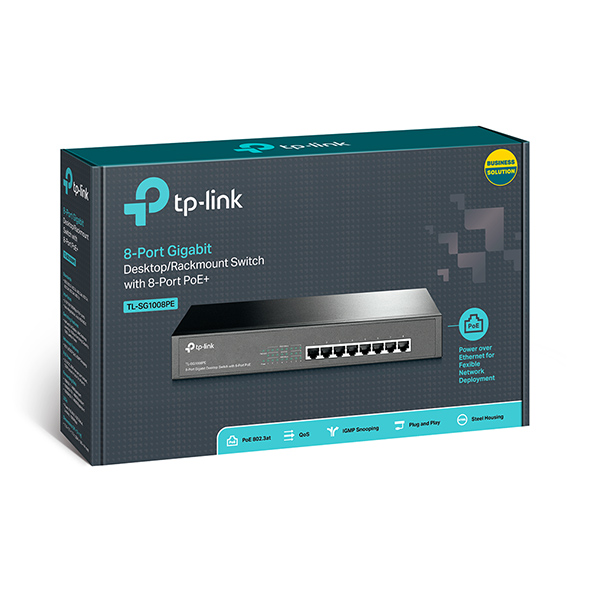 TL-SG1008PE
Gigabit desktop/rackmount switch met 8 aansluitingen met PoE
8 x 10/100/1000 Mbps RJ45 aansluitingen

Uitgerust met 8 aansluitingen met PoE+ voor datatransmissie en stroomtoevoer via één kabel

Werkt met IEEE 802.3af/at conforme apparaten, voor uitbreiding van thuis- of kantoornetwerk

Innovatieve, energie-efficiënte techniek bespaart tot 75% energie*
Plug and Play - geen configuratie nodig
  * Werkelijk verbruik kan in verschillende omgevingen variëren.
Wat doet dit product?
De TL-SG1008PE is een gigabit desktop/rackmount switch met 8 aansluitingen die de PoE+ standaard ondersteunen. Hij biedt een eenvoudige manier om een bekabeld netwerk uit te breiden, door stroomtoevoer en data via één ethernetkabel over te brengen. Met een totaal stroombudget van 124 W en max 30 W per aansluiting kan de TL-SG1008PE diverse apparaten die veel stroom verbruiken voeden, zoals draadloze access points (AP's), IP-camera's en IP-telefoons. Dankzij zijn innovatieve energiebesparende techniek kan met de TL-SG1008PE tot 75% op het stroomverbruik worden bespaard, waardoor hij een milieuvriendelijke oplossing voor uw bedrijfsnetwerk is.
Hoe werk dit product?
Th
Alle 8 aansluitingen van de TL-SG1008PE ondersteunen de Power over Ethernet Plus (PoE+) standaard en detecteren en voorzien elk IEEE 802.3af/at-conform apparaat van stroom. In deze situatie vindt de stroomtoevoer tezamen met de datatransmissie via één kabel plaats, zodat u uw netwerk kunt uitbreiden naar plaatsen waar geen stroomtoevoer is en u apparaten zoals AP's, IP-camera's, of IP-telefoons wilt installeren.
Bescherming tegen overbelasting
De TL-SG1008PE heeft een prioriteit functie, die het systeem beschermt tegen overbelasting. Als het stroomverbruik van alle PoE+ apparaten groter dan of gelijk aan 124 W is, wordt er een prioriteit aan de 8 PoE aansluitingen toegewezen, waarna het systeem de stroomtoevoer naar de aansluiting met de laagste prioriteit afsluit.
Prioriteit functie voor aansluitingen
*Prioriteit (aansl. 1 > aansl. 2 > aansl. 3 > aansl. 4 > aansl. 5 > aansl. 6 > aansl. 7 > aansl. 8): deze functie beschermt het systeem als de stroomtoevoer overbelast wordt. Als bijvoorbeeld aansluiting 1, 2, 4 en 7 elk 30 W gebruiken (max. stroomtoevoer per aansluiting is 30 W, voor het gehele systeem 124 W in totaal) en er nog een apparaat wordt aangesloten op aansluiting 3 met 25 W, dan schakelt het systeem de stroomtoevoer naar aansluiting 7 uit, omdat de stroomtoevoer de limiet van 124 W overschrijdt. Dit betekent dat aansluiting 1, 2 en 4 elk 30 W gebruiken en aansluiting 3 25 W en aansluiting 7 geen stroomtoevoer meer krijgt, omdat deze de laagste prioriteit van de in gebruik zijde aansluitingen heeft.
Eenvoudig te gebruiken
De TL-SG1008PE is eenvoudig te installeren en te gebruiken. Er is geen configuratie of installatie nodig. Met zijn desktop /rackmount vormgeving, uitstekende prestaties en kwaliteit is de TL-SG1008PE gigabit switch met 8 gigabit aansluitingen waarvan 8 met PoE van TP-LINK een uitstekende keuze voor het uitbreiden van uw thuis- of kantoornetwerk.
Functionaliteit van de Hardware
Interface
8 x 10/100/1000 Mbps RJ45 aansluitingen
AUTO Negotiation/AUTO MDI/MDIX
Netwerkmedia

10BASE-T: UTP categorie 3, 4, 5 kabel (max. 100 m)
EIA/TIA-568 100 Ω STP (max. 100 m)
100BASE-TX: UTP categorie 5, 5e kabel (max. 100 m)
EIA/TIA-568 100 Ω STP (max. 100 m)
1000BASE-T: UTP categorie 5, 5e, 6 of hoger kabel (max. 100 m)
EIA/TIA-568 100 Ω STP (max. 100 m)
Ventilator Aantal
1
Uitgangsvermogen
100-240 V wisselspanning, 50/60 Hz
Energieverbruik
Maximum (PoE on): 140W (220V/50Hz)
Maximum (PoE off): 9.5W (220V/50Hz)
Backup-Bandbreedte
16 Gbps
PoE+ Poorten (RJ45)
Standard: 802.3at/af compliantPoE+ Ports: 8 PortsPower Supply: 126W
PoE Ports (RJ45)
Standard: 802.3at/af compliant
PoE+ Ports: 8 Ports
Power Supply: 124W
Backbound Bandbreedte
16Gbps
Adressentabel MAC
8K
Buffergrootte
2Mbits
Afmetingen ( B x D x H )
294 x 180 x 44 mm
Montage
Rack Mountable
Max Power Consumption
9.89W(220/50Hz. no PD connected)140.67W(110/60Hz. with 126W PD connected)
Max Heat Dissipation
33.74BTU/h(no PD connected)492.56BTU/h(with 126W PD connected)
Functionaliteit van de Software
Geavanceerde Functies
Compatible With IEEE 802.3af/at Compliant PDs
Priority Function
Mac Address Auto-Learning And Auto-Aging
IEEE802.3x Flow Control For Full-Duplex Mode And Backpressure For Half-Duplex Mode
Overdrachtsmethode
Store-And-Forward
Geavanceerde Functies
Compatibel met IEEE 802.3af/at conforme PD's
Prioriteit functie
MAC-adres Auto-Learning en Auto-Aging
IEEE802.3x Flow Control voor full-duplex modus en Backpressure voor half-duplex modus
Overige
Certificatie
FCC, CE, RoHS
Pakketinhoud
TL-SG1008PE, netkabel, installatie-instructies, Rackmount Kit, Rubbere voetjes
Systeemvereisten
Microsoft® Windows® XP, Vista™ or Windows 7, Windows 8, MAC® OS, NetWare®, UNIX® or Linux
Consumptie
9,5 W (max. zonder aangesloten PD's)
140,1 W (max. met 124 W PD's aangesloten)
Omgeving
Gebruikstemperatuur: 0℃~40℃
Bewaartemperatuur: -40℃~70℃
Rel. luchtvochtigheid gebruik: 10%~90%, niet-condenserend
Rel. luchtvochtigheid opslag: 5%~90%, niet-condenserend
Awards

Recommended Award

TL-SG1008PE received a Recommended Award from AVForums

2013, UK

Recommended

TL-SG1008PE received a Recommended award from PC Pro.

2013, UK
Subscription
TP-Link hecht veel waarde aan privacy. Voor meer informatie over ons privacybeleid kan je onze Privacy Policy bekijken.