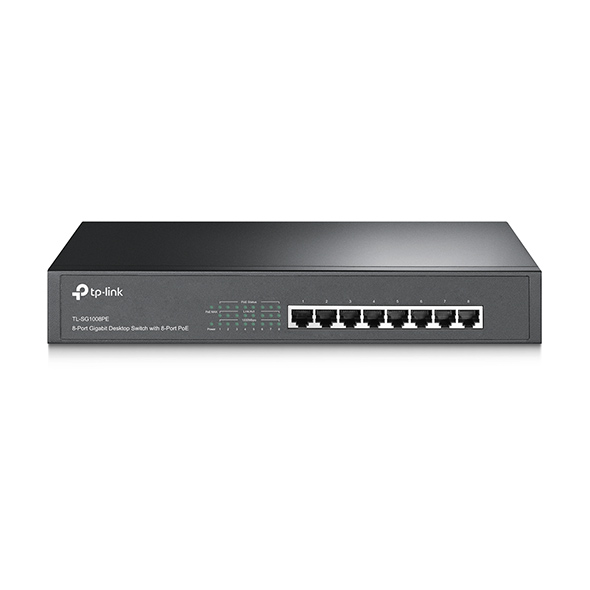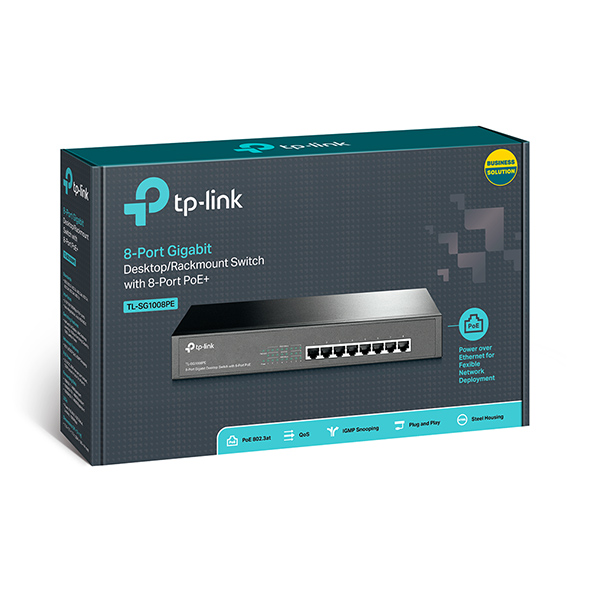 TL-SG1008PE
Gigabit desktop/rackmount switch met 8 aansluitingen met PoE
8 x 10/100/1000 Mbps RJ45 aansluitingen

Uitgerust met 8 aansluitingen met PoE+ voor datatransmissie en stroomtoevoer via één kabel

Werkt met IEEE 802.3af/at conforme apparaten, voor uitbreiding van thuis- of kantoornetwerk

Innovatieve, energie-efficiënte techniek bespaart tot 75% energie*
Plug and Play - geen configuratie nodig
  * Werkelijk verbruik kan in verschillende omgevingen variëren.
Wat doet dit product?
De TL-SG1008PE is een gigabit desktop/rackmount switch met 8 aansluitingen die de PoE+ standaard ondersteunen. Hij biedt een eenvoudige manier om een bekabeld netwerk uit te breiden, door stroomtoevoer en data via één ethernetkabel over te brengen. Met een totaal stroombudget van 124 W en max 30 W per aansluiting kan de TL-SG1008PE diverse apparaten die veel stroom verbruiken voeden, zoals draadloze access points (AP's), IP-camera's en IP-telefoons. Dankzij zijn innovatieve energiebesparende techniek kan met de TL-SG1008PE tot 75% op het stroomverbruik worden bespaard, waardoor hij een milieuvriendelijke oplossing voor uw bedrijfsnetwerk is.
Hoe werk dit product?
Th
Alle 8 aansluitingen van de TL-SG1008PE ondersteunen de Power over Ethernet Plus (PoE+) standaard en detecteren en voorzien elk IEEE 802.3af/at-conform apparaat van stroom. In deze situatie vindt de stroomtoevoer tezamen met de datatransmissie via één kabel plaats, zodat u uw netwerk kunt uitbreiden naar plaatsen waar geen stroomtoevoer is en u apparaten zoals AP's, IP-camera's, of IP-telefoons wilt installeren.
Bescherming tegen overbelasting
De TL-SG1008PE heeft een prioriteit functie, die het systeem beschermt tegen overbelasting. Als het stroomverbruik van alle PoE+ apparaten groter dan of gelijk aan 124 W is, wordt er een prioriteit aan de 8 PoE aansluitingen toegewezen, waarna het systeem de stroomtoevoer naar de aansluiting met de laagste prioriteit afsluit.
Prioriteit functie voor aansluitingen
*Prioriteit (aansl. 1 > aansl. 2 > aansl. 3 > aansl. 4 > aansl. 5 > aansl. 6 > aansl. 7 > aansl. 8): deze functie beschermt het systeem als de stroomtoevoer overbelast wordt. Als bijvoorbeeld aansluiting 1, 2, 4 en 7 elk 30 W gebruiken (max. stroomtoevoer per aansluiting is 30 W, voor het gehele systeem 124 W in totaal) en er nog een apparaat wordt aangesloten op aansluiting 3 met 25 W, dan schakelt het systeem de stroomtoevoer naar aansluiting 7 uit, omdat de stroomtoevoer de limiet van 124 W overschrijdt. Dit betekent dat aansluiting 1, 2 en 4 elk 30 W gebruiken en aansluiting 3 25 W en aansluiting 7 geen stroomtoevoer meer krijgt, omdat deze de laagste prioriteit van de in gebruik zijde aansluitingen heeft.
Eenvoudig te gebruiken
De TL-SG1008PE is eenvoudig te installeren en te gebruiken. Er is geen configuratie of installatie nodig. Met zijn desktop /rackmount vormgeving, uitstekende prestaties en kwaliteit is de TL-SG1008PE gigabit switch met 8 gigabit aansluitingen waarvan 8 met PoE van TP-LINK een uitstekende keuze voor het uitbreiden van uw thuis- of kantoornetwerk.
East European Comic Con

TP-Link Provides Internet Access for East European Comic Con for the Fourth Year Running

East European Comic Con

TP-Link Provides Internet Access for East European Comic Con for the Fourth Year Running

"TP-Link Romania have provided a high-quality service and the right equipment to meet our requirements in each of the projects we have worked on together. EECC2017 was their toughest challenge so far and they passed with flying colors." —Marius Radu, EECC Gaming Director
Functionaliteit van de Hardware
Interface
8 x 10/100/1000 Mbps RJ45 aansluitingen
AUTO Negotiation/AUTO MDI/MDIX
Netwerkmedia

10BASE-T: UTP categorie 3, 4, 5 kabel (max. 100 m)
EIA/TIA-568 100 Ω STP (max. 100 m)
100BASE-TX: UTP categorie 5, 5e kabel (max. 100 m)
EIA/TIA-568 100 Ω STP (max. 100 m)
1000BASE-T: UTP categorie 5, 5e, 6 of hoger kabel (max. 100 m)
EIA/TIA-568 100 Ω STP (max. 100 m)
Ventilator Aantal
1
Uitgangsvermogen
100-240 V wisselspanning, 50/60 Hz
Energieverbruik
Maximum (PoE on): 140W (220V/50Hz)
Maximum (PoE off): 9.5W (220V/50Hz)
Backup-Bandbreedte
16 Gbps
PoE+ Poorten (RJ45)
Standard: 802.3at/af compliantPoE+ Ports: 8 PortsPower Supply: 126W
PoE Ports (RJ45)
Standard: 802.3at/af compliant
PoE+ Ports: 8 Ports
Power Supply: 124W
Backbound Bandbreedte
16Gbps
Adressentabel MAC
8K
Buffergrootte
2Mbits
Afmetingen ( B x D x H )
294 x 180 x 44 mm
Montage
Rack Mountable
Max Power Consumption
9.89W(220/50Hz. no PD connected)140.67W(110/60Hz. with 126W PD connected)
Max Heat Dissipation
33.74BTU/h(no PD connected)492.56BTU/h(with 126W PD connected)
Functionaliteit van de Software
Geavanceerde Functies
Compatible With IEEE 802.3af/at Compliant PDs
Priority Function
Mac Address Auto-Learning And Auto-Aging
IEEE802.3x Flow Control For Full-Duplex Mode And Backpressure For Half-Duplex Mode
Overdrachtsmethode
Store-And-Forward
Geavanceerde Functies
Compatibel met IEEE 802.3af/at conforme PD's
Prioriteit functie
MAC-adres Auto-Learning en Auto-Aging
IEEE802.3x Flow Control voor full-duplex modus en Backpressure voor half-duplex modus
Overige
Certificatie
FCC, CE, RoHS
Pakketinhoud
TL-SG1008PE, netkabel, installatie-instructies, Rackmount Kit, Rubbere voetjes
Systeemvereisten
Microsoft® Windows® XP, Vista™ or Windows 7, Windows 8, MAC® OS, NetWare®, UNIX® or Linux
Consumptie
9,5 W (max. zonder aangesloten PD's)
140,1 W (max. met 124 W PD's aangesloten)
Omgeving
Gebruikstemperatuur: 0℃~40℃
Bewaartemperatuur: -40℃~70℃
Rel. luchtvochtigheid gebruik: 10%~90%, niet-condenserend
Rel. luchtvochtigheid opslag: 5%~90%, niet-condenserend
Awards

Recommended Award

TL-SG1008PE received a Recommended Award from AVForums

2013, UK

Recommended

TL-SG1008PE received a Recommended award from PC Pro.

2013, UK
SubscriptionTP-Link hecht veel waarde aan privacy. Voor meer informatie over ons privacybeleid kan je onze Privacy Policy bekijken.
From United States?
Get products, events and services for your region.