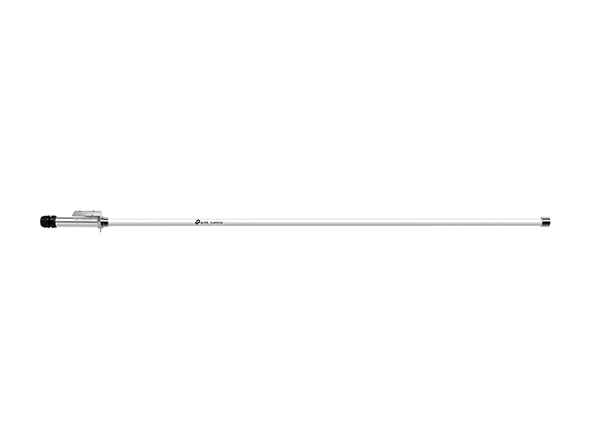 TL-ANT2415D
2.4GHz 15dBi Outdoor Omni-directional Antenna
15dBi omnidirectionele werking verhoogt de draadloze dekking in aanzienlijke mate
N-connector (vrouwelijk), compatibel met vrijwel alle draadloze apparatuur
Weerbestendig ontwerp, geschikt voor alle weersomstandigheden
Meegeleverde montagekits vereenvoudigen de installatie in uiteenlopende omgevingen
Wat dit product voor u kan doen
De TL-ANT2415D, omni-directionele antenne voor in het open veld, werkt in de 2.4-2.5 GHz band en biedt 15dBi omni-directionele werking, wat het draadloos bereik sterk uitbreidt en veel betere draadloze prestaties geeft. De antenne heeft de vrouwelijke N connector wat een grotere compatibiliteit garandeert met de meeste draadloze uitrustingen. Verder garandeert het weersbestendige ontwerp dat hij ook kan worden gebruikt in de open lucht. De omni-directionele antenne voor in het open veld zendt een krachtig, versterkt signaal over 360 graden uit, waarmee hij een sterk multidirectioneel signaal afgeeft vanaf een toegangspunt of een brug. Als u meerdere locaties of gebouwen heeft waar u uw draadloos netwerk wil integreren, plaats dan simpelweg de TL-ANT2415D tussen de gebouwen met uw toegangspunt. Hij is het meest effectief wanneer geplaatst op het dak van gebouwen.
Makkelijk te gebruiken
De installatie van de TL-ANT2415D is eenvoudig en duidelijk. Hij is compatibel met de meeste draadloze apparaten (toegangspunten, routers, bruggen en netwerkadapters) in de handel met verwijderbare externe antennes.
Antenne
Gewicht
0.6kg
Frequentiebereik
2.4GHz~2.5GHz
Impedantie
50 Ohms
VERSTERKING
15 dBi
Straling
Omni-directional
VSWR(MAX.)
< 2.0
HPBW/H( °)
360°

HPBW/V( °)
360°
POLARISATIE
Linear, Vertical
Stijl Montageplaat
Pole Mount / Wall Mount
Toepassing
Outdoor
Bliksembeveiliging
DC Ground
Bedrijfstemperatuur
-40℃~65℃(-40℉~149℉)
Opslagtemperatuur
-40℃~80℃ (-40℉~176℉)
Luchtvochtigheid in Bedrijf
10%~90% non-condensing
Luchtvochtigheid in Opslag
5%~90% non-condensing
Veiligheid, Emissie en Anderen
CE, FCC, Compliant with RoHS
Verpakkingsinhoud
15dBi Outdoor Omni-directional Antenna
Installation mounting kits
User Guide
Lengte
1500mm

Subscription
TP-Link hecht veel waarde aan privacy. Voor meer informatie over ons privacybeleid kan je onze Privacy Policy bekijken.