802.11ax

Empower your Enterprise-Class

Wi-Fi

Beyond Imagination

Greater Efficiency. Larger Capacity. Improved Performance.
TP-Link Welcomes Empowered Wi-Fi 6 (802.11ax) series,integrated into Omada SDN
Demands for more wireless devices
Increasing bandwidth requirements
Heavier interference between APs
What Wi-Fi 6 can bring you?
Larger Capacity:

Improved Performance:

Greater Efficiency:
Serve 4× More Device Simultaneously
——with Uplink & Downlink of MU-MIMO
802.11ax extends MU-MIMO technology from 4×4 to 8×8 and enables work with both uploads and downloads compared to 802.11ac MU-MIMO. 802.11ax access points with 8×8 MU-MIMO in uplink and downlink provide up to 4x greater capacity in high-density scenarios compared to traditional SU-MIMO (Single-User MIMO), enabling more simultaneous device connections. Let the capacity of network perfectly follow your growing business expansion.
connection for 1000+ devices
Increased Efficiency with OFDMA
The Wi-Fi 6 standard uses OFDMA for more efficient channel use and reduced latency. Imagine your WiFi connection as a series of delivery trucks delivering data packets to your devices. With 802.11ac Wi-Fi, each delivery truck could only deliver one parcel to one device at a time. But with OFDMA, each truck can deliver multiple parcels to multiple devices simultaneously. This vast improvement in efficiency works for both uploads and downloads.
Waiting

Client 2

Waiting

Data Transmitted

802.11ac | without OFDMA

Client 1

Client 2

Client 3

Data Transmitted

802.11ax | OFDMA
Pack More Data with

­
1024-QAM
25% faster than 256-QAM
With 1024-QAM, each symbol carries 10 bits rather than 8 bits, improving raw speeds by 25% compared to 802.11ac 256-QAM. Watch Netflix at home or live stream Twitch Broadcasts from your home computer – with 1024-QAM, streaming just got that much better.
Frequency f
Frequency f
11ac: 256 Subcarriers in 3.6 μs (0.4 μs GI)
11ax: 1024 Subcarriers in 13.6 μs (0.8 μs GI)
| | 802.11ac (Wi-Fi 5) | 802.11ax (Wi-Fi 6) |
| --- | --- | --- |
| Number of Data Subcarriers | 234 | 980 |
| Symbol Duration(μs) | 3.6 (3.2 symbol + 0.4 GI) | 13.6 (12.8 symbol + 0.8 GI) |
| Valid Data Subcarriers Rate | 65 | 72.05882 |
| Improvement | | 1.108597 |
* One Symbol, 80 MHz Channel
Greater Coverage and Boosted Speed
with 4× Longer OFDM Symbol
OFDM is a symbol that transmits data. It divides its data among smaller sub carriers for more stability and wider coverage. 802.11ax uses a 4x longer OFDM symbol to create 4x more sub carriers. Because of this, Wi-Fi 6's longer OFDM symbol provides increased coverage and makes it 11% faster.
Minimize WiFi Interference in Your Enterprise
with BSS Coloring
In order to further increase the system capacity and reduce co-channel interference, a new BSS Coloring & Spatial Reuse technology is added to 802.11ax—providing a corresponding color mark for each AP to differentiate between adjacent service sets, and further improving the carrying efficiency of wireless channel resources by identifying the color. The Wi-Fi 6 solution can implement channel spatial reuse to greatly improve network performance and capacity in high-density scenarios, such as office environments, restaurants and shopping malls.
No Inteference
Inteference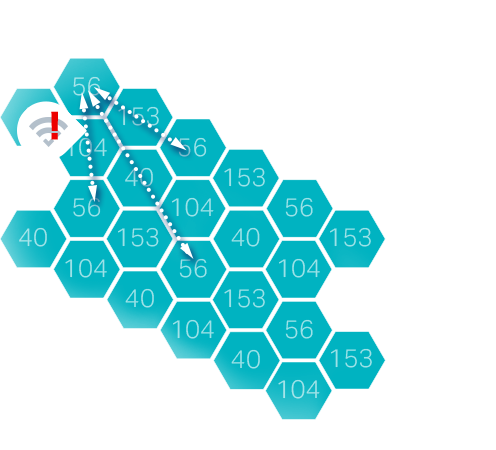 · All same-channel BSS blocking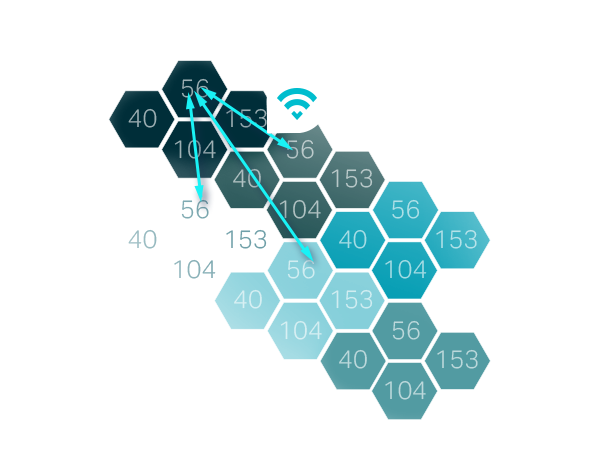 ·Same-channel BSS only blocked on Colour Match
Transmitting
Sleep State
Sleep State
Waiting
Waiting
Transmitting
Reduce Power Consumption
With Target Wake Time
Target Wake Time (TWT) allows devices to negotiate when and how often they will wake up to send or receive data, increasing device sleep time and substantially improving battery life for mobile and IoT devices.
From United States?
Get products, events and services for your region.