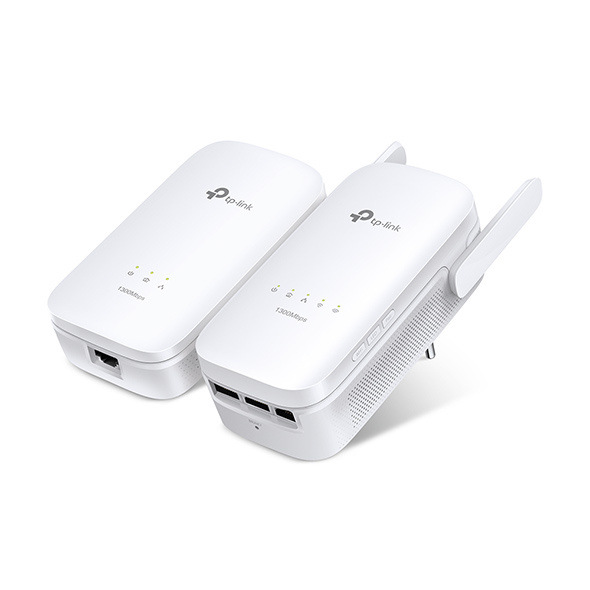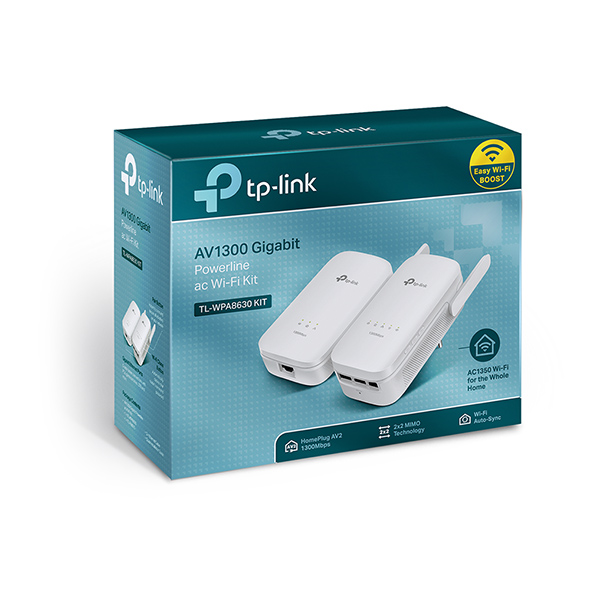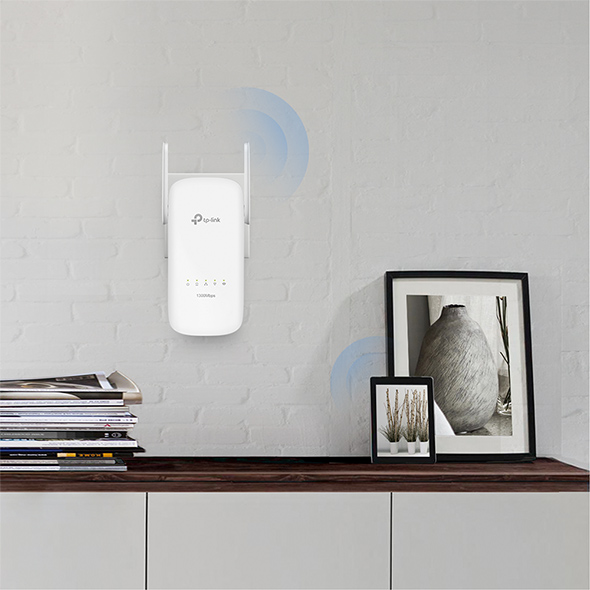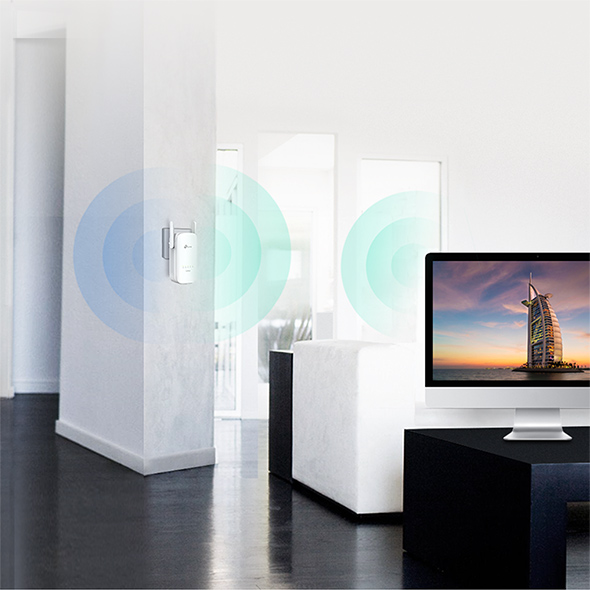 TL-WPA8630 KIT
AV1200 Gigabit Powerline ac Wi-Fi Kit
AC1200 Dual band Wi-Fi – delivers combined speeds of up to 1200Mbps, providing fast and seamless network for multiple devices
AV1200 Powerline Speed – Fully meet the demand for bandwidth-intensive activities with ultra-fast powerline transfer speed of up to 1200Mbps
Wi-Fi Clone – Automatically copies the network name (SSID) and password of your router with the touch of the Wi-Fi clone button
Wi-Fi Auto-Sync – Makes it easy to add additional extenders to your powerline network by uniformly syncing settings such as SSID, password, Wi-Fi Schedule and LED Schedule for all network devices
Plug, Pair, and Play –Set up your powerline network and start enjoying fast, seamless wired/wireless connections in a matter of minutes
Extend Blazing Fast Wi-Fi Anywhere in Your Home
AV1300 Gigabit Powerline ac Wi-Fi Kit
TL-WPA8630 KIT
Instant Wi-Fi in Any Room
The TL-WPA8630 KIT expands your home's Wi-Fi coverage into areas where the wireless signal from the main router is weak or nonexistent. The range extender kit can build a unified network using your home's existing powerlines and allow you to enjoy Wi-Fi coverage in any area with a power outlet.
Fast Dual Band Wi-Fi Speeds – Up to 1350Mbps
The TL-WPA8630 utilizes 802.11ac Wi-Fi to deliver dual band connections with combined speeds of up to 1350Mbps, including 867Mbps on the 5GHz band and 450Mbps on the 2.4GHz band. The combination of impressive speed and convenient powerline networking allows you to provide fast, reliable connections throughout your entire home. This is perfect for 4K streaming and online gaming, on multiple devices at the same time.
5GHz867Mbps
2.4GHz450Mbps
Excellent Powerline Speed - Up to 1300Mbps
Advanced HomePlug AV2 technology means the extender supports 2x2 MIMO* with beamforming, so users benefit from ultra-fast data transfer speeds of up to 1300Mbps. Perfect for bandwidth demanding activities like streaming Ultra HD video to multiple devices simultaneously, online gaming and large file transfers.
up to
1300Mbps
Excellent Powerline Transfer Speed
2X2 MIMO with Beamforming
More Stable Connections
2X2 MIMO is like adding extra lanes to a highway. It establishes multiple simultaneous connection for you to enjoy higher speeds and greater stability.
Neutral Wire
Line Wire
Ground Wire
Multi-input Multi-output
Neutral Wire
Line Wire
Ground Wire
Single-input Single-output
Expansive Coverage
2X2 MIMO with Beamforming Technology also offers the benefit of improved coverage throughout the home, particularly for previously hard to reach outlets.
MIMO
Long Distance
SISO
Long Distance
*The MIMO functionality within HomePlug AV2 significantly improves data transfer rates, especially during peak use hours.
Wi-Fi Auto-Sync for Unified Wi-Fi Network
Wi-Fi Auto-Sync creates a simple, intuitive powerline experience. Pressing the Wi-Fi Clone button instantly copies your network name and password from your router for easy setup. Wi-Fi Move automatically applies any settings changes across the network. Your existing Wi-Fi settings will be synchronized to the new extender automatically.
Ann's Home
TP-Link Extender

SAME

WI-FI NAME

PASSWORD

Router
TL-WPA8630
Powerline
Wi-Fi settings
Plug, Pair and Play!
1. Plug the TL-PA8010 in the wall and connect it to the router with an Ethernet cable. Then plug the TL-WPA8630 in any desired power outlet.
2. Press the 'Pair' buttons on both adapters to create a secure network. There you go! Just enjoy the seamless, high speed wired and wireless network.
* Powerline adapters need to be connected to the same electrical circuit.
1300Mbps Powerline HomePlug AV2
More Gigabit Ethernet Ports, More Devices
Equipped with 3 gigabit Ethernet ports, TL-WPA8630 allows you to connect several bandwidth intensive devices such as game consoles, smart TVs or media receivers to the Internet at high speeds, just plug in network cables and enjoy fast and stable wired network anywhere at home.
Distracted by Blinking LEDs?
You can easily turn off the LED indicators by pressing the LED On/Off button or control them remotely using the tpPLC app on your mobile device or the tpPLC Utility on your computer.
The tpPLC Utility and tpPLC app make it easy to manage and secure your network.You can download the tpPLC app for iOS and Android devices. You can download the intuitive new tpPLC Utility for your PC at www.tp-link.com
*Powerline devices need to be connected to the same electrical circuit and must be deployed in sets of two or more. TP-Link Powerline devices
CARACTERÍSTICAS DE HARDWARE
Tipo de Enchufe
EU UK US FR AU CH
Estándares y Protocolos
HomePlug AV2, IEEE 1901,
IEEE 802.3,IEEE 802.3u,
IEEE 802.11b/g/n 2.4GHz, IEEE 802.11a/ac 5GHz

Interfaz
3 Puertos Gigabit Ethernet
Botones
Pair, Reset, LED On/Off, Clonado Wi-Fi
Consumo de Potencia
Máximo: 10.8 W (230V/50Hz)
En espera:5W (230V/50Hz)

Indicador de LED
Power, Powerline, Ethernet, 2.4G Wi-Fi, 5G Wi-Fi
Dimensiones
TL-WPA8630:140.6 x 68 x 45mm. (5.5 x 2.7 x 1.8 in)
TL-PA8010P:131×72×42 mm. (5.2×2.8×1.7 in)

Alcance
Hasta 300 metros / 1000 pies sobre el cableado eléctrico existente
CARACTERÍSTICAS DE SOFTWARE
Calidad de Servicio
ToS
Soporta hasta Tipo de QoS de Nivel 4
Soporta hasta campo de prioridad VLAN de nivel 8

Seguridad
Encriptación AES 128-bit
Tecnología de Modulación
OFDM
IGMP
IGMP v1/v2/v3
Otros
Certificaciones
CE, RoHS
Contenido del Paquete
KIT Powerline Gigabit AV1200 Wi-Fi ac: TL-WPA8630 & TL-PA8010
2 Cables Ethernet CAT.5e de 2 metros
Guía de Instalación Rápida

Dimensiones de la Caja
230x190x100mm. (9.1 x 7.5 x 3.9 in)
Requisitos del sistema
Windows 10/8.1/8/7/Vista/XP, Mac OS, Linux1
Factores Ambientales
Temperatura de Funcionamiento: 0°C ~ 40°C (32°F ~ 104°F)
Temperatura de Almacenamiento: -40°F ~ 158°F (-40°C ~ 70°C )
Humedad de Funcionamiento: 10% ~ 90% sin condensación
Humedad de Almacenamiento: 5% ~ 90% sin condensación

1.
Utility currently supports Windows 8/7/Vista/XP and Mac OS X (10.7 and later) operating system.
From United States?
Check products and services for your region.