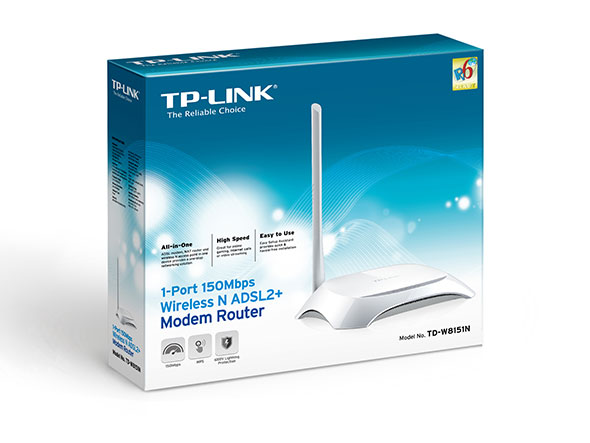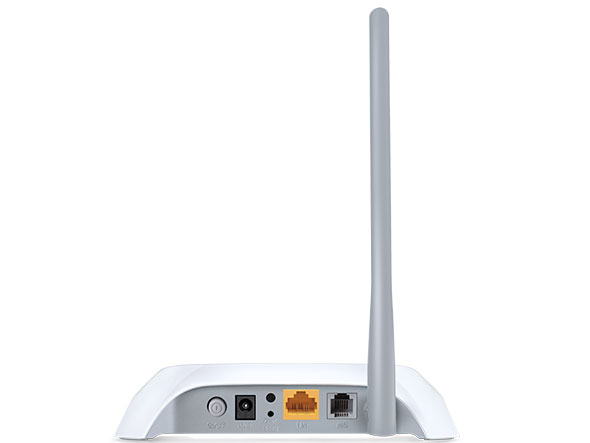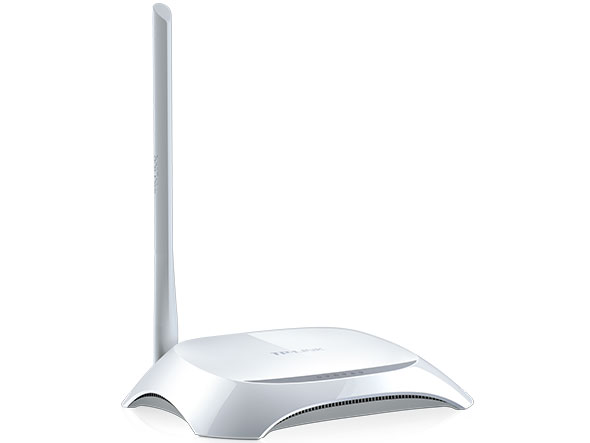 150Mbps Wireless N ADSL2+ Modem Router
High speed DSL modem, 1-port NAT router and wireless N access point in one device
Wireless N speed up to 150Mbps makes it great for online gaming, Internet call and video streaming
Easy Setup Assistant with multi-language support provides quick & hassle free installation
QoS engine enables smooth IPTV streaming and lag-free online gaming
Supports the latest Internet Protocol IPv6 to future-proof your network
What This Product Does
TD-W8151N 150Mbps Wireless N ADSL2+ Modem Router is an All-in-One device, which is designed to give you a one-stop solution to acquiring and sharing high speed Internet access over a wireless network. With the Easy Setup Assistant bundled in the CD, SPI and NAT firewall, QoS engine and other advanced features, you can easily setup a protected wireless network and enjoy the pleasant of Internet surfing, file sharing, VoIP, audio and Video streaming.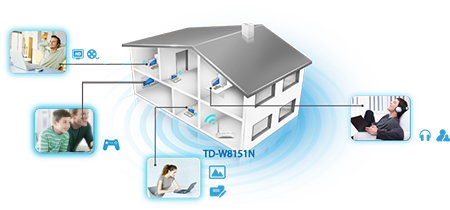 High-Speed Internet Access and Wireless Performance
Unlike a dial-up Internet service, a DSL Internet connection is always on so that you do not have to wait to access the web. Supporting the latest ADSL standard, the TD-W8151N provides higher performance (up to 24Mbps downstream and 3.5Mbps upstream) and longer reach from center office of your Internet Service Provider (ISP). Complies with IEEE 802.11n standards, TD-W8151N can establish a wireless network and provide better wireless performance, transmission rates, stability and coverage. You can get up to 9X the speed and 4X the range of conventional 11g product and share your high-speed DSL Internet connection, photos, music, files, and even the bandwidth consuming applications like HD video streaming wirelessly which can not be accommodated by 11g products, from anywhere in your entire home or even the yard.
Advanced Network Security And Flexible Management
TD-W8151N utilizes NAT and SPI (stateful packet inspection) firewalls which inspects the contents of incoming packets before they are allowed in, preventing potential attacks from across the Internet. For added convenience, it supports access control based on MAC address, IP address, domain name or Applications like MSN, Yahoo Messenger, so parents or network administrators can establish restricted access policies for children or staff. Besides the web configuration, TD-W8151N also supports TR-069 and SNMP, which could automatically update the firmware and other settings when they become available from your ISP. All these features help you to enhance network security level and make network management more flexible.

Easy Setup
Either using the optimized user interface and setup wizard or the CD (included) setup wizard will allow you to get 'online' quickly and easily.
CARACTERÍSTICAS DE HARDWARE
Interfaz
1 puerto RJ11 DSL
1 puerto de red RJ45 a 10/100 Mbps
Botones
Botón Power On/Off
Botón WPS
Botón Reset
Botón Wi-Fi On/Off
Fuente de Alimentación Externa
9VDC/0.6A
Estándares Inalámbricos
IEEE 802.3, 802.3u
Estándares ADSL
Full-rate ANSI T1.413 Issue 2, ITU-T G.992.1(G.DMT) Annex A, ITU-T G.992.2(G.Lite) Annex A,ITU-T G.994.1 (G.hs)
Estándares ADSL2
ITU-T G.992.3 (G.dmt.bis) Annex A/L/M, ITU-T G.992.4 (G.lite.bis) Annex A
Estándares ADSL2+
ITU-T G.992.5 Annex A/L/M
Tasa de Transferencia
Bajada: hasta 24 Mbps
Subida: hasta 3,5 Mbps (con el anexo M activado)
Dimensiones
165×108×28 mm (6,5×4,3×1,1 pulgadas)
Tipo de Antena
Omnidireccional, fija
CARACTERÍSTICAS INALÁMBRICAS
Estándares Inalámbricos
IEEE 802.11g, 802.11b, con algunas características de la norma n
Frecuencia
2.400-2.4835GHz
Tasa de Señal
11n: hasta 150 Mbps (dinámico)
Potencia de Transmisión
20dBm (max.EIRP)
Seguridad Inalámbrica
Encriptación WEP de 64/128 bits y función ACL (lista de control de acceso) para red inalámbrica, autenticación WPA-PSK/WPA2-PSK y codificación TKIP/AES
CARACTERÍSTICAS DE SOFTWARE
Calidad de Servicio
Calidad de servicio (QoS) basada en IPP/ToS, DSCP y 802.1p
Seguridad
Cortafuegos NAT y SPI
Filtrado de MAC, IP, aplicación y URL,
Funciones contra ataques por denegación de servicio (DoS), SYN Flooding, ping de la muerte
Gestión
Configuración basada en web (HTTP), gestión remota, gestión vía telnet,
interface de línea de comandos,
SSL para TR-069, SNMP v1/2c, SNMP sobre EOC,
Actualización de firmware vía web, CWMP (TR-069), herramientas de diagnóstico
Protocolos ATM / PPP
ATM Forum UNI3.1/4.0 PVC (hasta 8PVCs)
ATM Adaptation Layer Type 5 (AAL5)
ATM QoS (Traffic Shaping)
Bridged and routed Ethernet encapsulation
VC and LLC based multiplexing
PPP sobre Ethernet (RFC2516)
PPP sobre ATM (RFC 2364)
IPoA (RFC1577/2225)
Características Avanzadas
Protocolo de configuración dinámica de host (Dynamic Host Configuration Protocol, DHCP), función DHCP relay
NAT (Network Address Translation, traducción de dirección de red)
Enrutamiento estático, RIP v1/v2
VPN(PPTP, L2TP, IPSec) Pass-through
Mapeo de puertos PVC/Ethernet
VLAN, 802.1P
DNS Relay, DDNS
IGMP Multicast, IGMP snooping V1/2
Servidor virtual, DMZ, ACL (lista de control de acceso)
UPnP
Otros
Certificaciones
CE, FCC, RoHS
Factores Ambientales
Temperatura de funcionamiento: 0℃~40℃ (32℉~104℉)
Temperatura de almacenamiento: -40℃~70℃ (-40℉~158℉)
Humedad de funcionamiento: 10%~90% sin condensación
Humedad de almacenamiento: 5%~90% sin condensación
Premios

Silver-Award

TD-W8151N-Received-"Silver-Award"-from-"xtreme-hardware" in Italy

2011, Italy
De United States?
Obtener productos, eventos y servicios para su región.