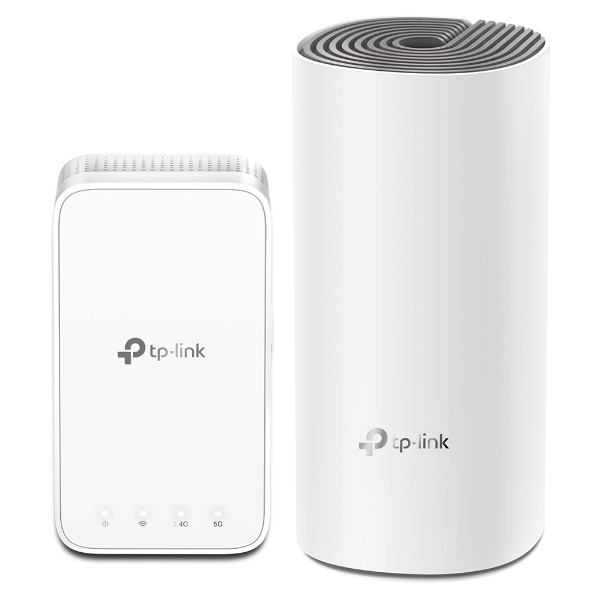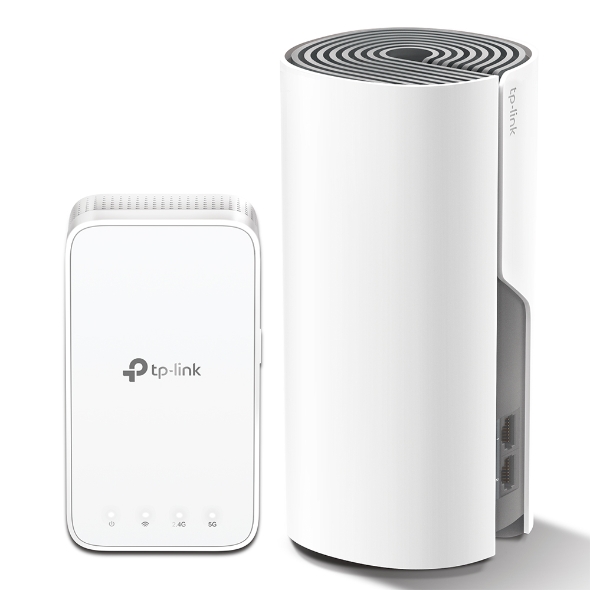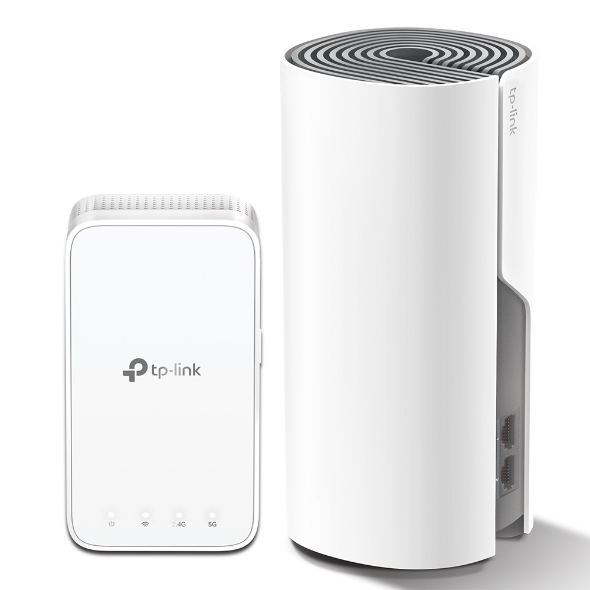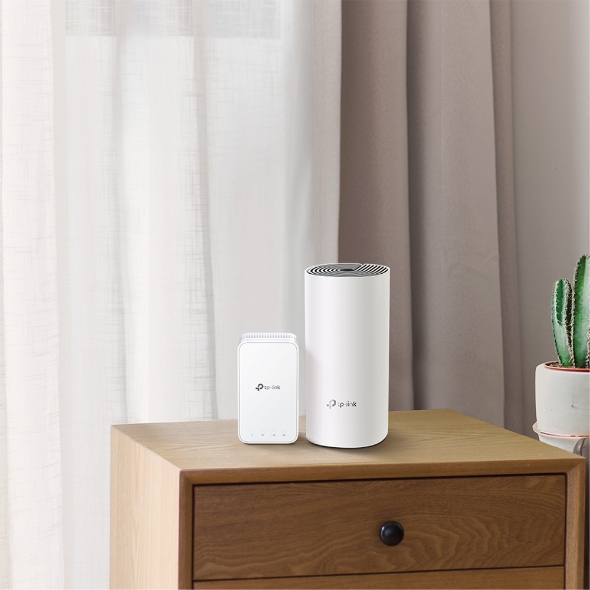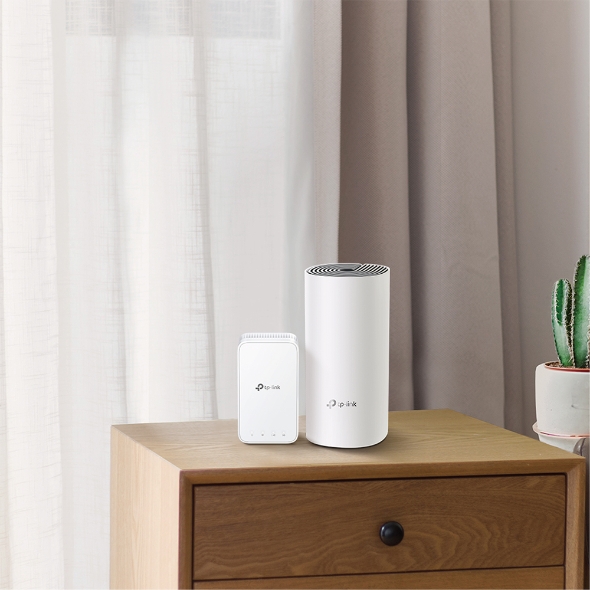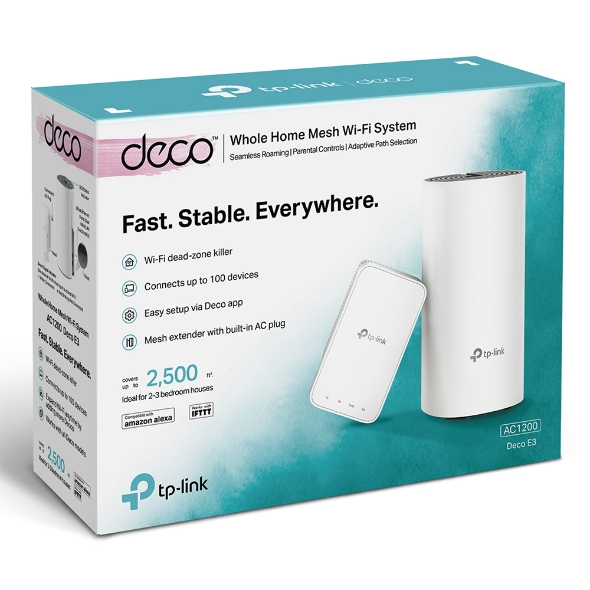 Deco E3(3-pack)
Final de Vida
AC1200 Whole Home Mesh Wi-Fi System
Deco uses a system of units to achieve seamless whole-home Wi-Fi coverage — eliminate weak signal areas once and for all!
A Deco E3 two-pack (1 router—Deco E4R and 1 extender—Deco M3W) delivers Wi-Fi to an area of up to 3,000 square feet (US version).
Get further mesh Wi-Fi coverage by simply plugging in more Deco add-on extender Deco M3W into the wall outlet.
With advanced Deco Mesh Technology, units work together to form a unified network with a single network name. Devices automatically switch between Decos as you move through your home for the fastest possible speeds.
Deco M3 provides fast and stable connections with speeds of up to 1167 Mbps and works with the major internet service provider (ISP) and modem.
Deco can handle traffic from even the busiest of networks, providing lag-free connections for up to 100 devices.
Parental Controls limit online time and block inappropriate websites according to unique profiles created for each family member.
Setup is easier than ever with the Deco app there to walk you through every step.
Fast. Stable. Everywhere.
Whole Home Mesh Wi-Fi System
AC1200 Dual-Band Wi-Fi
Deco E3
Why Do You Need Deco E3?
Can't get Wi-Fi in your
bedroom?

Lose connection while
walking around the house?

Network buffering
all the time?

Worried about your children's network security?
Wi-Fi Dead-Zone Killer
Deco E3 is a simple way to guarantee a strong Wi-Fi signal in every corner of your home up to 2,400 square feet (2-pack, EU version). 2.4 GHz and 5 GHz wireless connections work together to provide even faster network speeds and truly seamless coverage.
Want more coverage? Simply add more Decos.
2.4 GHz wireless connection
5 GHz wireless connection
Convenient Plug-In Wi-Fi for Additional Coverage
Weak Wi-Fi signal in the hallway, kitchen, garage or basement? Get further Mesh Wi-Fi coverage by simply plugging more Deco add-on compact extenders Deco M3W into wall outlet, and enjoy all the functions of the main router.
Notes: Deco M3W needs to work with Deco routers to extend Mesh Wi-Fi
Plug in the extender about halfway between the main router and the Wi-Fi dead zone. The smart signal indicator helps you find the appropriate spot, just a glance, flexibly and conveniently.
White Solid:
Connected Red Blinking:
Disconnected
Seamless Roaming with One Wi-Fi Name
TP-Link Mesh means Deco units work together to form a unified network with a single network name. Enjoy uninterrupted streaming, downloading, gaming and more as you move through your home, and no more switching Wi-Fi names, creating a truly seamless online experience.
Learn More about TP-Link Mesh >>
Seamless Roaming

Uninterrupted streaming when moving around your home

One Wi-Fi Name

No more switching Wi-Fi network names

Stays Fast, Always

Adaptive path selection keeps your network running at top speed

Self-Healing

Ensure you stay online even if one node fails by automatically rerouting data.
Traditional Router with Extender

Deco E3
No More Buffering
Network speeds three times faster than previous generation routers, thanks to 802.11ac wireless technology, make Deco capable of providing a lag-free connection to multiple devices.
Smooth Operation for Multiple Applications
Testing of multiple applications conducted by TP-Link in March
Robust Parental Controls
Simple, intuitive parental controls make it easy to
keep your children safe while they're online.
Easily create a profile for each family member and set custom time limits and online time allowances.

Keep your family safe online with one-touch security settings that block websites based on age-appropriateness.

Set limits on how much time each person in your family can spend online.

Check out which sites your children visit and how much time they spend on each to ensure your children are safe while they're having fun online.

Take a break from Wi-Fi for dinner and family game nights. Just tap a button to suspend internet access for everyone in your home.
Deco E3=Deco E4R + Deco M3W
Wi-Fi Made Easy
Setup Just Got a Lot Easier

Installing Deco E3 is fast and easy. Just unpack the system, download the Deco app and follow its onscreen directions.

Learn how to set up the Deco system >>

Convenient Management

Manage your Wi-Fi at home or away in the Deco app, including seeing the connected devices, prioritizing your devices, setting up a guest network and more.

Voice Control

Pair with Alexa to control Deco E3 with simple voice commands.
Itinerancia Perfecta
Las unidades Deco funcionan en conjunto formando una red unificada con un solo nombre de red. Tu teléfono o tablet se conecta automáticamente al Deco más rápido mientras te mueves por tu casa. El cambio tarda menos de 0.3 segundos y es fluído e imperceptible, creando una experiencia online perfecta.
Enrutamiento Adaptativo

La Tecnología Mesh de TP-Link elige dinamicamente la mejor ruta y banda para tus conexiones y aplicaciones, garantizando una Wi-Fi rápida sin importar donde te encuentras en tu casa.
Autocuración

Si un Deco presenta algún problema, el sistema enrutará de manera automática tus datos vía los demás Deco asegurando que estés online.
Wi-Fi + Powerline
Las conexiones powerline usan la red eléctrica de tu casa para unir los Decos, traspasando hasta los muros más gruesos y techos.
El Wi-Fi de banda dual y el powerline funcionan en conjunto para transmitir los datos entre las unidades Deco. La velocidad de red total se ve muy mejorada en comparación a usar solo Wi-Fi.
Wi-Fi + Powerline:

Sistema Wi-Fi Híbrido

Más Velocidad

Wi-Fi Mesh Tradicional:

Sistema Wi-Fi Tradicional
Powerline

Nota:Wi-Fi + Powerline solo en Deco P9
IoT Mesh
A diferencia de los centros inteligentes tradicionales, la tecnología TP-Link Mesh proporciona cobertura IoT para todo el hogar con Wi-Fi, Bluetooth y Zigbee integrados en un solo sistema. Disfruta de la magia de tu hogar inteligente en todas las habitaciones con la tecnología TP-Link Mesh. Di adiós a innumerables hubs.
- - -

Wi-Fi

- - -

Zigbee

- - -

Bluetooth
Wi-Fi 6 Mesh
Armado con tecnología Wi-Fi 6,
el Wi-Fi Mesh para todo el hogar Deco está diseñado para dar un gran impulso en la cobertura, la velocidad y la capacidad total. Conéctate al último Wi-Fi Mesh para disfrutar de la red futura que se carga más rápido y se conecta más.
Cobertura Amplia

Más Conexiones

Wi-Fi 6 Velocidades Más Rápidas
Mesh Impulsada por IA
Armado con la tecnología IA Mesh, Deco aprende y se mejora automáticamente a partir de la experiencia. Esto hace que Wi-Fi mesh sea ideal para crear un entorno de red único. Camina por tu casa y disfruta de una transmisión fluida a las velocidades más rápidas posibles.
Por qué TP-Link Mesh Technology
es una Solución Líder en la Industria?
Tabla Comparativa

Model Number
TP-Link Deco
Netgear Orbi
Google WiFi
Wireless Backhaul
Tri-Band(2.4G+5G_1+5G_2)¹
Single-Band(5G_1 Only)
Dual-Band(2.4G+5G)
Mesh Protocol Supported
IEEE 802.11k/v/r
IEEE 802.11k/v
IEEE 802.11s
True Seamless Roaming
√
×
×
APS(Adaptive Path Selection)
√
×
√
IoT Mesh
√²
×
×
Wi-Fi 6 Mesh
√5
√
×
AI-Driven Mesh
√6
×
×
Powerline Backhaul
√³
×
×
Wireless + Powerline Bandwidth
√⁴
×
×
Band Steering
√
√
√
AP Steering
√
√
√
Self-Healing
√
√
√

Notes: 1&2 For Deco M9 Plus Only;5 for Deco X20;Deco X90;6 for Deco X90 only.




Spec sourced by Dec. 2019
¡Gestión de Redes Deco al Alcance de Tu Mano!
La aplicación Deco proporciona la forma más fácil de configurar, administrar y monitorear tu Sistema Wi-Fi Deco Mesh a través de tus dispositivos iOS o Android.
La Configuración Ahora es Mucho más Fácil
Desempaqueta Deco, instala la aplicación y luego simplemente sigue las instrucciones en pantalla. La aplicación Deco se encargará del resto y pondrá tu red en funcionamiento en minutos.
Conecta Deco a tu cable módem y enciende ambos dispositivos

Descarga e inicia la aplicación Deco.

Sigue las instrucciones de la app para configurar tu sistema Deco.
Administración Sencilla
Deco facilita la administración de tu Wi-Fi desde cualquier lugar, ya sea que estés en el sofá, en el trabajo o en cualquier otro lugar.
Panel de Administración Simple

Podrás ver el estado de funcionamiento de tu red, verificar los dispositivos conectados y obtener todas las funciones que ofrece tu router.

Múltiples Decos, Una App

La aplicación Deco administra todas tus redes y dispositivos Deco conectados a tu Deco Wi-Fi.

Verifica los Dispositivos Conectados

Podrás comprobar una lista de tus dispositivos conectados con la capacidad de pausar y reanudar el acceso a Internet, probar la velocidad de Internet y priorizar o bloquear los dispositivos.

Control Remoto

Toma el control de la red de forma remota con un toque en tu smartphone, sin importar dónde te encuentres.
Potentes Controles Parentales
Los controles parentales simples e intuitivos facilitan la seguridad de tus hijos mientras están en línea.
Crea fácilmente un perfil para cada miembro de la familia y establece límites de tiempo personalizados y asignaciones de tiempo en línea. Asigna dispositivos a perfiles para que las reglas se extiendan tanto a dispositivos individuales como a miembros de la familia.

Mantén a tu familia segura en línea con configuraciones de seguridad de un toque que bloquean el contenido según la edad.

Establece límites sobre la cantidad de tiempo que cada miembro de tu familia puede pasar en línea.

Con Insights, puede verificar qué sitios visitan sus hijos y cuánto tiempo pasan en cada uno. Es una excelente manera de saber que sus hijos están seguros mientras se divierten en línea.

Tómate un descanso de la conexión Wi-Fi para cenar y noches de juegos familiares. Simplemente toca un botón para suspender el acceso a Internet para todos en tu hogar.
Una App Intuitiva con Múltiples Funciones
Resumen de Uso Mensual
Consulta una lista completa de los detalles de tu red cada mes, incluido el uso,
contenido bloqueado, amenazas de seguridad y más.
Automatización del Hogar
Haz tu vida más fácil con potentes herramientas de automatización y control por voz.
*Actualmente solo para Deco M9 Plus
Atajo Flexible
Controla de forma flexible todos los dispositivos desde tu teléfono o tablet con un solo clic.
* Actualmente solo para Deco M9 Plus
Protege Tu Red
El antivirus incorporado te ayuda a defenderte de sitios web maliciosos y proteger tus pagos en línea.
* Actualmente solo para Deco M9 Plus, Deco P7 y Deco M5
Prioriza Tus Dispositivos
Elije qué dispositivos siempre tienen las conexiones más rápidas
o establece prioridad para un período de tiempo específico.
Establece Prioridades de Aplicación
Asigna más ancho de banda para las actividades más importantes para ti con controles simples.
* Actualmente solo para Deco M9 Plus, Deco P7 y Deco M5
Comparte Wi-Fi con Amigos
Configura perfiles de Wi-Fi separados para invitados y comparte la contraseña con
ellos para que les sea más fácil conectarse.
Comprueba Tu Velocidad
Ejecuta una prueba de velocidad para asegurarte de que estás obteniendo las velocidades de Internet por las que estás pagando.
Ve todos los dispositivos en tu red y cuánto ancho de banda están usando.
Nuestro Soporte Siempre te Respalda
¿Tienes preguntas sobre Deco? La ayuda siempre está a un clic de distancia. Encuentra las respuestas en la app Deco y no dudes en contactarnos con un simple clic.
Soporte
Notas: Las interfaces y funciones de la aplicación pueden variar ligeramente según la versión de la aplicación y los modelos Deco.
† Maximum wireless signal rates are the physical rates derived from IEEE Standard 802.11 specifications. Range, coverage, and the maximum number of connected devices are based on test results under normal usage conditions. Actual wireless data throughput, wireless coverage, and number of connected devices are not guaranteed and will vary as a result of 1) environmental factors, including building materials, physical objects, and obstacles, 2) network conditions, including local interference, volume and density of traffic, product location, network complexity, and network overhead, and 3) client limitations, including rated performance, location, connection quality, and client condition.
De United States?
Obtener productos, eventos y servicios para su región.