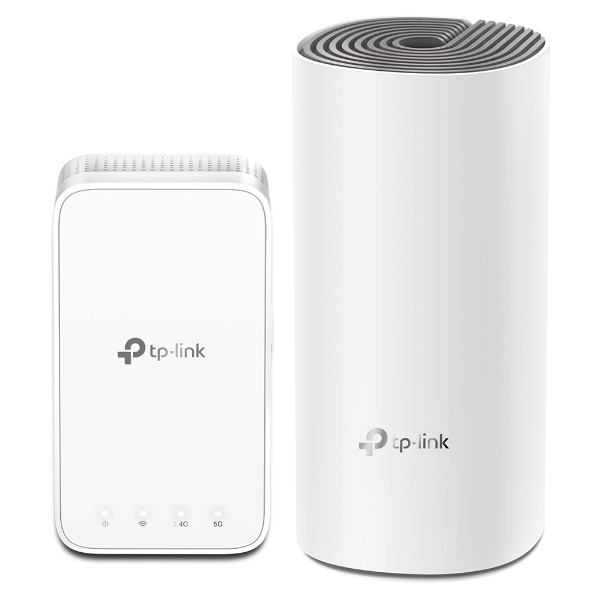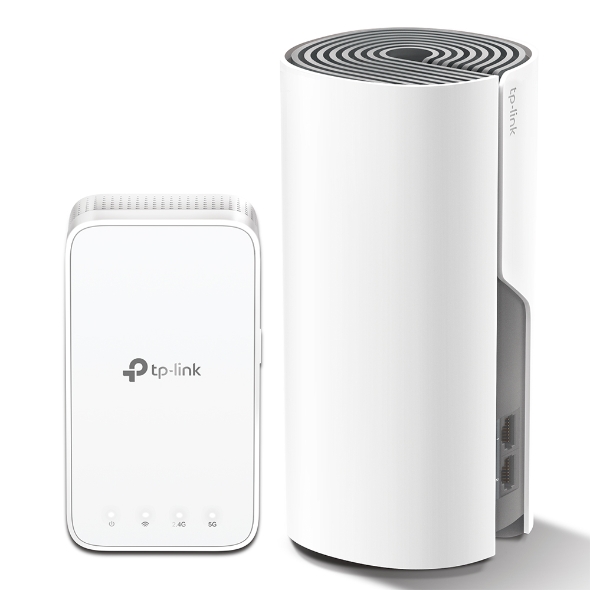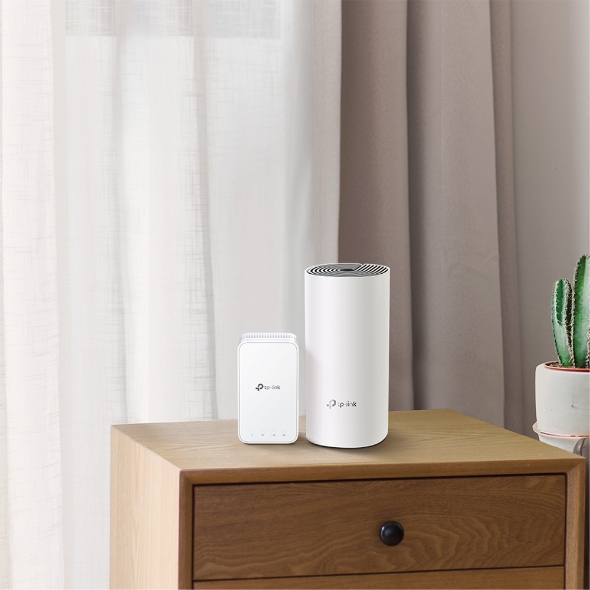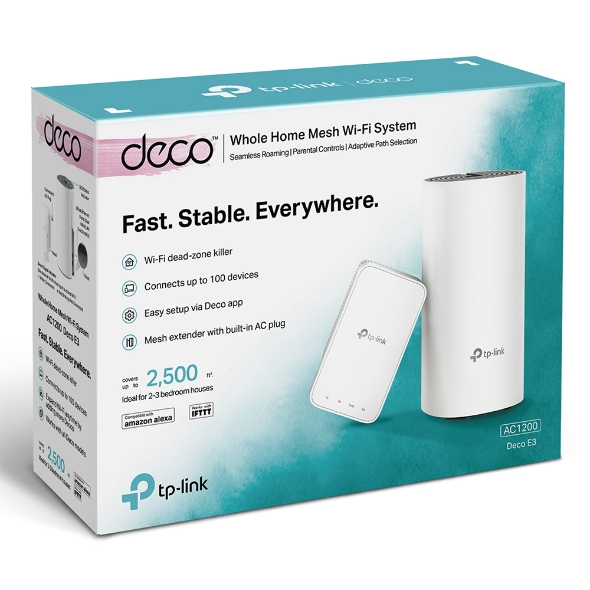 AC1200 Whole Home Mesh Wi-Fi System Deco E3(2-pack)
Deco uses a system of units to achieve seamless whole-home Wi-Fi coverage — eliminate weak signal areas once and for all!
A Deco E3 two-pack (1 router—Deco E4R and 1 extender—Deco M3W) delivers Wi-Fi to an area of up to 3,000 square feet (US version).
Get further mesh Wi-Fi coverage by simply plugging in more Deco add-on extender Deco M3W into the wall outlet.
With advanced Deco Mesh Technology, units work together to form a unified network with a single network name. Devices automatically switch between Decos as you move through your home for the fastest possible speeds.
Deco M3 provides fast and stable connections with speeds of up to 1167 Mbps and works with the major internet service provider (ISP) and modem.
Deco can handle traffic from even the busiest of networks, providing lag-free connections for up to 100 devices.
Parental Controls limit online time and block inappropriate websites according to unique profiles created for each family member.
Setup is easier than ever with the Deco app there to walk you through every step.
Fast. Stable. Everywhere.
Whole Home Mesh Wi-Fi System
AC1200 Dual-Band Wi-Fi
Deco E3
Why Do You Need Deco E3?
Can't get Wi-Fi in your
bedroom?

Lose connection while
walking around the house?

Network buffering
all the time?

Worried about your children's network security?
Wi-Fi Dead-Zone Killer
Deco E3 is a simple way to guarantee a strong Wi-Fi signal in every corner of your home up to 2,400 square feet (2-pack, EU version). 2.4 GHz and 5 GHz wireless connections work together to provide even faster network speeds and truly seamless coverage.
Want more coverage? Simply add more Decos.
2.4 GHz wireless connection
5 GHz wireless connection
Convenient Plug-In Wi-Fi for Additional Coverage
Weak Wi-Fi signal in the hallway, kitchen, garage or basement? Get further Mesh Wi-Fi coverage by simply plugging more Deco add-on compact extenders Deco M3W into wall outlet, and enjoy all the functions of the main router.
Notes: Deco M3W needs to work with Deco routers to extend Mesh Wi-Fi
Plug in the extender about halfway between the main router and the Wi-Fi dead zone. The smart signal indicator helps you find the appropriate spot, just a glance, flexibly and conveniently.
White Solid:
Connected Red Blinking:
Disconnected
Seamless Roaming with One Wi-Fi Name
TP-Link Mesh means Deco units work together to form a unified network with a single network name. Enjoy uninterrupted streaming, downloading, gaming and more as you move through your home, and no more switching Wi-Fi names, creating a truly seamless online experience.
Learn More about TP-Link Mesh >>
Seamless Roaming

Uninterrupted streaming when moving around your home

One Wi-Fi Name

No more switching Wi-Fi network names

Stays Fast, Always

Adaptive path selection keeps your network running at top speed

Self-Healing

Ensure you stay online even if one node fails by automatically rerouting data.
Traditional Router with Extender

Deco E3
No More Buffering
Network speeds three times faster than previous generation routers, thanks to 802.11ac wireless technology, make Deco capable of providing a lag-free connection to multiple devices.
Smooth Operation for Multiple Applications
Testing of multiple applications conducted by TP-Link in March
Robust Parental Controls
Simple, intuitive parental controls make it easy to
keep your children safe while they're online.
Easily create a profile for each family member and set custom time limits and online time allowances.

Keep your family safe online with one-touch security settings that block websites based on age-appropriateness.

Set limits on how much time each person in your family can spend online.

Check out which sites your children visit and how much time they spend on each to ensure your children are safe while they're having fun online.

Take a break from Wi-Fi for dinner and family game nights. Just tap a button to suspend internet access for everyone in your home.
Deco E3=Deco E4R + Deco M3W
Wi-Fi Made Easy
Setup Just Got a Lot Easier

Installing Deco E3 is fast and easy. Just unpack the system, download the Deco app and follow its onscreen directions.

Learn how to set up the Deco system >>

Convenient Management

Manage your Wi-Fi at home or away in the Deco app, including seeing the connected devices, prioritizing your devices, setting up a guest network and more.

Voice Control

Pair with Alexa to control Deco E3 with simple voice commands.
† Maximum wireless signal rates are the physical rates derived from IEEE Standard 802.11 specifications. Range, coverage, and the maximum number of connected devices are based on test results under normal usage conditions. Actual wireless data throughput, wireless coverage, and number of connected devices are not guaranteed and will vary as a result of 1) environmental factors, including building materials, physical objects, and obstacles, 2) network conditions, including local interference, volume and density of traffic, product location, network complexity, and network overhead, and 3) client limitations, including rated performance, location, connection quality, and client condition.
Itinerancia Perfecta
Las unidades Deco funcionan en conjunto formando una red unificada con un solo nombre de red. Tu teléfono o tablet se conecta automáticamente al Deco más rápido mientras te mueves por tu casa. El cambio tarda menos de 0.3 segundos y es fluído e imperceptible, creando una experiencia online perfecta.
Enrutamiento Adaptativo

La Tecnología Mesh de TP-Link elige dinamicamente la mejor ruta y banda para tus conexiones y aplicaciones, garantizando una Wi-Fi rápida sin importar donde te encuentras en tu casa.
Autocuración

Si un Deco presenta algún problema, el sistema enrutará de manera automática tus datos vía los demás Deco asegurando que estés online.
Wi-Fi + Powerline
Las conexiones powerline usan la red eléctrica de tu casa para unir los Decos, traspasando hasta los muros más gruesos y techos.
El Wi-Fi de banda dual y el powerline funcionan en conjunto para transmitir los datos entre las unidades Deco. La velocidad de red total se ve muy mejorada en comparación a usar solo Wi-Fi.
Wi-Fi + Powerline:

Sistema Wi-Fi Híbrido

Más Velocidad

Wi-Fi Mesh Tradicional:

Sistema Wi-Fi Tradicional
Powerline

Nota:Wi-Fi + Powerline solo en Deco P9
IoT Mesh
A diferencia de los centros inteligentes tradicionales, la tecnología TP-Link Mesh proporciona cobertura IoT para todo el hogar con Wi-Fi, Bluetooth y Zigbee integrados en un solo sistema. Disfruta de la magia de tu hogar inteligente en todas las habitaciones con la tecnología TP-Link Mesh. Di adiós a innumerables hubs.
- - -

Wi-Fi

- - -

Zigbee

- - -

Bluetooth
Wi-Fi 6 Mesh
Armado con tecnología Wi-Fi 6,
el Wi-Fi Mesh para todo el hogar Deco está diseñado para dar un gran impulso en la cobertura, la velocidad y la capacidad total. Conéctate al último Wi-Fi Mesh para disfrutar de la red futura que se carga más rápido y se conecta más.
Cobertura Amplia

Más Conexiones

Wi-Fi 6 Velocidades Más Rápidas
Mesh Impulsada por IA
Armado con la tecnología IA Mesh, Deco aprende y se mejora automáticamente a partir de la experiencia. Esto hace que Wi-Fi mesh sea ideal para crear un entorno de red único. Camina por tu casa y disfruta de una transmisión fluida a las velocidades más rápidas posibles.
Por qué TP-Link Mesh Technology
es una Solución Líder en la Industria?
Tabla Comparativa

Model Number
TP-Link Deco
Netgear Orbi
Google WiFi
Wireless Backhaul
Tri-Band(2.4G+5G_1+5G_2)¹
Single-Band(5G_1 Only)
Dual-Band(2.4G+5G)
Mesh Protocol Supported
IEEE 802.11k/v/r
IEEE 802.11k/v
IEEE 802.11s
True Seamless Roaming
√
×
×
APS(Adaptive Path Selection)
√
×
√
IoT Mesh
√²
×
×
Wi-Fi 6 Mesh
√5
√
×
AI-Driven Mesh
√6
×
×
Powerline Backhaul
√³
×
×
Wireless + Powerline Bandwidth
√⁴
×
×
Band Steering
√
√
√
AP Steering
√
√
√
Self-Healing
√
√
√

Notes: 1&2 For Deco M9 Plus Only;5 for Deco X20;Deco X90;6 for Deco X90 only.




Spec sourced by Dec. 2019
POWER
AC adapter input
Deco E4R: 100-240V~ 50/60Hz 0.3ADeco M3W: 100-240V~ 50/60Hz 0.3A
AC adapter output
Deco E4R: 12V ⎓ 1A; Deco M3W: N/A
CARACTERÍSTICAS DE HARDWARE
Ports
Deco E4R: 2 Puertos WAN/LAN 10/100Mbps, 1 Puerto Energía; Deco M3W: N/A
Botones
Deco E4R: 1 Botón Reset; Deco M3W: 1 Botón Reset
Flash
Deco E4R: 16 MB; Deco M3W: 8 MB
SDRAM
Deco E4R: 128 MB; Deco M3W: 128 MB
Dimensiones
Deco E4R: 190.5 × 90.7 × 90.7 mm (7.5 × 3.6 × 3.6 in.)
Deco M3W (sin enchufe): 124 × 69 × 35 mm (4.9 × 2.7 × 1.4 in)
Dimensions
Deco E4R: 7.5 × 3.6 × 3.6 in. (190.5 × 90.7 × 90.7 mm)Deco M3W (without plug): 4.9 × 2.7 × 1.4 in. (124 × 69 × 35 mm)
Tipo de Antena
Deco E4R: 2 antenas internas duales
Deco M3W: 2 antenas internas duales
CARACTERÍSTICAS INALÁMBRICAS
Estándares Inalámbricos
IEEE 802.11 ac/n/a 5 GHz, IEEE 802.11 b/g/n 2.4 GHz
Frecuencia
2.4 GHz y 5 GHz
Tasa de Señal
867 Mbps en 5 GHz, 300 Mbps en 2.4 GHz
Potencia de Transmisión
FCC: <30 dBm, CE: <20 dBm (2.4 GHz), <23 dBm (5 GHz)
Seguridad Inalámbrica
WPA-PSK/WPA2-PSK
CARACTERÍSTICAS DE SOFTWARE
Calidad de Servicio
WMM
IPv6
Soportado
Tipo de WAN
Dynamic IP/Static IP/PPPoE/L2TP/PPTP
Gestión
Gestión Local, Gestión Remota
DHCP
Servidor, Cliente
Reenvío de Puertos
Soportado
Seguridad Firewall
SPI Firewall
Protocolos
Soporte IPv4 y IPv6
Características Avanzadas
Control Parental
Calidad de Servicio (Deco E4R)
Funciones Avanzadas
Report Mensual
Actualización FW automática
Expande tu Wi-Fi añadiendo más unidades Deco
Red de Invitados
Red de invitados 2.4 GHz x 1
Red de invitados 5 GHz x 1
Aplicación
Configuración fácil vía Deco App
Working Modes
Router, Punto de Acceso
Otros
Certificaciones
CE, FCC, IC, NCC, BSMI, IDA,RCM, JPA, JRF, VCCI, KC, RoHS
Contenido del Paquete
1 router Deco E4R
1 extensor de pared Deco M3W
1 Cable Ethernet RJ45
1 adaptador de corriente
1 guía de instalación rápida
Smartphone/Tablet Requirements
iOS 9.0 o superior
Android 4.3 o superior
Factores Ambientales
Temperatura de Operación: 0℃~40℃ (32℉~104℉)
Temperatura de Almacenamiento: -40℃~70℃ (-40℉~158℉)
Humedad de funcionamiento: 10%~90% non-condensing
Humedad de almacenamiento: 5%~90% non-condensing
Join TP-Link CommunityTP-Link toma en serio su privacidad. Para obtener más detalles sobre las prácticas de privacidad de TP-Link, consulte Política de privacidad de TP-Link .