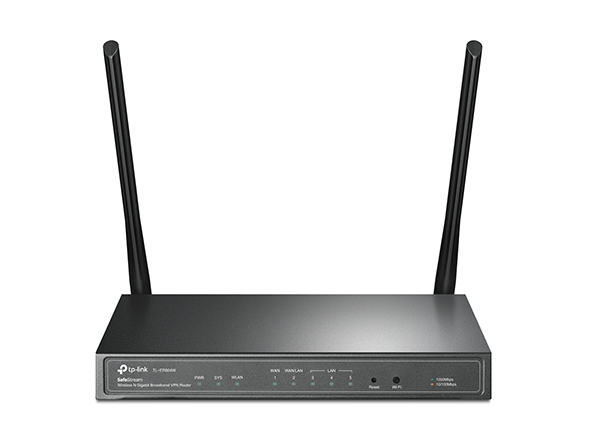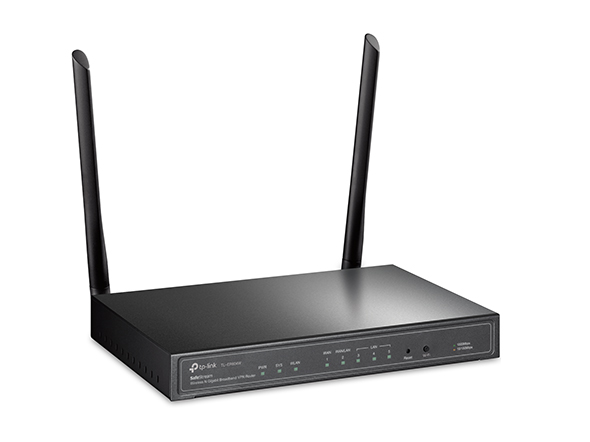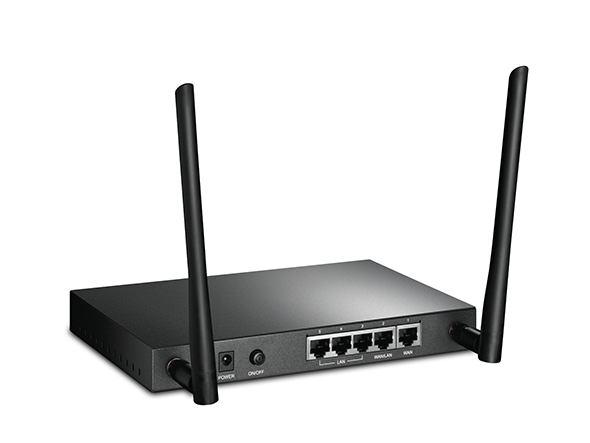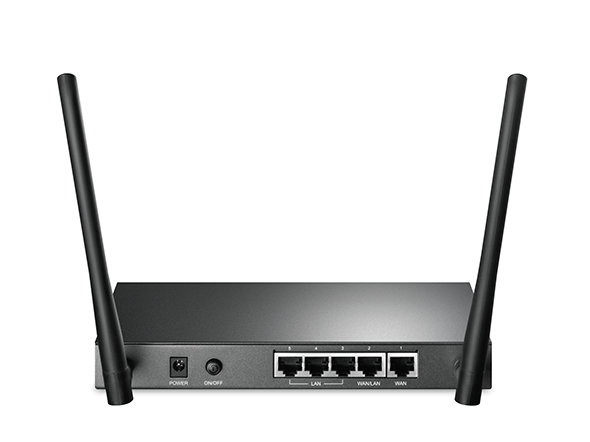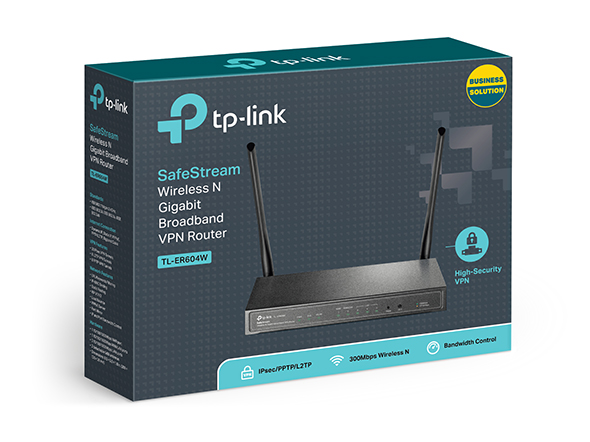 TL-ER604W
SafeStream Wireless N Gigabit Broadband VPN Router
1 Gigabit WAN port, 3 Gigabit LAN ports and 1 Gigabit WAN/LAN port
Supports IPsec/PPTP/L2TP VPN protocols with up to 30 IPsec, 8 PPTP and 8 L2TP VPN tunnels simultaneously
Deploys One-Click restriction of IM/P2P applications to manage staff online behavior
300Mbps wireless N speed provides an incredible high speed networking experience
Multi-SSID and guest network ensure easy and safe wireless sharing
Professional 4KV lightning protection keeps your investments as safe as possible
What This Product Does
TL-ER604W SafeStream Wireless N Gigabit Broadband VPN Router supports wireless N speed and gigabit wired speeds on all ports. It integrates multiple VPN protocols, high-security and high-performance VPN capabilities, making it an ideal choice for branch offices in need of cost-effective secure remote connections to headquarters or remote offices. Furthermore, together with its various useful features including hardware-based Wi-Fi On/Off button, Guest Networking, App Control, and PPPoE Server functions, TL-ER604W is an ideal network solution for home or small office consumers.
High VPN Performance
The TL-ER604W supports multiple VPN protocols including IPsec, PPTP and L2TP in Client/Server mode while also being able to handle pass-through traffic. It features a built-in hardware-based VPN engine allowing the router to support and manage up to 30 LAN-to-LAN/Client-to-LAN IPsec VPN connections. Advanced VPN features include: DES/3DES/AES128/AES192/AES256 encryption, MD5/SHA1 authentication, Manual/IKE key management, and Main/Aggressive negotiation modes.
Intelligent High-speed Connectivity
With 300Mbps 802.11n wireless and 5 Gigabit ports, the TL-ER604W is the ideal choice for bandwidth heavy users that rely on speedy, reliable connections for bandwidth intensive work or entertainment such as lag-free conference calls, HD video streaming or online gaming.
Abundant Security Features
For defense against external threats, TL-ER604W features automatic protection to detect and block Denial of service (DoS) attacks such as TCP/UDP/ICMP Flooding, TCP Scanning, Ping of Death and other related threats. For better management of the internal network, TL-ER604W allows administrators to set rules to block specific web sites and IM/P2P applications with just one-click, and restrict staff to using specific services such as FTP, HTTP and SMTP.
Segmented Wireless Networking for Convenience and Security
TL-ER604W supports multi-SSID and guest network features.With up to 8 SSIDs, TL-ER604W can provide several distinct wireless networks for different department or user groups.Guest Network offers secure separate wireless networks for your customers and business partners for Internet access, without providing access to the internal network and potentially sensitive company information.
Safety Minded Enterprise Investments
Professional lightning protection technology is designed to prevent electrical surges from penetrating the interior of the electrical equipment and is discharged harmlessly into the Earth. This router is designed to prevent lightning damage up to 4KV in well-grounded connection conditions.This feature ensures that networking infrastructure investments remain as safe as possible from Mother Nature's wrath.
Más >
Soluciones relacionadas
Branch Location

TP-Link Omada offers enterprise-level VPN, real-time network monitoring, and quick network troubleshooting to meet the requirements of headquarters and branches.

VPN
Easy management
Network monitoring and troubleshooting
High security
CARACTERÍSTICAS DE HARDWARE
Estándares y Protocolos
IEEE 802.11b/g/n, 802.3, 802.3u, 802.3ab
TCP/IP, DHCP, ICMP, NAT, PPPoE, SNTP, HTTP, DNS, IPSec, PPTP, L2TP
Interfaz
1 puerto WAN Gigabit
3 puertos LAN Gigabit
1 puerto WAN/LAN Gigabit
Medios de Red
10BASE-T: cable UTP categoría 3, 4, 5 (Máx 100m)
100BASE-TX: cable UTP categoría 5, 5E (Máx 100m)
1000BASE-T: cable UTP categoría 5, 5E (Máx 100m)
Cantidad de Ventiladores
Sin ventilador
Botones
Power On/Off, Wi-Fi On/Off, Reset
Fuente de Alimentación
Fuente de alimentación externa (salida: 12VDC/1.0A)
Flash
8MB
DRAM
64MB (DDRII)
LED
PWR, SYS, WLAN, WAN, WAN/LAN, LAN
Dimensiones
8.2 x 5.0 x 1.0 in.(209 x 126 x 26 mm)
Antenas
2 antenas desmontables de 5dBi
RENDIMIENTO
Sesiones Concurrentes
10000
Rendimiento NAT
160Mbps
Rendimiento VPN IPsec
38Mbps
CARACTERÍSTICAS INALÁMBRICAS
Frecuencia
2.4-2.4835 GHz
Potencia de Transmisión
<20dBm (EIRP)
Funciones Inalámbricas
Radio wireless on/off, bridge WDS, WMM, Estadísticas inalámbricas
Seguridad Inalámbrica
WEP, WPA/WPA2, WPA-PSK/WPA2-PSK
Red de Invitados
Sí
Multi-SSID
Hasta 8 SSIDs
FUNCIONES BÁSICAS
Tipo de conexión WAN
IP dinámica, IP estática, PPPoE, PPTP, L2TP, Acceso dual, BigPond
DHCP
Servidor/Cliente DHCP
Reserva DHCP
Clonado MAC
Modifica la dirección MAC WAN/LAN
Configuración del Switch
Port Mirror
Control de velocidad
Configuración de puertos
VLAN por puerto
IPTV
IGMP Proxy
IGMP Snooping
FUNCIONES AVANZADAS
Balanceo de Carga
Balance de carga inteligente
Políticas de Routing
Vinculación de protocolos
Backup de enlaces (Timing, Failover)
Detección online
NAT
NAT One-to-One
NAT Multi-redes
Virtual Server
Port Triggering
UPnP
FTP/H.323/SIP/IPSec/PPTP ALG
Routing
Enrutamiento estático
Enrutamiento dinámico (RIP v1/v2)
Modo Sistema
NAT, Sin NAT, Enrutamiento clásico
Control de Tráfico
Control de ancho de banda basadi en IP/puerto
Garantía & Limitación de ancho de banda
Políticas de programación temporal
Límite de sesiones basado en IP
VPN
VPN IPsec
30 túneles VPN IPSec
VPN IPSec LAN-to-LAN y Client-to-LAN
Modos de negociación Main, Aggressive
Algoritmos de encriptación DES, 3DES, AES128, AES192, AES256
Algoritmos de autenticación MD5, SHA1
Modos de gestión de claves Manual, IKE
NAT Traversal (NAT-T) IPSec
Dead Peer Detection (DPD)
Perfect Forward Secrecy (PFS)
VPN PPTP
8 túneles VPN PPTP
VPN PPTP Servidor/Cliente
PPTP con encriptación MPPE
VPN L2TP
8 túneles VPN L2TP
VPN L2TP Servidor/Cliente
L2TP sobre IPSec
VPN Pass-through
IPSec (ESP), PPTP, L2TP
SEGURIDAD
Control de Aplicación
IM, P2P, Web IM, Web SNS, Web Media Protocol/Proxy Blocking
Defensa contra Ataques
Defensa para TCP/UDP/ICMP Flood
Bloqueo de TCP Scan (Stealth FIN/Xmas/Null)
Bloqueo de Ping desde WAN
Filtrado
Filtro de MAC
Filtro de URL/Keywords
Filtro de contenido web (Java, ActiveX, Cookies)
Inspección ARP
Envío de paquetes GARP
Escaneo ARP por WAN/LAN
Asociación IP-MAC
GESTIÓN
Servicio
Servidor PPPoE
E-Bulletin
DNS Dinámico (Dyndns, No-IP, Peanuthull, Comexe)
Mantenimiento
Interfz de gestión basado en web
Gestión remota
Exporta & Importa configuración
Sincronización NTP
Soporte de Syslog
Otros
Certificaciones
CE, FCC, RoHS
Contenido del Paquete
Router VPN SafeStream de banda ancha Gigabit Inalámbrico N TL-ER604W
Adaptador de corriente
Cable Ethernet RJ45
Guía de instalación rápida
CD de utilidades
Requisitos del sistema
Sistemas operativos Microsoft® Windows® 8/7/Vista/XP/2000, MAC® OS, basados en Linux
Factores Ambientales
Temperatura de funcionamiento: 0℃~40℃ (32℉~104℉);
Temperatura de almacenamiento: -40℃~70℃ (-40℉~158℉)
Humedad de funcionamiento: 10%~90% sin condensación
Humedad de almacenamiento: 5%~90% sin condensación
From United States?
Check products and services for your region.