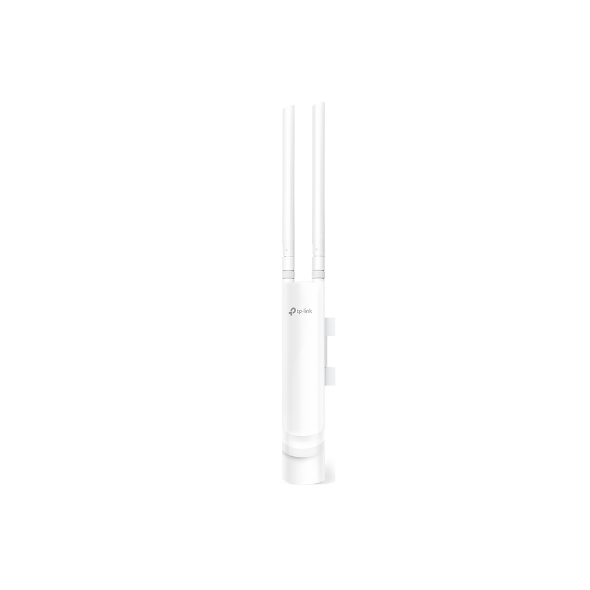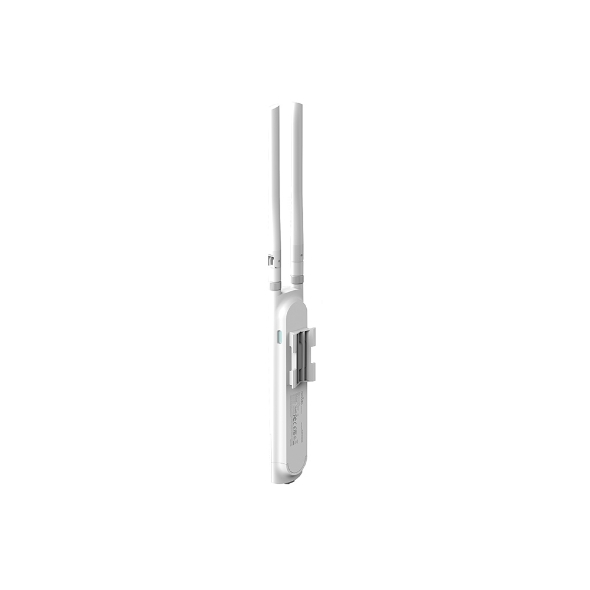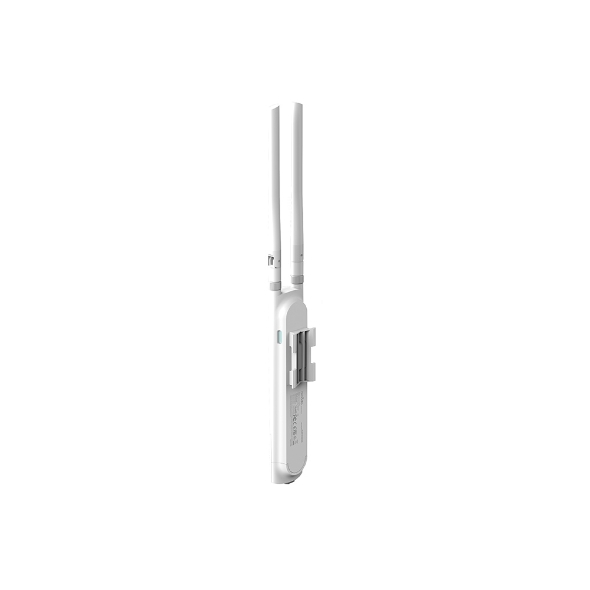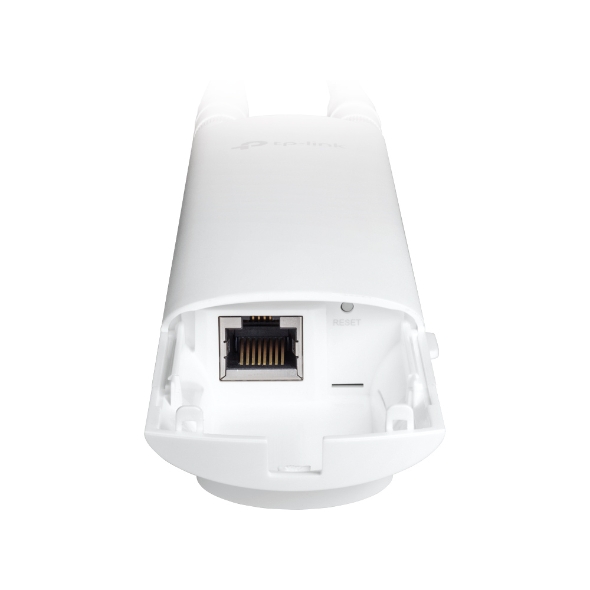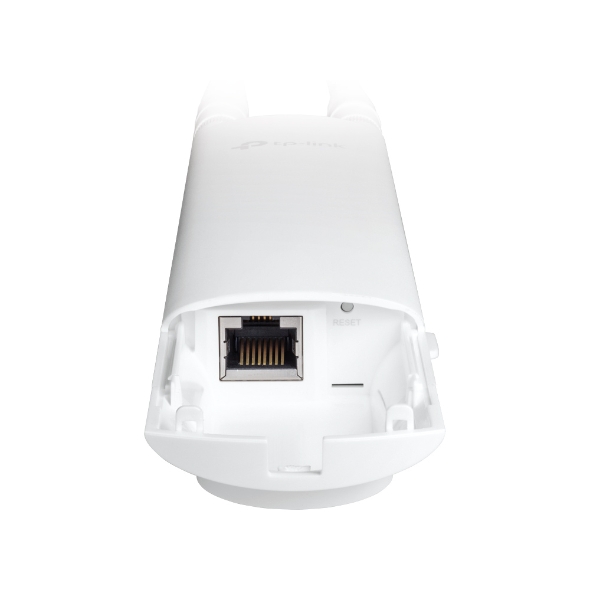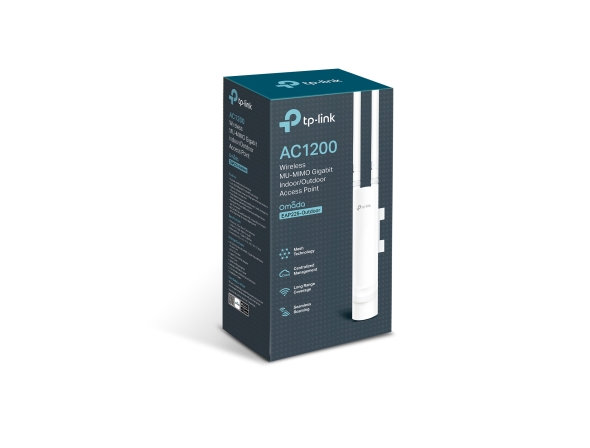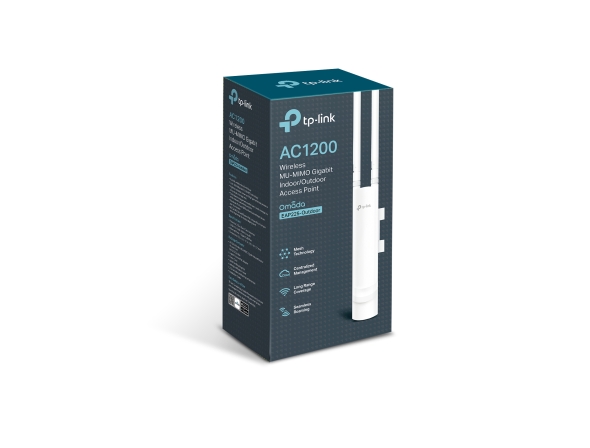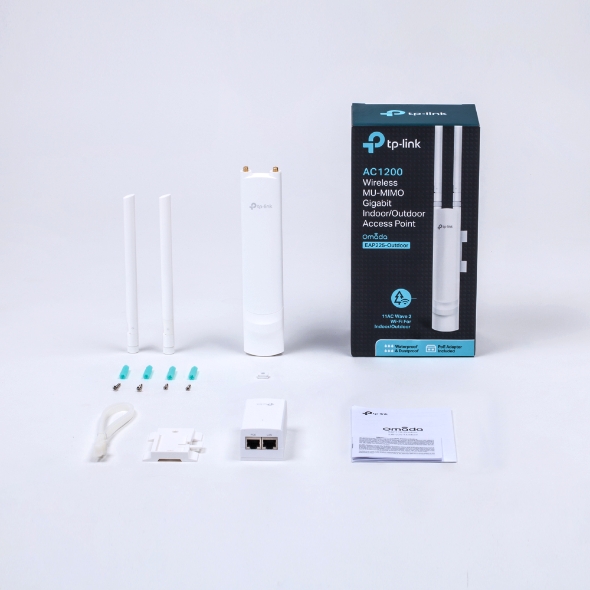 EAP225-Outdoor
Omada AC1200 Wireless MU-MIMO Gigabit Indoor/Outdoor Access Point
Durable, weatherproof enclosure for outdoor Wi-Fi applications
Up to 1200Mbps with 2×2 MIMO technology
High transmission power and high gain antennas provide a long-range coverage area
Free Omada Controller software enables administrators easily manage hundreds of EAPs
Captive portal provides a convenient method for guest authentication
Facebook Wi-Fi and SMS anthentication help to boost your business
802.3af/Passive PoE (PoE Adapter Included) compatible and simple mounting design allow for flexible deployment and convenient installation
11AC Wave 2 Makes Wi-Fi Go Further
Omada
EAP225-Outdoor
Gigabit Wi-Fi Speeds with
MU-MIMO

Technology

EAP225-Outdoor supports simultaneous dual band speed of up to 1200Mbps. Outfitted with the latest 802.11ac Wave 2 MU-MIMO technology, EAP225-Outdoor can communicate with multiple clients at the same time which making it ideal for high density environment.
EAP225-Outdoor
with MU-MIMO
Excellent Hardware Designs
With special design of its antenna, appearance, power options and installation methods, EAP225-Outdoor can perfectly fit for different scenarios both indoors and outdoors.
Detachable Antennas
EAP225-Outdoor is designed with 2 Omni-directional detachable antennas, which means other antennas can also be attached for your specific demands.
Omni MIMO Antennas
Delicate Appearance Even Better for Indoor Applications
EAP225-Outdoor is just similar to a cellphone, with dimension: 8.5 × 1.8 × 1.1in. (215 × 46 × 27mm)
215mm
138mm
Multiple PoE Options for Easy Installation
EAP225-Outdoor supports both 802.3af PoE and Passive PoE power supply, can be either powered by a PoE switch or the provided PoE adapter.
Gigabit Ethernet Port 802.3af PoE/24V Passive PoE
Flexible Deployment
EAP225-Outdoor can be easily installed on a wall or to a pole with the mounting kits provided.
Wi-Fi That Goes the Distance
With high transmission power and high gain omnidirectional antennas, EAP225-Outdoor provides stable wireless coverage at a range up to 200m+* at 2.4GHz and 300m+* at 5GHz in outdoor settings.
*Based on field tests. Real transmission range may vary, according to environment, receiving device, etc.
Specially Designed Weatherproof Enclosure for
Outdoor Environment
Rated as IP65 during Ingress Protection testing, a resilient weatherproof enclosure protects the access points against harsh outdoor condition.
4KV Lightning Protection and 15KV ESD Protection
Efficient Centralized Network Management
With Omada Controller software, small and medium-sized businesses can take command of hundreds of indoor and outdoor access points all from a single location. It's network management as it should be - efficient and intuitive.
Omada Controller Software
CARACTERÍSTICAS DE HARDWARE
Interfaz
Puerto Gigabit Ethernet (RJ-45)*1(Soporta PoE 802.3af y PoE Pasivo)

Botones
Reset
Fuente de Alimentación
802.3af PoE
PoE Pasivo 24V (+4,5pins; -7,8pins. Adaptador PoE incluido)
Consumo de Potencia
10.5W
Dimensiones
215 × 46 × 27 mm (8.5 × 1.8 × 1.1in.)
Antenas
2.4GHz: 2 * 3dBi, 5GHz: 2 * 4dBi
Weatherproof Enclosure
IP65
Montaje
Montaje en Mástil/Pared (Kits incluidos)

CARACTERÍSTICAS INALÁMBRICAS
Estándares Inalámbricos
IEEE 802.11a/b/g/n/ac
Frecuencia
2.4GHz, 5GHz
Tasa de Señal
802.11ac: 5G:6.5 Mbps a 867Mbps(MCS0-MCS9,NSS = 1 a 2 VHT20/40/80) 2.4G:78Mbps a 300Mbps (MCS8-MCS9 VHT20/40, NSS=1 a 3)
802.11n: 6.5 Mbps to 300 Mbps (MCS0-MCS15, VHT 20/40)
802.11g: 6, 9, 12, 18, 24, 36, 48, 54 Mbps
802.11b: 1, 5.5, 11Mbps
802.11a: 6, 9, 12, 18, 24, 36, 48, 54 Mbps
Funciones Inalámbricas
Múltiples SSIDs(Hasta 16 SSIDs, 8 por banda)
On/Off Radio Inalámbrica
Asignación Automática de Canal
Control de Potencia de Transmisión(Ajust en dBm)
QoS(WMM)
MU-MIMO
Airtime Fairness
Beamforming
Band Steering
Balanceo de Carga
Límite de Velocidad
Reboot Agendado
Wireless Agendado
Estadísticas Inalámbricas en base a SSID/AP/Cliente
Seguridad Inalámbrica
Autenticación Portal Cautivo
Control de Acceso
Filtrado Dirección MAC Inalámbrica
Aislamiento Inalámbrico Entre Clientes
Mapeado VLAN a SSID
Detección AP No Autorizado
Soporte 802.1X
Potencia de Transmisión
CE:<20dBm(2.4GHz,EIRP),<23dBm(5GHz,EIRP)
FCC:<23dBm(2.4GHz, EIRP),<22dBm(5GHz, EIRP)
GESTIÓN
Omada App
Sí
Centralized Management
• Controlador basado en la nube Omada
• Controlador de hardware Omada (OC300)
• Controlador de hardware Omada (OC200)
• Controlador de software Omada
Cloud Access
Sí
Alertas por Correo Electrónico
Sí
Control de Gestión de Acceso MAC
Sí
SNMP
v1, v2c
Acceso al Registro de Sistema Local/ Registro del Sistema Remoto
Sí
SSH
Sí
Gestión basada en Web
Sí
Gestión L3
Sí
Gestión Multi-sitio
Sí
VLAN de Gestión
Sí
Otros
Certificaciones
CE、FCC、RoHS
Contenido del Paquete
Punto de Acceso Inalámbrico EAP225-Outdoor
Adaptador PoE Pasivo
Cable de Energía
Kit de Montaje
Guía de Instalación
Goma a prueba de agua
Antena a prueba de agua
Factores Ambientales
Temperatura de Funcionamiento: -30℃~70℃ (-22℉~158℉)
Temperatura de Almacenamiento: -40℃~70℃ (-40℉~158℉)
Humedad de Funcionamiento: 10%~90% sin condensación
Humedad de Almacenamiento: 5%~90% sin condensación

From United States?
Check products and services for your region.