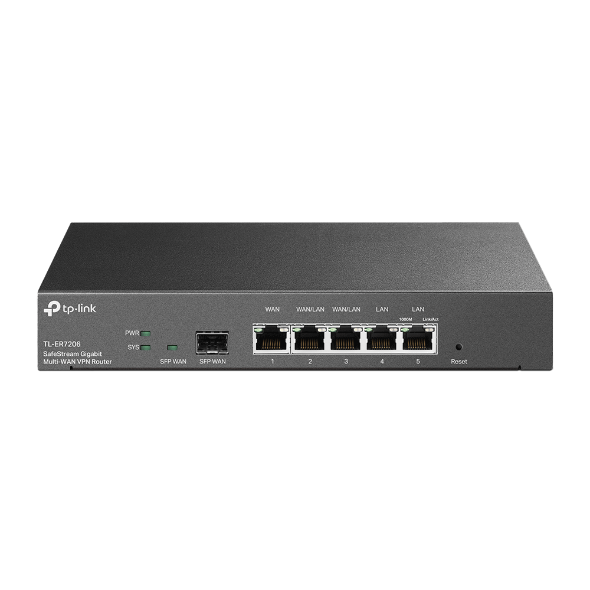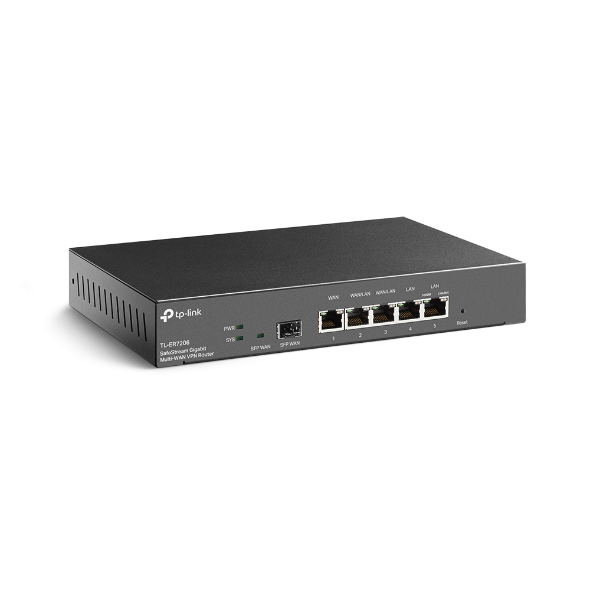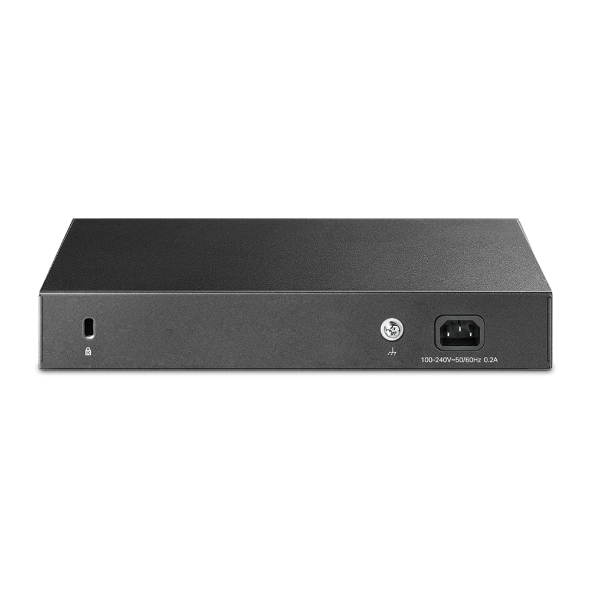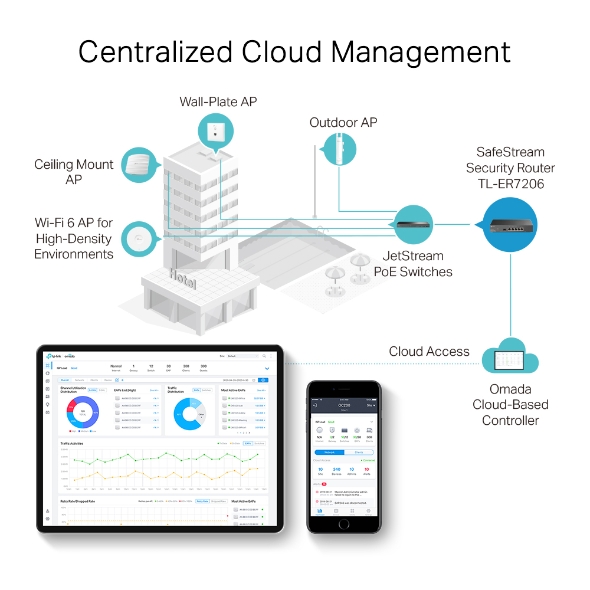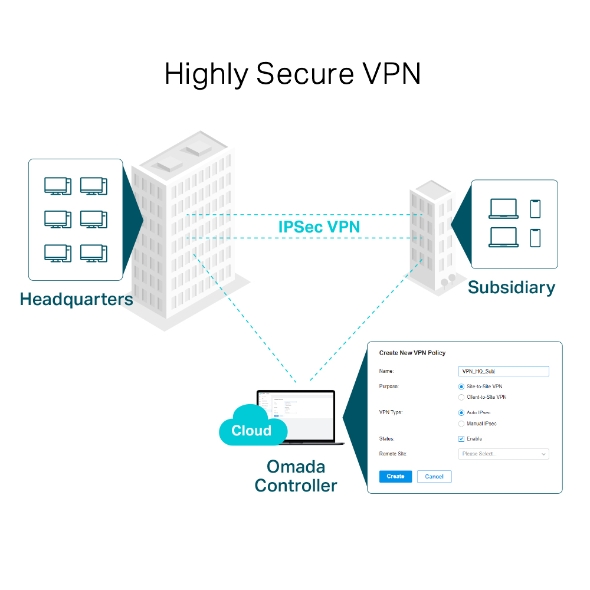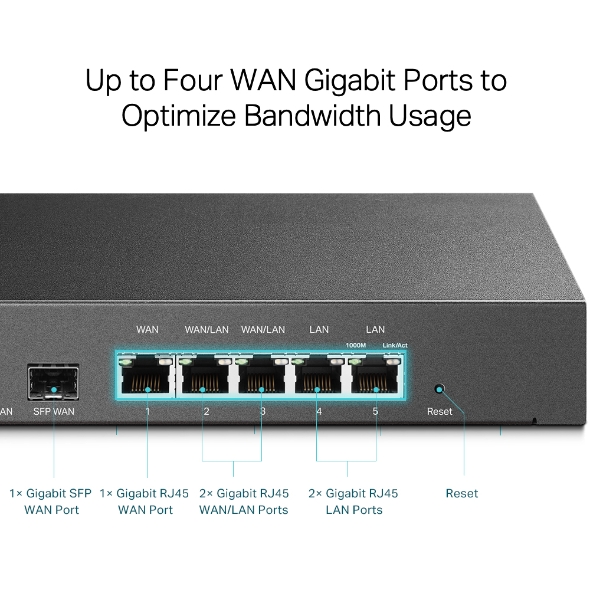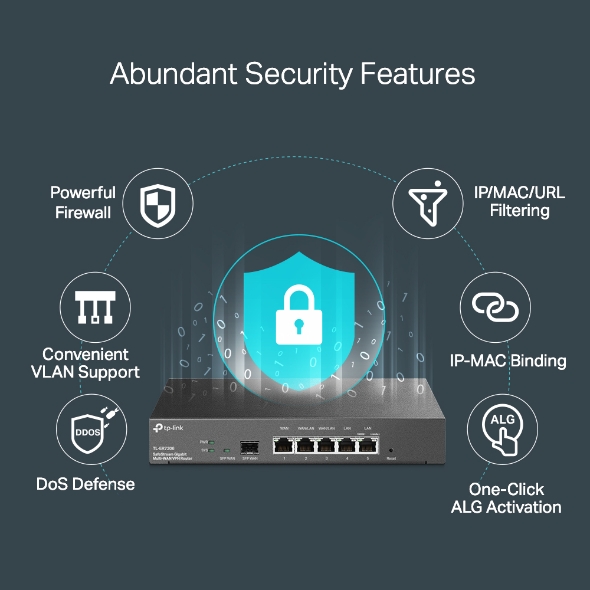 Router VPN SafeStream Gigabit Multi-WAN
Integrado en Omada SDN: Zero-Touch Provisioning (ZTP) **, Administración centralizada en la nube y monitorización inteligente.
Administración centralizada: acceso a la nube y aplicación Omada para una comodidad y administración fáciles.
Puertos Gigabit: los puertos SFP de 1 gigabit y RJ45 de 5 gigabits proporcionan conectividad por cable de alta velocidad.
Hasta 4 puertos WAN: 1 puerto WAN SFP de 1 gigabit, puerto WAN RJ45 de 1 gigabit, puertos WAN / LAN de 2 gigabit para optimizar el uso del ancho de banda.
VPN altamente segura: admite hasta 100 × conexiones IPsec LAN a LAN, 50 × OpenVPN *, 50 × L2TP y 50 × conexiones VPN PPTP.
Abundantes características de seguridad: políticas avanzadas de firewall, defensa DoS, filtrado de IP / MAC / URL y más funciones de seguridad protegen su red y fecha

Gestión centralizada
Una puerta de enlace profesional, segura y confiable con capacidad de administración centralizada
Router VPN SafeStream Gigabit Multi-WAN
TL-ER7206
Gestión en la nube
Centralizada

Integrado en platafora Omada SDN

Hasta 4 puertos
WAN Gigabit

1 puerto× SFP WAN + 5puertos× RJ45 (1× WAN + 2× WAN/LAN + 2× LAN)

VPN de alta seguridad

IPSec/ PPTP/ L2TP
VPN & OpenVPN

Balanceo de carga
Multi-WAN

Uso completo de banda ancha multilínea
Redes definidas por software (SDN) con acceso a la nube
La plataforma de redes definidas por software (SDN) de Omada integra dispositivos de red, incluidos puntos de acceso, conmutadores y puertas de enlace, proporcionando una gestión de la nube 100% centralizada. Omada crea una red altamente escalable, todo controlado desde una única interfaz. Se proporcionan conexiones inalámbricas y por cable sin interrupciones, ideales para su uso en hostelería, educación, comercio minorista, oficinas y más.
Más >
Soluciones relacionadas
Hospitality

TP-Link Omada allows hotels to build reliable WiFi networks. Hotel WiFi network solutions including network topology, design, features, installation, and products are introduced.

Full WiFi coverage and wired connections
Flexible guest control
Seamless roaming
Easy Management

Education

Due to its reliable, scalable, and secure network solution, TP-Link has been widely acknowledged by global customers in the Education market ranging from infant schools with a few APs up to colleges and universities with hundreds of APs.

Easy management
High-density WiFi
Full WiFi coverage and wired connections
VPN and security

Branch Location

TP-Link Omada offers enterprise-level VPN, real-time network monitoring, and quick network troubleshooting to meet the requirements of headquarters and branches.

VPN
Easy management
Network monitoring and troubleshooting
High security
Tang Palace Restaurant

TP-Link Provides Wireless Coverage for Fine Dining Chinese Restaurant in Dubai

Tang Palace Restaurant

TP-Link Provides Wireless Coverage for Fine Dining Chinese Restaurant in Dubai

"Tang Palace management and owner, Antai Peng, were satisfied with the performance of newly implemented wireless network. Since September 2015 TP-Link's Omada solution delivered reliable, high-performing wireless network and provided guests with a strong and consistent Wi-Fi signal."

Grupoinfo 24

TP-Link Helps Grupoinfo24 to Build Reliable and Affordable Business Network

Grupoinfo 24

TP-Link Helps Grupoinfo24 to Build Reliable and Affordable Business Network

"TP-Link's products provide us with excellent performance, ease-of-management, and a robust feature set. All the important features that we can expect from a correct networking infrastructure are provided by TP-Link's products, and a wise configuration will permit us to profit from the benefits and security required by each company or case." —Grupoinfo 24
CARACTERÍSTICAS DE HARDWARE
Estándares y Protocolos
• IEEE 802.3, 802.3u, 802.3ab• TCP/IP, DHCP, ICMP, NAT, PPPoE, SNTP, HTTP, DNS, IPsec, PPTP, L2TP
Interfaz
• 1 puerto fijo WAN Gigabit SFP
• 1 puerto WAN Gigabit RJ45 fijo
• 2 puertos LAN Gigabit RJ45 fijos
• 2 puertos Gigabit RJ45 WAN / LAN intercambiables
Medios de Red
• 10BASE-T: UTP categoría 3, 4, 5 cable (Máx.100 m)
EIA / TIA-568 100Ω STP (Máx.100 m)
• 100BASE-TX: UTP categoría 5, cable 5e (máx. 100 m)
EIA / TIA-568 100Ω STP (Máx.100 m)
• 1000BASE-T: cable UTP categoría 5, 5e, 6 (máx. 100 m)
Botones
Reset Button
Fuente de Alimentación
100–240 V~50/60 Hz
Flash
SPI 4MB + NAND 128MB
DRAM
512MB
LED
PWR, SYS, SFP WAN, Velocidad, Link/Act
Dimensiones
8.9 × 5.2 × 1.4 in (226 × 131.2 × 35 mm)
RENDIMIENTO
Sesiones Concurrentes
150.000
Rendimiento VPN IPsec
291.6 Mbps
FUNCIONES BÁSICAS
Tipo de conexión WAN
• IP estática / dinámica
• PPPoE
• PPTP
• L2TP
Clonado MAC
Modificar la dirección MAC WAN / LAN †
DHCP
• Servidor DHCP
• Reserva de dirección DHCP
• Interfaces multi-IP *
• DHCP de múltiples redes *
IPv6
Desarrollando ‡
VLAN
VLAN 802.1Q
IPTV
Proxy IGMP v2 / v3
FUNCIONES AVANZADAS
ACL
Filtrado de IP / Puerto / Protocolo / Nombre de dominio
Enrutamiento Avanzado
• Enrutamiento estatico
• Enrutamiento de políticas
Control de Ancho de Banda
• Control de ancho de banda basado en IP / puerto
• Garantía y ancho de banda limitado
Balanceo de Carga
• Balance de carga inteligente
• Enrutamiento optimizado para aplicaciones
• Copia de seguridad de enlace (sincronización § , conmutación por error)
• Detección en línea
NAT
• NAT uno a uno §
• NAT de redes múltiples
• Servidor virtual
• Activación de puertos §
• NAT-DMZ
• FTP / H.323 / SIP / IPSec / PPTP ALG, UPnP
Securidad
• Cortafuegos SPI
• Paso a través de VPN
• FTP / H.323 / PPTP / SIP / IPsec ALG
• Defensa DoS, Ping of Death
• Administración Local
Session Limit
Límite de sesión basado en IP
VPN
VPN IPsec
• 100 túneles VPN IPSec
• LAN a LAN, cliente a LAN
• Modo de negociación principal y agresivo
• Algoritmo de cifrado DES, 3DES, AES128, AES192, AES256
• IKEv1 / v2 *
• Algoritmo de autenticación MD5, SHA1
• NAT transversal (NAT-T)
• Detección de pares muertos (DPD)
• Perfect Forward Secrecy (PFS)
VPN PPTP
• Servidor VPN PPTP
• 10 clientes VPN PPTP
• 50 túneles
• PPTP con cifrado MPPE
VPN L2TP
• Servidor VPN L2TP
• 10 clientes VPN L2TP
• 50 túneles
• L2TP sobre IPSec
OpenVPN
• Servidor OpenVPN *
• 10 clientes OpenVPN *
• 50 túneles OpenVPN *
SEGURIDAD
Filtrado
Filtrado de grupos WEB §
Filtrado de URL
Seguridad web §
Inspección ARP
• Envío de paquetes GARP §
• Escaneo ARP §
• Enlace IP-MAC §
Defensa contra Ataques
• Defensa contra inundaciones TCP / UDP / ICMP
• Bloquear escaneo TCP (Stealth FIN / Xmas / Null)
• Bloquear ping de WAN
Access Control
Source/Destination IP Based Access Control
AUTHENTICATION
Web Authentication
• Sin autenticacion
• Contraseña simple *
• Hotspot (Usuario local / Cupón * / SMS * / Radio *)
• Cortador de radio externo
• Servidor de portal externo *
• Facebook*
GESTIÓN
Omada App
Si
Centralized Management
• Controlador Omada basado en la nube
• Controlador de hardware Omada (OC300)
• Controlador de hardware Omada (OC200)
• Controlador de software Omada
Cloud Access
Sí (a través de OC300, OC200, controlador Omada basado en la nube o controlador de software Omada)
Servicio
DNS dinámico (Dyndns, No-IP, Peanuthull, Comexe)
Mantenimiento
• Interfaz de administración web
• Gestión remota
• Configuración de exportación e importación
• SNMP v1 / v2c / v3 *
• Diagnóstico (Ping y Traceroute) §
• Sincronizar NTP §
• Soporte de Syslog
Management Features
• Descubrimiento automático de dispositivos
• Monitoreo de red inteligente
• Advertencias de eventos anormales
• Configuración unificada
• Programa de reinicio
• Configuración del portal cautivo
• ZTP (aprovisionamiento sin intervención) **
Otros
Certificaciones
CE, FCC, RoHS
Contenido del Paquete
• TL-ER7206
• Cable de alimentación
• Guía de Instalación Rápida
Requisitos del sistema
Microsoft Windows 98SE, NT, 2000, XP, Vista ™ o Windows 7/8 / 8.1 / 10, MAC OS, NetWare, UNIX o Linux
Factores Ambientales
• Temperatura de funcionamiento: 0–40 ℃ (32–104 ℉);
• Temperatura de almacenamiento: -40–70 ℃ (-40–158 ℉)
• Humedad de funcionamiento: 10 a 90% de humedad relativa sin condensación
• Humedad de almacenamiento: 5–90% de humedad relativa sin condensación
*OpenVPN requiere el uso de Omada Hardware Controller, Software Controller o Cloud-Based Controller
** El aprovisionamiento Zero-Touch requiere el uso del controlador basado en la nube Omada.
De United States?
Obtener productos, eventos y servicios para su región.