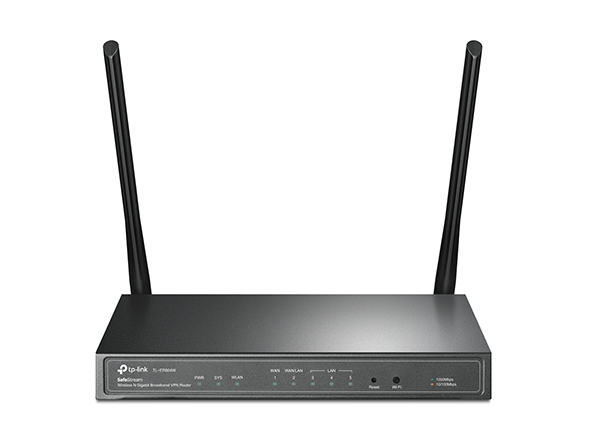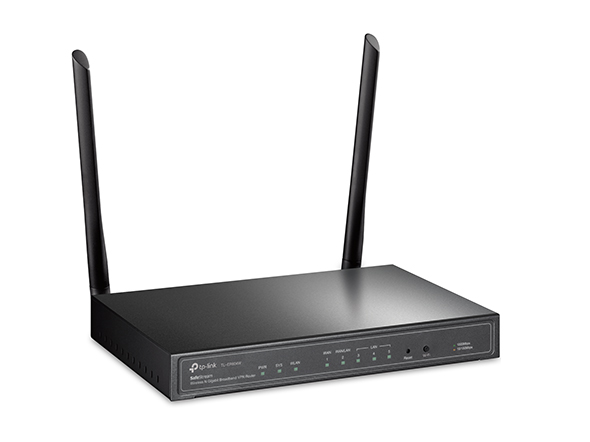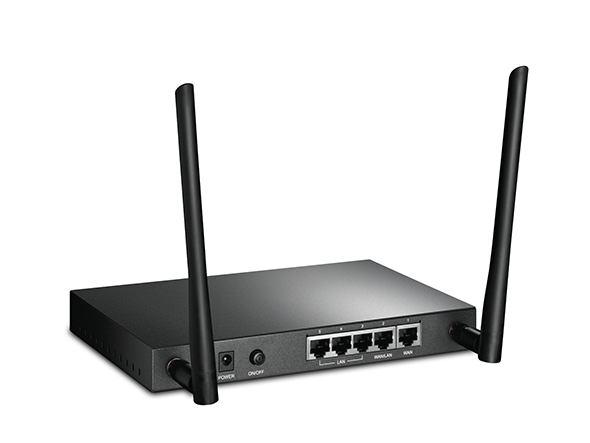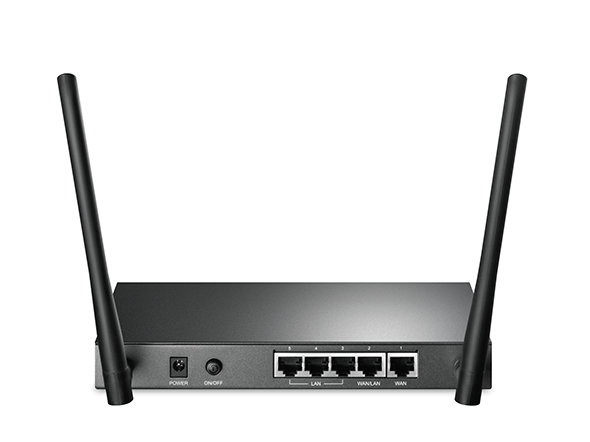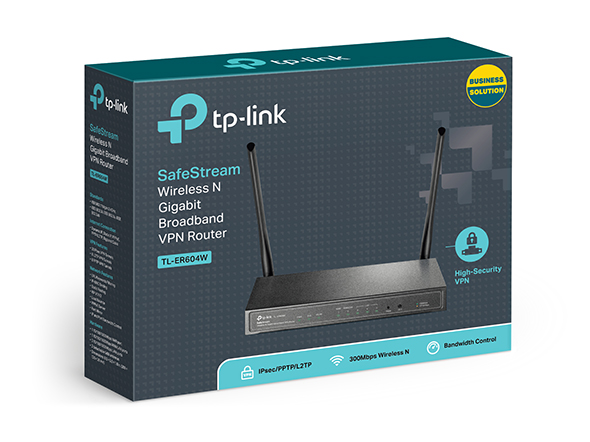 Router VPN SafeStream Gigabit Broadband Wireless N TL-ER604W
1 porta Gigabit WAN, 3 porte Gigabit LAN e 1 porta Gigabit WAN/LAN
Supporta i protocolli IPsec/PPTP/L2TP VPN fino a 30 tunnel IPsec, 8 PPTP e 8 L2TP VPN in contemporanea
Distribuisce restrizioni One-Click di appplicazioni IM/P2P per gestire il comportamento del personale online
Wireless N fino a 300Mbps fornisce un'elevata velocità di connessione
Multi-SSID e rete ospiti assicurano una semplice e sicura condivisione wireless
Protezione professionale contro fulmini fino a 4KV per tenere il vostro dispositivo al sicuro
Descrizione
Il Router VPN Gigabit Wireless N SafeStream Broadband supporta velocità wireless N e velocità cablata Gigabit in tutte le porte. Esso integra svariati protocolli VPN, elevate sicurezza e capacità VPN, che lo rendeno la scelta ideale per le filiali che necessitano di connessioni remote sicure e convenienti alle sedi o uffici remoti. Inoltre, disponendo di utili caratteristiche come tasto Wi-Fi On/Off, Rete ospiti, App Control, e funzioni server PPPoE, TL-ER604W è la soluzione di rete ideale per la casa o piccoli uffici.
Eccellenti prestazioni VPN
TL-ER604W supporta svariati protocolli VPN inclusi IPsec, PPTP e L2TP in modalità Client/Server gestendo anche il traffico pass-through. E' caratterizzato da un motore VPN hardware based che permette al router di supportare e gestire fino a 30 connessioni VPN IPsec LAN-to-LAN/Client-to-LAN. Caratteristiche VPN avanzate includono: crittografia DES/3DES/AES128/AES192/AES256, autentificazione MD5/SHA1, Manual/IKE key management, e modalità di negoziazione Main/Aggressive.
Connettività intelligente ad alta velocità
Con wireless 300Mbps 802.11n e 5 porte Gigabit, TL-ER604W è la scelta ideale per connessioni veloci e affidabili ed è perfetto per il gioco online, video conferenze e streaming video HD.
Caratteristiche di sicurezza
Per la difesa contro le minacce esterne, TL-ER604W dispone di una protezione automatica per rilevare e bloccare attacchi DoS (Denial of Service), come il Flooding TCP/UDP/ICMP, Scanning TCP, Ping of Death e altre minacce correlate. Per una migliore gestione della rete interna, TL-ER604W consente agli amministratori di impostare regole per bloccare siti web specifici e applicazioni IM/P2P con un solo click, limitando il personale nell'utilizzo di servizi come FTP, HTTP e SMTP.
Ottimizzazione Rete wireless
TL-ER604W supporta multi-SSID e rete ospiti. Con 8 SSID, TL-ER604W può fornire diverse reti wireless distinte per i diversi dipartimenti o gruppi di lavoro. La Rete Ospiti offre una rete wireless separata e sicura, fornendo un accesso Internet separato per i vostri clienti o partner commerciali, senza condividere l'accesso alla rete interna e le informazioni aziendali riservate.
Sicurezza di livello Enterprice
La tecnologia di protezione contro i fulmini è progettata per impedire alle sovratensioni elettriche di causare danni all'impianto aziendale, scaricandole a terra. Questo router può proteggere dalle scariche fino a 4KV, presenvando le infrastrutture in caso di eventi straordinari che possono arrecare danni.
CARATTERISTICHE HARDWARE
Standard e protocolli
IEEE 802.11b/g/n, 802.3, 802.3u, 802.3ab
TCP/IP, DHCP, ICMP, NAT, PPPoE, SNTP, HTTP, DNS, IPsec, PPTP, L2TP, SSL, HTTPS
Interfaccia
1 Gigabit WAN port
3 Gigabit LAN ports
1 Gigabit WAN/LAN port
Media
10BASE-T: UTP category 3, 4, 5 cable (Max 100m)
100BASE-TX: UTP category 5, 5e cable (Max 100m)
1000BASE-T: UTP category 5, 5e cable (Max 100m)
Numero ventole
Fanless
Tasto
Power On/Off, Wi-Fi On/Off, Reset
Alimentazione
External Power Adapter (output: 12VDC/1.0A)
Flash
8MB
DRAM
64MB (DDRII)
LED
PWR, SYS, WLAN, WAN, WAN/LAN, LAN
Dimensioni ( L x P x A )
8.2 x 5.0 x 1.0 in.(209 x 126 x 26 mm)
Antenna
2 detachable 5dBi antennas
PRESTAZIONI
Sessioni concorrenti
10000
Throughput NAT
160Mbps
Throughput VPN IPsec
38Mbps
CARATTERISTICHE WIRELESS
Frequenza
2.4-2.4835 GHz
Potenza di trasmissione
<20dBm (EIRP)
Funzionalità wireless
Enable/Disable wireless radio, WDS bridge, WMM, Wireless statistics
Sicurezza wireless
WEP, WPA/WPA2, WPA-PSK/WPA2-PSK
Rete ospiti
Yes
Multi-SSID
Up to 8 SSIDs
FUNZIONI DI BASE
Tipo connessione WAN
Dynamic IP, Static IP, PPPoE, PPTP, L2TP, Dual Access, BigPond
DHCP
DHCP Server/Client
DHCP Reservation
MAC clone
Modify WAN/LAN MAC Address
Configurazione switch
Port Mirror
Rate Control
Port Configuration
Port VLAN
IPTV
IGMP Proxy
IGMP Snooping
FUNZIONALITA' AVANZATE
Load balance
Intelligent Load Balance
Policy Routing
Protocol Binding
Link Backup (Timing, Failover)
Online Detection
NAT
One-to-One NAT
Multi-nets NAT
Virtual Server
Port Triggering
UPnP
FTP/H.323/SIP/IPsec/PPTP ALG
Routing
Static Routing
Dynamic Routing (RIP v1/v2)
Modalità operativa
NAT, Non-NAT, Classical Routing
Traffic control
IP/Port-based Bandwidth Control
Guarantee & Limited Bandwidth
Time-scheduled Policy
IP-based Session Limit
VPN
VPN IPsec
30 IPsec VPN Tunnels
LAN-to-LAN and Client-to-LAN IPsec VPN
Main, Aggressive Negotiation Mode
DES, 3DES, AES128, AES192, AES256 Encryption Algorithm
MD5, SHA1 Authentication Algorithm
Manual, IKE Key Management Mode
IPsec NAT Traversal (NAT-T)
Dead Peer Detection (DPD)
Perfect Forward Secrecy (PFS)
VPN PPTP
8 PPTP VPN Tunnels
PPTP VPN Server/Client
PPTP with MPPE Encryption
NetBIOS passthrough
VPN L2TP
8 L2TP VPN Tunnels
L2TP VPNServer/Client
L2TP over IPsec
NetBIOS passthrough
VPN pass-through
IPsec (ESP), PPTP, L2TP
SICUREZZA
Application control
IM, P2P, Web IM, Web SNS, Web Media Protocol/Proxy Blocking
Attack defence
TCP/UDP/ICMP Flood Defense
Block TCP Scan (Stealth FIN/Xmas/Null)
Block Ping from WAN
CSRF Defense
Filtering
MAC Filtering
URL/Keywords Filtering
Web Content Filtering (Java, ActiveX, Cookies)
Local Access Control
ARP inspection
Sending GARP Packets
ARP Scanning by WAN/LAN
IP-MAC Binding
GESTIONE
Servizio
PPPoE Server
E-Bulletin
Dynamic DNS (Dyndns, No-IP, Peanuthull, Comexe)
Manutenzione
Web-based Management Interface
Remote Management
Export & Import Configuration
NTP Synchronize
Syslog Support
SNMP
IP NAT Table
ALTRO
Certificazione
CE, FCC, RoHS
Contenuto della confezione
SafeStream Wireless N Gigabit Broadband VPN Router TL-ER604W
Power Adapter
RJ45 Ethernet Cable
Quick Installation Guide Resource CD
Requisiti di sistema
Microsoft® Windows® 8/7/Vista/XP/2000, MAC® OS, Linux-based operating System
Ambiente
Operating Temperature: 0℃~40℃ (32℉~104℉)
Storage Temperature: -40℃~70℃ (-40℉~158℉)
Operating Humidity: 10%~90% non-condensing
Storage Humidity: 5%~90% non-condensing