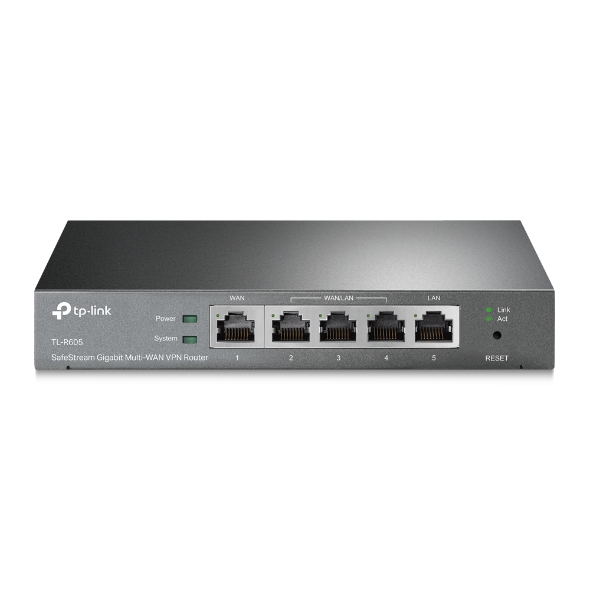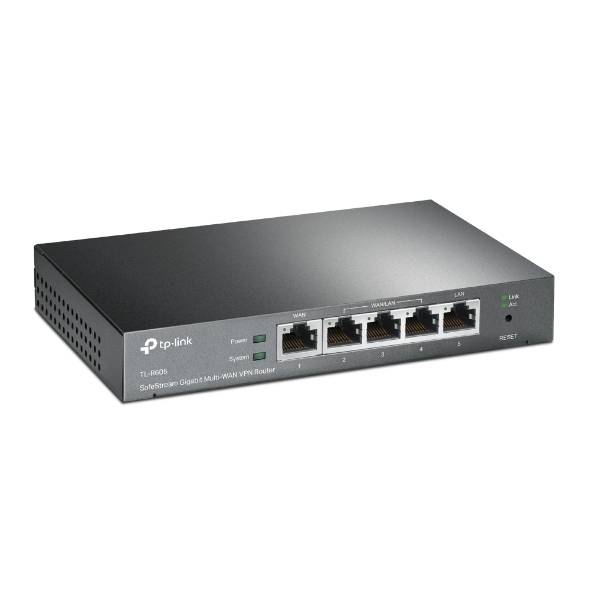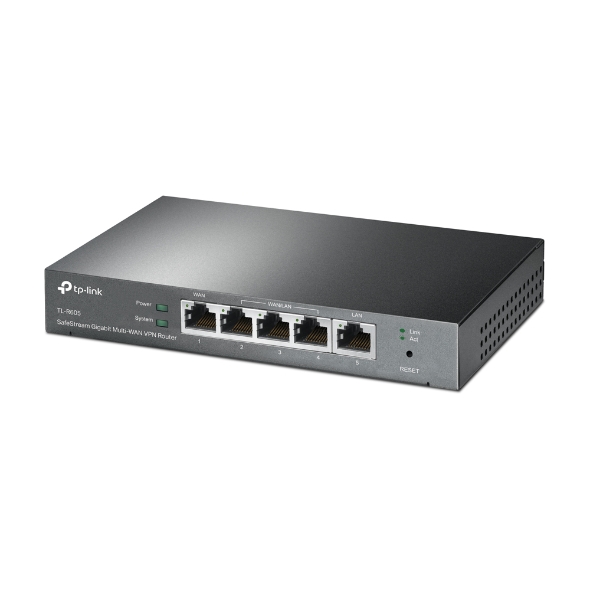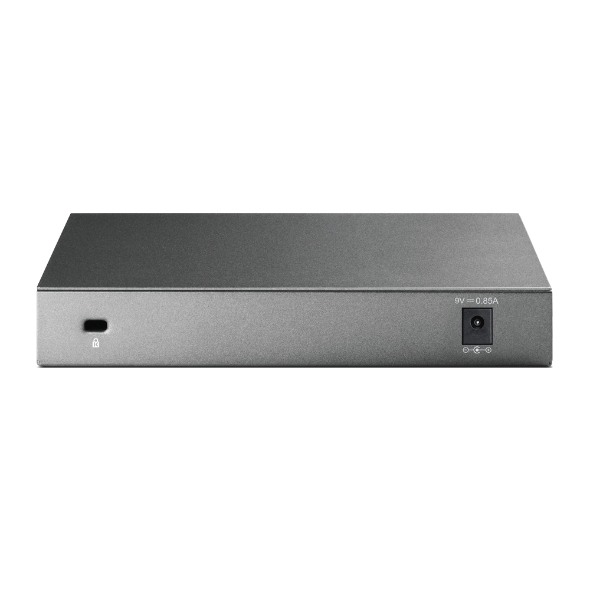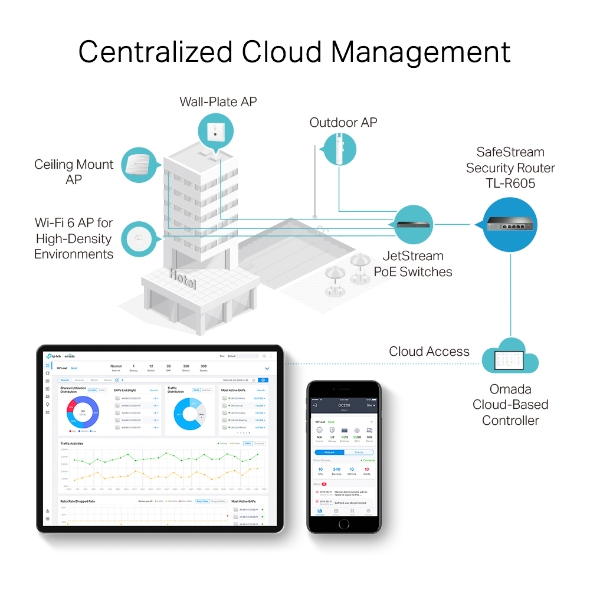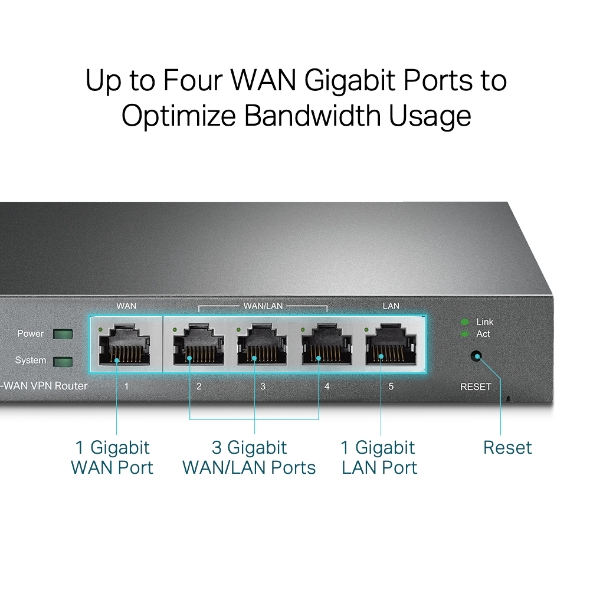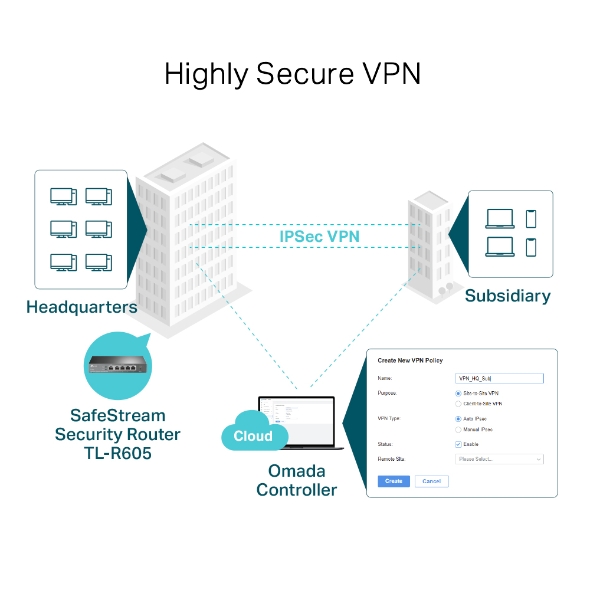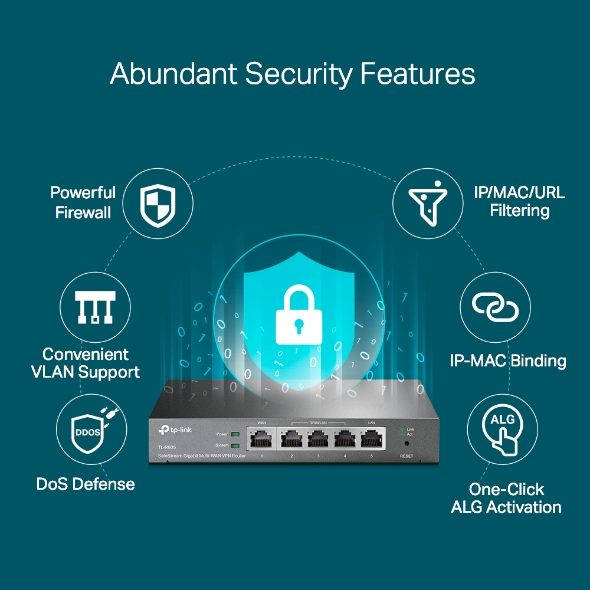 Gateway VPN Gigabit Multi-WAN SafeStream by Omada
Integrato in Omada SDN: Zero-Touch Provisioning (ZTP)‡, Cloud Management centralizzato e Intelligent Monitoring.
Gestione Centralizzata: accesso Cloud e Omada app per una gestione completa e semplice da remoto.
5 Porte Gigabit: connettività cablata ultraveloce.
Fino a 4 porte WAN: 1 porta gigabit WAN e 3 porte gigabit WAN/LAN per un'utilizzo di banda ottimizzato
VPN sicure: Supporta fino a 20 connessioni LAN-to-LAN IPsec, 16 connessioni OpenVPN*, 16 connessioni L2TP, e 16 connessioni PPTP VPN.
Sicurezza avanzata protocolli di sicurezza firewall avanzati, DoS defense,IP/MAC/URL filtering e molto altro, per proteggere la rete e la sicurezza dei dati.
Gateway VPN Multi-WAN per Reti Business con gestione centralizzata in Cloud tramite Omada SDN
SafeStream TL-R605
Gestione Centralizzata

Porte Gigabit

Fino a 4 porte WAN

Load Balance

IPSec/OpenVPN/ PPTP/L2TP

Firewall potente

VLAN
Omada SDN - Soluzioni Business Wireless & Networking
La soluzione Omada Software Defined Networking (SDN) consente di gestire in maniera centralizzata da remoto l'intera rete (router, switch, access point) tramite Cloud Based Controller Omada. TL-R605 si integra perfettamente nella soluzione Omada, ma può essere gestito anche in modalità stand-alone tramite interfaccia web o app.
Wi-Fi 6 AP per ambienti ad alta densità
Wall Plate AP
Outdoor AP
Indoor AP
Switches JetStream PoE
Router VPN SafeStream TL-R605
Accesso in Cloud
Omada
Cloud-Based Controller
Gestione 100% Cloud:
Gestione centralizzata di reti complesse e multi-sito anche da remoto da un'unica interfaccia web.
Fino a 4 porte Gigabit WAN
TL-R605 supporta fino a 4 porte WAN, 3 delle porte LAN possono infatti essere impostate come WAN per andare incontro a diverse esigenze di accesso internet, tramite un solo gateway. La funzione Multi-WAN Load Balancing distribuisce i data stream a seconda della disponibilità di banda di ogni WAN.
1 Porta Gigabit WAN
3 Porte Gigabit WAN/LAN
1 Porta Gigabit LAN
Reset
Connessioni VPN altamente sicure
TL-R605 supporta gli standard IPSec/PPTP/L2TP VPN su protocollo IPSec/SSL. Grazie a un hardware design avanzato è in grado di gestire connessioni VPN fino a 20× LAN-to-LAN IPsec, 16× OpenVPN*, 16× L2TP e 16× PPTP. La funzione One-click auto IPSec VPN* semplifica la configurazione e la gestione del network, mantenendo altissimi livelli di sicurezza e crittografia nella trasmissione dati site-to-site.
Headquarters
Omada Controller
IPSec VPN
Filiale
Molteplici opzioni di sicurezza
Firewall potente
Il firewall avanzato protegge la rete e i dati degli utenti.
Supporto VLAN
Crea segmenti di rete per aumentare i livelli di sicurezza e semplificare lòa gestione della rete.
Protezione DoS
Identifica e blocca in automatico gli attacchi
Denial of Service
(DoS) come TCP/UDP/ICMP Flooding, Ping
of Death e altri pericoli.
IP/MAC/URL Filtering
Previeni virus e attacchi da parte di intrusi .
IP-MAC Binding
Riserva l'assegnazione degli IP Statici ai client
per proteggere la rete da attacchi ARP
e spoofing.
Attivazione ALG One-Click
Attivazione One-Click per
applicazioni come FTP, H323, SIP,
IPsec e PPTP.
Gestione degli accessi
IP/MAC/URL Filtering e Access Control List (ACL)consentono di specificare i permessi di accesso alla rete degli utenti. L'autenticazione tramite Captive Portal consente di monitorare più facilmente la rete classificando gli accessi, impostando appropriate risorse di rete per particolari utenti o ospiti.
Gestione intuitiva con Omada App
Segui le istruzioni di configurazione dell'app gratuita Omada per rendere operativo Tl-R650 in pochi minuti.
L'app Omada permette di eseguire configurazioni, monitorare il network, gestire i client, il tutto direttamente dal tuo dispositivo Android o iOS.
Hospitality

La soluzione Omada SDN consente di realizzare reti business wireless affidabili e performanti per andare incontro alle esigenze in continua evoluzione del settore Hospitality.

Piena copertura Wi-Fi e connessione cablata
Controllo flessibile degli accessi alla rete
Seamless roaming
Gestione intuitiva

Education

TP-Link offre soluzioni di networking professionali stabili, sicure e scalabili a supporto degli istituti scolastici, dalla scuola primaria all'università ideali per affrontare le attuali esigenze di ammodernamento digitale.

Gestione intuitiva
Piena copertura wireless e connessioni cablate ad alta velocità
Wi-Fi performante in ambienti ad alta densità di dispositivi wireless
Funzionalità di sicurezza avanzate
Implementazione VPN per accesso da remoto alle risorse dell'Istituto

Aziende multi-sede

TP-Link Omada permette di creare infrastrutture di rete complesse e multi-sito con VPN di livello enterprise e gestione centralizzata da remoto per facilitare le operazioni di manutenzione da parte del personale IT.

Connessione VPN
Gestione intuitiva
Monitoraggio della rete e troubleshooting da remoto
Alti standard di sicurezza

Grupoinfo 24

TP-Link Helps Grupoinfo24 to Build Reliable and Affordable Business Network

Grupoinfo 24

TP-Link Helps Grupoinfo24 to Build Reliable and Affordable Business Network

"TP-Link's products provide us with excellent performance, ease-of-management, and a robust feature set. All the important features that we can expect from a correct networking infrastructure are provided by TP-Link's products, and a wise configuration will permit us to profit from the benefits and security required by each company or case." —Grupoinfo 24
CARATTERISTICHE HARDWARE
Standard e protocolli
• IEEE 802.3, 802.3u, 802.3ab, IEEE 802.3x, IEEE 802.1q
• TCP/IP, DHCP, ICMP, NAT, PPPoE, NTP, HTTP, HTTPS, DNS, IPSec, PPTP, L2TP, OpenVPN, SNMP
Interfaccia
• 1 Fixed Gigabit WAN Port• 1 Fixed Gigabit LAN Port• 3 Changeable Gigabit WAN/LAN Ports
Media
• 10BASE-T: UTP category 3, 4, 5 cable (Max 100m)EIA/TIA-568 100Ω STP (Max 100m)• 100BASE-TX: UTP category 5, 5e cable (Max 100m)EIA/TIA-568 100Ω STP (Max 100m)• 1000BASE-T: UTP category 5, 5e, 6 cable (Max 100m)
Tasto
Reset Button
Alimentazione
External 9V/0.85A DC Adapter
Flash
SPI 16MB
DRAM
128 MB
LED
PWR, SYS, WAN, LAN
Dimensioni ( L x P x A )
158 × 101 × 25mm
PRESTAZIONI
Sessioni concorrenti
25,000
Throughput VPN IPsec
41.5 Mbps
FUNZIONI DI BASE
Tipo connessione WAN
• Static/Dynamic IP
• PPPoE
• PPTP
• L2TP
MAC clone
Modify WAN/LAN MAC Address*

*LAN MAC Address can be modified only in Standalone Mode.
DHCP
• DHCP Server/Client
• DHCP Address Reservation
• Multi-net DHCP*
• Multi-IP Interfaces*

*Multi-IP Interfaces and Multi-Net DHCP are supported only in Controller Mode
IPv6
Developing*

*IPv6 is being developed and will be updated in the following software versions
VLAN
802.1Q VLAN
IPTV
IGMP v2/v3 Proxy
FUNZIONALITA' AVANZATE
ACL
IP/MAC/Domain Name Filtering
Routing avanzato
• Static Routing
• Policy Routing
Bandwidth control
• IP/Port-based Bandwidth Control• Guarantee & Limited Bandwidth
Load balance
• Intelligent Load Balance
• Application Optimized Routing
• Link Backup (Timing*, Failover)
• Online Detection

*The function is supported only in Standalone Mode.
NAT
• One-to-One NAT*
• Multi-Net NAT
• Virtual Server
• Port Triggering*
• NAT-DMZ
• FTP/H.323/SIP/IPSec/PPTP ALG, UPnP

*These function are supported only in Standalone Mode.
Sicurezza
• SPI Firewall
• VPN Passthrough
• FTP/TFTP/H.323/RTSP ALG
• DoS Defence, Ping of Death
• Local Management
Session Limit
IP-based Session Limit
VPN
VPN IPsec
• 20 IPsec VPN Tunnels
• LAN-to-LAN, Client-to-LAN
• Main, Aggressive Negotiation Mode
• DES, 3DES, AES128, AES192, AES256 Encryption Algorithm
• IKEv1/v2*
• MD5, SHA1 Authentication Algorithm
• NAT Traversal (NAT-T)
• Dead Peer Detection (DPD)
• Perfect Forward Secrecy (PFS)

*These functions require the use of Omada Hardware Controller, Software Controller, or Cloud-Based Controller
VPN PPTP
• PPTP VPN Server
• 10 PPTP VPN Clients
• 16 Tunnels
• PPTP with MPPE Encryption
VPN L2TP
• L2TP VPN Server
• 10 L2TP VPN Clients
• 16 Tunnels
• L2TP over IPSec
OpenVPN
• OpenVPN Server*
• 10 OpenVPN Clients*
• 16 OpenVPN Tunnels*

*OpenVPN requires the use of Omada Hardware Controller, Software Controller, or Cloud-Based Controller
SICUREZZA
Filtering
WEB Group Filtering*
URL Filtering
Web Security*

*These functions are supported only in Standalone Mode.
ARP inspection
• Sending GARP Packets*
• ARP Scanning*
• IP-MAC Binding*

*These functions are supported only in Standalone Mode.
Attack defence
• TCP/UDP/ICMP Flood Defense
• Block TCP Scan (Stealth FIN/Xmas/Null)
• Block Ping from WAN
Access Control
Source/Destination IP Based Access Control
AUTHENTICATION
Web Authentication
• No Authentication
• Simple Password*
• Hotspot(Local User / Voucher* / SMS* / Radius*)
• External Radius Sever
• External Portal Sever*
• Facebook*

*These functions require the use of Omada Hardware Controller, Software Controller, or Cloud-Based Controller
GESTIONE
Omada App
Yes
Centralized Management
• Omada Cloud-Based Controller
• Omada Hardware Controller (OC300)
• Omada Hardware Controller (OC200)
• Omada Software Controller
Cloud Access
Yes (Through OC300, OC200, Omada Cloud-Based Controller, or Omada Software Controller)
Servizio
Dynamic DNS (Dyndns, No-IP, Peanuthull, Comexe)
Manutenzione
• Time Setting
• Diagnostic
• Firmware Upgrade
• Factory Defaults/Reboot
• Backup&Restore
• System Log
• Remote Management
• Statistics
• Controller Settings
• SNMP
Management Features
• Automatic Device Discovery
• Intelligent Network Monitoring
• Abnormal Event Warnings
• Unified Configuration
• Reboot Schedule
• Captive Portal Configuration
• ZTP (Zero-Touch Provisioning)*

*Zero-Touch Provisioning is supported only when using Omada Cloud-Based Controller.
ALTRO
Certificazione
CE, FCC, RoHS
Contenuto della confezione
• TL-R605
• Power Adapter
• RJ45 Ethernet Cable
• Quick Installation Guide
Requisiti di sistema
Microsoft® Windows® 8, 7,Vista™, XP or MAC® OS, NetWare®, UNIX® or Linux
Ambiente
• Operating Temperature: 0–40 ℃ (32–104 ℉);• Storage Temperature: -40–70 ℃ (-40–158 ℉)• Operating Humidity: 10–90% RH non-condensing• Storage Humidity: 5–90% RH non-condensing
*Queste funzionalità sono disponibili con Omada Hardware Controller, Software Controller o Cloud-Based Controller.
Iscriviti alla newsletter TP-Link prende la Privacy seriamente. Per maggiori informazioni sul trattamento dei tuoi dati consulta l'Informativa Privacy.
From United States?
Check products and services for your region.