RUMAH

Keeping your home wired for quality connections

Everything else you need for a connected lifestyle
How to configure QoS on the Wi-Fi Routers (new logo-case 1)?
Prioritize Internet Traffic with QoS
QoS (Quality of Service) is designed to ensure the efficient operation of the network when come across network overload or congestion.
I want to:
Specify priority levels for some devices or applications.
For example, I have several devices that are connected to my wireless network. I would like to set an intermediate speed on the Internet for my phone.
1. Enable QoS and set bandwidth allocation.
1) Log in to the web-based interface of the router. If you don't know how to do that, please refer to
a. How to log in to the web-based interface of Wi-Fi Routers (new logo)?
b. How to log in to the web-based interface of Wi-Fi Routers (new logo)?
2) Go to Advanced > QoS > Settings.
3) Select Enable QoS.
4) Input the maximum upload and download bandwidth provided by your Internet service provider. 1Mbps equal s to 1000Kbps.
5) Click Advanced and drag the scroll bar to set the bandwidth priority percentage.
6) Click Save.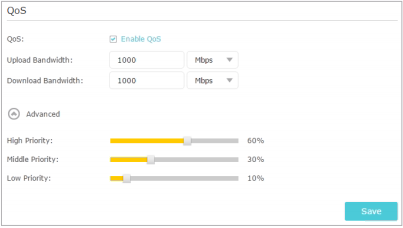 Note: If your web interface is different please refer to How to set up QoS using TP-Link Wi-Fi router (new logo-case 2)?
2. Add a middle priority QoS rule for the phone.
1) Select By Device and then click View Existing Devices.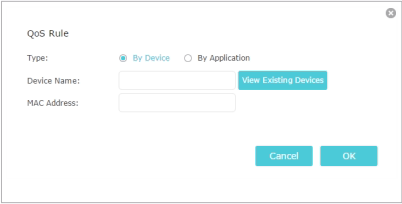 2) Choose the respective device from the list.

3) Click OK.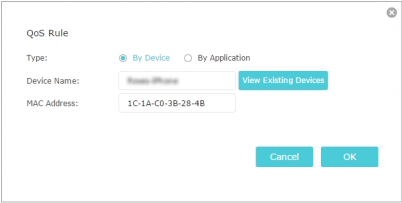 3. Refer to the steps above to apply other QoS rules if any.
Note:
If you want to delete a QoS rule, click

to remove the responding rule from the list.
Done! Now QoS is implemented to prioritize Internet traffic.
Get to know more details of each function and configuration please go to Download Center to download the manual of your product.
Is this faq useful?
Your feedback helps improve this site.
SubscriptionTP-Link takes your privacy seriously. For further details on TP-Link's privacy practices, see TP-Link's Privacy Policy.