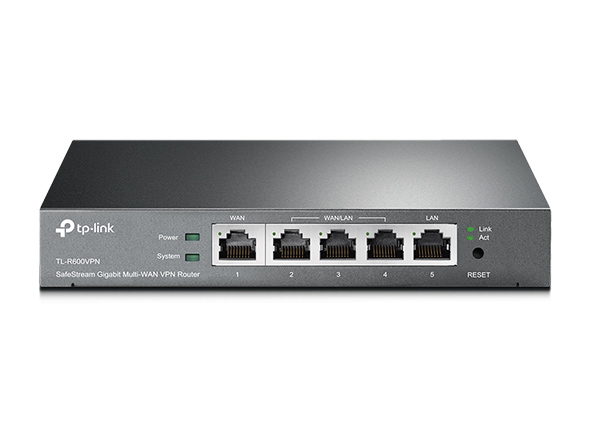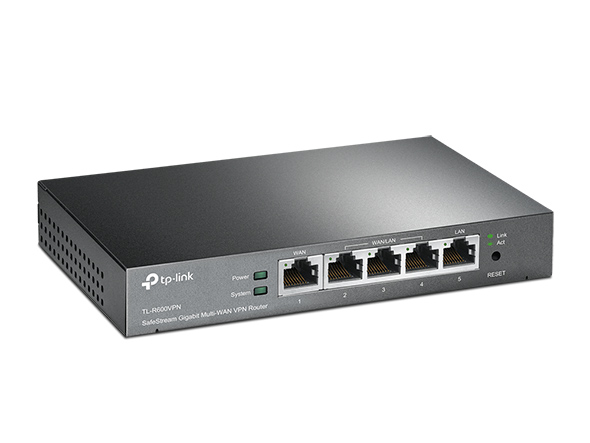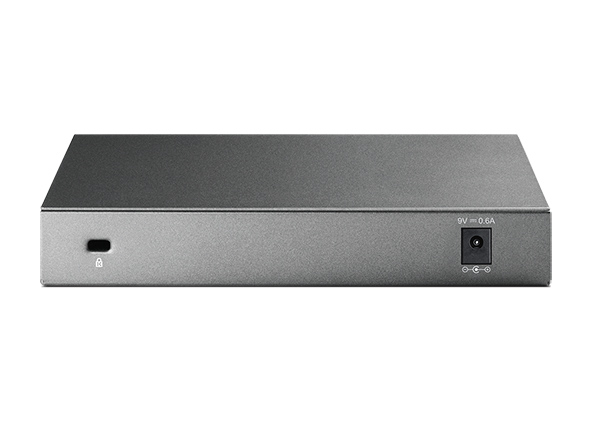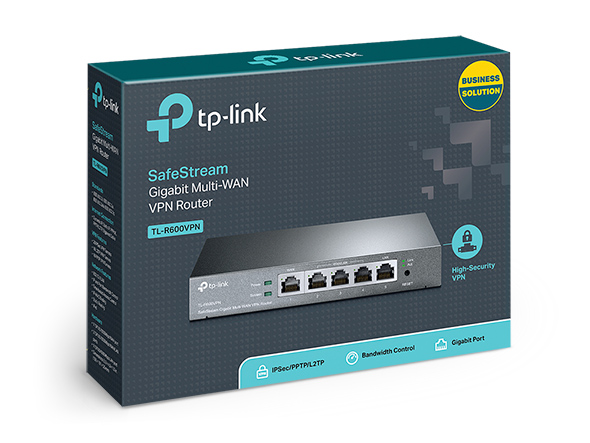 TL-R600VPN
SafeStream gigabites szélessávú VPN router
1 db gigabites WAN port és 4 db gigabites LAN port nagy sebességű vezetékes kapcsolatot nyújt
Támogatja az IPsec/PPTP VPN protokollokat, max. 20 IPsec VPN csatorna és max. 16 PPTP VPN csatorna egyidejűleg támogatott
SPI tűzfal és DoS elleni védelem nyújt a hálózatnak biztonságot a legtöbb ismert internetes támadás ellen
Professzionális 4kV villámlás elleni védelmi a beruházásokat a lehető legbiztonságosabban tartja
Hogyan működik?
A TP-LINK SafeStream, a TL-R600VPN gigabites szélessávú VPN router támogatja gigabites Ethernet-csatlakozást mind WAN, mind LAN oldalról, amely garantálja a nagy sebességű vezetékes kapcsolatot. Mi több, számos VPN protokollt foglal magába, így a magas biztonsági szinten és nagy teljesítménnyel működő VPN lehetővé teszi a munkavállalóknak a távoli kapcsolódás kialakítását az irodai hálózathoz, ami ugyan olyan biztonságos, mint amit az irodában használnak. Emellett a TL-R600VPN bőséges biztonsági stratégiák használ, mint SPI tűzfal, DoS támadások elleni védelem és IP-MAC összekötés, segítenek megvédeni a hálózatot a legtöbb ismert támadásokkal szemben. TL-R600VPN ideális partner a kisebb irodáknak, ahol költséghatékonyság és megbízható VPN megoldás szükséges.
Nagy biztonságú VPN kapcsolat
A TL-R600VPN támogatja az IPsec és PPTP VPN protokollokat és az IPsec/PPTP/L2TP az áthaladó forgalmat is kezeli. Ugyancsak tartalmaz egy beépített hardveres VPN kezelést, amely lehetővé teszi a routernek, hogy akár 20 LAN-LAN IPSec és 16 PPTP VPN kapcsolatot támogasson és kezeljen. További VPN funkciók közé tartozik: DES/3DES/aes128/AES192/AES256 titkosítás, MD5/SHA1 hitelesítés, manuális/IKE key kezelés, és Main/Aggressive negotiation mód.
Sokféle biztonsági funkció
A külső támadásokkal szemben védelemre a TL-R600VPN SPI tűzfal funkcióval rendelkezik. Ezzel együtt automatikusan felismeri és blokkolja a Denial of Service (DoS) támadásokat, mint a TCP/UDP/ICMP Flooding, Ping of Death és egyéb fenyegetettségeket. Sőt, ez a router IP/MAC/URL/WEB-szűrés funkcióval is rendelkezik, melyek erőteljesen védelmeznek a betolakodókkal és a vírusokkal szembeni támadásoktól. Olyan alkalmazásokhoz, mint például az FTP, H.323 és RTSP, amelyek NAT-tal nem igazán összeegyeztethetőek, a TL-R600VPN adminisztrátoroknak egykattintásos ALG választási lehetőséget nyújt, ami megfelel a fenti négy alkalmazásnak.
Biztonsági befektetés
Professzionális villámlás elleni védelem technológia célja, hogy megakadályozza az elektromos túlfeszültség bejutását az eszköz belsejébe, ártalmatlanítani földeléssel. Ezt a routert úgy tervezték, hogy megfelelő földelési viszonyok között védelmet nyújtson legfeljebb 4 kV-ig villámlás ellen. Ez azt biztosítja, hogy a hálózati infrastrukturális beruházások a lehető legvédettebbek maradnak továbbra is az anyatermészet egyik legrombolóbb eleme ellen.
Branch Location

TP-Link Omada offers enterprise-level VPN, real-time network monitoring, and quick network troubleshooting to meet the requirements of headquarters and branches.

VPN
Easy management
Network monitoring and troubleshooting
High security
Grupoinfo 24

TP-Link Helps Grupoinfo24 to Build Reliable and Affordable Business Network

Grupoinfo 24

TP-Link Helps Grupoinfo24 to Build Reliable and Affordable Business Network

"TP-Link's products provide us with excellent performance, ease-of-management, and a robust feature set. All the important features that we can expect from a correct networking infrastructure are provided by TP-Link's products, and a wise configuration will permit us to profit from the benefits and security required by each company or case." —Grupoinfo 24
Hardver jellemzők
Szabványok és protokollok
IEEE 802.3, 802.3u, 802.3ab
TCP/IP, DHCP, ICMP, NAT, PPPoE, SNTP, HTTP, DNS, IPsec, PPTP
Csatlakozások
1 db gigabit WAN csatlakozó
4 db gigabit LAN csatlakozó
Hálózati összeköttetés
10BASE-T: UTP 3, 4, 5 kategóriájú kábel (Max. 100 m)
EIA/TIA-568 100Ω STP (Max. 100m)
100BASE-TX: UTP 5, 5e kategóriájú kábel (Max. 100 m)
EIA/TIA-568 100Ω STP (Max. 100m)
1000BASE-T: UTP 5, 5e, 6 kategóriájú kábel (Max. 100 m)
Gomb
Reset gomb
Hálózati tápegység
Külső tápegység
AC100-240V~50/60Hz input
Flash
SPI 16MB
DRAM
DDR II 128MB
LED
PWR (áram), SYS (rendszer), WAN, LAN
Méretek (Sz x Mé x Ma)
209 x 126 x 26 mm (8.23 x 4.96 x 1.02 in.)
Működési jellemzők
Egyidejű munkamenet
20000
NAT Throughput
680Mbps
IPsec VPN Throughput (3DES)
13Mbps
Alapfunkciók
WAN kapcsolati típus
Statikus/Dinamikus IP, PPPoE, PPTP, L2TP, Dual Access, optikai kábel
MAC klónozása
Módosítható WAN MAC-cím
DHCP
DHCP-szerver/kliens,
DHCP címfoglalás
Haladó funkciók
ACL
IP/MAC/Domain név szűrés
Advanced Routing
Statikus routing
ARP-s támadás elleni védelem
IP/MAC összekötés
Sávszélesség-szabályozás
IP/Port alapú sávszélesség-felügyelet
Garantált és engedélyezett sávszélesség
Átírányítás
Virtuális szerver
Port Triggering
DMZ
UPnP
Biztonság
SPI tűzfal
VPN Passthrough
FTP/TFTP/H.323/RTSP ALG
DoS elleni védelem, Ping of Death
Helyi vezérlés
VPN
IPsec VPN
20 IPsec VPN csatorna
LAN-LAN
Main/Aggressive negotiation mód
DES, 3DES, AES128, AES192, AES256 titkosítási algoritmus
MD5, SHA1 engedélyező algoritmus
Manuális/IKE Key Management mód
Dead Peer észlelés (DPD)
Perfect Forward Secrecy (PFS)
PPTP VPN
16 PPTP VPN csatorna
PPTP VPN-szerver
PPTP MPPE titkosítással
L2TP VPN
16 L2TP VPN Tunnels
Vezérlés
Szolgáltatás
Dinamikus DNS (Dyndns, No-IP, Peanuthull, Comexe)
Kezelés
Dátum és idő
Diagnosztika
Firmware-frissítés
Gyári beállítások visszaállítása/Reboot
Beállítások elmentése/fájlból betöltése
Rendszernapló
Távoli vezérlés
Statisztika
Egyéb jellemzők
Tanúsítványok
CE, FCC, RoHS
Csomagolás tartalma
TL-R600VPN
Tápkábel
RJ-45 Ethernet kábel
Gyors telepítési útmutató
Telepítési segéd CD
Rendszerkövetelmény
Microsoft® Windows® 8, 7,Vista™, XP vagy MAC® OS, NetWare®, UNIX® vagy Linux
Környezet
Működési hőmérséklet: 0℃~40℃ (32℉~104℉)
Tárolási hőmérséklet: -40℃~70℃ (-40℉~158℉)
Működési páratartalom: 10%~90% változatlan halmazállapot
Tárolási páratartalom: 5%~90% változatlan halmazállapot
Díjak

Eco-Award

R600VPN received the "Ecology Award" from Smarthelpers

2014, Germany
From United States?
Get products, events and services for your region.