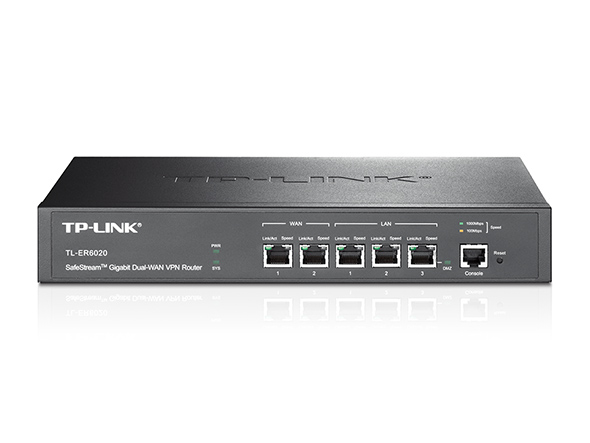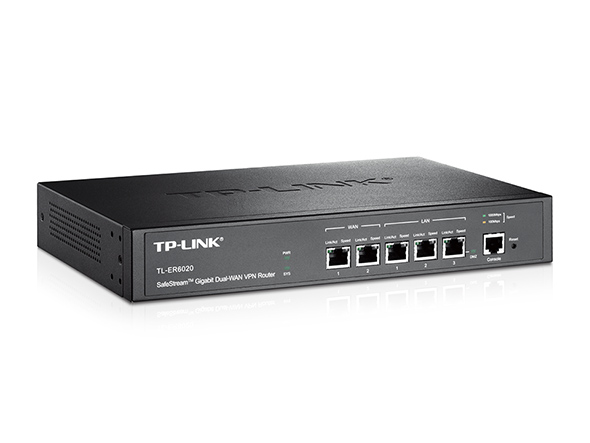 SafeStream gigabites, duál WAN-os VPN router
2 db gigabites WAN port, 2 db gigabites LAN port, 1 db gigabites LAN/DMZ port és 1 db konzol port
Támogatott többféle VPN protokoll, többek közt az IPsec/PPTP/L2TP, ami flexibilis VPN kialakítását segíti
Akár 50 IPsec VPN csatornát is támogat a hardeveres VPN kezelés
Sok rétű biztonsági funkció,többek között ARP ellenőrzés, DoS elleni védelem, URL/kulcsszó és domain szűrés és hozzáférés-vezérlés
Egy kattintással korlátozható IM/P2P alkalmazások, hogy könnyedén kezelni lehessen a személyzet internetes viselkedését
Professzionális 4kV villámlás elleni védelmi a beruházásokat a lehető legbiztonságosabban tartja
Hogyan működik?
A TL-ER6020 SafeStream gigabites dual WAN-os VPN router a TP-LINK-től kiváló adatfeldolgozási képességgel és több erőteljes funkcióval rendelkezik, többek között az IPsec/PPTP/L2TP VPN, Load Balance, hozzáférés-szabályozás, IM/P2P blokkolás, DoS elleni védelem, sávszélesség-felügyelet, korlátozott idő, PPPoE-szerver és így tovább, ami rendkívül nagy mértékben találkozik a kis-és középvállalkozások, szállodák és közösségek nagy mennyiségű felhasználó igényeinek kielégítésével, ami hatékony és könnyen kezelhető hálózatot igényel magas biztonsági szinttel.
Nagyszámú VPN kapcsolat
A TL-ER6020 számos VPN protokollt támogat, többek között IPsec, PPTP és L2TP kliens és szerver módban, de az áthaladó forgalmat is kezeli. Tartalmaz egy beépített hardveres VPN kezelést is, amely lehetővé teszi a routernek, hogy akár 50 LAN-LAN/kliens-LAN IPSec VPN kapcsolatot támogasson és kezeljen. További VPN funkciók közé tartozik: DES/3DES/aes128/AES192/AES256 titkosítás, MD5/SHA1 hitelesítés, manuális/IKE key kezelés, és Main/Aggressive negotiation mód.
Sokféle biztonsági funkció
A külső támadásokkal szemben védelemként a TL-ER6020 egy automatikus védelemmel rendelkezik, észleli és blokkolja a Denial of Service (DoS) támadásokat, mint TCP/UDP/ICMP Flooding, TCP Scanning, Ping of Death és egyéb kapcsolódó fenyegetéseket. Sőt, ez a router hardveres DMZ portot kínál, amely lehetővé teszi, hogy publikus szervereket is beállítson anélkül, hogy a belső hálózatot kitenné külső fenyegetéseknek. A belső hálózat jobb kezelése érdekében a TL-ER6020 lehetővé teszi a rendszergazdák számára, hogy szabályokat alkossanak, hogy milyen webhelyeket és IM/P2P alkalmazásokat tiltsanak le csupán egy kattintással, és korlátozhatják, hogy mely speciális szolgáltatásokat, mint például FTP, HTTP és SMTP tiltják a személyzetnél.
Sávszélesség optimalizálása
A TL-ER6020 két WAN csatlakozóval rendelkezik, így a router kielégítheti a különböző internetes hozzáférési követelményeket, mindezt egy készülékkel. A load balance funkcióval történhet adatforgalmazás a sávszélesség arányának tekintetében, így minden WAN porton növelheti a kihasználtság arányát többvonalas szélessávú kapcsolatként. Az IP-alapú sávszélesség-szabályozással, az időkorláthoz kötött kapcsolódással a hálózati rendszergazdák rugalmasan kezelhetik a hálózati sávszélességet, így optimalizálhatják a sávszélesség-használatot.
Biztonsági befektetés
Professzionális villámlás elleni védelem technológia célja, hogy megakadályozza az elektromos túlfeszültség bejutását az eszköz belsejébe, ártalmatlanítani földeléssel. Ezt a routert úgy tervezték, hogy megfelelő földelési viszonyok között védelmet nyújtson legfeljebb 4 kV-ig villámlás ellen. Ez azt biztosítja, hogy a hálózati infrastrukturális beruházások a lehető legvédettebbek maradnak továbbra is az anyatermészet egyik legrombolóbb eleme ellen.
Branch Location

TP-Link Omada offers enterprise-level VPN, real-time network monitoring, and quick network troubleshooting to meet the requirements of headquarters and branches.

VPN
Easy management
Network monitoring and troubleshooting
High security
Grupoinfo 24

TP-Link Helps Grupoinfo24 to Build Reliable and Affordable Business Network

Grupoinfo 24

TP-Link Helps Grupoinfo24 to Build Reliable and Affordable Business Network

"TP-Link's products provide us with excellent performance, ease-of-management, and a robust feature set. All the important features that we can expect from a correct networking infrastructure are provided by TP-Link's products, and a wise configuration will permit us to profit from the benefits and security required by each company or case." —Grupoinfo 24
Hardver jellemzők
Szabványok és protokollok
IEEE 802.3, IEEE802.3u, IEEE802.3ab
TCP/IP, DHCP, ICMP, NAT, PPPoE, SNTP, HTTP, DNS, IPsec, PPTP, L2TP
Csatlakozások
2 db gigabites WAN csatlakozó
2 db gigabites LAN csatlakozó
1 db gigabites LAN/DMZ csatlakozó
1 db konzol csatlakozó (RJ-45 RS232)
Hálózati összeköttetés
0BASE-T: UTP 3, 4, 5 kategóriájú kábel (Max. 100 m)
EIA/TIA-568 100Ω STP (Max 100m)
100BASE-TX: UTP 5, 5e kategóriájú kábel (Max. 100 m)
EIA/TIA-568 100Ω STP (Max. 100m)
1000BASE-T: UTP 5, 5e, 6 kategóriájú kábel (Max. 100 m)
Ventilátorok száma
Ventilátor nélküli
Gomb
Reset gomb
Hálózati tápegység
Saját belső tápegység
AC100-240V~50/60Hz input
Flash
32MB
DRAM
DDRIII 256MB
LED
PWR (áram), SYS (rendszer), Link/Act, Speed, WAN, DMZ
Méretek (Sz x Mé x Ma)
294 x 180 x 44 mm (11.6 x 7.1 x 1.7in.)
Működési jellemzők
Egyidejű munkamenet
30000
NAT Throughput
180Mbps
IPsec VPN Throughput (3DES)
80Mbps
Alapfunkciók
WAN kapcsolati típus
Statikus/Dinamikus IP, PPPoE, PPTP, L2TP, Dual Access, optikai kábel
MAC klónozása
Módosítható WAN/LAN/DMZ MAC-cím
DHCP
DHCP-szerver/kliens,
DHCP címfoglalás
Switch beállítások
Port tükrözés
Sebességfelügyelet
Port konfiguráció
VLAN port
IPv6
IPv6 Support
VLAN
802.1Q VLAN, Port VLAN
IPTV
Bridge, Custom
Haladó funkciók
Load Balance
Intelligens load balance
Routing szabályok
Protokolok összekapcsolása
Beugró vonal megadása (időalapon, csatlakozási hiba)
Online detektálás
NAT
One-to-One NAT
Multi-nets NAT
Virtuális szerver, DMZ Host, Port Triggering, UPnP
FTP/H.323/SIP/IPsec/PPTP ALG
Routing
Statikus routing
Dinamikus routing (RIP v1/v2)
Rendszer üzemmódja
NAT, Non-NAT, klasszikus routing
Forgalomvezérlés
IP-alapú sávszélesség-felügyelet
Garantált és korlátozott sávszélesség
Időkeret használata
IP-alapú időkorlát
TOVÁBBTÁS
Load Balance
Intelligent Load BalanceLink Backup (Timing, Failover)Online Detection
NAT
One-to-One NATMulti-nets NATVirtual ServerPort TriggeringFTP/H.323/SIP/IPsec/PPTP ALGUPnP
Routing
Static RoutingPolicy Routing
Felhasználási korlátozás
IP-based Session Limit
Sávszélesség-korlátozás
IP-based Bandwidth Control
VPN
IPsec VPN
50 IPsec VPN csatorna
LAN-LAN, Ügyfél-LAN
Main/Aggressive negotiation mód
DES, 3DES, AES128, AES192, AES256 titkosítási algoritmus
MD5, SHA1 engedélyező algoritmus
Manuális/IKE Key Management mód
IPsec NAT Traversal (NAT-T)
Dead Peer észlelés (DPD)
Perfect Forward Secrecy (PFS)
PPTP VPN
16 PPTP VPN csatorna
PPTP VPN-szerver/kliens
PPTP MPPE titkosítással
L2TP VPN
16 L2TP VPN csatorna
L2TP VPN-szerver/kliens
L2TP over IPsec
VPN Pass-through
IPsec (ESP), PPTP, L2TP
Biztonság
DMZ Port
1 db alaplapi DMZ port
Alkalmazásfelügyelet
IM, P2P, Web IM, Web SNS, Web Media, Protokol, Proxy blokkolás
Szűrés
MAC-szűrés
URL/kulcsszavas szűrés
Webes tartalom szűrése (Java, ActiveX, sütik)
ARP-s támadás elleni védelem
GARP csomagok küldése
WAN/LAN-on ARP szkennelés
IP-MAC összekapcsolás
Hálózati támadások elleni védelem
TCP/UDP/ICMP Flood védelem
TCP Scan blokkolás (Stealth FIN/Xmas/Null)
Wan-ról pingelés blokkolása
Hozzáférés-vezérlés
Source/Destination IP Based Access Control
HITELESÍTÉS
Webes hitelesítés
Local User Authentication,Radius Sever Authentication,Onekey Online
Vezérlés
Szolgáltatás
PPoE-szerver
E-Bulletin
Dinamikus DNS (Dyndns, No-IP, Peanuthull, Comexe)
Kezelés
Webes/CLI/Telnet vezérlési felület
Távoli vezérlés
Kofigurálás elmentése/beillesztése
NTP szinkron
Syslog
Egyéb jellemzők
Tanúsítványok
CE, FCC, RoHS
Csomagolás tartalma
TL-ER6020
Telepítési segéd CD
Tápkábel
Földelú kábel
Rack-szerelési készlet
Telepítési útmutató
Rendszerkövetelmény
Microsoft® Windows® 98SE, NT, 2000, XP, Vista™ vagy Windows 7, MAC® OS, NetWare®, UNIX® vagy Linux
Környezet
Működési hőmérséklet: 0℃~40℃ (32℉~104℉)
Tárolási hőmérséklet: -40℃~70℃ (-40℉~158℉)
Működési páratartalom: 10%~90% változatlan halmazállapot
Tárolási páratartalom: 5%~90% változatlan halmazállapot
From United States?
Get products, events and services for your region.