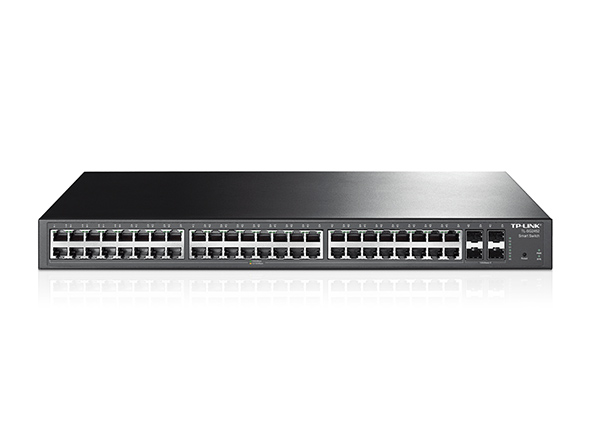 48 portos gigabites smart switch + 4 db SFP csatlakozóval
Gigabites csatlakozás minden porton, teljes adatátviteli sebességet nyújtva.
Beépített biztonsági megoldások, mint 802.1Q VLAN, Port biztonság, Storm felügyelet segít vezetéken védelmezni a hálózatot
L2/L3/L4 QoS és az IGMP-snooping a hang- és videó alkalmazások forgalmát optimalizálja
WEB/CLI vezérlési mód, SNMP, RMON nagyszámú vezérlési jellemzőket kínál
Működés
A TP-LINK gigabites smart switch, a TL-SG2452 48 db gigabites RJ-45 porttal rendelkezik. A switch nagy teljesítményt, vállalati szintű QoS-t, fejlett biztonsági stratégiákat és gazdag Layer 2 funkciót kínál.
A TP-LINK gigabit Smart Switch, a TL-SG2452 egy olyan termék, ami a kis- és közép vállalkozások számára kínál költséghatékony megoldást. A TL-SG2452 hasznos biztonsági megoldásokat használ. A Storm felügyelet véd a Broadcast, Multicast és az ismeretlen unicast zavarok ellen. A Quality of Service (QoS, L2-L4) további forgalomvezérlési lehetőségeket kínál az adatok zökkenőmentesebb és gyorsabb forgalmazásához. A könnyen kezelhető webes kezelőfelület, valamint a SNMP és RMON gyorsabb telepítési és konfigurálási, de kevesebb állásidőt jelent. Azoknak a munkacsoportoknak és osztályoknak, amik költségérzékeny Layer 2 switch és gigabites képességet igényelnek, a TP-LINK gigabites smart Switch-e, a TL-SG2452 ideális hozzáférési megoldást nyújt.
Továbbfejlesztett QoS
Hang, adat és videó szolgáltatás integrálása a hálózatba a switch gazdag QoS szabályozása révén lehetséges. A rendszergazda kijelölheti forgalom alapján a prioritást a különböző eszközöknek, beleértve a Port prioritást, 802.1P prioritást és a DSCP prioritást, így a hang és videó mindig tiszta, sima és torzulásmentes lesz. Együtt a Voice VLAN-nal, amit a switch támogat, a hang alkalmazások sokkal simábban működnek.
Sokrétű Layer 2 funkciók
A Layer 2 switchek, mint a TL-SG2452 több felhasználási lehetőséget is támogatnak, felsorakoztatva a teljes Layer 2 funkciókat, köztük a 802.1Q VLAN taget, port izolációt, port tükrözést, STP / RSTP / MSTP-t, Link Aggregation Groupot és a 802.3x Flow Controlt. A switch fejlett funkciókat biztosít a hálózat karbantartásához is. Ilyen a Loop Back Detection, a kábeldiagnosztika és az IGMP-Snooping. Az IGMP-snooping biztosítja, hogy a switch intelligensen továbbítsa a multicast adatfolyamot csak az arra jogosult eszközöknek, miközben IGMP elutasít minden olyan port szintű csatlakozást, ami illetéktelen hozzáférés lenne.
Vállalati szintű vezérlés
A TL-SG2452-öt könnyű használni és vezérelni. Támogatja a különböző felhasználóbarát megszokott kezelési funkciókat, mint például a web alapú grafikus felhasználói felület (GUI), vagy az SNMP (v1/2/3) és RMON, amik támogatása lehetővé teszi a switch-nek, hogy értékes státusz információkat kérdezzen le, és riasztást küldjön az abnormális eseményekről.
Hardver jellemzők
Szabványok és protokollok
IEEE 802.3i, IEEE 802.3u, IEEE 802.3ab, IEEE802.3z,
IEEE 802.3ad, IEEE 802.3x, IEEE 802.1d, IEEE 802.1s,
IEEE 802.1w, IEEE 802.1q, IEEE 802.1p
Csatlakozások
48 db 10/100/1000 Mbps RJ-45 csatlakozó
(Auto Negotiation/Auto MDI/MDIX)
4 db gigabites SFP csatlakozó

Hálózati összeköttetés
10BASE-T: UTP 3, 4, 5 kategóriájú kábel (Max. 100 m)
100BASE-TX/1000BASE-T: UTP 5, 5e vagy magasabb kategóriájú kábel (Max. 100 m)
100BASE-X: MMF, SMF
1000BASE-X: MMF, SMF
Ventilátorok száma
2
Hálózati tápegység
100~240VAC, 50/60Hz
Energiafelvétel
Maximum: 40,1 W (220V/50Hz)
Méretek (Sz x Mé x Ma)
440 x 260 x 44 mm (17.32 x 10.2 x 1.73 in.)
Működési jellemzők
Sávszélesség/Backplane
104 Gbps
Csomagtovábbítási sebesség
77,4 Mpps
Fizikai (MAC) cím tábla
8k
Jumbo Frame
10240 Bytes
Szoftver jellemzők
QoS (szolgáltatás minősége)
Támogatott a 802.1p CoS/DSCP prioritás
Támogatott a 4 prioritás sor
Sorbaállítás: SP, WRR, SP+WRR
Port- és adatmennyiségű alapú szabályozás
Voice (hang) VLAN
L2 jellemzők
IGMP Snooping V1/V2/V3
802.3ad LACP (Max. 6 egyesített csoport, 4 port csoportonként)
Spanning Tree STP/RSTP/MSTP
BPDU Filtering/Guard
TC/Root Protect
Loop back detection
802.3x Flow Control
VLAN
Támogatott max. 512 VLAN egyidejűleg

Hozzáférés-jogosultsági lista (ACL)
L2~L4 csomagszűrés forrás és cél Mac/IP-cím, TCP/UDP port szűrés alapján
Biztonság
SSH v1/v2
SSL v2/v3/TLSv1
Port biztonság
Broadcast/Multicast/Unknown-unicast Broadcast Storm felügyelet
Vezérlés
Web-alapú GUI és CLI vezérlés
SNMP v1/v2c/v3, kompatibilis a publikus MIB-vel és a TP-LINK private MIB-vel
RMON (1, 2, 3, 9 csoport)
CPU Monitoring
Port Mirroring
Firmware frissítés: TFTP & Web
System Diagnózis: VCT
SYSLOG & Public MIBS
Egyéb jellemzők
Tanúsítványok
CE, FCC, RoHS
Csomagolás tartalma
TL-SG2452
Elektromos kábel
Gyorstelepítési útmutató
Telepítő CD
Rackbe szerelési készlet
Gumitalp
Rendszerkövetelmény
Microsoft® Windows® XP, Vista™ vagy Windows 7, Windows 8, MAC® OS, NetWare®, UNIX® vagy Linux
Környezet
Működési hőmérséklet: 0℃~40 ℃ (32 ℉~104℉)
Tárolási hőmérséklet: -40℃~70 ℃ (-40 ℉~158℉)
Működési Páratartalom: 10%~90% változatlan halmazállapot
Tárolási Páratartalom: 5%~90% változatlan halmazállapot
Vélemények

In this review, I'm going to look at the TL-SG2216 switch. The TL-SG2216 shares software with TP-Link's TL-SG2424/TL-SG2452 switch, so this review essentially covers both devices. The key differences between the two switches are a greater number of ports and switching capacity on the TL-SG2424/TL-SG2452.
From United States?
Get products, events and services for your region.