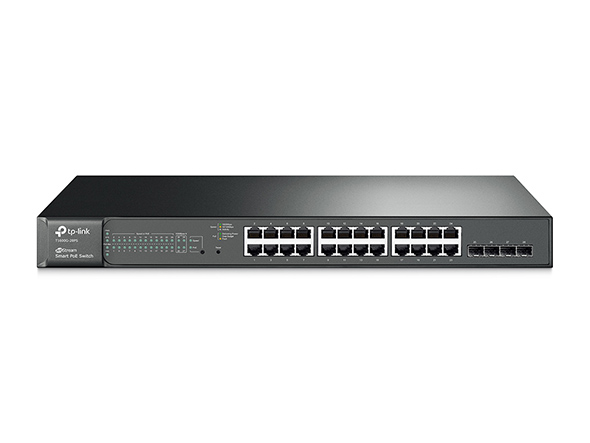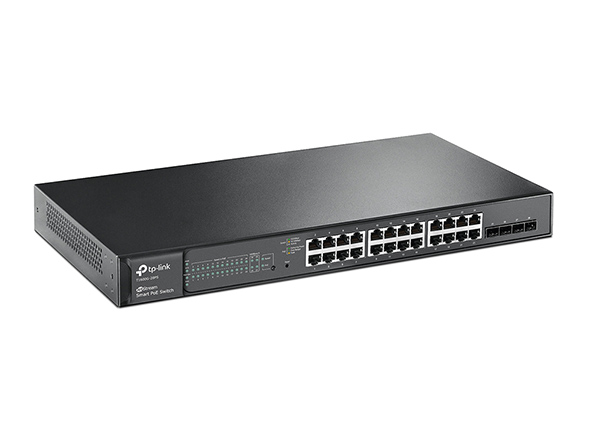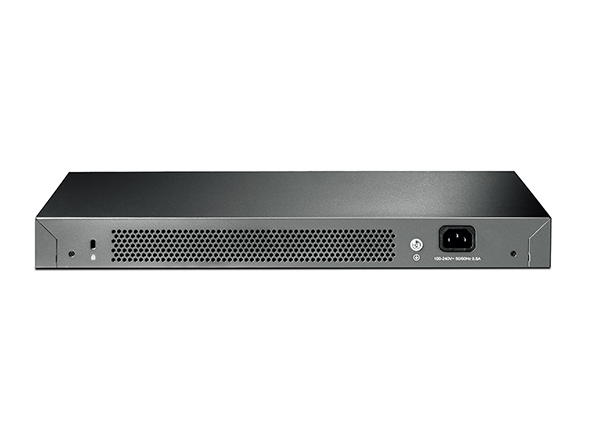 T1600G-28PS (TL-SG2424P)
JetStream 24 portos gigabites Smart PoE+ switch 4 db SFP csatlakozóval
Támogatott mind a 24 db 802.3at/af-kompatibilis PoE+ csatlakozó, amely összesített áramellátása 192W
L2+ funkció - Statikus routing, segíti a belső forgalmi útvonalat a hálózati erőforrások hatékonyabb felhasználása érdekében
IP-MAC-Port összekapcsolás, ACL, Port biztonság, DoS elleni védelem, Storm felügyeletl, DHCP Snooping, 802.1X és Radius hitelesítés kínál erős biztonsági stratégiákat
L2/L3/L4 QoS és IGMP snooping optimalizálja a hang és a videó alkalmazásokat
IPv6 támogatás kettős IPv4 / IPv6 stack, MLD-snooping, IPv6 felderítés
WEB/CLI vezérlési mód, SNMP, RMON széles vezérlési funkciókat nyújt
Működése
A T1600G-28PS 24 db 10/100/1000 Mb/s csatlakozóval rendelkezik, amely támogatja 802.3at/af-kompatibilis PoE-t, a teljes PoE tápellátás, ami akár 192W is lehet, elég erős és rugalmas ahhoz, hogy a felhasználók üzembe helyezhessenek vezeték nélküli Access Pointokat vagy IP-alapú hálózati biztonsági kamerákat. A switch 4 db gigabites SFP bővítőhellyel is rendelkezik, növelve a hálózat rugalmasságát. Ezen túlmenően nagy teljesítményű L2 és L2+ vezérlési funkciókat kínál mint statikus routing, vállalati szintű QoS és hasznos biztonsági stratégiák.
Statikus routing segíti a belső forgalmi útvonalat a hálózati erőforrások hatékonyabb felhasználása érdekében. A Storm felügyelet véd a Broadcast, Multicast és az ismeretlen unicast zavarok ellen. A 802.1X és a Radius hitelesítés lehetővé teszi, hogy a hálózati klienst külső Radius szerver(ek)en keresztül engedélyezzék. Quality of Service (QoS, L2-L4) további forgalomvezérlési lehetőségeket kínál az adatok zökkenőmentesebb és gyorsabb forgalmazásához. A könnyen kezelhető webes kezelőfelület, valamint a SNMP, RMON és a kettős megjelenítés gyorsabb telepítési és konfigurálási, de kevesebb állásidőt jelent. Mindezekkel a fejlett jellemzőkkel JetStream gigabites smart PoE+ T1600G-28PS switch ideális választás projekteknek és üzleti hálózatoknak, akiknek szükséges a PoE funkció.
IEEE 802.3at/af-kompatibilis Power over Ethernet
A T1600G-28PS 24 db 10/100/1000 Mb/s csatlakozóval rendelkezik, amely támogatja 802.3at/af-kompatibilis PoE-t, a teljes PoE tápellátással, 192W-tal bármilyen 802.3at/af kompatibilis hálózati eszköznek áramforáása lehet. A T1600G-28PS ideális, hogy rugalmasan használhassa a PoE-t vezeték nélküli Access Point vagy IP-alapú hálózati megfigyelő kamera elhelyezéséhez területenként vagy kisvállalati hálózatokhoz.
Sokrétű L2 és L2+ funkciók
A T1600G-28PS gazdag L2 funkciókat támogat, beleértve a 802.1Q VLAN tag, port tükrözés, STP / RSTP / MSTP, Link Aggregation Control Protocol és a 802.3x Flow Control funkciókat. Ezen túlmenően a switch fejlett funkciókat biztosít a hálózat karbantartásához is, mint pl. mint a Loop Back Detection, a kábeldiagnosztika és az IGMP-Snooping. Az IGMP Snooping biztosítja, hogy a switch intelligensen továbbítsa a multicast adatfolyamot csak az arra jogosult eszközöknek, miközben az IGMP elutasít minden olyan port szintű csatlakozást, ami illetéktelen hozzáférés lenne. Sőt, a T1600G-28PS támogatja az L2+ funkciót - statikus routingot, amely egy egyszerű módja annak, hogy szegmentálódjon a hálózat egy belső routinggal a switchen keresztül, ami segíti a hálózati forgalmat hatékonyabban felhasználni.
Védett hálózat
A T1600G-28PS támogatja IP-MAC-Port összekapcsolást, Port biztonságot, Storm vezérlést, DHCP-snoopingot, amelyek védelmet nyújtanak a továbbítási zavarok, ARP, stb. ellen. Ezen kívül az Access Control List (ACL, L2-L4) korlátozza a hozzáférést az érzékeny hálózati erőforrásokhoz, elutasítva a forrás és cél MAC-cím, IP-cím, TCP / UDP port, de még a VLAN ID alapján is. Sőt, a switch támogatja a 802.1X-t, mely lehetővé teszi a klienseknek, hogy egy külső RADIUS kiszolgálón keresztül kapjanak engedélyt a hálózat hozzáféréséhez. A vendég VLAN támogatja, hogy a nem-802.1X ügyfelek is elérhessenek meghatározott hálózati erőforrásokat.
Fejlett QoS
Hang, adat és videó szolgáltatás integrálása a hálózatba a switch gazdag QoS szabályozása révén lehetséges. A rendszergazda kijelölheti forgalom alapján a prioritást a különböző eszközöknek, beleértve a Port prioritást, 802.1P prioritást és a DSCP prioritást, így a hang és videó mindig tiszta, sima és torzulásmentes lesz.
Vállalati szintű vezérlés
A T1600G-28PS-t könnyű használni és vezérelni. Támogatja a különböző felhasználóbarát megszokott kezelési funkciókat, mint a web alapú grafikus felhasználói felület (GUI), vagy a szabványos parancssori felület (CLI), az SNMP (v1/2/3) és az RMON támogatás lehetővé teszi a switch-nek, hogy értékes státusz információkat kérdezzen le, és riasztást küldjön az abnormális eseményekről. Átfogó IPv6 támogatási vezérlés zökkenőmentes átállást biztosít az IPv6-alapú hálózatra. Mindemellett támogatja a kettős megjelenítést is, amely így lehetővé teszi az alacsonyabb leállási időt a switcheknél, amikor az image fájlt éppen fel- vagy lefele frissítik.
Hospitality

TP-Link Omada allows hotels to build reliable WiFi networks. Hotel WiFi network solutions including network topology, design, features, installation, and products are introduced.

Full WiFi coverage and wired connections
Flexible guest control
Seamless roaming
Easy Management

Education

Due to its reliable, scalable, and secure network solution, TP-Link has been widely acknowledged by global customers in the Education market ranging from infant schools with a few APs up to colleges and universities with hundreds of APs.

Easy management
High-density WiFi
Full WiFi coverage and wired connections
VPN and security

Switches for Business WiFi

For small and medium-sized businesses, a network switch is the fundamental component to build their business network. TP-Link offers an extensive portfolio of network switches with abundant functions and flexible options for every stage of your business growth.

High-Speed Wired LAN Network
Manage with Ease
Abundant Security Strategies
Lower Yours Costs
Comprehensive Products
Hardver jellemzők
Szabványok és protokollok
IEEE 802.3i, IEEE 802.3u, IEEE 802.3ab, IEEE802.3z, IEEE 802.3ad, IEEE 802.3x, IEEE 802.3az, IEEE 802.1d, IEEE 802.1s, IEEE 802.1w, IEEE 802.1q, IEEE 802.1p, IEEE 802.1x
Csatlakozások
24 db 10/100/1000 Mb/s RJ45 csatlakozó(Auto Negotiation/Auto MDI/MDIX)4 db gigabites 100/1000 Mb/s SFP csatlakozó
Hálózati összeköttetés
10BASE-T: UTP 3, 4, 5 kategóriájú kábel (Max. 100 m)100BASE-TX/1000BASE-T: UTP 5, 5e vagy magasabb kategóriájú kábel (Max. 100 m)1000BASE-X: MMF, SMF
Ventilátorok száma
2
Energiafelvétel
Maximum (PoE-val): 264,8W (220V/50Hz)Maximum (PoE nélkül): 28,2W (220V/50Hz)
PoE+ portok (RJ45)
Szabványos: 802.3at/af kompatibilisPoE+ csatlakozók: 24 dbTápellátás: 192W
Méretek (Sz x Mé x Ma)
440 x 220 x 44 mm (17.32 x 8.7 x 1.73 in.)
Felszerelés
Rack Mountable
Max. áramfelvétel
30.77W (110V/60Hz with no PD connected)235.8W (110V/60Hz with 192W PD connected)
Max Heat Dissipation
104.99 BTU/h (with no PD connected)804.55 BTU/h (with 192W PD connected)
Működési jellemzők
Sávszélesség/Backplane
56 Gb/s
Csomagtovábbítási sebesség
41,7 Mpps
Fizikai (MAC) cím tábla
8K
Jumbo Frame
9KB
Szoftver jellemzők
QoS (szolgáltatás minősége)
Támogatott a 802.1p CoS/DSCP prioritásTámogatott a 8 prioritás sorSorbaállítás: SP, WRR, SP+WRRPort- és adatmennyiségű alapú szabályozásIPv6 QoS*Hang (voice) VLAN
L2 és L2+ jellemzők
Statikus Routing
DHCP Relay
IGMP Snooping V1/V2/V3
802.3ad LACP (Max. 14 egyesített csoport, 8 port csoportonként)
Spanning Tree STP/RSTP/MSTP
BPDU Filtering/Guard
TC/Root Protect
Loop back észlelés
802.3x Flow Control
LLDP, LLDP-MED
VLAN
Támogatott max. 4k VLAN egyidejűlegMAC/Protokoll-alapú VLAN
Hozzáférés-jogosultsági lista (ACL)
L2~L4 csomagszűrés forrás és cél Mac/IP-cím, TCP/UDP port szűrés alapjánIPv6 ACL*
Biztonság
AAA
Port biztonság
DHCP Snooping
IP-MAC-Port összekapcsolás
ARP vizsgálat
802.1x és RADIUS hitelesítés
SSH v1/v2
SSL v2/v3/TLSv1
Broadcast/Multicast/Unknown-unicast Broadcast Storm felügyelet
DoS elleni védelem
IPv6
Kettős IPv4/IPv6Multicast Listener Discovery (MLD) SnoopingIPv6 környezet felderítés (ND)Path maximum transmission unit (MTU) felderítésInternet Control Message Protocol (ICMP) v6TCPv6/UDPv6
IPv6 alkalmazás
DHCPv6 Client
Ping6
Tracert6
Telnet (v6)
IPv6 SNMP
IPv6 SSH
IPv6 SSL
Http/Https
IPv6 TFTP
Vezérlés
Web-alapú GUI és CLI vezérlés
SNMP v1/v2c/v3, kompatibilis a publikus MIB-vel és
a TP-LINK private MIB-vel
RMON (1, 2, 3, 9 csoport)
CPU Monitoring
Port Mirroring
Firmware frissítés: TFTP & Web
Rendszeriagnózis: VCT
SYSLOG & Public MIBS
Kettős megjelenítés
Egyéb jellemzők
Tanúsítványok
CE, FCC, RoHS
Csomagolás tartalma
T1600G-28PSElektromos kábelGyorstelepítési útmutatóTelepítő CDRackbe szerelési készletGumitalp
Rendszerkövetelmény
Microsoft® Windows® 98SE, NT, 2000, XP, Vista™, Windows 7 vagy Windows 8, MAC® OS, NetWare®, UNIX® vagy Linux
Környezet
Működési hőmérséklet: 0℃~40℃ (32℉~104℉)
Tárolási hőmérséklet: -40℃~70℃ (-40℉~158℉)
Működési Páratartalom: 10%~90% változatlan halmazállapot
Tárolási Páratartalom: 5%~90% változatlan halmazállapot
From United States?
Get products, events and services for your region.