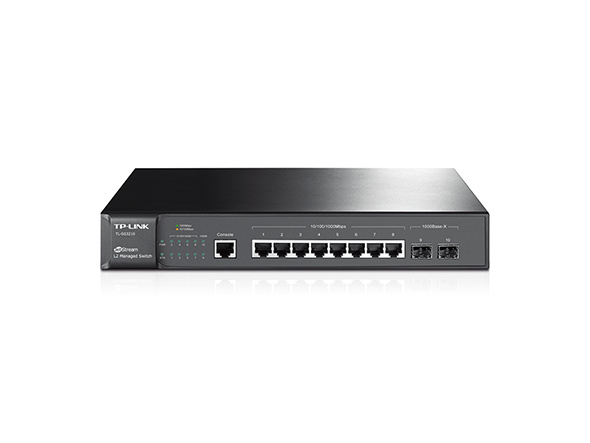 JetStream 8 portos gigabites L2 vezérelhető switch 2 db SFP csatlakozóval
IP-MAC-Port-VID összekapcsolás, ACL, Port biztonság, DOS elleni védelem, Storm felügyelet, DHCP- Snooping, 802.1x hitelesítés és rádiusz nyújt sokrétű biztonsági lehetőséget
L2/L3/L4 QoS és az IGMP-snooping a hang- és videó alkalmazások forgalmát optimalizálja
WEB/CLI vezérlési mód, SNMP, RMON nagyszámú vezérlési jellemzőket kínál
Áttekintés
A TP-LINK JetStream gigabites L2 menedzselhető switch, a TL-SG3210 10 db 10/100/1000Mbps portokkal rendelkezik. A switch nagy teljesítményt, vállalati szintű QoS-t fejlett biztonsági stratégiákat és gazdag Layer 2 funkciót kínál. Sőt, a switchnek 2 db gigabites SFP csatlakozója is van, így adva nagyobb hálózati rugalmasságot. A TL-SG3210 ideális költséghatékony üzleti megoldás kis- és közepes vállalkozások számára.
TL-SG3210 robusztus biztonsági és menedzsment funkcióval rendelkezik. Az IP-MAC-Port-VID összekapcsolás és Access Control List (ACL) funkciók védenek a továbbítási zavarok, ARP és DoS támadások, stb. ellen. Quality of Service (QoS, L2-L4) további forgalomvezérlési lehetőségeket kínál az adatok zökkenőmentesebb és gyorsabb forgalmazásához. A könnyen kezelhető webes kezelőfelület, valamint a CLI, SNMP és RMON gyorsabb telepítési és konfigurálási, de kevesebb állásidőt jelent. Azoknak a munkacsoportoknak és osztályoknak, amik költségérzékeny Layer 2 switch és gigabites képességet igényelnek, a TP-LINK JetStream L2 menedzselhető Switch-je, a TL-SG3210 ideális hozzáférési megoldást nyújt.
Biztonságos hálózat
Ez a TP-LINK TL-SG3210 IP-MAC-Port-VID összekapcsolást, Port biztonságot, Storm vezérlést, DHCP-snoopingot nyújt, amelyek védelmet adnak a továbbítási zavarok, ARP, stb. ellen. Ami a DoS elleni védelmet illeti, néhány tipikus DoS támadási típust már előre kiválaszthat. Ezekkel a támadásokkal szemben sokkal könnyebben védekezhet, mint korábban. Ezen kívül az Access Control List (ACL, L2-L4) korlátozza a hozzáférést az érzékeny hálózati erőforrásokhoz, elutasítva a forrás és cél MAC-cím, IP-cím, TCP / UDP port, de még a VLAN ID csomagokat is. Sőt, a switch támogatja a 802.1X hitelesítést, mellyel együtt a RADIUS kiszolgáló igényel némi hitelesítési információt, mielőtt a hálózati hozzáférést engedélyezi. A vendég VLAN támogatja, hogy a nem-802.1X ügyfelek is elérhessenek meghatározott hálózati erőforrásokat.
Továbbfejlesztett QoS
Hang, adat és videó szolgáltatás integrálása a hálózatba a switch gazdag QoS szabályozása révén lehetséges. A rendszergazda kijelölheti forgalom alapján a prioritást a különböző eszközöknek, beleértve az IP vagy MAC címnek, TCP vagy UDP portnak, stb, így a hang és videó mindig tiszta, sima és torzulásmentes lesz. Együtt a Voice VLAN-nal, amit a switch támogat, a hang alkalmazások sokkal simábban működnek.
Sokrétű Layer 2 funkciók
A Layer 2 switchek, mint a TL-SG3210 is, több felhasználási lehetőséget is támogatnak, felsorakoztatva a teljes Layer 2 funkciókat, köztük a 802.1Q VLAN taget, port izolációt, port tükrözést, STP / RSTP / MSTP-t, LACP-t (Link Aggregation Control Protocol) és a 802.3x Flow Controlt. A switch fejlett funkciókat biztosít a hálózat karbantartásához is. Ilyen a Loop Back Detection, a kábeldiagnosztika és az IGMP-Snooping. Az IGMP-snooping biztosítja, hogy a switch intelligensen eljuttassa a multicast adatfolyamot az arra jogosult eszközöknek, miközben az IGMP elutasít minden olyan port-szintű csatlakozást, ami illetéktelen hozzáférés lenne.
Vállalati szintű vezérlés
TL-SG3210-et könnyű használni és vezérelni. Támogatja a különböző felhasználóbarát, megszokott kezelési funkciókat, mint például a web alapú grafikus felhasználói felület (GUI), vagy a szabványos parancssori felület (CLI), illetve egyes adatforgalmak védhetőek SSL vagy SSH titkosítással. Az SNMP (v1/2/3) és RMON támogatás lehetővé teszi a switch-nek, hogy értékes státusz információkat kérdezzen le, és riasztást küldjön az abnormális eseményekről. Ezek a létfontosságú felügyeleti információk időt és pénzt takarítanak meg. Ezen túlmenően beépített NDP/NTDP protokolljával a switch támogatja, hogy vezérelhető legyen IP-klaszteren keresztül könnyedén.
Grupoinfo 24

TP-Link Helps Grupoinfo24 to Build Reliable and Affordable Business Network

Grupoinfo 24

TP-Link Helps Grupoinfo24 to Build Reliable and Affordable Business Network

"TP-Link's products provide us with excellent performance, ease-of-management, and a robust feature set. All the important features that we can expect from a correct networking infrastructure are provided by TP-Link's products, and a wise configuration will permit us to profit from the benefits and security required by each company or case." —Grupoinfo 24
Hardver jellemzők
Szabványok és protokollok
IEEE 802.3i,IEEE 802.3u,IEEE 802.3ab,IEEE802.3z,IEEE 802.3ad,
IEEE 802.3x,IEEE 802.1d,IEEE 802.1s,IEEE 802.1w,IEEE 802.1q,
IEEE 802.1x,IEEE 802.1p
Csatlakozások
8 db 10/100/1000Mbps RJ-45 csatlakozó
(Auto Negotiation/Auto MDI/MDIX)
2 db 1000 Mbps SFP csatlakozó
1 db konzol port
Hálózati összeköttetés
10BASE-T: UTP 3, 4, 5 kategóriájú kábel (Max. 100 m)
100BASE-TX/1000BASE-T: UTP 5, 5e vagy magasabb kategóriájú kábel (Max. 100 m)
1000BASE-X: MMF, SMF
Ventilátorok száma
Ventilátor nélküli
Hálózati tápegység
100~240VAC, 50/60Hz
Energiafelvétel
Maximum: 10,7 W (220V/50Hz)
Méretek (Sz x Mé x Ma)
294 x 220 x 44 mm (11.6 x 8.7 x 1.73 in.)
Működési jellemzők
Sávszélesség/Backplane
20 Gbps
Csomagtovábbítási sebesség
14,9 Mpps
Fizikai (MAC) cím tábla
8k
Csomag puffer memória
4Mb
Jumbo Frame
10240 Bytes
Szoftver jellemzők
QoS (szolgáltatás minősége)
Támogatott a 802.1p CoS/DSCP prioritás
Támogatott a 4 prioritás sor
Sorbaállítás: SP, WRR, SP+WRR
Port- és adatmennyiségű alapú szabályozás
Voice (hang) VLAN
L2 jellemzők
IGMP Snooping V1/V2/V3
802.3ad LACP (Max. 8 egyesített csoport, 8 port csoportonként)
Spanning Tree STP/RSTP/MSTP
Port izoláció
BPDU Filtering/Guard
TC/Root Protect
Loop back detection
802.3x Flow Control
VLAN
Támogatott max. 4K VLAN egyidejűleg
Port/MAC/Protocol-alapú VLAN
GARP/GVRP
Vezérlő VLAN konfiguráció
Hozzáférés-jogosultsági lista (ACL)
L2~L4 csomagszűrés forrás és cél Mac/IP-cím, TCP/UDP port szűrés alapján, 802.1p,
DSCP, protokoll és VLAN ID
Időkeret alapú
Biztonság
IP-MAC-Port-VID összekapcsolás
IEEE 802.1X Port/MAC alapú hitelesítés, VLAN besorolás, vendég VLAN,
DoS elleni védelem
Dinamikus ARP ellenőrzés (DAI)
SSH v1/v2
SSL v2/v3/TLSv1
Port biztonság
Broadcast/Multicast/Unknown-unicast Broadcast Storm felügyelet
IPv6
Dual IPv4/IPv6 stack
Multicast Listener Discovery (MLD) Snooping
IPv6 neighbor discovery (ND)
Path maximum transmission unit (MTU) discovery
Internet Control Message Protocol (ICMP) version 6
TCPv6/UDPv6
IPv6 alkalmazás
DHCPv6 Client
Ping6
Tracert6
Telnet(v6)
IPv6 SNMP
IPv6 SSH
IPv6 SSL
Http/Https
IPv6 TFTP
Vezérlés
Web-alapú GUI és CLI vezérlés
SNMP v1/v2c/v3, kompatibilis a publikus MIB-vel és a TP-LINK private MIB-vel
RMON (1, 2, 3, 9 csoport)
DHCP/BOOTP Client, DHCP Snooping, DHCP Option82
CPU Monitoring
Port Mirroring
Time megadás: SNTP
Integrált NDP/NTDP jellemzők
Firmware frissítés: TFTP & Web
System Diagnózis: VCT
SYSLOG & Public MIBS
Egyéb jellemzők
Tanúsítványok
CE, FCC, RoHS
Csomagolás tartalma
Switch
Elektromos kábel
Gyorstelepítési útmutató
Telepítő CD
Rackbe szerelési készlet
Gumitalp
Rendszerkövetelmény
Microsoft® Windows® 8, 7,Vista™, XP vagy MAC® OS, NetWare®, UNIX® vagy Linux
Környezet
Működési hőmérséklet: 0℃~40 ℃ (32 ℉~104℉)
Tárolási hőmérséklet: -40℃~70 ℃ (-40 ℉~158℉)
Működési Páratartalom: 10%~90% változatlan halmazállapot
Tárolási Páratartalom: 5%~90% változatlan halmazállapot
From United States?
Get products, events and services for your region.