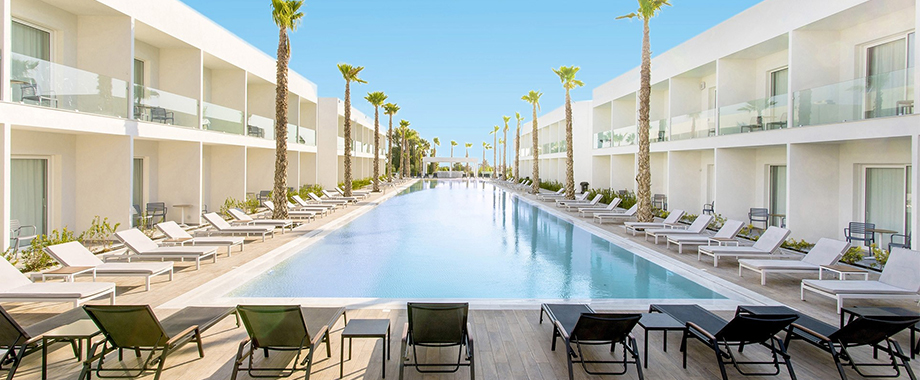 TP-Link Brings Networking Renovation to White Dream Resort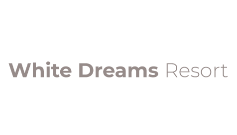 END-CUSTOMER GENERAL PROFILE
Name: White Dreams Resort
Industry: Hospitality
Capacity: 95 Rooms, 33 Junior Suites
Scale: 4-Star Hotel
Location: Profitis Amos, Faliraki, Rhodes Greece
Used Products
• Jetstream Switches
3× T2600G-28MPS(TL-SG3424P)
3× T2600G-28TS(TL-SG3424)
5× TL-SG1005P
1× T1500G-10MPS
• Omada Access Points
3× EAP245
1× EAP225
13× EAP225-Wall
32× EAP225-Outdoor
• Omada Controller
2× OC200
System Integrator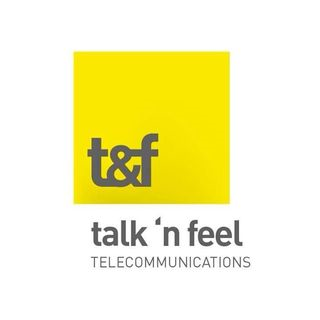 Installer: Talk n Feel – Moustakas Telecommunications
HQ Location: 81 Iraklidon av. Ixia (close to Ialysos area) – Rhodes - Greece
BACKGROUND
White Dreams Resort is situated in a quiet location near Kathara beach. It is 1.5 km from the center of Faliraki, 12 km from the historic town of Rhodes & its main harbor, and just 18km from Diagoras International Airport.
White Dreams Resort has a strong aesthetic that is both contemporary and timeless, coupled with its wooden and inspirational modern design.
The restaurant offers an extensive buffet for breakfast, lunch, and dinner, featuring Greek and International cuisine. The main bar provides a perfect setting for a drink in the afternoon and cocktails in the evening. The pool bar overlooks the swimming pool and is a unique spot for refreshing beverages throughout the day. It features gorgeous sunset views for a drink in the afternoon and cocktails in the evening.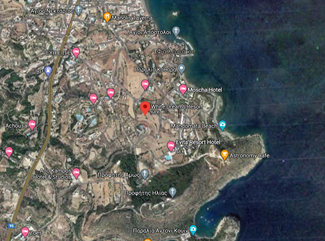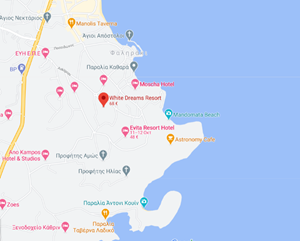 Main Building
24-hour reception
13 junior suites pool view
Spa
Restaurant
Main bar
Around the Hotel
77 superior rooms pool view
18 superior rooms swim up
20 junior suites swim up
2 Swimming pools
Pool bar
Mini Market
Hotel Networking needs, using TP-Link products:
Lobby, Restaurant & Main bar Wi-Fi coverage
80 room areas and pools
80 VoIP/SIP needs (upgrade)
20 PoE recourses for IP-based cameras at the main building
Mini Market Wi-Fi coverage with franchise management
Centralized Access Point Management – via Cloud
CHALLENGE
White Dreams Resort turned to Moustakas Telecommunications & TP-Link Hellas for a reliable networking solution. They needed to resolve the following challenges and fulfill the following corporate requirements for 75% of their business' needs heading into 2019:
Creating a LAN;
Creating different VLANs (with distinct specific QoS) for:

Wi-Fi Corporate usage;
Wi-Fi Guest usage;
Wi-Fi On-Demand usage; and
Telephony usage;

Establish how White Dreams Resort would offer wireless and wired IP Telephony.
Determine how White Dreams Resort would manage the required networking materials, either locally and/or remotely;
Designing three (3) Portal pages for each SSID (Corporate, Guest & On-Demand);
Remote management of Wi-Fi at an internal Mini Market–for franchise usage; and
Providing PoE recourses for IP-based cameras in the main building.
SOLUTION
Talk n Feel – Moustakas Telecommunications and TP-Link Hellas provided a suitable networking solution that met all of the demands outlined by White Dreams Resort. TP-Link's partner implemented the project in conjunction with business-critical Pre-Sales & After-Sales support by TP-Link Hellas.
Backbone Network
For the backbone network, the implemented solution used Fiber Optics and Copper FTP Cat6. It comprised 3 T2600G-28MPS (TL-SG3424P), 3 T2600G-28TS (TL-SG3424), 1 T1500G-10MPS, and 5 TL-SG1005P with the proper GBICs (SFP modules), per kind of Fiber Optic cable. As a topology, the network implemented the "Ring" type and per computer room while also implementing the "In a Row/Bus" connections.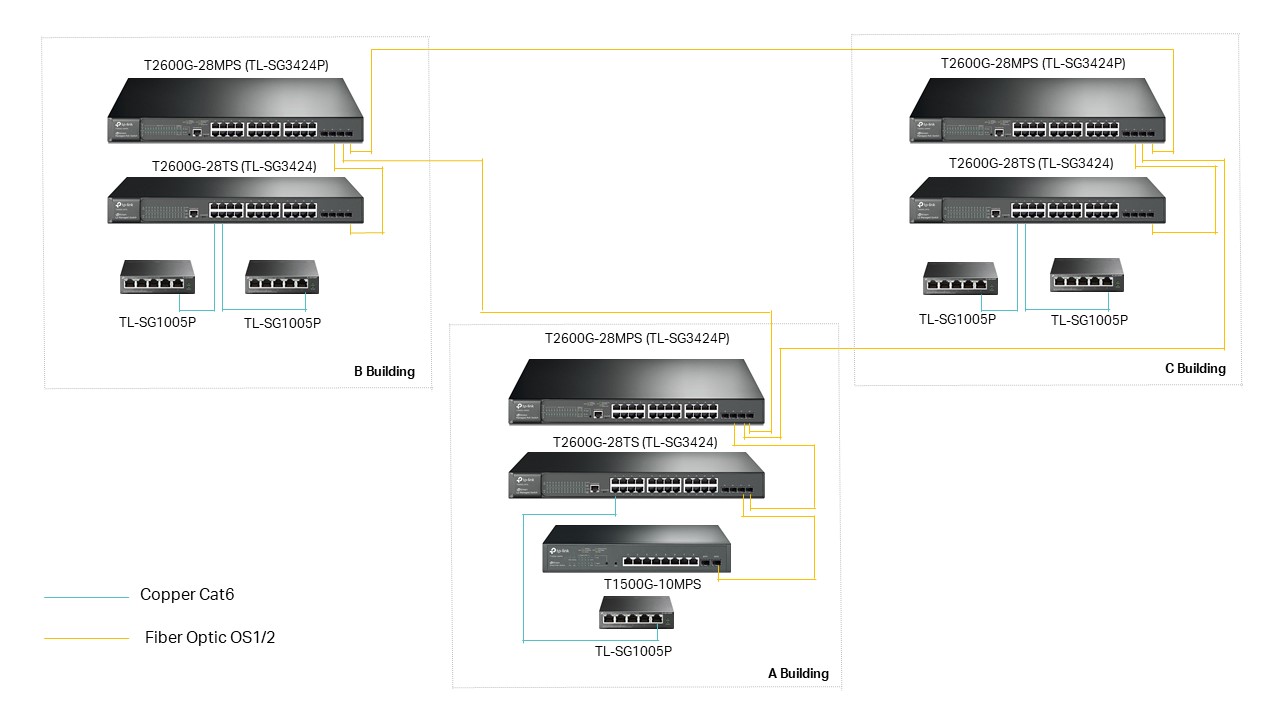 Distributed Network
For the distributed network, the implemented solution was based on Copper cabling (Cat.6 – FTP) and comprised of 1 EAP225, 3 EAP245, 13 EAP225-Wall, and 32 EAP225-Outdoor.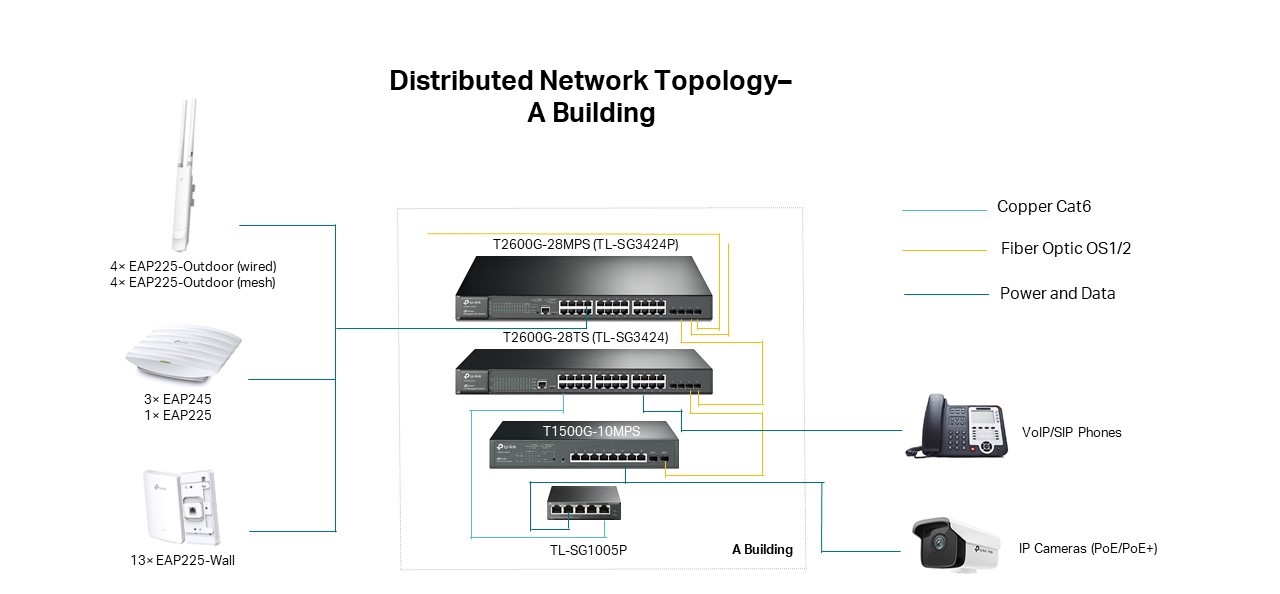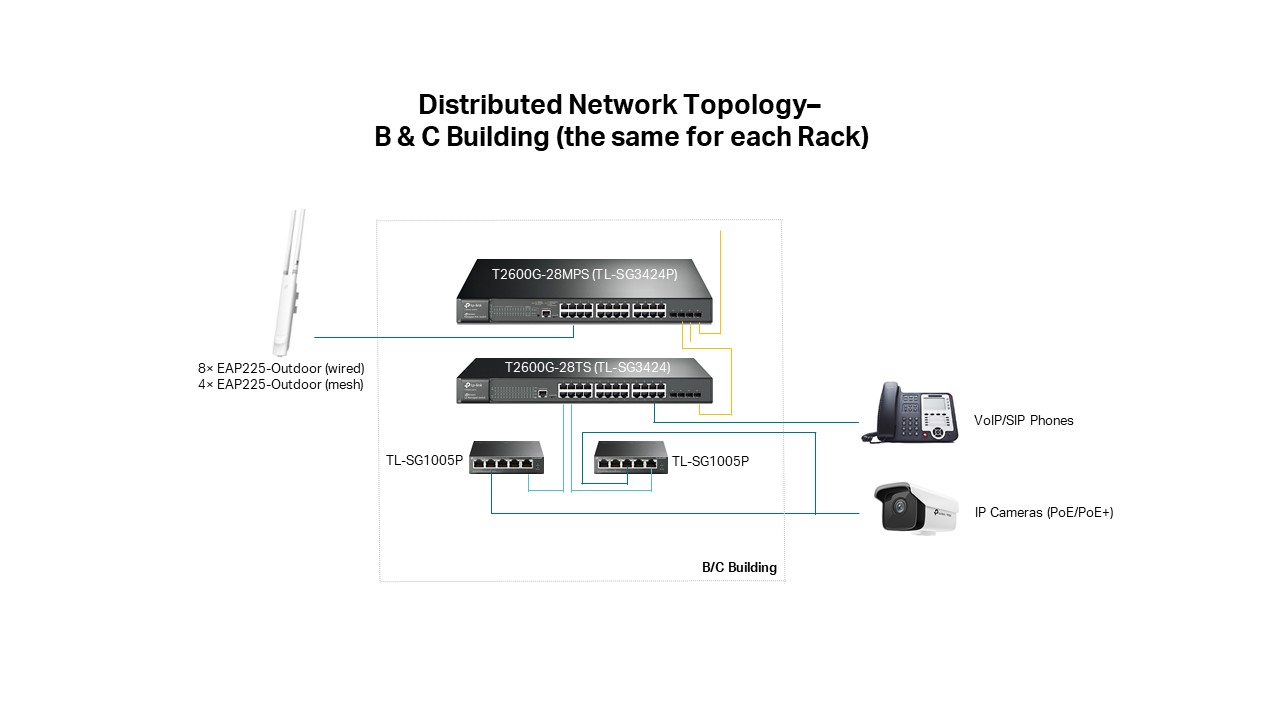 Wi-Fi Network Management
For Wi-Fi network management, the implemented solution was based on TP-Link Cloud services and comprised of 2 OC200. All the related project collaborators use scaled management access via the Omada ecosystem. Moustakas-Telecommunications operates as admin, and the Receptionist uses the "voucher manager" whenever needed).
The 2nd OC200 is controlling the EAP225, which is located in the Mini Market. The admin rights here are only provided to the IT dept of the Mini Market's franchise company. For this area, the Omada Advertisement Prior to Login feature is used.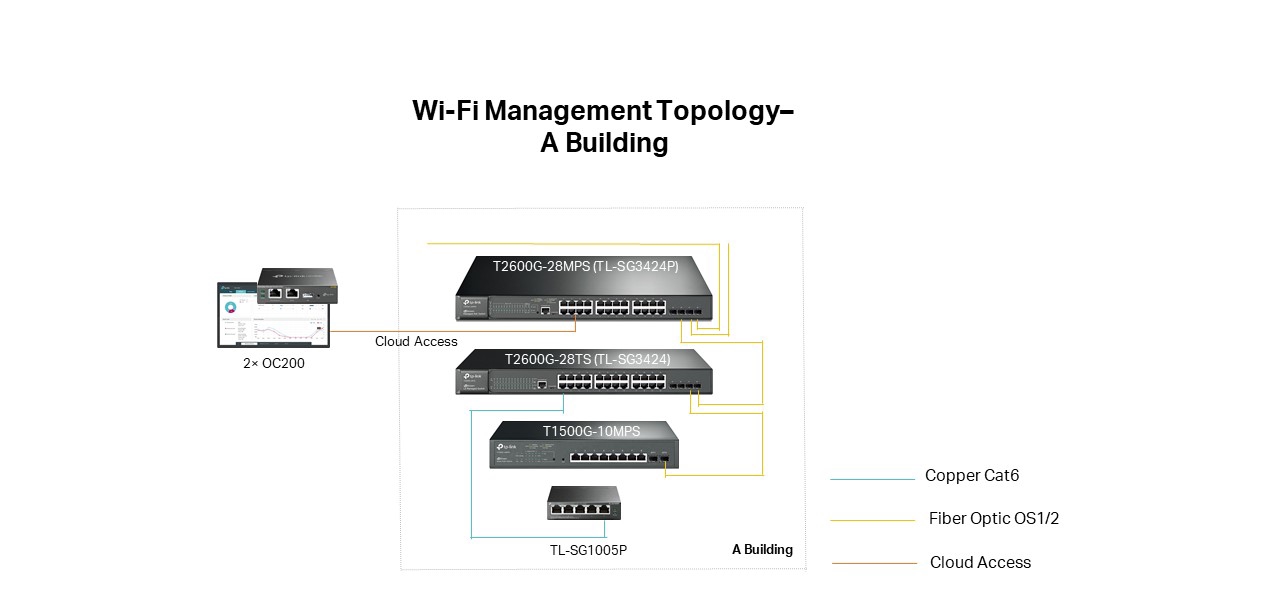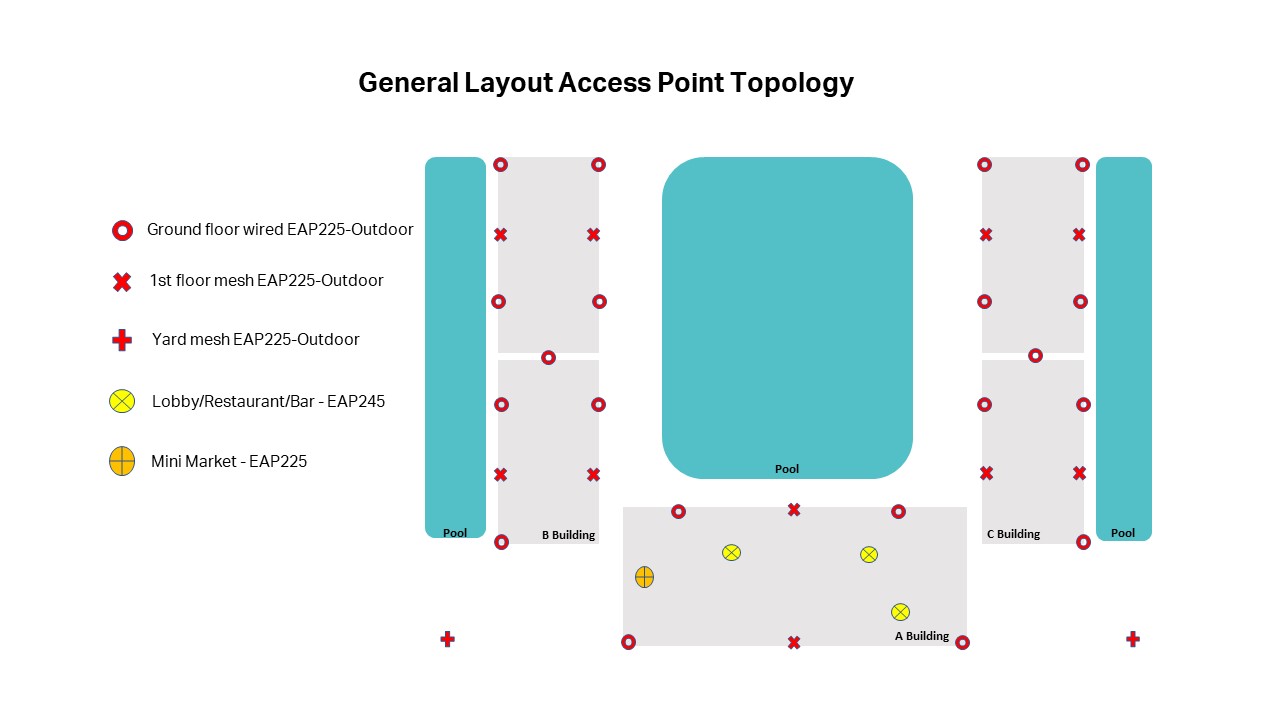 BUSINESS RESULTS
The White Dreams Resort is delighted with the implemented solution. The Omada ecosystem (along with the Jetstream series of switches) has provided the reliable and robust network performance that White Dreams Resort needed. Classic IP networking demands are now taken for granted:
Primary and Secondary Backbone systems' connectivity through Fiber Optics
Standard Wireless Corporate Subnet
Standard Wireless Guest Subnet
On-Demand Wireless Guest Subnet
IP-based Telephony Subnet
IP-based Cameras Subnet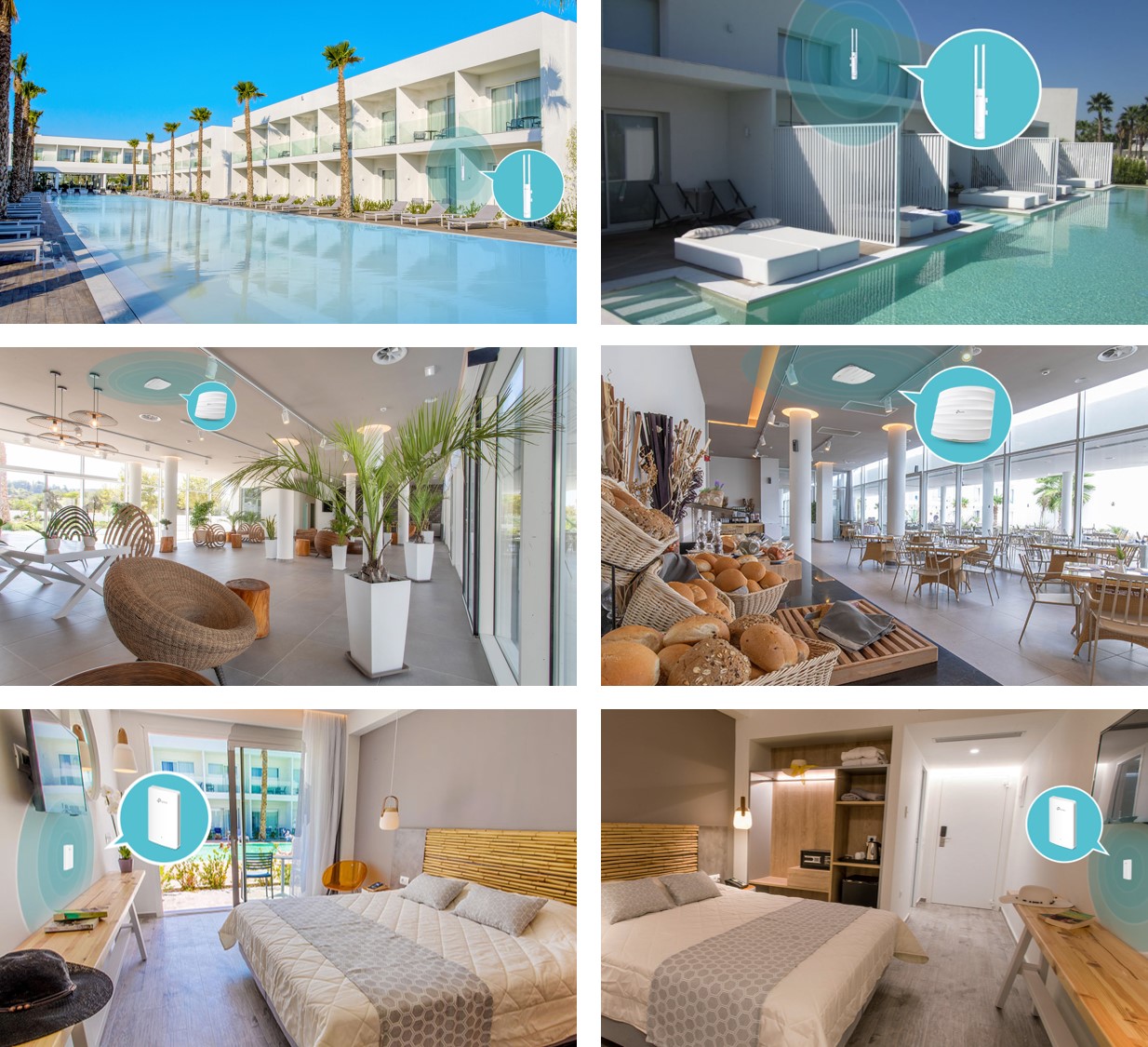 In 2019, we decided to upgrade most of our networking systems. We had checked and conducted research on the performance of TP-Link business solutions at other hotels. We asked for the collaboration of Kostas (Moustakas Telecommunications) and Stamatis (TP-Link Hellas). The result was fantastic. All the comments about our Wi-Fi and telephony services on websites like TripAdvisor, Trivago, and Booking have stopped, and our customers now have an excellent experience. We planned to continue our networking renovation throughout the rest of the hotel into 2020. Unfortunately, the global pandemic situation of COVID-19 didn't allow us to proceed so. We now know how to proceed, and we'll do so at the earliest convenient timeframe.
—PR Manager of White Dreams Resort (2020)
Σχετικά προτεινόμενα προϊόντα
Από United States?
Λάβετε προϊόντα, εκδηλώσεις και υπηρεσίες για την περιοχή σας.