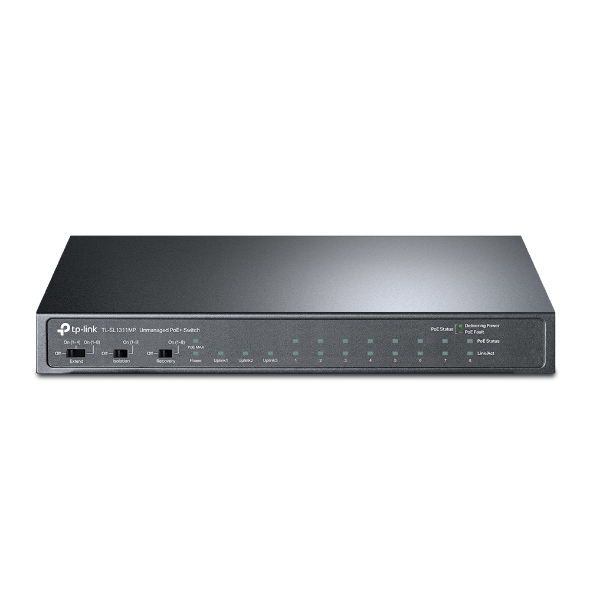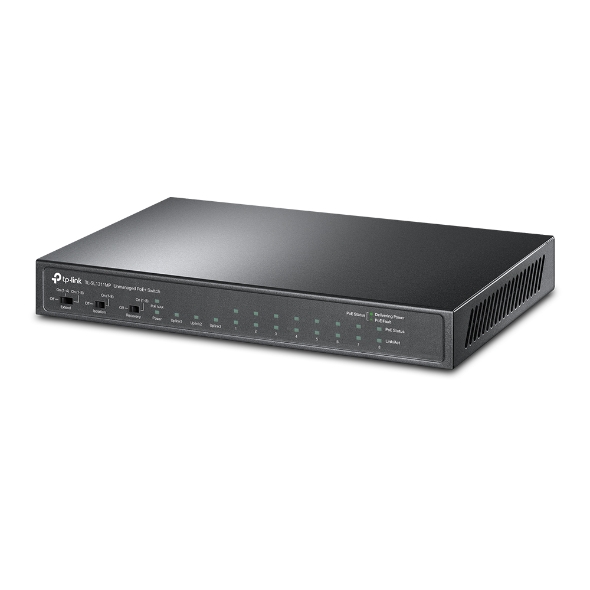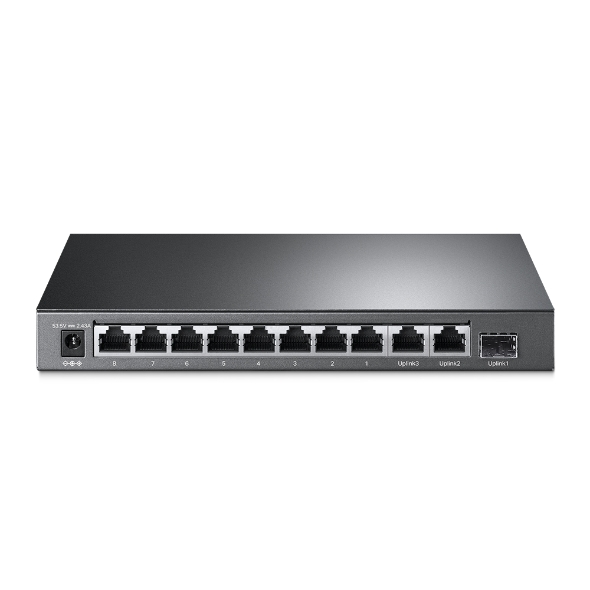 TL-SL1311MP
Prochainement
Switch 3 ports Gigabit dont 1 port SFP ; 8 ports PoE+ Fast Ethernet
8 ports RJ45 10/100 Mbps, 2 ports RJ45 Gigabit, 1 port SFP Gigabit
8 ports PoE+ transfèrent les données et alimentent des câbles individuels
Fonctionne avec les PD compatibles IEEE 802.3af / at
Prend en charge l'alimentation PoE jusqu'à 30W pour chaque port PoE
Prend en charge l'alimentation PoE jusqu'à 124W pour 8 ports PoE*
Jusqu'à 250m de portée de transmission de données et de puissance en mode étendu **
Le mode d'isolation permet une séparation du trafic client en un clic pour une sécurité et des performances accrues
La récupération automatique PoE garantit un fonctionnement stable des appareils PoE en redémarrant automatiquement les appareils PD abandonnés ou qui ne répondent pas
La conception sans ventilateur réduit la consommation d'énergie et fonctionne silencieusement à son emplacement
Plug and play, aucune configuration requise
En savoir plus sur la technologie PoE TP-Link>
Professional 8-Port 10/100Mbps + 3-Port Gigabit Unmanaged Switch with 8 PoE+ Ports
Plug and Play, with PoE Transmission for Surveillance up to 250 m
TL-SL1311MP
Transmission Distance up to 250 m**

Intelligent Power Management
Professional 11-Port Switch with 8-Port PoE+ (124 W Budget) for Numerous Applications
Compliance with the 802.3af/at PoE+ standard supports up to 30 W on each PoE port. The total 124 W PoE power budget* for the 8× PoE+ ports opens up a wide range of applications, such as surveillance for offices, dormitories, and small businesses. It is fully compatible with IP cameras, access points, IP phones, computers, printers, and more.
Conference Calls
IP Phone
Wi-Fi Coverage
Access Points
Power over Ethernet
TL-SL1311MP
Router
Internet
8 PoE+ Ports
Up to 30 W on Each Port
Total 124 W Power Budget
Plug and Play, No Configuration Required
1

Plug In

2

Connect Devices

Internet

IP Phone

IP Camera

Access Points

Router

TL-SL1311MP

3

Enjoy
Ideal for IP Surveillance
—Up to 250 m Transmissions
With extend mode, the PoE transmission distance reaches up to 250 m*—perfect for IP Camera deployment in large areas.
*The speed of the ports in extend mode will downgrade to 10 Mbps. The actual transmission distance may vary due to power consumption of PoE-powered devices or the cable quality and type.
Extend Mode Button
TL-SL1311MP ( Extend Mode On )
Up to 250 m
Extended is 10 Mbps/port
×8
Up to Eight IP Cameras
TL-SL1311MP ( Extend Mode Off )
100 m
Default is 100 Mbps/port
×8
Up to Eight IP Cameras
IP Cameras
IP Cameras
One-Click Traffic Separation
With one click, Isolation Mode easily divides traffic for ports 1–8 to avoid snooping and tampering.
This enables the switch to isolate broadcast storm, improving LAN security and data transmission.
System Self-Healing
with PoE Auto Recovery
The switch automatically detects and reboots the PD devices, such as cameras and APs, when they fall offline or go unresponsive, guaranteeing the stable operation of PoE-connected devices, without need for manual monitoring and restart.
Priority Mode Button
IP Camera
IP Camera
PoE Auto Recovery
Power overload
124W
Intelligent Power Management
Intelligent power supply
124W
20W
20W
20W
20W
20W
20W
20W
20W
20W
20W
20W
20W
20W
Intelligent Power Management
When total power consumption exceeds 66 W, the intelligent power management will cut the lower priority port power. This ensures the high priority port's power supply and protects the device from power overload. It also automatically detects and provides the required power for your PoE devices while protecting your PoE and non-PoE equipment from being damaged.
High-Quality Metal
27mm
171mm
98mm
Durable Metal Casing
The interior components of TL-SL1311MP are protected by high-quality metal casing to ensure a long product life. Having passed an array of stringent reliability tests, TL-SL1311MP delivers switching performance you can depend on.
Compact Desktop Design

Wall-Mounting

Fanless Design
CARACTERISTIQUES MATERIELLES
Interface
• 8× 10/100 Mbps 802.3af/at PoE+ Ports, 2× Gigabit RJ45 Ports, 1× Gigabit SFP Port• AUTO Negotiation• AUTO MDI/MDIX
Interface réseau
• 10BASE-T: UTP category 3, 4, 5 cable (maximum 100m)• EIA/TIA-568 100Ω STP (maximum 100m)• 100BASE-TX: UTP category 5, 5e cable (maximum 100m)• EIA/TIA-568 100Ω STP (maximum 100m)
Nombre de ventilateurs
Fanless
Système de verrou physique
Yes
Alimentation externe
External Power Adapter (Output: 53.5VDC / 2.43A)
Taux de transfert de paquets
5.6544 Mpps
Ports PoE (RJ45)
• Standard: 802.3 af/at compliant• PoE Ports: Ports 1–8• Power Supply: 124 W
Tableau d'adresses MAC
2K
Trame Géante
16 KB
Capacité de switch
7.6 Gbps
Dimensions (LxPxH)
209 × 126 × 26 mm
Consommation maximale
• 5.95 W (220/50 Hz. no PD connected)• 140.92 W (220/50 Hz. with 124 W PD connected)
Max dissipation thermique
• 20.29 BTU/h (no PD connected)• 480.54 BTU/h (220/50 Hz. with 124 W PD connected)
CARACTERISTIQUES LOGICIELLES
Méthode de transmission
Store-And-Forward
Fonctions avancées
• Compatible With IEEE 802.3af/at Compliant PDs• Extend Mode Button (Ports 1–4 and Ports 1–8, Up to 250 m PoE power supply and data transmission)• Isolation Mode Button (Ports 1–8)• PoE Auto Recovery Button (Ports 1–8)• Mac Address Auto-Learning and Auto-Aging• IEEE802.3x Flow Control For Full-Duplex Mode And Backpressure for Half-Duplex Mode
Autres
Certification
FCC, CE, RoHS
Contenu de l'emballage
• TL-SL1311MP• Power Adapter• Installation Guide
Environnement
• Operating Temperature: 0–40 ℃
• Storage Temperature: -40–70 ℃
• Operating Humidity: 10–90% RH non-condensing
• Storage Humidity: 5–90% RH non-condensing
* Les calculs du budget PoE sont basés sur des tests en laboratoire. Le budget d'alimentation PoE réel n'est pas garanti et variera en fonction des limites du client et des facteurs environnementaux.
** La vitesse des ports en mode étendu sera rétrogradée à 10 Mbps. La distance de transmission réelle peut varier en fonction de la consommation électrique des appareils alimentés par PoE ou de la qualité et du type de câble.
De United States?
Infos produits, événements, services pour votre pays.