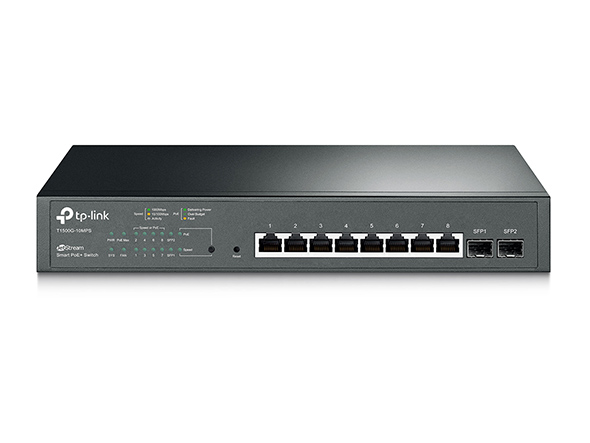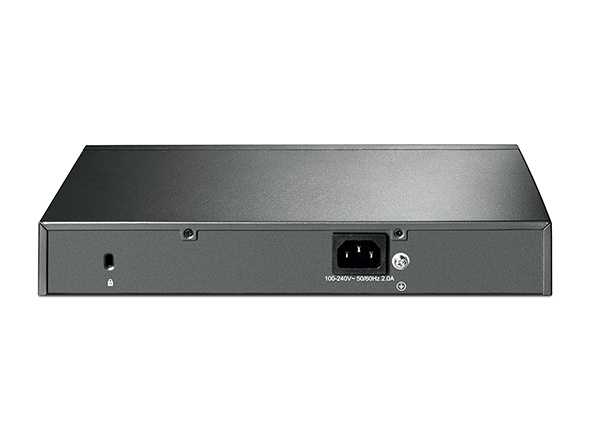 T1500G-10MPS
Smart Switch JetStream 8 ports Gigabit PoE+ avec 2 emplacements SFP
Comprend 8 ports PoE + compatibles 802.3af, avec un budget total de puissance PoE de 116 W et des fonctionnalités de gestion de l'alimentation PoE utiles
Les connexions Gigabit Ethernet sur tous les ports permettent un transfert complet des données
Les fonctions de sécurité avancées incluent la liaison de port IP-MAC, la liste de contrôle d'accès, la sécurité des ports, la défense DoS, le contrôle des tempêtes, la surveillance DHCP, l'authentification 802.1X et l'authentification Radius.
L2 / L3 / L4 QoS et IGMP Snooping optimisent les applications voix et vidéo
Modes gérés WEB / CLI, SNMP, RMON apportent de nombreuses fonctionnalités de gestion
Dual Firmware Image améliore la fiabilité et la disponibilité de votre réseau
Bénéficie du service NBD (Next Business Day)
GARANTIE A VIE
TP-Link JetStream Gigabit Smart Switch T1500G-10MPS is equipped with 8 gigabit RJ45 ports and 2 SFP slots, all RJ45 Ports support the 802.3af/at (PoE+) standard with total PoE power budget of 116W and useful PoE power management features. The switch provides high performance, enterprise-level QoS, useful security strategies and rich layer 2 management features.
TP-Link's JetStream Gigabit Smart Switch T1500G-10MPS is especially designed for the small and medium business networks that require effi­cient network management. T1500G-10MPS comes with a comprehensive set of features, such as Link Aggregation Group, 802.1Q VLAN, Access Control Lists (ACL), Quality of Service (QoS L2 to L4), Storm Control and IGMP Snooping to provide a small or medium-sized business with a network that is geared for growth while ensuring performance and reliability. What's more, its easy-to-use web management interface means faster setup and configuration with less downtime, providing the ideal solution for your business network.
IEEE 802.3at/af-compliant Power over Ethernet
The T1500G-10MPS supports 8 ports of IEEE 802.3af/at-compliant PoE and has a total power supply of 116W to power any 802.3af/at-compliant power device. It's an effi­cient and cost-effective choice to work with wireless access points, surveillance cameras, IP phones and other PoE supported devices, while getting rid of cables or power lines running around. Compact and flexible, the T1500G-10MPS is ideal to flexibly use PoE to deploy wireless access points or IP-based network surveillance cameras for projects or small business networks.
Advanced QoS features
To integrate voice, data and video service on one network, the switch applies rich QoS policies. Administrator can designate the priority of the traffic based on a variety of means including Port Priority, 802.1P Priority and DSCP Priority, to ensure that voice and video are always clear, smooth and jitter free. In conjunction with the Voice VLAN the switch supports, the voice application will operate with much smoother performance.
Abundant Layer 2 features
For more application of layer 2 switches, T1500G-10MPS supports a complete lineup of layer 2 features, including 802.1Q tag VLAN, Port Isolation, Port Mirroring, STP/RSTP/MSTP; Link Aggregation Control Protocol and 802.3x Flow Control function. Any more, the switches provide advanced features for network maintenance such as Loop Back Detection, Cable Diagnostics and IGMP Snooping. IGMP Snooping ensures the switch intelligently forward the multicast stream only to the appropriate subscribers while IGMP throttling & ‑filtering restrict each subscriber on a port level to prevent unauthorized multicast access.
Enterprise Level Management Features
T1500G-10MPS is easy to use and manage. It supports various user-friendly standard management features, such as intuitive web-based Graphical User Interface (GUI) or industry-standard Command Line Interface (CLI). SNMP (v1/2/3) and RMON support enables the switch to be polled for valuable status information and send traps on abnormal events.
Education

En raison de sa solution réseau fiable, évolutive et sécurisée, TP-Link est reconnu par les clients mondiaux du marché de l'éducation, des écoles maternelles avec quelques points d'accès aux collèges et universités avec des centaines de points d'accès.

Gestion simple
WiFi haute densité
Couverture WiFi complète et connexions filaires
VPN et sécurité

Switches pour Business WiFi

Pour les petites et moyennes entreprises, un switch est le composant fondamental pour construire leur réseau pro. Il permet aux employés de communiquer et de partager des informations au sein d'un réseau local (LAN), prenant en charge les besoins de votre réseau pour une meilleure productivité.

Réseau LAN filaire haute vitesse
Gestion simple
Stratégies de sécurité abondantes
Réduction des coûts
Rajah Hotel

Le point d'accès EAP225-Wall fournit des signaux WiFi stables passant à travers les murs de briques de l'hôtel Rajah

Rajah Hotel

Le point d'accès EAP225-Wall fournit des signaux WiFi stables passant à travers les murs de briques de l'hôtel Rajah

***

Soborka ISP

TP-Link Helps ISP Soborka Provide Better Service for Subscribers

Soborka ISP

TP-Link Helps ISP Soborka Provide Better Service for Subscribers

"TP-Link's products offer tremendous value, which allowed us to reduce the cost of updating our large network without compromising performance. Our customers are much more satisfied with the network since the upgrade. It has done a lot to improve our reputation." —Soborka's CEO
CARACTERISTIQUES MATERIELLES
Standards et Protocoles
IEEE 802.3i, IEEE 802.3u, IEEE 802.3ab, IEEE802.3z, IEEE 802.3ad, IEEE 802.3x, IEEE 802.3af, IEEE 802.3at, IEEE 802.1d, IEEE 802.1s, IEEE 802.1w, IEEE 802.1q, IEEE 802.1x, IEEE 802.1p
Interface
8 10/100/1000Mbps RJ45 Ports, all supporting PoE+ 2 100/1000Mbps SFP Slots (Auto-Negotiation/Auto MDI/MDIX)
Interface réseau
10BASE-T: UTP/STP category 3, 4, 5 cable (maximum 100m)100BASE-TX/1000Base-T: UTP/STP category 5, 5e or above cable (maximum 100m)100Base-FX: MMF SFP Module1000BASE-X: MMF, SMF
Nombre de ventilateurs
1
Système de verrou physique
Yes
Ports PoE+ (RJ45)
Standard: 802.3at/af compliantPoE+ Ports: 8 PortsPower Supply: 116W
Dimensions (LxPxH)
294 x 180 x 44 mm
Montage
Rack Mountable
Consommation maximale
15.61W (220V/50Hz with no PD connected)
139.52W (220V/50Hz with 116W PD connected)
Max dissipation thermique
53.26 BTU/h (with no PD connected)
476.04 BTU/h (with 116W PD connected)
Performances
Capacité de commutation
20Gbps
Taux de transfert de paquets
14.9Mpps
Tableau d'adresses MAC
8K
Mémoire tampon des paquets
512KB
Trame Géante
9KB
CARACTERISTIQUES LOGICIELLES
Qualité de Service QoS
• 802.1p CoS/ DSCP priority
• 8 priority queues
• Priority Schedule Mode
- SP (Strict Priority)
- WRR (Weighted Round Robin)
• Queue Weight Config
• Bandwidth Control
- Port/Flow based Rating Limit
• Smoother Performance
• Actions for flows
- Mirror(to supported interface)
- Redirect(to supported interface)
- Rate Limit
- QoS Remark
• Storm Control
- Multiple Control Modes(kbps/ratio/pps)
- Broadcast/Multicast/Unknown-Unicast Control

Fonctions N2
• Link Aggregation
- static link aggregation
- Up to 8 aggregation groups and up to 8 ports per group
- 802.3ad LACP
• Spanning Tree Protocol
- 802.1D STP
- 802.1w RSTP
- 802.1s MSTP
- STP Security: Loop back detection, TC Protect, BPDU Filter/Protect, Root Protect
• Loopback Detection
• Flow Control
- 802.3x Flow Control
• Mirroring
- Port Mirroring
- One-to-One
- Many-to-One
- Flow-Based
- Ingress/Egress/Both
- CPU Mirroring
• Device Link Detect Protocol(DLDP)

Multidiffusion N2
• 512 IPv4,IPv6 shared multicast groups
• IGMP Snooping
- IGMP v1/v2/v3 Snooping
- Fast Leave
- IGMP Snooping Querier
- IGMP Authentication
- Static Group Config
• MLD Snooping
- MLD v1/v2 Snooping
- Fast Leave
- MLD Snooping Querier
- Static Group Config
• Multicast VLAN Registration
• Multicast Filtering

Prise en charge IPv6
• IPv6 Dual IPv4/IPv6
• Multicast Listener Discovery(MLD) Snooping
• IPv6 neighbor discovery (ND)
• Path maximum transmission unit (MTU) discovery
• Internet Control Message Protocol (ICMP) version 6
• TCPv6/UDPv6
• IPv6 applications
- DHCPv6 Client
- Ping6
- Tracert6
- Telnet(v6)
- IPv6 SNMP
- IPv6 SSH
- IPv6 SSL
- Http/Https
- IPv6 TFTP

VLAN
• VLAN Group
- Max. 4K VLAN Groups
• 802.1Q tag VLAN
• MAC VLAN
• Protocol VLAN
• GVRP
• Voice VLAN

Liste de contrôle d'accès
• Support up to 230 entries
• Time-Range
- Time Slice
- Week Time-Range
- Absolute Time-Range
- Holiday
• Time-based ACL
• MAC ACL
- Source MAC
- Destination MAC
- VLAN ID
- User Priority
- Ether Type
• IP ACL
- Source IP
- Destination IP
- IP Protocol
- TCP Flag
- TCP/UDP Source Port
- TCP/UDP Destination Port
- DSCP/IP TOS
• IPv6 ACL
• Combined ACL
• Rule Operation
- Permit/Deny
• Policy Action
- Mirror
- Rate Limit
- Redirect
- QoS Remark
• ACL Rules Binding
- Port Binding
- VLAN Binding

Sécurité
• AAA
• 802.1X
- Port based authentication
- MAC(Host) based authentication
- Authentication Method includes PAP/EAP-MD5/EAP-TLS/EAP-TTLS/EAP-PEAP
- MAB
- Guest VLAN
- Support Radius authentication and accountability
• IP/IPv6-MAC Binding
- 512 Binding Entries
- DHCP Snooping
- DHCPv6 Snooping
- ARP Inspection
- ND Detection
• IP Source Gurad
- 253 Entries
- Source IP+Source MAC
• IPv6 Source Gurad
- 183 Entries
- Source IPv6 Address+Source MAC
• DoS Defend
• Static/Dynamic/Permanent Port Security
- Up to 64 MAC addresses per port
• Broadcast/Multicast/Unicast Storm Control
- kbps/ratio/pps control mode
• Port Isolation
• Secure web management through HTTPS with SSLv3/TLS1.0
• Secure Command Line Interface (CLI) management with SSHv1/SSHv2
• IP/Port/MAC based access control

Administration
• Web-based GUI and CLI management
• SNMPv1/v2c/v3
• SNMP Trap/Inform
• RMON (1,2,3,9 groups)
• SDM Template
• DHCP/BOOTP Client
• Dual Image, Dual Configuration
• CPU Monitoring
• Cable Diagnostics
• EEE
• System Log
• 802.1ab LLDP/ LLDP-MED


MIBs
• MIB II (RFC1213)
• Interface MIB (RFC2233)
• Ethernet Interface MIB (RFC1643)
• Bridge MIB (RFC1493)
• P/Q-Bridge MIB (RFC2674)
• RMON MIB (RFC2819)
• RMON2 MIB (RFC2021)
• Radius Accounting Client MIB (RFC2620)
• Radius Authentication Client MIB (RFC2618)
• Remote Ping, Traceroute MIB (RFC2925)
• Support TP-Link private MIBs

Autres
Certification
CE, FCC, RoHS
Contenu de l'emballage
T1500G-10MPSPower CordInstallation GuideResource CDRackmount KitRubber Feet
Système requis
Microsoft® Windows® 98SE, NT, 2000, XP, Vista™ or Windows 7/8, MAC® OS, NetWare®, UNIX® or Linux.
Environnement
Operating Temperature: 0℃~40℃
Storage Temperature: -40℃~70℃
Operating Humidity: 10%~90% non-condensing
Storage Humidity: 5%~90% non-condensing

De United States?
Infos produits, événements, services pour votre pays.