How to share and access files on your local network drive through the TP-Link Wi-Fi router (new designed blue UI)?
Ce document concerne les modèles suivants :
The File sharing feature allows you to share a USB storage device that's connected to the router, (USB Drive or mobile Hard Disk Drive) to other wired or wireless users on the same network.
Note: Here take Archer C2600 as an example.
Step 1
Plug a USB Storage device into the USB port,make sure the USB light lit up on the router.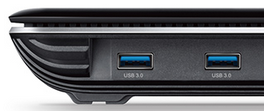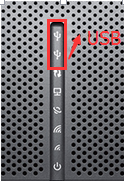 Step 2
Access to the management interface of the router.
Please click here to access the web interface.
Step 3
Click Advanced on the top, then click USB Settings -> Device Settings on the left side menu. Check whether the USB device is identified by Archer C2600.If there is no device listed on this page, please click Scan and you may try unplug the USB device and plug it back in.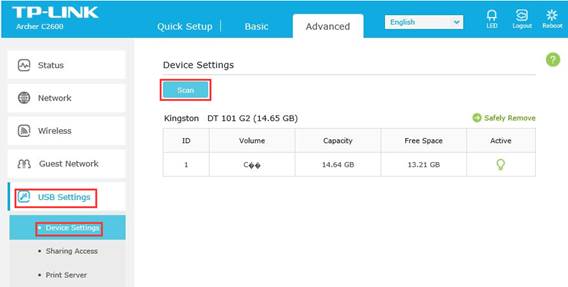 If the USB device is identified, the Network Neighborhood function will be Enabled by default, and it is set to Share All by default.

On the Sharing Settings apart below, the Network/Media Server Name can be changed to something else.
Step4.
Switch on Enable Authentication on the bottom. This option can only be checked when Share All is on.

Go to Sharing Account on the top to Use New Account to create a separate login account for the USB device or Use Default Account to use the same account as the router's management page login account, then click on save.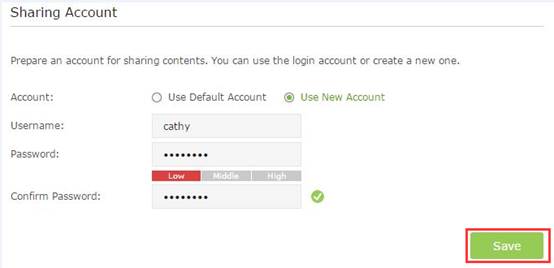 Step5.
It is set to share all the files by default. If you want to customize the shared content, switch off Share All, and click on Add to choose specific folder.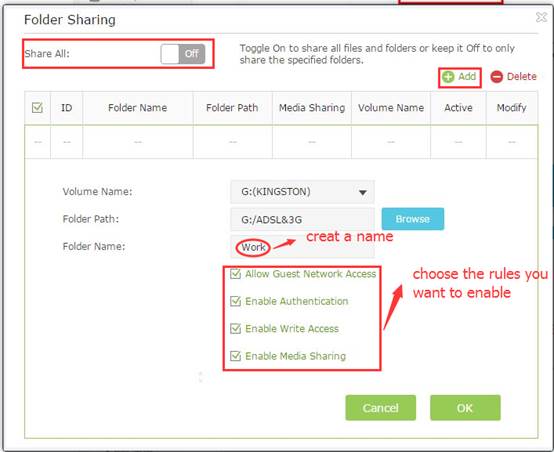 Below are explanations for the options:
Volume Name - From the pull-down list, select which volume to save the file under.
Folder Path- Path to the folder is determined by where the file is saved.
Folder Name - Name of the shared folder, customized by users.
Allow Guest Network Access - Select the check box to allow the Guest Network to have access to the shared folder.
Enable Authentication - Select the check box to require users to log in with a username and password.
Enable Write Access - Select the check box to allow users to make changes to the folder content.
Enable Media Sharing - Enable media server function, you may click here to get more info.
Step 6
Access the USB Storage
For Windows Users:
Press Windows key

and R key on the keyboard at the same time to open the Run application,
Input\\Share_C2600 or\\tplinkwifi.netor \\192.168.0.1in the dialog box.
Click OK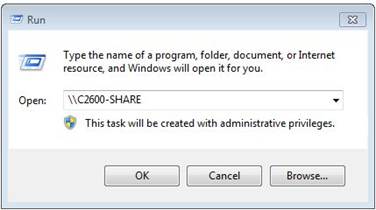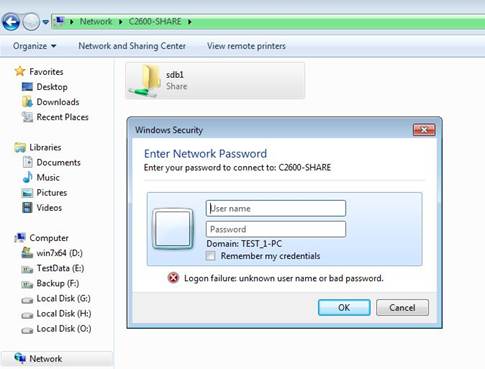 For Mac OS X Users:
On the top tray, go to Go > Connect to Server
Input Server Address smb://C2600-Share or smb://tplinkwifi.net or smb://192.168.0.1
Click Connect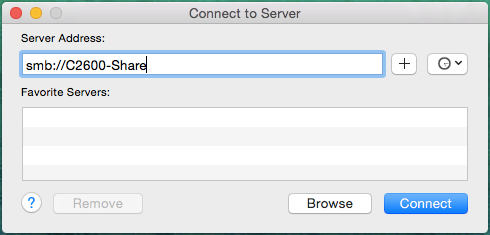 For Linux Users:
On the top tray, go to Places > Connect toServer
Choose Service type: Windows share
Input Server C2600-Share or tplinkwifi.net or 192.168.0.1
Click Connect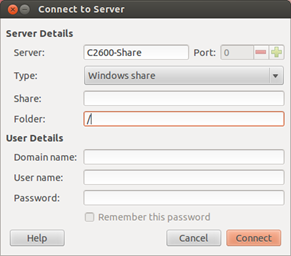 Get to know more details of each function and configuration please go to Download Center to download the manual of your product.
Est-ce que ce FAQ a été utile ?
Vos commentaires nous aideront à améliorer ce site.
Newsletter TP-LinkTP-Link prend votre vie privée au sérieux. Pour plus de détails sur la politique de confidentialité de TP-Link, veuillez consultez la page suivante Politique de confidentialité de TP-Link .
De United States?
Infos produits, événements, services pour votre pays.