How to set up Port Forwarding feature on the Archer C8, C9, C5 V2, router?
Ce document concerne les modèles suivants :
Archer C8( V1 V2 ) , Archer C9( V1 ) , Archer C5( V2 )
Step 1
Access the web interface of Archer C8 as an example.
Please click

here

to access the web interface.
Click
Advanced
on the top, then on the left side, click F
orwarding->Virtual Servers->Add New
.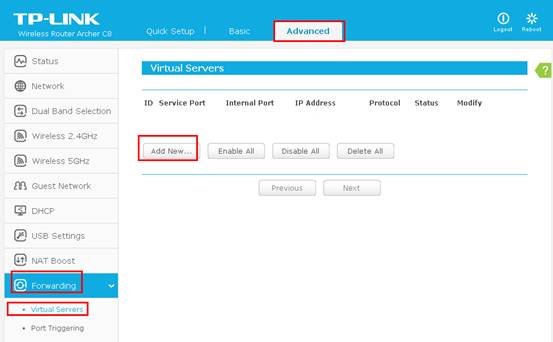 Type the Service port which you want to open and the IP Address of your device that you want to open the port for;
The Internal Port you can put in the same as the Service Port or leave it blank.
Select Protocol to TCP, UDP or ALL; Change Status to Enabled->
Save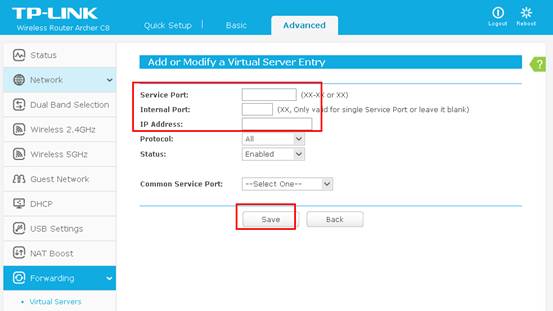 Since the Forwarding rules are related to IP Address of the device, it is suggested to set up a static IP for your device that needs to open the ports. If you are not sure how to configure static IP on the device, you may do an Address Reservation
so that IP will always be assigned to the device.
Get to know more details of each function and configuration please go to
Download Center
to download the manual of your product.
Est-ce que ce FAQ a été utile ?
Vos commentaires nous aideront à améliorer ce site.
Newsletter TP-LinkTP-Link prend votre vie privée au sérieux. Pour plus de détails sur la politique de confidentialité de TP-Link, veuillez consultez la page suivante Politique de confidentialité de TP-Link .