How to use firmware recovery function of Pharos CPE
Ce document concerne les modèles suivants :
Firmware upgrade may not be successful sometimes, for instance unpredictable power failure during the process, and thus your Pharos device may fail to reboot. This article will guide you how to re-flash the firmware via TFTP.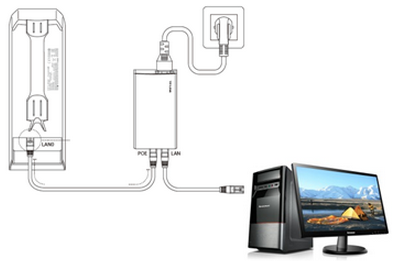 1.
Install the Tftpd32 /Tftpd64 on your computer based on the system type(32bit/64bit), here we take Tftpd32 as an example ;
2.
Download the proper firmware of
Pharos CPE products, here we take firmware
pharos_un-up-ver1-0-0-P25-[20140709-rel51929].bin
of CPE510 as an example, then must rename the firmware asrecovery.bin;
3.
Configure IPv4 address of your computer as 192.168.0.100/255.255.255.0, you can click
Here
to configure static IP for the computer.
Firmware Recovery Procedure
Connect your computer to the LAN port of CPE510 with an Ethernet cable and run the
Tftpd32.exe
, then navigate the Current Directory to the folder where recovery.bin is stored.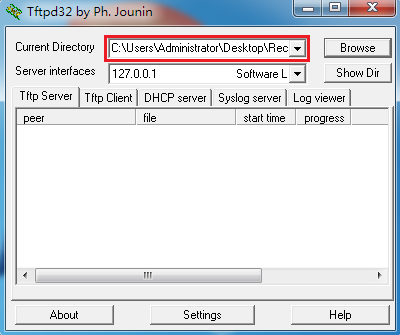 Power Pharos device off first. Press the reset button on CPE510 and then power it on. Hold the reset button for about 6-8 seconds and focus on
Tftpd32.exe
interface at the same time. When you see the file transfer progress bar appears as below, then you can release the reset button.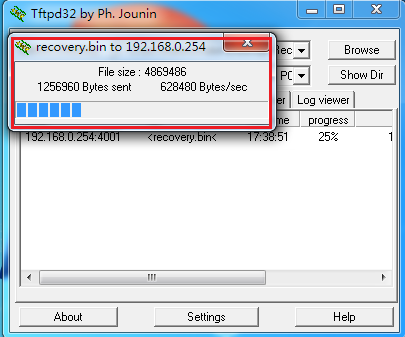 CPE510 will reboot automatically after the file transmission completed, please wait for a while until all the lights on CPE510 are flashing and then perform normally.
After reboot you may follow
this link
to login the management page of CPE510 again.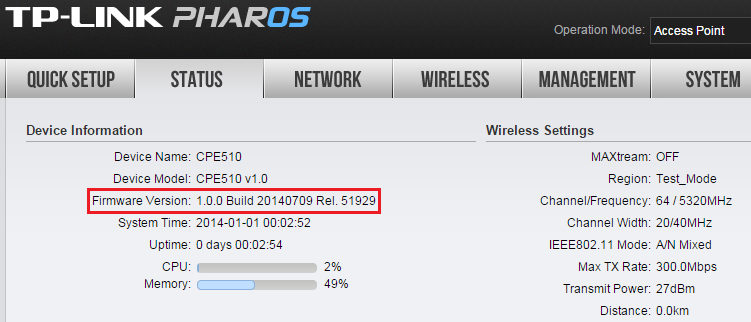 1.
Please only perform firmware recovery through wired connection.
2.
Tftpd32 exe/Tftpd64 exe
should be compatible with the Operating System, Tftpd32 exe should work with 32-bit System and Tftpd64 exe should work with 64-bit System.
Est-ce que ce FAQ a été utile ?
Vos commentaires nous aideront à améliorer ce site.
SubscriptionTP-Link prend votre vie privée au sérieux. Pour plus de détails sur la politique de confidentialité de TP-Link, veuillez consultez la page suivante Politique de confidentialité de TP-Link .
De United States?
Infos produits, événements, services pour votre pays.