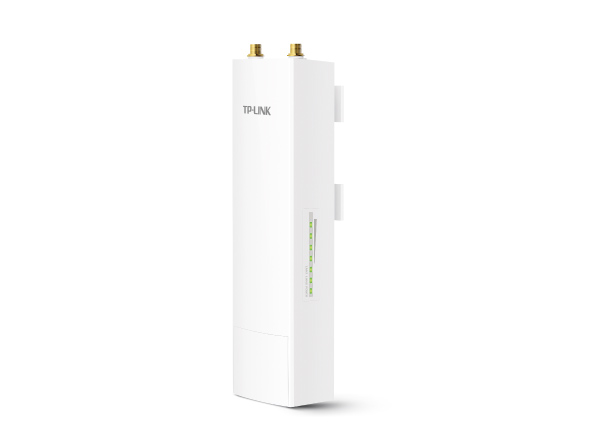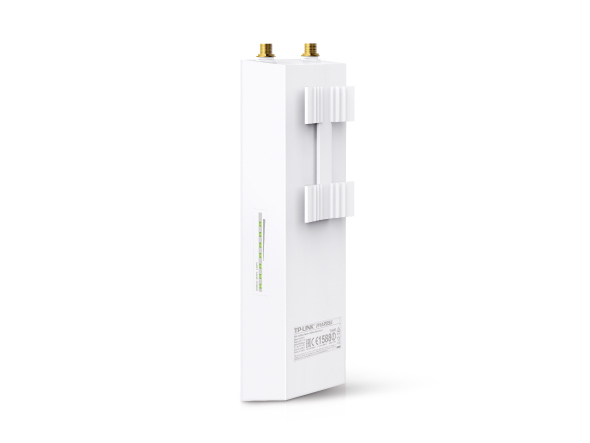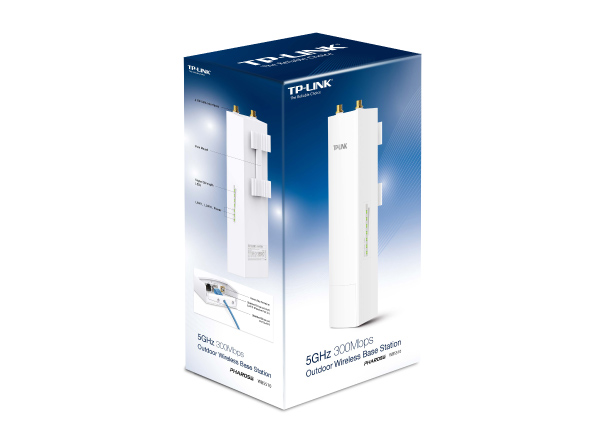 WBS510
Station CPE Wi-Fi d'extérieur 5GHz 300Mbps
Supporte de large canaux Wi-Fi pour moins d'interférences
Fonctionne en fréquence 5GHz uniquement
Sélection de canaux de largeur : 5, 10, 20, 40MHz
Puissance de transmission ajustable entre 0 et 27dBm/500mw*
Conception optimisée pour des transmissions longue portée pouvant dépasser 5km**
2 connextiques RP-SMA pour antennes MIMO externes
Technologie TP-LINK Pharos MAXtream TDMA (Time Division Multiple Access), améliorant les performances de débit, capacité, latence idéale pour les usage Point / Multipoints
Système d'administration logiciel centralisé : Pharos control
Modes opératoires : Point d'accès, Client, Répéteur, Routeur point d'accès, Routeur client point d'accès (WISP)
L'adaptateur PoE passif fourni permet une distance de 60m entre le CPE et sa source d'alimentation afin de le réinitialiser à distance
Protection contre la foudre 6000V, contre les DES 15KV
Accès Wi-Fi où vous en avez le plus besoin
La station CPE est spécifiquement conçue pour fournir une solution efficace pour les applications de réseau Wi-Fi en plein air. Avec sa plate-forme de gestion centralisée et un degré élevé de flexibilité, elle est le choix idéale pour fournir des connexions point à point, point à multipoint, et une couverture Wi-Fi en extérieur. Les stations TP-LINK Wi-Fi extérieur offrent des performances professionnelles avec un design convivial, ce qui en fait la solution idéale pour les entreprises et les utilisateurs à domicile.
Transmission de données Wi-Fi longue distance
Les 2 connectiques RP-SMA de la station permet de lui associer une antenne parabolique directionnelle ou une antenne sectorielle. Spécifiquement conçue pour les utilisations en extérieur, idéal pour les transmissions de données longues distance, le WBS510 a été testé à plus de 5km (avec antenne spécifique optionnelle parabolique Dish).
Installation facile, Pas de besoin spécifique d'outils
Stations Pharos se fixent directement sur les antennes, ce qui signifie qu'aucun outil n'est nécessaire pour l'installation.
Conception matérielle pour Entreprise
Avec des composants de la gamme Qualcomm Atheros enterprise, des antennes à gain élevé et matériaux de haute qualité, un boîtier spécialement conçu et une alimentation électrique PoE, WBS510 est spécifiquement conçu pour une utilisation en extérieur et peut fonctionner parfaitement sous la plupart des latitudes, avec des températures de fonctionnement allant de -30 ℃ à 70 ℃
CPU Qualcomm Atheros enterprise
Wi-Fi N 300Mbps
Boitier étanche
adaptateur PoE Passif
protection parafoudre 6KV
protection ESD 15KV
Technologie MAXtream TDMA TP-LINK garantissant la bande passante
Quand le nombre d'utilisateurs connectés au réseau s'accroit, la charge du réseau Wi-Fi et les collisions augmentent occasionnant entre CPE et utilisateurs connectés une chute du débit effectif et celà impacte l'expérience utilisateur. Pour atténuer ces effets, le CPE510 met en oeuvre la technologie MAXtream TDMA TP-LINK.
Pharos Control – Système d'administration centralisée
Le WBS510 est livré avec un logiciel d'administration centralisée qui aide les utilisateurs à administrer aisément tous les appareils compatibles dans leur réseau à partir d'un seul ordinateur sur lequel il est installé. Des fonctions telles la découverte d'appareil, surveillance d'état, mise à jour du logiciel et maintenance du réseau peuvent être gérées en utilisant le logiciel Pharos control.
PharOS
Le système d'administration WEB permet au professionnels de définir des configurations plus spécifiques
Emulator
Gamme PharOS pour des solutions haute performance
WBS510
WBS210

Performance Wi-Fi

Compatibilité

802.11 a/n

802.11 b/g/n

Vitesse Wi-Fi

300Mbps

300Mbps

Puissance de transmission

27dBm

27dBm

Distance de transfert Max

5+km

3+km

MIMO

√

√

Matériel

Interface antenne externe

2 connecteurs RP-SMA pour antennes MIMO

Boitier étanche

√(IP65)

√(IP65)

Protection ESD

15kV

15kV

Protection parafoudre

6kV

6kV

Logiciel

Modes opératoires

AP / Client / Pont Wi-Fi / Répéteur/ Routeur AP Client (WISP Client) / Mode AP Routeur

Mode MAXtream TDMA

√

√

Largeur de canal

5/10/20/40MHz

5/10/20/40MHz

Pharos Control

√

√
Wireless Networking for Elevators

TP-Link offers wireless point to point link delivering up to 300 Mbps throughput. The point to point link provides wireless coverage to the entire shaft, and delivers network to the elevator car, connecting the surveillance cameras or digital signage. So that real time video can be recorded to a DVR without hard wiring coax cable directly from the camera to the recorder.

Easy, Flexible Installation
Stable Connections at High-Speeds
Ideal for Elevator Camera
No Complex Cabling
PoE Support
Peru WISP

TP-Link Helps WISP to Provide Reliable Wireless Connectivity in Peru

Peru WISP

TP-Link Helps WISP to Provide Reliable Wireless Connectivity in Peru

"The performance of CPE was better than expected, working stable even with -85 dBm of received power." —David Grillo, Engineer, Kroton

ADINET WISP in Indonesia

TP-Link Helps Local WISP Provide Long Distance Wireless Connectivity in Indonesia

ADINET WISP in Indonesia

TP-Link Helps Local WISP Provide Long Distance Wireless Connectivity in Indonesia

"Amazing! The performance of the Pharos Wireless Broadband Solution has exceeded even our wildest expectations." —Bagus Prakoso, Owner of ADINET
CARACTERISTIQUES MATERIELLES
Processeur
Qualcomm Atheros Enterprise AR9350B 560MHz CPU, MIPS 74Kc
Mémoire
64MB DDR2 RAM, 8MB Flash
Interface
1 10/100Mbps Shielded Ethernet Port
1 10/100Mbps Shielded Ethernet Port (LAN1)
2 RP-SMA
1 Grounding Terminal
1 Reset Button
Alimentation
Passive Power over Ethernet via LAN0 (+4,5pins; -7,8pins)
Voltage range: 16-27VDC
Dimensions (LxPxH)
198×75×40 mm
Protection
15KV ESD Protection
6KV Lightning Protection
Enceinte
Outdoor ASA stabilized plastic material
IP65 water and dust proof Certification
Caractéristiques WiFi
Standards WiFi
IEEE 802.11a/n
Protocole propriétaire
TDMA Mode (with Pharos MAXtream enabled)
Débit WiFi
Up to 300Mbps (40MHz,Dynamic)
Up to 144.4Mbps (20MHz,Dynamic)
Up to 72.2Mbps (10MHz,Dynamic)
Up to 36.1Mbps (5MHz,Dynamic)
Fréquence
5.15~5.85GHz
Note: Available operation frequency may vary depending on the limitaion of the countries or regions in which the device is used.
Puissance de transmission
27dBm/500mW (Adjustable power by 1dBm)
Note: Maximum transmission power may vary across different channels depending on the limitations of the countries or regions in which the device is used.
CARACTERISTIQUES LOGICIELLES
Modes opératoires
AP / Client / Bridge /Repeater
AP Router Mode / AP Client Router(WISP Client) Mode
Configuration réseau
WAN: Static/Dynamic/PPPoE/L2TP/PPTP
LAN: Static/Dynamic/Dynamic/DHCP
Forwarding: DMZ/ALG/UPnP/Virtual Server/Port Trigger
Security: SPI Firewall/Ping Forbidden/VPN/DOS Protection
Access Control
Static Routing
Bandwidth Control
IP & MAC Binding

Configuration WiFi
Pharos MAXtream TDMA Technology
802.11a/n Modes
Selectable Channel Width: 5/10/20/40MHz
Automatic Channel Selection
Transmission Power Control
Dynamic Frequency Selection (DFS)
WDS Enable/Disable
Security: WPA/WPA2, WPA-PSK/WPA2-PSK (AES/TKIP) Encryption, 64/128/152-bit WEP Encryption
SSID Broadcast Enable/Disable
Multi-SSID with VLAN Tagging (AP mode only)
Distance/ACK Timeout Setting
Wireless MAC Address Filter
Wireless Advanced:
> Beacon Interval/RTS Threshold/Fragmentation Threshold/DTIM Interval/AP Isolation/Short GI/Wi-Fi Multimedia
Administration
Discovery and Remote Management via Pharos Control application
HTTP/HTTPS Web-based management
System Log
SNMP Agent(v2c)
Ping Watch Dog
Dynamic DDNS
SSH Server
Outils système
Wireless Signal Quality Indicators:
Signal Strength/Noise/Transmit CCQ/CPU/Memory
Monitors: Throughput/Stations/Interfaces/ARP/Routes/WAN/DHCP
Spectrum Analyzer
Speed Test
Ping
Traceroute
Optimisations du niveau système
802.11a/n Tx beamforming technology
Optimized IGMP Snooping/Proxy for multicast applications
Hardware watch dog
Autres
Certification
CE, FCC, RoHS, IP65
Contenu de l'emballage
Outdoor Wireless Base Station
24V 1A Passive PoE Adapter
Pole Mounting Kit
AC Power Cord
Quick Installation Guide
Système requis
Microsoft Windows 98SE, NT, 2000, XP, Vista™ or Windows 10, Windows 8, Windows 7, MAC OS, NetWare, UNIX or Linux.
Note: We recommend you to use one of following Web browsers for an improved user experience: Google Chrome, Safari, and Firefox. IE browsers are not recommended.
Environnement
Operating Temperature: -30°C~70°C (-22℉~158℉)
Storage Temperature: -40℃~70℃ (-40℉~158℉)
Operating Humidity: 10%~90% non-condensing
Storage Humidity: 5%~95% non-condensing
* Valeurs réelles dépendant de la législation en vigueur dans le pays d'utilisation ** Valeurs réelles dépendant de facteurs environnementaux
SubscriptionTP-Link prend votre vie privée au sérieux. Pour plus de détails sur la politique de confidentialité de TP-Link, veuillez consultez la page suivante Politique de confidentialité de TP-Link .
De United States?
Infos produits, événements, services pour votre pays.