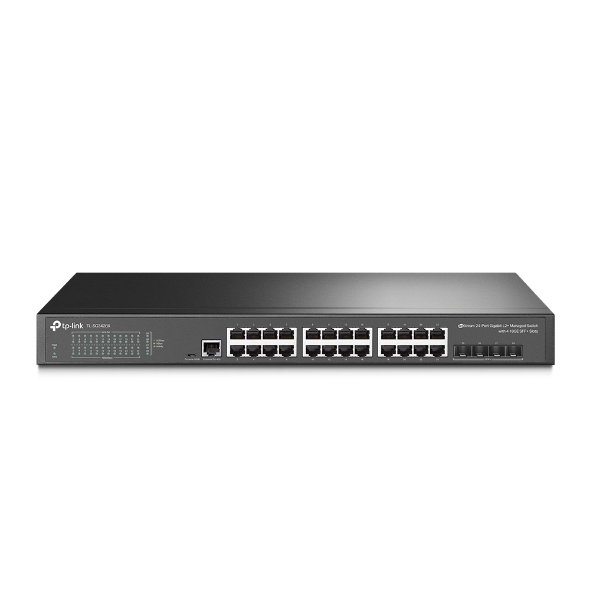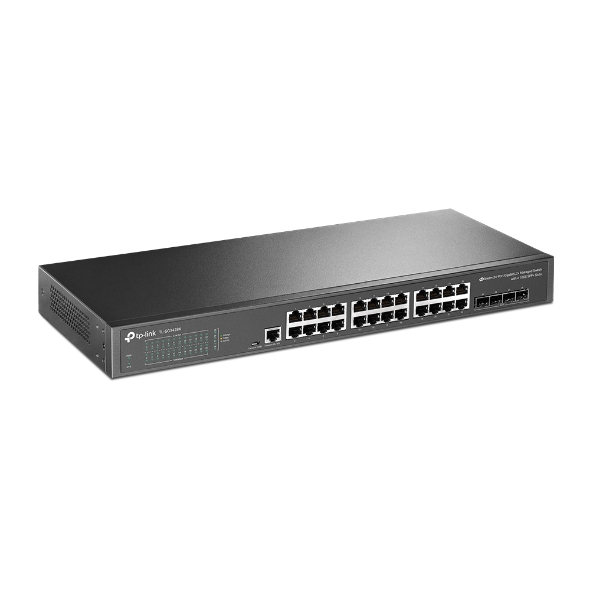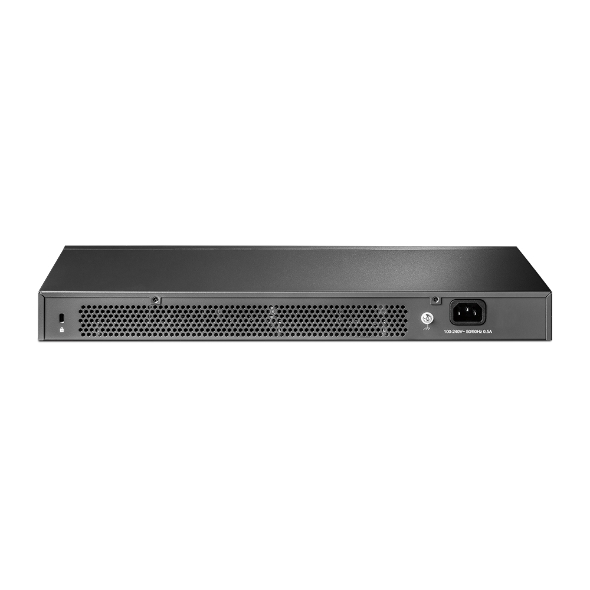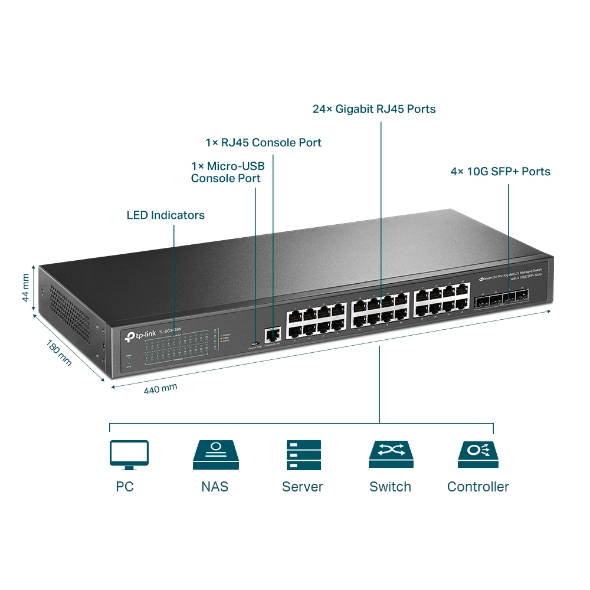 TL-SG3428X
Switch administrable JetStream L2+ 24 ports Gigabit avec 4 emplacements SFP+ 10GE
Liaison montante ultra rapide 10G: 4x emplacements SFP+ 10 Gbps permettent une connectivité à large bande passante et une capacité de commutation non bloquante.
Débit Gigabit: 24 ports Gigabit RJ45 offrent des connexions fiables et à haute vitesse vers d'autres commutateurs et appareils.
Intégré dans Omada SDN : Zero-Touch Provisioning (ZTP) * , gestion centralisée du cloud et surveillance intelligente.
Administration centralisée : accès au Cloud et application Omada pour plus de commodité et une gestion facile.
Routage statique : aide à acheminer le trafic interne pour une utilisation plus efficace des ressources réseau.
Stratégies de sécurité robustes : liaison IP-MAC-port, ACL, sécurité des ports, DoS Defend, contrôle des tempêtes, surveillance DHCP, 802.1X, authentification Radius, etc.
Optimisez les applications vocales et vidéo : QoS L2 / L3 / L4 et surveillance IGMP.
Gestion autonome : Web, CLI (port de console, Telnet, SSH), SNMP, RMON et Dual Image offrent de puissantes capacités de gestion
GARANTIE A VIE

Administration Centralisée
Switch administrable avec
liaison montante 10G pour un réseau Omada complet
TL-SG3428X
Connexion montante ultra-rapide 10G

4×slots SFP+ 10 Gbps pour une connectivité haut débit

Connexions Gigabit

24× ports Ethernet Gigabit offrent des connexions fiables

Administration centralisée Cloud

Inégration des solutions SDN pour un réseau hautement efficace

Fonctionnalités avancées L2+

Static Routing, IGMP Snooping, 802.1Q VLAN et plus
Switch pro avec liaison montante 10G
Les 4x emplacements SFP+ de10 Gbit/s offrent des performances de commutation non bloquantes et une latence ultra-faible, de sorte que des connexions fiables et rapides comme l'éclair au serveur et à d'autres switches sont faciles à construire.
Software Defined Networking (SDN) avec Accès Cloud
La plate-forme SDN (Software Defined Networking) d'Omada intègre des périphériques réseau, y compris des points d'accès, des commutateurs et des passerelles, offrant une gestion cloud 100% centralisée. Omada crée un réseau hautement évolutif, le tout contrôlé à partir d'une seule interface. Des connexions sans fil et filaires fluides sont fournies, idéales pour une utilisation dans l'hôtellerie, l'éducation, la vente au détail, les bureaux, etc.
Wi-Fi 6
Celling Mount
Wall Plate
Outdoor
Unified Management Interface
Cloud
Hassle-Free Cloud or
On-Premises Controllers

Multi-Site Cloud
Management

Zero-Touch
Provisioning (ZTP)*
Fonctionnalités avancées L3 **
Une multitude de fonctionnalités L2+ et L3 sont prises en charge pour aider à construire un réseau hautement évolutif et robuste, fournissant une solution fiable et efficace pour les entreprises, les campus et les FAI.
Réseau sécurisé
Les fonctionnalités de sécurité incluent la liaison IP-MAC-Port-VID, la sécurité des ports, le contrôle des tempêtes et la surveillance DHCP pour se défendre contre une gamme de menaces réseau. Une liste intégrée des attaques DoS courantes est disponible, ce qui facilite plus que jamais leur prévention. De plus, la fonction Listes de contrôle d'accès (ACL, L2 à L4) limite l'accès aux ressources réseau sensibles en refusant les paquets en fonction de l'adresse MAC source et de destination, de l'adresse IP, des ports TCP / UDP ou de l'ID VLAN. L'accès au réseau des utilisateurs peut être contrôlé via l'authentification 802.1X, qui fonctionne avec un serveur RADIUS / Tacacs + pour accorder l'accès uniquement lorsque des informations d'identification utilisateur valides sont fournies.
Fonctionnalités pour Entreprises
Une gamme complète de fonctionnalités L2 + est prise en charge, notamment le VLAN 802.1Q, la mise en miroir de ports, STP / RSTP / MSTP, le protocole de contrôle d'agrégation de liens et le contrôle de flux 802.3x. La surveillance IGMP avancée garantit que le commutateur transfère intelligemment les flux de multidiffusion uniquement aux abonnés appropriés, éliminant ainsi le trafic inutile, tandis que la limitation et le filtrage IGMP restreignent chaque abonné au niveau du port pour empêcher tout accès multidiffusion non autorisé. Le routage statique est un moyen simple de segmenter le réseau et d'acheminer en interne le trafic via le commutateur pour une efficacité améliorée.
QoS avancées
Le trafic vocal et vidéo peut être hiérarchisé en fonction de l'adresse IP, de l'adresse MAC, du numéro de port TCP, du numéro de port UDP, etc. Avec QoS (Quality of Service), les services vocaux et vidéo restent fluides, même lorsque la bande passante est insuffisante.
Fonctionnalités pour FAI **
Les fonctionnalités sFlow, QinQ, L2PT PPPoE ID Insertion et d'authentification IGMP sont fournies, développées en pensant aux fournisseurs de services. 802.3ah OAM et le protocole DLDP (Device Link Detection Protocol) offrent une surveillance et un dépannage faciles des liaisons Ethernet.
Compatible IPv6
Les fonctions IPv6 telles que la double pile IPv4 / IPv6, MLD Snooping, IPv6 ACL, DHCPv6 Snooping, IPv6 Interface, Path Maximum Transmission Unit (PMTU) Discovery et IPv6 Neighbor Discover garantissent que votre réseau est prêt pour le réseau de nouvelle génération (NGN) sans mettre à niveau votre Matériel.
CARACTERISTIQUES MATERIELLES
Interface
• 24× 10/100/1000 Mbps RJ45 Ports• 4× 10G SFP+ Slots• 1× RJ45 Console Port• 1× Micro-USB Console Port
Nombre de ventilateurs
Fanless
Alimentation
100-240 V AC~50/60 Hz
Dimensions (LxPxH)
440 × 180 × 44 mm
Montage
Rack Mountable
Consommation maximale
23.6 W (110V/60Hz)
Max dissipation thermique
80.353 BTU/h (110 V/60 Hz)
Performances
Capacité de commutation
128 Gbps
Taux de transfert de paquets
95.23 Mpps
Tableau d'adresses MAC
16 K
Trame Géante
9 KB
CARACTERISTIQUES LOGICIELLES
Qualité de Service QoS
• 8 priority queues• 802.1p CoS/DSCP priority• Queue scheduling - SP (Strict Priority) - WRR (Weighted Round Robin) - SP+WRR• Bandwidth Control - Port/Flow based Rating Limiting• Smoother Performance• Action for Flows - Mirror (to supported interface) - Redirect (to supported interface) - Rate Limit - QoS Remark
Fonctions N2 et N2+
• Link Aggregation - static link aggregation - 802.3ad LACP - Up to 8 aggregation groups, containing 8 ports per group• Spanning Tree Protocol - 802.1d STP - 802.1w RSTP - 802.1s MSTP - STP Security: TC Protect, BPDU Filter, Root Protect• Loopback Detection - Port based - VLAN based• Flow Control - 802.3x Flow Control - HOL Blocking Prevention• Mirroring - Port Mirroring - CPU Mirroring - One-to-One - Many-to-One - Tx/Rx/Both
Multidiffusion N2
• IGMP Snooping - IGMP v1/v2/v3 Snooping - Fast Leave - IGMP Snooping Querier - IGMP Authentication• IGMP Authentication• MLD Snooping - MLD v1/v2 Snooping - Fast Leave - MLD Snooping Querier - Static Group Config - Limited IP Multicast• MVR• Multicast Filtering: 256 profiles and 16 entries per profile
VLAN
• VLAN Group - Max 4K VLAN Groups• 802.1Q Tagged VLAN• MAC VLAN: 7 Entries• Protocol VLAN: Protocol Template 16, Protocol VLAN 16• Private VLAN• GVRP• VLAN VPN (QinQ) - Port-Based QinQ - Selective QinQ• Voice VLAN
Liste de contrôle d'accès
• Time-based ACL• MAC ACL - Source MAC - Destination MAC - VLAN ID - User Priority - Ether Type• IP ACL -Source IP - Destination IP - Fragment - IP Protocol - TCP Flag - TCP/UDP Port - DSCP/IP TOS - User Priority• Combined ACL• Packet Content ACL• IPv6 ACL• Policy - Mirroring - Redirect - Rate Limit - QoS Remark• ACL apply to Port/VLAN
Sécurité
• IP-MAC-Port Binding - 512 Entries - DHCP Snooping - ARP Inspection - IPv4 Source Guard: 100 Entries• IPv6-MAC-Port Binding - 512 Entries - DHCPv6 Snooping - ND Detection - IPv6 Source Guard: 100 Entries• DoS Defend• Static/Dynamic Port Security - Up to 64 MAC addresses per port• Broadcast/Multicast/Unicast Storm Control - kbps/ratio control mode• 802.1X - Port base authentication - Mac base authentication - VLAN Assignment - MAB - Guest VLAN - Support Radius authentication andaccountability• AAA (including TACACS+)• Port Isolation• Secure web management through HTTPS with SSLv3/TLS 1.2• Secure Command Line Interface (CLI) management with SSHv1/SSHv2• IP/Port/MAC based access control
IPv6
• IPv6 Dual IPv4/IPv6• Multicast Listener Discovery (MLD) Snooping• IPv6 ACL• IPv6 Interface• Static IPv6 Routing• IPv6 neighbor discovery (ND)• Path maximum transmission unit (MTU) discovery• Internet Control Message Protocol (ICMP) version 6• TCPv6/UDPv6• IPv6 applications - DHCPv6 Client - Ping6 - Tracert6 - Telnet (v6) - IPv6 SNMP - IPv6 SSH - IPv6 SSL - Http/Https - IPv6 TFTP
Fonctions N3
• 16 IPv4/IPv6 Interfaces• Static Routing - 48 static routes• Static ARP - 128 Static Entries• Proxy ARP• Gratuitous ARP• DHCP Server • DHCP Relay - DHCP Interface Relay - DHCP VLAN Relay• DHCP L2 Relay
Administration
• Web-based GUI• Command Line Interface (CLI) through the console port, telnet• SNMP v1/v2c/v3 - Trap/Inform - RMON (1,2,3,9 groups)• SDM Template• DHCP/BOOTP Client• 802.1ab LLDP/LLDP-MED• DHCP AutoInstall• Dual Image, Dual Configuration• CPU Monitoring• Cable Diagnostics• EEE• Password Recovery• SNTP• System Log
Caractéristiques avancées
• Support Omada Hardware Controller (OC200/OC300), Software Controller, Cloud-Based Controller• Automatic Device Discovery• Batch Configuration• Batch Firmware Upgrading• Intelligent Network Monitoring• Abnormal Event Warnings• Unified Configuration• Reboot Schedule• ZTP (Zero-Touch Provisioning)*
MIBs
• MIB II (RFC1213)• Interface MIB (RFC2233)• Ethernet Interface MIB (RFC1643)• Bridge MIB (RFC1493)• P/Q-Bridge MIB (RFC2674)• RMON MIB (RFC2819)• RMON2 MIB (RFC2021)• Radius Accounting Client MIB (RFC2620)• Radius Authentication Client MIB (RFC2618)• Remote Ping, Traceroute MIB (RFC2925)• Support TP-Link private MIB
Autres
Certification
CE, FCC, RoHS
Contenu de l'emballage
• TL-SG3428X Switch• Power Cord• Quick Installation Guide• Rackmount Kit• Rubber Feet
Environnement
• Operating Temperature: 0–45 ℃
• Storage Temperature: -40–70 ℃
• Operating Humidity: 10–90% RH non-condensing
• Storage Humidity: 5–90% RH non-condensing
* Le provisionnement sans contact nécessite l'utilisation du contrôleur basé sur le cloud Omada.
** Les fonctionnalités L3 et ISP ne peuvent être configurées qu'en mode autonome.
SubscriptionTP-Link prend votre vie privée au sérieux. Pour plus de détails sur la politique de confidentialité de TP-Link, veuillez consultez la page suivante Politique de confidentialité de TP-Link .
De United States?
Infos produits, événements, services pour votre pays.