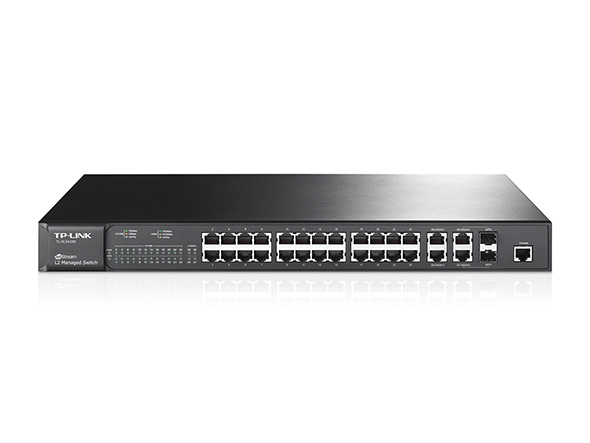 TL-SL5428E
Switch JetStream™ administrable niveau 2 24 ports 10/100Mbps + 4 ports Gigabit
L'ACL, l'authentification 802.1X, la sécurité par port, le filtrage IP, le Storm control, le snooping DHCP, l'IP Source Guard et la défense DoS vous offrent une stratégie de sécurité efficace.
La fonction de gestion IP simple supporte des piles virtuelles de 32 unités
Les fonctions QoS L2/L3/L4 et snooping IGMP permettent d'optimiser les applications voix et vidéo.
De nombreuses stratégies de gestion grâce aux fonctions SNMP, RMON, WEB/CLI/Telnet
Fonctions
Conçu pour les groupes de travail et les divisions d'entreprises, le TL-SL5428E de TP-Link offre des fonctions de gestion avancées Layer 2. Il fournit une vitesse de transmission maximale là où vous en avez besoin, notamment aux groupes de travail haute performance à la limite du réseau, ou joue le rôle de backbone pour les switch Fast Ethernet et les serveurs haut débit dans les petits réseaux exigeants. En outre, le switch TL-SL5428 est également équipé de 2 emplacements SFP Gigabit, pour vous offrir une plus grande flexibilité réseau.
Ce switch administrable L2 de TP-LINK dispose de fonctionnalités robustes orientées sur la sécurité et l'administration. Une liste de contrôle d'accès avancée (ACL, L2 à L4) ainsi qu'une solide protection TP-LINK assurent une sécurité intégrale contre les tempêtes sur le réseau, les attaques ARP et par déni de service (DoS), etc. Les fonctions Qualité de Service (QoS, L2 à L4) offrent des capacités de gestion de trafic améliorées qui vous permettent de déplacer vos données de manière plus fluide et plus rapide. Qui plus est, les interfaces de gestion Web, ajoutées aux fonctions ligne de commande (CLI), SNMP et RMON, assurent une installation et une configuration plus rapides et réduisent le temps d'immobilisation du réseau.
Commutation non-bloquante
Le switch TL-SL5428E entièrement administrable L2 de TP-LINK est une solution de commutation non-bloquante pour les connexions Fast Ethernet 10/100 Mbps. Le TL-SL5428E dispose d'une capacité de commutation sans blocage sur bande passante cumulée de 12,8 Gbps. Il comprend 24 ports 10/100 Mbps et 4 ports Gigabit 10/100/1000BASE-T. Deux des ports en cuivre Gigabit sont des ports combinés, qui seront désactivés si les emplacements SFP 1000BASE-X sont utilisés. Il vous offre une plus grande flexibilité réseau.
Empilage virtuel
Le Clustering IP autorise une IP à gérer jusqu'à 32 switches TL-SL5428E, quels que soient leurs emplacements géographiques. Puisque tous les appareils sont identifiés par une seule et même adresse IP, la pile peut être configurée, monitorée et maintenue par un seul appareil.
Le trafic entre les unités de cette pile virtuelle utilise des interfaces de liaison bidirectionnelle simultanée et des câbles réseau, éliminant ainsi un câblage encombrant et onéreux et minimisant l'impact d'une éventuelle défaillance.
Une stratégie de sécurité complète
Les Listes de Contrôle d'Accès (ACL, L2 à L4) conditionnent l'accès aux ressources du réseau en filtrant les paquets en fonction des adresses MAC source et cible, de l'adresse IP, des ports TCP/UDP ou encore des ID VLAN. Cela étant pris en charge par le matériel, les performances de commutation ne sont pas affectées.
Le switch TL-SL5428E prend également en charge l'authentification 802.1X qui est utilisée en conjonction avec un serveur RADIUS, chargé pour sa part de récupérer quelques informations d'authentification avant d'autoriser l'accès au réseau. Il prend par ailleurs en charge le VLAN invité afin de permettre aux clients non 802.1X d'accéder à des ressources réseau spécifiques. De plus, les fonctions de groupage IP-MAC-Port-VID, sécurité par port, Storm Control, Snooping DHCP ainsi que la prise en charge de la technologie IP Source Guard permettent quant à elles une protection contre les tempêtes sur le réseau et les attaques ARP et par déni de service (DoS), etc. Le TL-SL5428E propose de sélectionner parmi plusieurs types d'attaques DoS pour définir la meilleure protection contre les dénis de services. Vous pouvez vous protéger de ces attaques plus facilement que jamais. Le TL-SL5428E procure une grande sécurité au réseau.
Souplesse et gérabilité
Le TL-SL5428E prend en charge diverses fonctions d'administration standard comme par exemple une interface de gestion Web (GUI) intuitive ou l'interface ligne de commande (CLI) classique. Le trafic lié à l'administration peut être sécurisé à l'aide des chiffrements SSL ou SSH. Grâce aux fonctions SNMP (v1/2/3) et RMON, le switch peut par ailleurs remonter de précieuses informations sur son état et envoyer des alertes lors d'événements inhabituels. Ce partage d'informations vitales permet de gagner du temps et de réduire les coûts. Avec l'agrégation de liens, le protocole Spanning Tree (STP/RSTP/MSTP) et la pile virtuelle, il est possible de développer une topologie modulable de conception intelligente, répondant aux exigences des entreprises à la recherche d'un réseau souple et unifié.
Applications optimisées pour la vidéo et la voix
Le TL-SL5428E utilise des stratégies orientées QoS afin d'intégrer les services voix, données et vidéo au sein d'un seul et même réseau. L'administrateur peut attribuer des priorités au trafic à l'aide de différents moyens, priorité par port, 802.1P et DSCP pour garantir un fonctionnement toujours net, fluide et sans interruption aux applications utilisant la voix ou la vidéo. La fonction VLAN Voice supportée par le switch assure aux applications utilisant la voix un fonctionnement fluide et sans interruption.
Pour d'autres applications multimédia à la demande telles que IPTV, le TL-SL5428E propose des fonctionnalités avancées pour une gestion aisée des flux. Par exemple, la fonction snooping IGMP garantit que le switch redirige intelligemment le flux multicast uniquement aux abonnés concernés, tandis que le throttling/filtrage IGMP restreint les abonnés à certains ports afin de leur empêcher l'accès à un flux multicast non autorisé.
CARACTERISTIQUES MATERIELLES
Standards et Protocoles
IEEE 802.3i, IEEE 802.3u, IEEE 802.3ab, IEEE802.3z, IEEE 802.3ad, IEEE 802.3x, IEEE 802.1d, IEEE 802.1s, IEEE 802.1w, IEEE 802.1q, IEEE 802.1x, IEEE 802.1p
Interface
24 10/100Mbps RJ45 Ports
(Auto Negotiation/Auto MDI/MDIX)
4 10/100/1000Mbps RJ45 Ports
(Auto Negotiation/Auto MDI/MDIX)
4 Combo Gigabit SFP Ports
1 Console Port
Interface réseau
10BASE-T: UTP category 3, 4, 5 cable (maximum 100m)
EIA/TIA-568 100Ω STP (maximum 100m)
100BASE-TX/1000Base-T: UTP category 5, 5e cable (maximum 100m)
EIA/TIA-568 100Ω STP (maximum 100m)
1000BASE-X: MMF, SMF
Nombre de ventilateurs
Fanless
Alimentation
100~240VAC, 50/60Hz
Consommation
Maximum: 15W (220V/50Hz)
Dimensions (LxPxH)
17.3*7.1*1.7 in.(440*180*44 mm)
Performances
Empilage
32 Units Virtual Stacking
Bande passante/ backplane
12.8Gbps
Taux de transfert de paquets
9.5Mpps
Tableau d'adresses MAC
8k
Trame Géante
2048 Bytes
CARACTERISTIQUES LOGICIELLES
Qualité de Service QoS
4 Queues/Port 802.1p/IP DSCP based COS,TOS
Fonctions N2
IGMP Snooping: V1/V2/V3
802.3ad with LACP
Spanning Tree STP/RSTP/MSTP
BPDU Filtering/Guard
Port Mirroring
Flow Control

VLAN
Supports up to 4K VLANs simultaneously (out of 4K VLAN IDs)
Port/ Tag-based/Private/Protocol-based VLAN/
Q in Q,GARP / GVRP
Liste de contrôle d'accès
Packet Flow Filter; Packet Flow Redirection;
Time Range Based; Flow-based QoS
Sécurité
IP-MAC-Port-VID Binding
IEEE 802.1X (Radius):Port/MAC Based, VLAN assignment, Guest VLAN, QoS assignment,
Supplicant Support
DoS Defence
Dynamic ARP inspection (DAI)
SSH: V1/V2
SSL:V1.5/V2
Port Security
Broadcast Storm Control
Guest VLAN
IP Source Guard

IPv6
Dual IPv4/IPv6 stack
Multicast Listener Discovery (MLD) Snooping
IPv6 neighbor discovery (ND)
Path maximum transmission unit (MTU) discovery
Internet Control Message Protocol (ICMP) version 6
TCPv6/UDPv6
Applications IPv6
DHCPv6 Client
Ping6
Tracert6
Telnet(v6)
IPv6 SNMP
IPv6 SSH
IPv6 SSL
Http/Https
IPv6 TFTP
Administration
System Diagnose: VCT
SNMP: V1/V2/V3
RMON: Group 1, 2, 3, 9
Command Line Interface: Telnet/Console
Time Setting: SNTP
Firmware Upgrade: TFTP & Web
DGCO Client & BOOTP Client
SYSLOG & Public MIBS

Autres
Certification
CE, FCC, RoHS
Contenu de l'emballage
Switch; Power Cord; Quick Installation Guide;
Resource CD; Rackmount Kit; Rubber Feet
Système requis
Microsoft® Windows® 98SE, NT, 2000, XP, Vista™ or Windows 7, MAC® OS, NetWare®, UNIX® or Linux.
Environnement
Operating Temperature: 0℃~40℃ (32℉~104℉);
Storage Temperature: -40℃~70℃ (-40℉~158℉)
Operating Humidity: 10%~90% non-condensing
Storage Humidity: 5%~90% non-condensing

SubscriptionTP-Link prend votre vie privée au sérieux. Pour plus de détails sur la politique de confidentialité de TP-Link, veuillez consultez la page suivante Politique de confidentialité de TP-Link .
De United States?
Infos produits, événements, services pour votre pays.