Mar.2023

31
Bahnhof and TP-Link's record-fast WiFi 7 is released in Sweden
WiFi speed attenuation has always been a headache for ISP to provide better WiFi service to end users. WiFi 7, also known as IEEE 802.11be, solves this problem by dramatically increasing bandwidth. Cost of ownership decreases a lot as one multigigabit connection will generate several gigabit-connections in the mesh network.
The theoretical maximum speed between devices in the network is 46 Gbit/s, and WiFi 7 routers work over all three network frequencies: 2.4 GHz, 5 GHz and 6 GHz. The really high speeds are achieved through greater bandwidth in each frequency range, a doubling compared to WiFi 6, with twice the number of simultaneous data streams. One-step forward, TP-Link has developed a technology (MLO+) to connect wireless and wired backhaul with each unit simultaneously.
At the same time, the technology is fully backwards compatible with previous standards. A WiFi 7 router simply communicates as quickly as possible with every device, regardless of technology generation.
The speed increase is noticeable. Bahnhof has previously test-run TP-Link's equipment in a lab environment, and the results are startling. With the launch of Wifi 7, private individuals can now also experience these extreme speeds in their homes! Here you will find latest test result of a whopping 7.7 Gbit/s!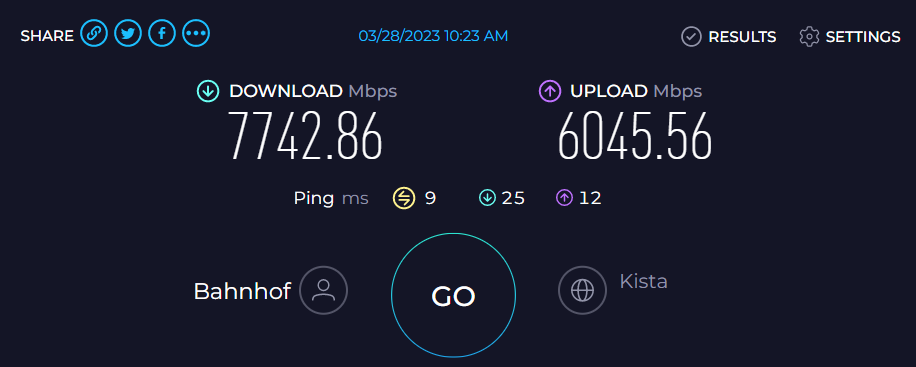 Bahnhof and TP-Link will deliver the WiFi 7 routers starting in early June.
About Bahnhof
The company was founded in 1994, with the vision of offering lightning-fast internet without compromising digital privacy. Bahnhof has since then actively taken a stand in countless attempts to monitor and limit the rights of Swedish net users. Bahnhof is Sweden's oldest and one of the country's largest internet operators, and is now expanding in the Nordic region.
About TP-Link
Founded in 1996, TP-Link is a global provider of reliable networking devices and accessories, involved in all aspects of everyday life. The company is ranked by analyst firm IDC as the No. 1 provider of Wi-Fi devices for a consecutive 11 years*, supplying distribution to more than 170 countries and serving billions of people worldwide.
With a proven heritage of stability, performance, and value, TP-Link has curated a portfolio of products that meet the networking needs of all individuals. Now, as the connected lifestyle continues to evolve, the company is expanding today to exceed the demands of tomorrow.
To know more about us, you could get regional contact information from the "Contact Us" part.
*According to the latest published IDC Worldwide Quarterly WLAN Tracker Report, Q3 2022 Final Release.
From United States?
Get products, events and services for your region.