The Ultimate 10G Network — Revolutionary WiFi 7 Mesh
While people are still talking about how WiFi 6/6E affects our daily life, the WiFi Alliance has already announced the evolution of WiFi standards — WiFi 7, also known as IEEE 802.11be Extremely High Throughput (EHT).
When Safer-at-Home policies were introduced globally due to COVID-19, the demand for stable home networking was challenged like never before. Online learning and working from home put huge pressure on the total WiFi environment. Broadcom stated that nearly 60% of US households upgraded their WiFi last year. Compared with the last generation WiFi 6/6E Mesh Networks, WiFi 7 Mesh mainly focuses on unprecedented 10 Gbps speeds and intensive seamless roaming with consistent low latency. Broader coverage, higher capacity, and stronger backhaul also benefit from WiFi 7 technology.
10 Gbps Connectivity, Everything Wireless and Wired
The highlight of WiFi 7 Mesh Network is the ultimate 10 Gbps speeds, bringing you an unprecedented experience. Most of our WiFi 7 Deco Mesh are equipped with multiple 10 Gbps WAN/LAN ports, ensuring flexible ethernet 10 Gbps access. Meanwhile, with 10GbE, unified storage within a local area network (LAN) becomes more feasible. Users can store video archives and larger media files superfast and stream them from any authorized device.
This way, in the WiFi 7 era, with the major upgrades of 4K-QAM, 320 MHz bandwidth, and Multi-Link Operation (MLO), you're able to access 10 Gbps connectivity both wireless and wired throughout your home.† For more choices, with 2.5 Gbps ports or Gigabit ports, you'll achieve Whole Home Multi-Gig Coverage, bringing more possibilities to meet various demands.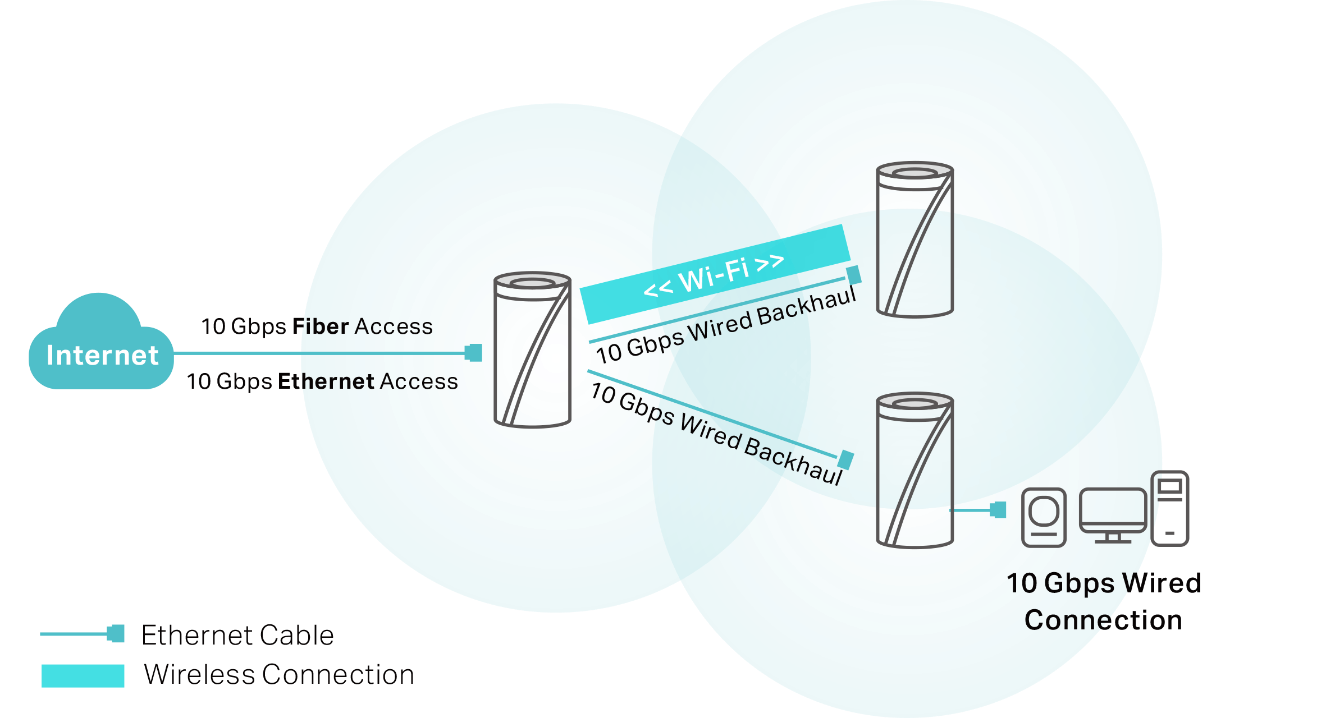 Intensive Seamless Roaming, 100× Lower Latency Experience*
Deco nodes work together to form a unified network with the same network name and password. Switching from one node to another is smooth and unnoticeable, creating a truly seamless online experience even when you're streaming.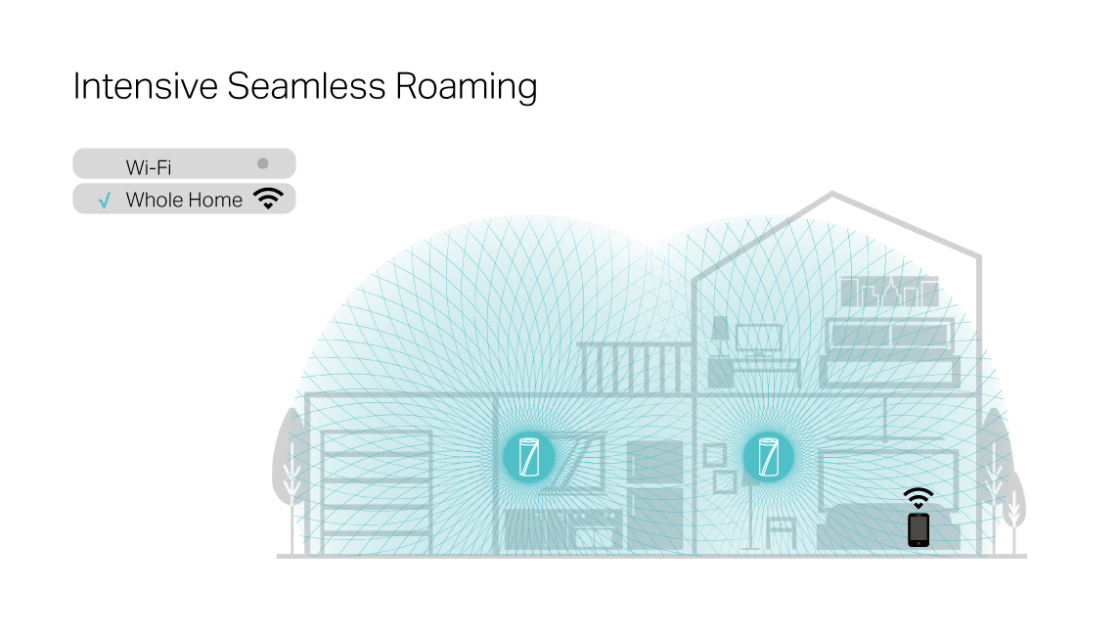 The wide-open 6 GHz band is exclusive to 6 GHz-enabled devices, eliminating interference from legacy devices. WiFi 7 unleashes the full potential of the 6 GHz band to double the bandwidth to 320 MHz compared with the last generation. Combined with Multi-Link Operation (MLO), 320 MHz bandwidth, and the exclusive 6 GHz band, WiFi 7 Mesh Networks enable simultaneous data transmission, increase throughput, and reduce latency. Now you can stream 8K in the express lane with double the width, ensuring other devices don't interfere with your connection.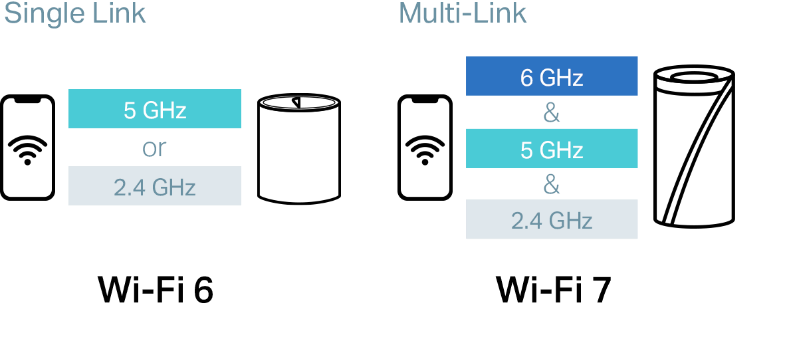 Stronger and More Flexible Backhaul Brings Broader Coverage
Coverage has always been a sticking point for Mesh products. Users often hate receiving no network in some corners of their homes, like washrooms, basements, garages, and backyards. Even with WiFi connections, the signals are too weak to stay online. Today, with the latest and strongest WiFi 7, Deco Mesh allows Deco to use wireless, wired, and powerline as a hybrid backhaul at the same time,‡ ensuring the best connection between Deco units. This way, it gives you ultra-high-speed whole home 10 Gbps coverage without dead zones. No more searching around for signals or worrying about network drops.
Multi-Band Backhaul with MLO
From our very first Deco system, through our self-developed technology, Deco was able to communicate with each unit simultaneously across different bands. And today, Deco is able to connect wireless and wired backhaul at the same time. And wired backhaul is not only just about Ethernet-wired, but also powerline-wired. With the latest Wi-Fi 7 MLO technology, backhaul aggregation processing is transferred from the application layer to the bottom circuit layer, reducing the processing time and increasing the aggregation flow rate. This way, it greatly improves overall throughput and reduces latency, delivering broader coverage with more stable and reliable connections.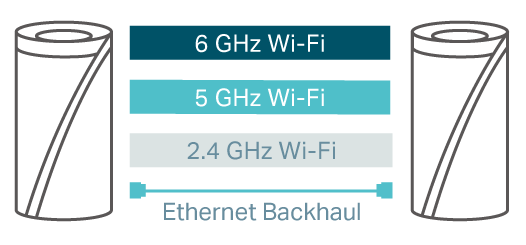 Deco WiFi 7 Mesh introduces a Quad-Band mesh system. Two 6 GHz bands allow users to use one of them as the dedicated backhaul for stronger backhaul connections. And the rest of the bands, including 6 GHz, 5 GHz, and 2.4 GHz, can be used as open network frequencies for devices. This way, it not only ensures the communication speed and efficiency between Deco units using the dedicated 6 GHz backhaul but also allows devices to use a 6 GHz band.

Connect Over 200 Devices, 5× Network Capacity*
In response to the ever-growing demands of home networks, WiFi 7 future-proofs your WiFi with 320 MHz and MLO (Multi-Link Operation), offering up to 1,200 MHz of the contiguous spectrum, doubling the number of pathways available for sending and receiving data compared with WiFi 6. With 5x greater capacity generated from WiFi 7, you're able to connect over 200 devices streaming or gaming at the same time.
WiFi 7 Mesh, More to Come
As the most comprehensive home Mesh solution, Deco WiFi 6/6E provides solutions for all scenarios, and you can choose different Deco series/installation methods according to your demands. Now WiFi 7 is here, more Deco mesh products will be released for all-new different demands, achieving what we call "multi-scenario Deco WiFi 7 Mesh."
Last but not least, you don't have to worry about getting rid of your existing Deco when replacing it with the new WiFi 7 network. Essentially: All Deco models work together.
Learn more info about TP-Link WiFi 7>>
Contact: pr@tp-link.com
All information and pricing provided are subject to change without notice. TP-Link is a registered trademark of TP-Link Corporation Limited. All trade names are the property of their respective owners.
†Data from TP-Link lab. Actual results may vary from environment and product.
‡Some features are still being developed on some models and will be supported in subsequent updates.
*Data is from Broadcom. Maximum wireless signal rates are the physical rates derived from IEEE Standard 802.11 specifications. Actual wireless data throughput and wireless coverage are not guaranteed and will vary as a result of network conditions, client limitations, and environmental factors, including building materials, obstacles, volume and density of traffic, and client location.
From United States?
Get products, events and services for your region.