Dec.2019

30
Wi-Fi 6 + Mesh Brings Revolutionary Whole-Home Wi-Fi
Wi-Fi networks face increasingly high network demands. They are required to efficiently handle the data traffic of various services for growing numbers of devices. To meet these demands, Wi-Fi 6 was created. Combining it with Mesh technology delivers revolutionary, highly efficient whole-home Wi-Fi.
Wi-Fi 6: Revolutionary High-Efficient Wi-Fi
Wi-Fi 6 (known in technical circles as the 802.11ax standard) is the latest standard in Wi-Fi technology that builds and improves upon Wi-Fi 5 (802.11ac standard). It provides several benefits that Wi-Fi 5 cannot. Including:
Wi-Fi 6 single stream's speed has been raised to 1.2 Gbps—20% faster than connecting through a gigabit Ethernet cable.
If you look at the theoretical top speed, Wi-Fi 6 gets 9.6 Gbps (a significant increase compared to Wi-Fi 5's 6.9 Gbps).

Smoother Connections for More Devices
Wi-Fi 5 uses one entire channel to transmit data for only one client at a time (imagined as trucks delivering goods in the figure below), wasting lots of channel capacity. By introducing OFDMA, Wi-Fi 6 can divide a channel into smaller resource units and transmit data of multiple clients according to bandwidth needs. This benefits small-package applications the most, especially when it comes to gaming and streaming, by cutting the latency and improving the average speed.

Compared with the 4×4 downlink-only MU-MIMO of Wi-Fi 5, Wi-Fi 6 supports 8×8 MU-MIMO, allowing up to 8 streams for different devices, in both uplink and downlink directions. This lets the router communicate with more devices at once, enhancing overall network efficiency.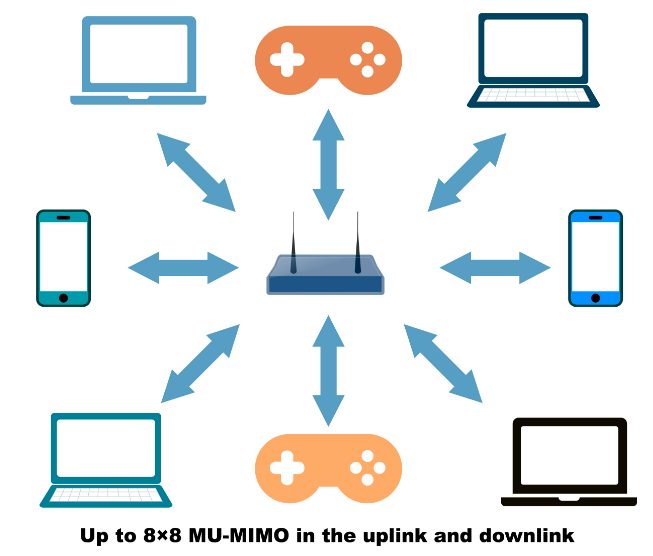 Advanced Security Protection
Wi-Fi 6 will support WPA3, the latest Wi-Fi security protocol developed on the foundation of WPA2. WPA3 introduces a live password system that generates a new password with every data transmission. The password that matches the data is no longer valid with the next transmission, making a hacker have to guess the password by interacting with Wi-Fi devices. But even this method won't necessarily work as Wi-Fi devices can block the hacker's device if it fails too many times. This means you can keep your network secure while using a password that's easier to remember.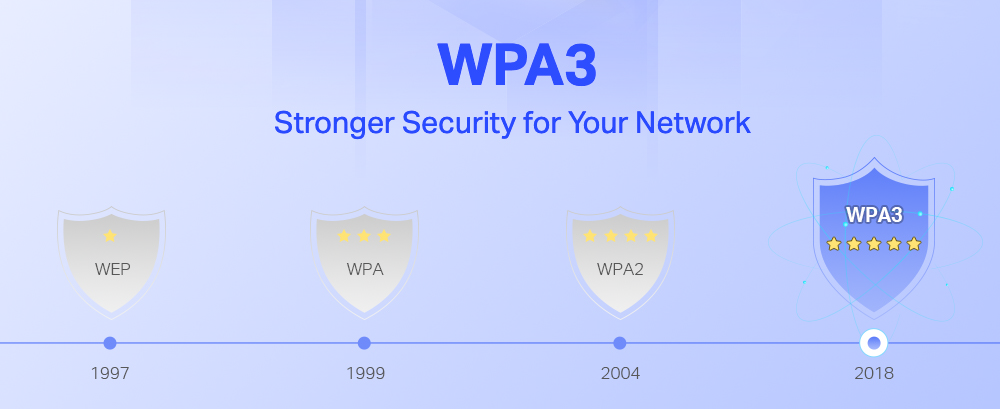 Mesh: Whole-Home Wi-Fi
In a traditional home network, one router connects to the internet and broadcasts Wi-Fi signals, which usually cannot cover every corner of the house. Other devices, such as range extenders or powerline adapters, can connect to the router to extend the Wi-Fi coverage, however, each device forms a separate network with different Wi-Fi settings.
In a mesh Wi-Fi network, multiple network nodes work together to form a single, unified network that shares the same Wi-Fi settings. These settings include the network name, password, control settings, and more. This unified Wi-Fi system provides your entire home with Wi-Fi coverage.
Compared with a traditional single-router network, a mesh Wi-Fi network uses multiple network nodes to cover every corner of your house. You can get a stable connection, whether you're in the basement, garage, or yard.
Compared with using range extenders or powerline adapters, mesh Wi-Fi networks provides the following benefits:
Mesh devices share the same wireless network name and password, and support IEEE 802.11k/v to ensure a seamless roaming experience. Some mesh devices may also support IEEE 802.11r to further accelerate roaming. Your phone or tablet automatically connects to the fastest mesh device as you move through your home. Switching from one mesh device to another is so smooth that it's unnoticeable, even when streaming.

Speed and Reliability
Working as a unified Wi-Fi system, a mesh network dynamically chooses the network node and band with the strongest signal for your data, guaranteeing a fast connection no matter where you are in your home. If one mesh device has an issue, the system will automatically reroute data via the other devices to make sure you stay online.

Easy Setup and Centralized Management
Just set up a mesh router and connect other mesh devices to it. These devices will automatically copy the Wi-Fi settings, including network name, password, access control settings, and more. Additionally, you can manage all devices in the mesh network simply by managing the central node (main router). No need to repeat Wi-Fi configurations or manage clients connected to each individual device.

Wi-Fi 6 makes routers strong enough to satisfy increasing network demands, while mesh technology groups these routers into a unified system. If you don't have a router or a Wi-Fi system that can meet your ever-increasing network demands, you should consider the Wi-Fi 6 + Mesh router.
Sign Up for News & OffersTP-Link takes your privacy seriously. For further details on TP-Link's privacy practices, see TP-Link's Privacy Policy.
From United States (English)?
Check products and services for your region.